Did you know that Beats 6.0 is already available? Try it and let us know what you think. If you are curious to see the Beats 6.0 in action, we just published the Getting Started with Beats webinar.
This update covers the last two weeks
Auditbeat: recursive file watching on macOS
Auditbeat now supports watching files recursively on macOS. This functionality is based on the FSEvents library. One drawback of FSEvents is that in the case of multiple events on the same file, they have coalesced in a single notification. The PR orders the set of actions in a single event to be meaningful depending if the file existed in the beat database and if it doesn't exist anymore at the moment of processing the event.
Packetbeat: add_kubernetes_metadata
After Filebeat and Metricbeat, Packetbeat is the next in line to get Kubernetes support. The `add_kubernetes_metada` processor is now able to match the IP/ports from the network traffic with the pods and enhance the events with Kubernetes metadata. This feature was merged into master and is scheduled to be released in 6.2.
Packetbeat: Several TLS support enhancements
Packetbeat now includes a dashboard for the TLS data. It can also report the handshake latency, which is defined as the time spent between first packet and completion of the handshake. Finally, it can now calculate JA3 fingerprints for the client TLS sessions. The JA3 fingerprints are efficient for detecting malware or unauthorized applications.
These features are merged into master and are scheduled to be released with 6.2.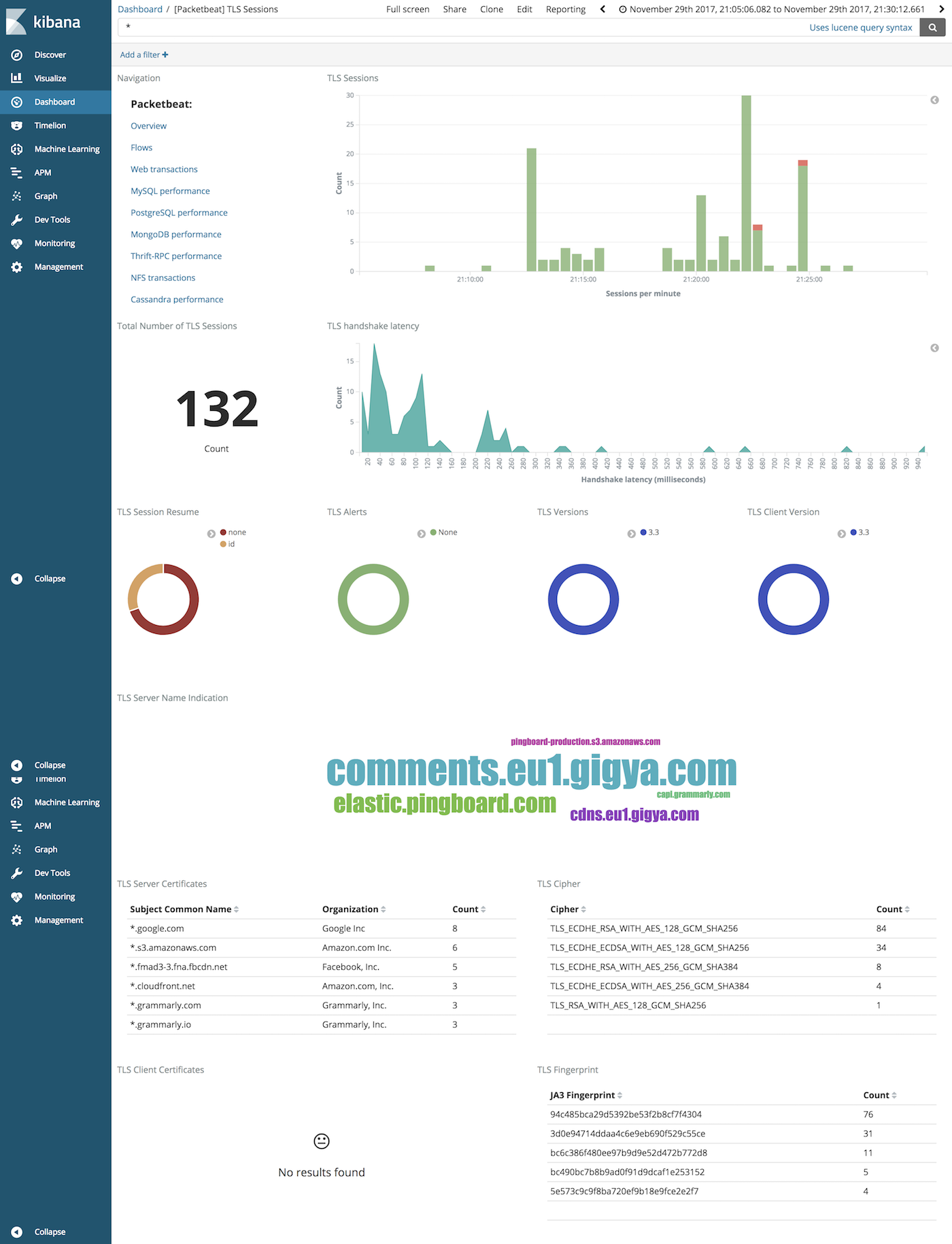 Filebeat: use the local timezone in the system module
An issue that we had in Filebeat modules was that the Ingest Node pipelines assume the incoming logs have timestamps in UTC. In 6.1, Elasticsearch is getting the ability to parse timestamp in the timezone specified by another field in the message. We now make use of this feature in the Filebeat system module, so the local timezone can be correctly used when decoding the timestamp. This feature will be present in 6.1 but disabled by default.
Filebeat and Metricbeat modules for Logstash monitoring
The Filebeat module for Logstash was merged in time for 6.1. The Metricbeat module got a node_stats metricset with basic event stats, also in time for 6.1.
Other changes:
Repository: elastic/beats
Affecting all Beats
Changes in master:
Changes in 6.1:
Changes in 6.0:
Metricbeat
Changes in master:
Changes in 5.6:
Changes in 6.1:
Changes in 6.0:
Packetbeat
Changes in master:
Filebeat
Changes in master:
Heartbeat
Changes in master:
Processors
Changes in master:
Testing
Changes in master:
Changes in 6.1:
Changes in 6.0:
Infrastructure
Changes in master:
Changes in 6.1:
Packaging
Changes in master:
Changes in 6.0:
Documentation
Changes in master:
Changes in 6.1:
Changes in 6.0:
Repository: elastic/gosigar
Changes in master: