Ingest and enrich
Ingest
Data enrichment
Search and analyze
Full-text search
Analytics
Machine learning
SignUpCTA
Spin up a free, 14-day trial of the Elasticsearch Service. No credit card required.
Start free trial
Get data into the Elastic Stack any way you want. Use RESTful APIs, language clients, ingest nodes, lightweight shippers, or Logstash. You aren't limited to a list of languages, and since we're open source, you're not even limited in the type of data that can be ingested. If you need to ship a unique data type, we provide the libraries and steps for creating your own unique ingest methods. And if you want, you can share them back with the community so the next person doesn't have to reinvent the wheel.
Elasticsearch uses standard RESTful APIs and JSON. We also build and maintain clients in many languages such as Java, Python, .NET, SQL, and PHP. Plus, our community has contributed many more. They're easy to work with, feel natural to use, and, just like Elasticsearch, don't limit what you might want to do with them.
Explore the available language clients and APIs
Elasticsearch offers a variety of node types, one of which is specifically for ingesting data. Ingest nodes can execute pre-processing pipelines, composed of one or more ingest processors. Depending on the type of operations performed by the ingest processors and the required resources, it may make sense to have dedicated ingest nodes that will only perform this specific task.
Learn about ingest nodes
Beats are open source data shippers that you install as agents on your servers to send operational data to Elasticsearch or Logstash. Elastic provides Beats for capturing a variety of common logs, metrics, and other various data types.
Read about Beats
Logstash is an open source data collection engine with real-time pipelining capabilities. Logstash can dynamically unify data from disparate sources and normalize the data into destinations of your choice. Cleanse and democratize all your data for diverse advanced downstream analytics and visualization use cases.
Read about Logstash
If you have a specific use case to solve, we encourage you to create a community Beat. We've created an infrastructure to simplify the process. The libbeat library, written entirely in Go, offers the API that all Beats use to ship data to Elasticsearch, configure the input options, implement logging, and more.
Read the Beats Developer Guide
With a variety of analyzers, tokenizer, filters, and enrichment options, Elasticsearch turns raw data into valuable information.
Uniformly analyze data from diverse sources with the Elastic Common Schema (ECS). Detection rules, machine learning jobs, dashboards, and other security content can be applied more broadly, searches can be crafted more narrowly, and field names are easier to remember.
Watch a video about the Elastic Common Schema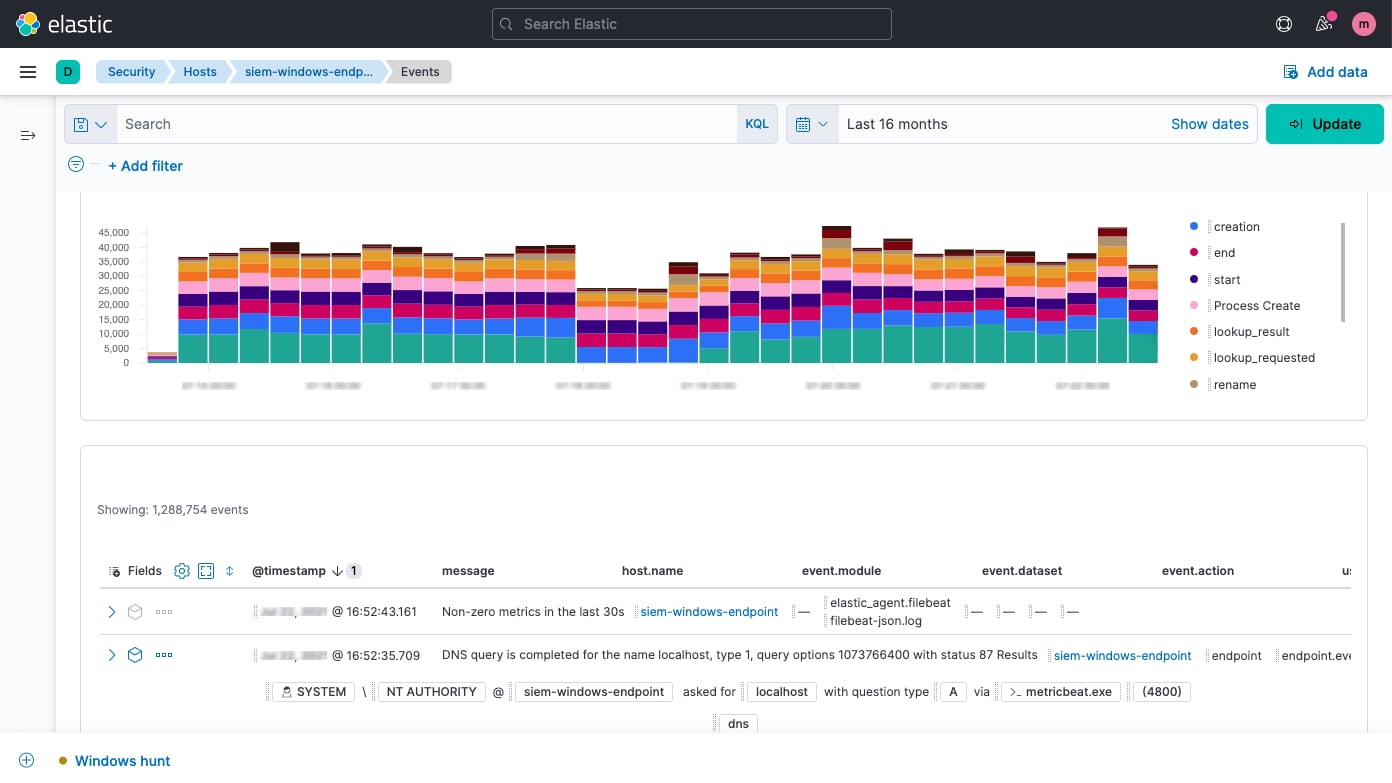 Use an ingest node to pre-process documents before the actual document indexing happens. The ingest node intercepts bulk and index requests, it applies transformations, and it then passes the documents back to the index or bulk APIs. Ingest node offers over 25 different processors, including append, convert, date, dissect, drop, fail, grok, join, remove, set, split, sort, trim, and more.
Learn about ingest processors
Analysis is the process of converting text, like the body of any email, into tokens or terms which are added to the inverted index for searching. Analysis is performed by an analyzer which can be either a built-in analyzer or a custom analyzer defined per index using a combination of tokenizers and filters.
Learn about data analyzers
Example: Standard Analyzer (default)

Input: "The 2 QUICK Brown-Foxes jumped over the lazy dog's bone."
Output: the 2 quick brown foxes jumped over the lazy dog's bone
A tokenizer receives a stream of characters, breaks it up into individual tokens (usually individual words), and outputs a stream of tokens. The tokenizer is also responsible for recording the order or position of each term (used for phrase and word proximity queries) and the start and end character offsets of the original word which the term represents (used for highlighting search snippets). Elasticsearch has a number of built-in tokenizers which can be used to build custom analyzers.
Learn about tokenizers
Example: Whitespace tokenizer
Input: "The 2 QUICK Brown-Foxes jumped over the lazy dog's bone."
Output: The 2 QUICK Brown-Foxes jumped over the lazy dog's bone.
Token filters accept a stream of tokens from a tokenizer and can modify tokens (e.g., lowercasing), delete tokens (e.g., remove stopwords), or add tokens (e.g., synonyms). Elasticsearch has a number of built-in token filters which can be used to build custom analyzers.
Learn about token filters
Character filters are used to pre-process the stream of characters before it is passed to the tokenizer. A character filter receives the original text as a stream of characters and can transform the stream by adding, removing, or changing characters. Elasticsearch has a number of built-in character filters which can be used to build custom analyzers.
Learn about character filters
Search in your own language. Elasticsearch offers over 30 different language analyzers, including many languages with non-Latin character sets like Russian, Arabic, and Chinese.
Explore the available language filters
Fields and mapping types do not need to be defined before being used. Thanks to dynamic mapping, new field names will be added automatically, just by indexing a document.
Learn about dynamic mapping
The match ingest processor allows users to look up data at the time of ingestion and indicates the index from which to pull enriched data. This helps Beats users that need to add a few elements to their data — rather than pivoting from Beats to Logstash, users can consult the ingest pipeline directly. Users will also be able to normalize data with the processor for better analytics and more common queries.
Learn about the match enrich processor
The geo-match enrich processor is a useful and practical way to allow users to improve their search and aggregation capabilities by leveraging their geo data without needing to define queries or aggregations in geo coordinate terms. Similar to the match enrich processor, users can look up data at the time of ingestion and find the optimal index from which to pull enriched data.
Learn about the geo-match enrich processor
The Elastic Stack is a powerful solution that can be thrown at almost any use case. And while it's best known for its advanced search capabilities, its flexible design makes it an optimal tool for many different needs, including document storage, time series analysis and metrics, and geospatial analytics.
Elasticsearch supports a number of different data types for the fields in a document, and each of those data types offers its own multiple subtypes. This allows you to store, analyze, and utilize data in the most efficient and effective way possible, regardless of the data. Some of the types of data Elasticsearch is optimized for include:
Learn about data types in Elasticsearch
Text

Shapes

Numbers

Vectors

Histogram

Date/time series

Flattened field

Geo-points/geo-shapes

Unstructured data (JSON)

Structured data
Elasticsearch uses a structure called an inverted index, which is designed to allow very fast full-text searches. An inverted index consists of a list of all the unique words that appear in any document, and for each word, a list of the documents in which it appears. To create an inverted index, we first split the content field of each document into separate words (which we call terms, or tokens), create a sorted list of all the unique terms, and then list in which document each term appears.
Learn about inverted indices
Elasticsearch does not require data to be structured in order to be ingested or analyzed (though structuring will improve speeds). This design makes it simple to get started, but also makes Elasticsearch an effective document store. Though Elasticsearch is not a NoSQL database, it still provides similar functionality.
Learn about dynamic mapping
An inverted index allows queries to look up search terms quickly, but sorting and aggregations require a different data access pattern. Instead of looking up the term and finding documents, they need to be able to look up the document and find the terms that it has in a field. Doc values are the on-disk data structure in Elasticsearch, built at document index time, which makes this data access pattern possible, allowing search to occur in a columnar fashion. This lets Elasticsearch excel at time series and metrics analysis.
Learn about doc values
Elasticsearch uses the BKD tree structures within Lucene to store geospatial data. This allows for the efficient analysis of both geo-points (latitude and longitude) and geo-shapes (rectangles and polygons).
Security doesn't stop at the cluster-level. Keep data safe all the way down to the field-level within Elasticsearch.
Field-level security restricts the fields that users have read access to. In particular, it restricts which fields can be accessed from document-based read APIs.
Learn about field-level security
Document-level security restricts the documents that users have read access to. In particular, it restricts which documents can be accessed from document-based read APIs.
Learn about document-level security
Elasticsearch gives you the ability to fully manage your clusters and their nodes, your indices and their shards, and most importantly, all the data held within.
A cluster is a collection of one or more nodes (servers) that together holds all of your data and provides federated indexing and search capabilities across all nodes. This architecture makes it simple to scale horizontally. Elasticsearch provides a comprehensive and powerful REST API and UIs that you can use to manage your clusters.
Learn about clustered indices
A snapshot is a backup taken from a running Elasticsearch cluster. You can take a snapshot of either individual indices or the entire cluster and store the snapshot in a repository on a shared file system. There are plugins available that also support remote repositories.
Learn about snapshot and restore
Keeping historical data around for analysis is extremely useful but often avoided due to the financial cost of archiving massive amounts of data. Retention periods are thus driven by financial realities rather than by the usefulness of extensive historical data. The rollup feature provides a means to summarize and store historical data so that it can still be used for analysis, but at a fraction of the storage cost of raw data.
Learn about rollups
Searching for data is just a start. Powerful analytical features of Elasticsearch allow you take the data you've searched for and find deeper meaning. Whether through aggregating results, finding relationships between the documents, or creating alerts based on threshold values, it's all built on a foundation of powerful search functionality.
The aggregations framework helps provide aggregated data based on a search query. It is based on simple building blocks called aggregations that can be composed in order to build complex summaries of the data. An aggregation can be seen as a unit-of-work that builds analytic information over a set of documents.
Learn about aggregations
Metrics aggregations

Bucket aggregations

Pipeline aggregations

Matrix aggregations

Geohexgrid aggregations

Random sampler aggregations
The Graph explore API enables you to extract and summarize information about the documents and terms in your Elasticsearch index. The best way to understand the behavior of this API is to use Graph in Kibana to explore connections.
Learn about the Graph explore API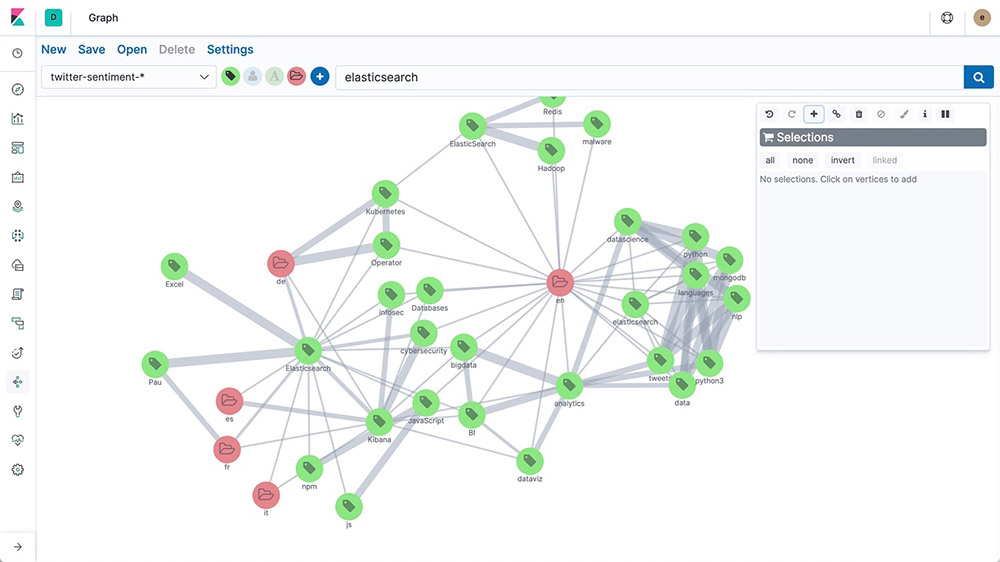 Elastic machine learning features automatically model the behavior of your Elasticsearch data — trends, periodicity, and more — in real time to identify issues faster, streamline root cause analysis, and reduce false positives.
After Elastic machine learning creates baselines of normal behavior for your data, you can use that information to extrapolate future behavior. Then create a forecast to estimate a time series value at a specific future date or estimate the probability of a time series value occurring in the future
Learn about forecasting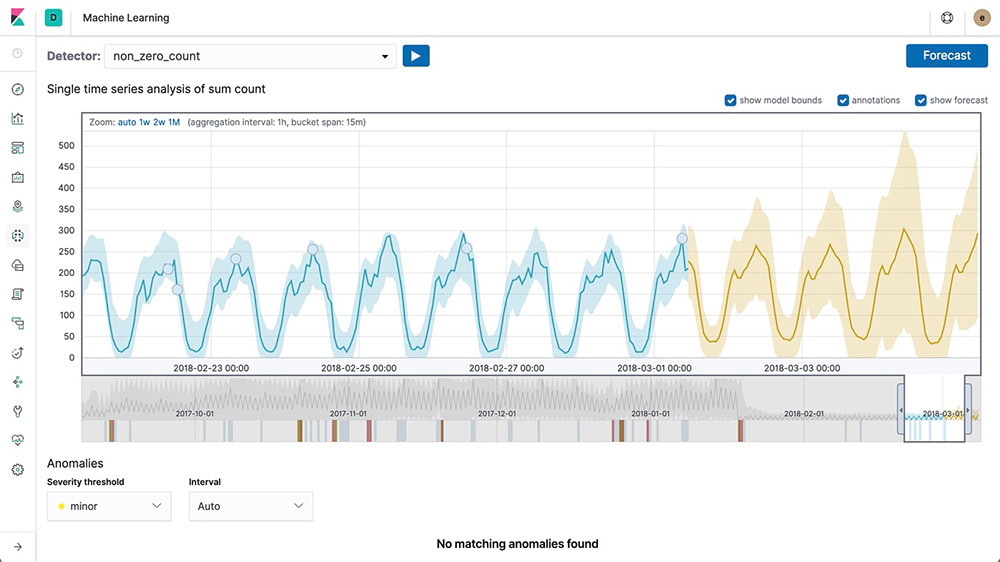 Elastic machine learning features automate the analysis of time series data by creating accurate baselines of normal behavior in the data and identifying anomalous patterns in that data. Anomalies are detected, scored, and linked with statistically significant influencers in the data using proprietary machine learning algorithms.
Learn about anomaly detection
Anomalies related to temporal deviations in values, counts, or frequencies

Statistical rarity

Unusual behaviors for a member of a population
For changes that are harder to define with rules and thresholds, combine alerting with unsupervised machine learning features to find the unusual behavior. Then use the anomaly scores in the alerting framework to get notified when problems arise.

Read about alerting
Inference enables you to use supervised machine learning processes – like regression or classification – not only as a batch analysis but in a continuous fashion. Inference makes it possible to use trained machine learning models against incoming data.
Learn about inference
Language identification is a trained model that you can use to determine the language of text. You can reference the language identification model in an inference processor.
Learn about language identification