New
In 7.10, add anomaly detection for pods and hosts in a few clicks.
Unify
Start streaming your logs from applications running on Kubernetes with a single command. Pull in infrastructure telemetry, Prometheus metrics, and Jaeger traces — and analyze distributed traces with open-source Elastic APM agents. Hit the ground running with the prebuilt Kibana dashboards, and search through them all in the Metrics app.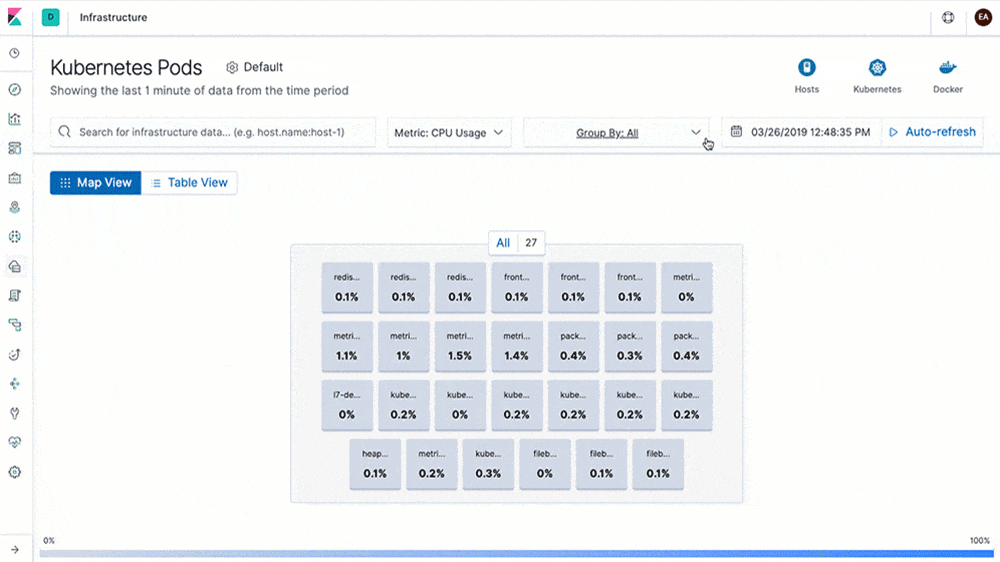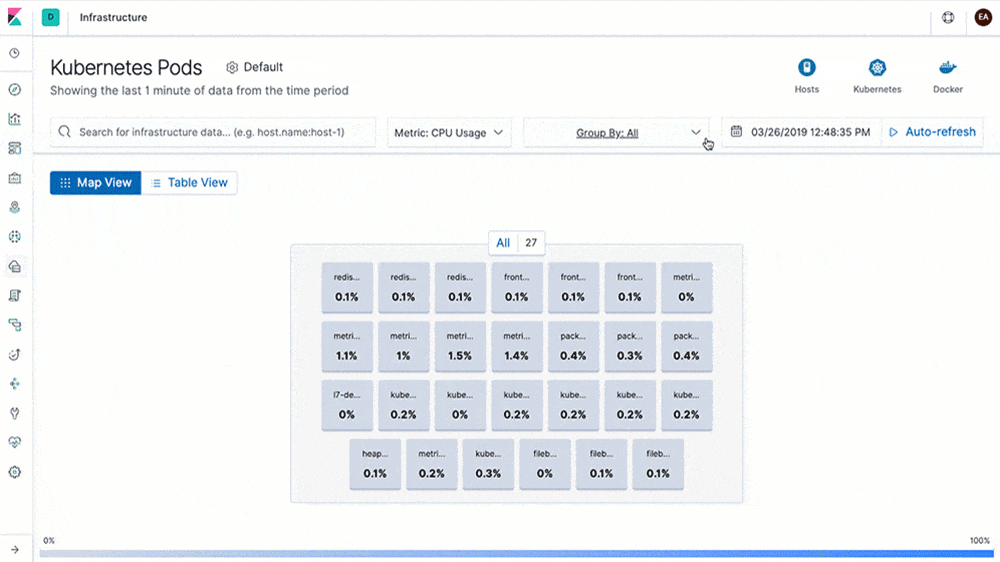 Autodiscover
The autodiscover feature in Metricbeat and Filebeat keeps you up-to-date with changes in your environment. Automate the addition of modules and log paths and dynamically adapt your monitoring settings using Docker and Kubernetes API hooks. Then append the metadata so you know where all the data originated.
Cloud-Native Metrics
Capture and ship metrics using the Prometheus module for Metricbeat. Grab the metrics that Prometheus is collecting by connecting to the Prometheus server and pull already collected metrics using either the /metrics endpoint or the Prometheus Federation API. Alternatively, you connect Metricbeat directly to your Prometheus exporters and push gateways. Learn more about Prometheus metrics and the Elastic Stack.
Distributed Tracing & Opentracing
Bring your application metrics to the Elastic Stack with Elastic APM. String transactions together with a distributed trace and get a clear view of how your services are interacting. Plus, it's OpenTracing compliant so you can reuse existing instrumentation to work directly with spans and traces in Elastic APM.
Kubernetes Logs
Kubernetes Metrics
Kubernetes APM & Tracing
Filebeat created an index pattern in Kibana with defined fields, searches, visualizations, and dashboards. In a matter of minutes you can start exploring your logs from your app and services running in Kubernetes.
Filebeat module assumes default log locations, unmodified file formats, and supported versions of the products generating the logs. See the documentation for more details.