We are pleased to announce the general availability (GA) of Elastic 7.14, including our Elastic Enterprise Search, Observability, and Security solutions, which are built into the Elastic Stack — Elasticsearch and Kibana. 
Elastic 7.14 empowers organizations with the first free and open Limitless XDR, which delivers unified SIEM and endpoint security capabilities in one platform. 
The latest release makes it even easier to manage and monitor data from a growing volume of diverse sources. With Elastic Agent, security practitioners benefit from integrated ransomware and malware prevention as well as remediation on all of their hosts. Users of Elastic Observability can get better visibility across their applications and infrastructure, as well as secure centralized agent management, with Elastic Agent. And with Elastic Enterprise Search now centrally managed in Kibana, everyone can take advantage of a single easy-to-use management interface for all Elastic solutions.
Elastic 7.14 is available now on Elastic Cloud — the only hosted Elasticsearch offering to include all of the new features in this latest release. You can also download the Elastic Stack and our cloud orchestration products, Elastic Cloud Enterprise and Elastic Cloud for Kubernetes, for a self-managed experience.
Elastic Security
Protect your organization with the industry's first free and open Limitless XDR solution for unified prevention, detection, investigation, and response
Elastic Agent is now generally available with full production support, establishing Elastic Security as the industry's first free and open Limitless XDR. Limitless XDR unifies SIEM and endpoint security capabilities on one platform, modernizing security operations by enabling analytics across all data, automating key processes, and bringing native endpoint security to every host. On a platform built for limitless analysis — and with a single agent that prevents malware and ransomware, collects data, and more — Elastic Security enables organizations to advance SecOps maturity and harden DevOps processes. By powering centralized analytics with years of data from across the user environment, it eliminates data silos, reduces alert fatigue, and arms practitioners to stop threats, quickly and at cloud scale.
This release is a major step in our realization of the vision we shared upon joining forces with Endgame two years ago. Elastic Agent blocks threats, performs collection and investigation, detects and responds on the host, and more, so try it out today. Read more about our Limitless XDR solution.
Contain and investigate endpoint attacks, and stop fast-evolving ransomware and malware, with Elastic Agent, now generally available
Elastic Security 7.14 arms practitioners to take instant action across distributed endpoints. Host isolation, the first remote response action for Elastic Agent, enables responders to quarantine a compromised endpoint with just one click. Triggering automation prevents lateral movement across the network, mitigating risk and demonstrating the importance of extended response.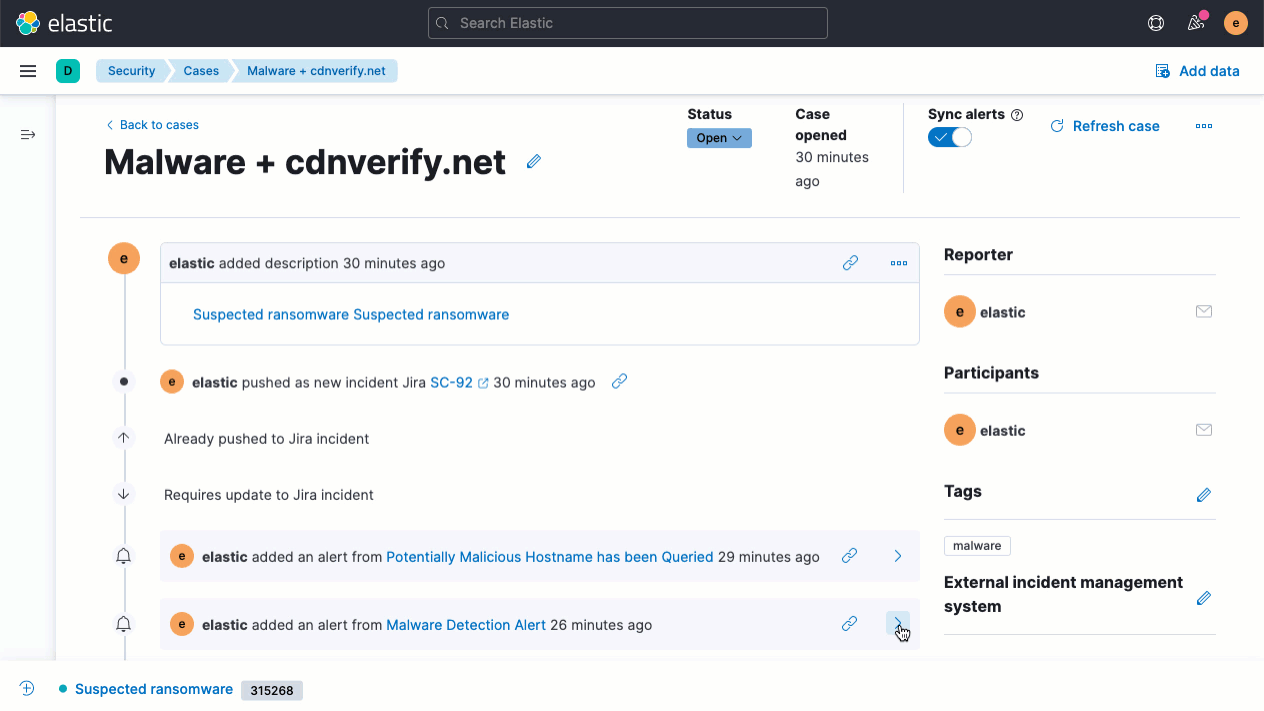 This release deepens the visibility delivered with Elastic Agent by simplifying osquery host inspection. Practitioners can now curate a library of well-honed osquery searches for immediate access and use. Rather than write a new query for each search, analysts can refine past searches and adopt others from the osquery user community. The result? No limits on the incredibly rich endpoint data available to hunters and investigators.
Elastic Security 7.14 also enhances the ransomware and malware prevention capabilities of Elastic Agent, protecting hosts and advancing XDR and endpoint security use cases. Multi-layered ransomware prevention delivers defense in greater depth for Windows systems and data. With numerous advanced protection techniques for stopping ransomware, organizations can stop sophisticated and increasingly frequent ransomware attacks like DarkSide and REvil. Malware prevention now protects Windows, macOS, and Linux systems from trojans, cryptominers, rootkits, and exploits. These capabilities are delivered on Elastic Agent and are now generally available for all supported operating systems.
Get all the details in the Elastic Security 7.14 blog.
Elastic Observability
Enable simpler and faster telemetry collection with secure centralized agent management with Elastic Agent for broad visibility and control
In a world where the number of data sources continues to rise exponentially, deploying, managing, and maintaining agents poses a formidable challenge for organizations, especially when the resources being monitored can number in the tens of thousands. This complexity exposes organizations to rising costs, increased security risks, and time-consuming upgrades and patch updates, often resulting in unplanned downtime. Elastic's Fleet application secures and centralizes the management of Elastic Agents. Elastic Agents are a unified approach to security and observability data collection via a single agent that makes installation and management of data integrations simpler, faster, and more scalable. Fleet additionally allows you to seamlessly deploy endpoint security across your infrastructure, integrating security within your release processes without slowing down innovation.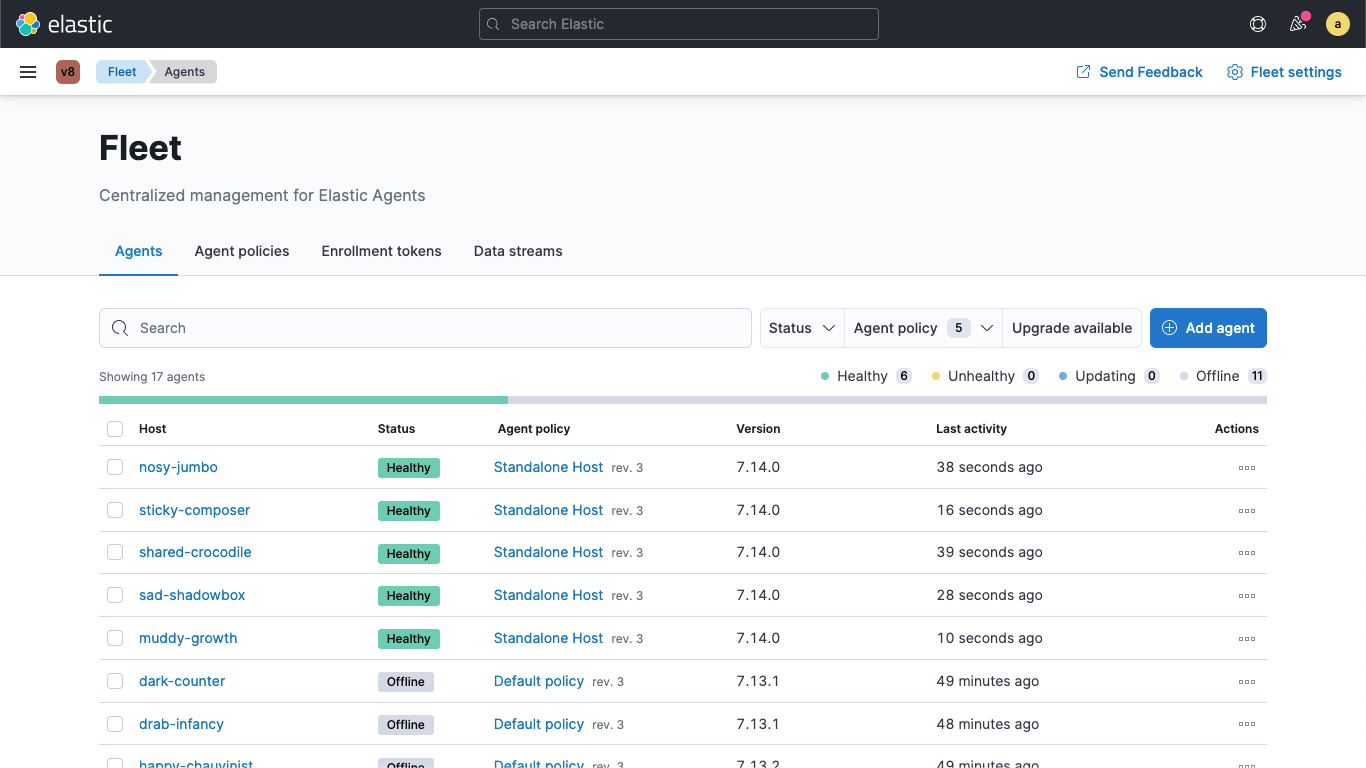 Dive deeper into all the new features in the Elastic Observability 7.14 blog.
Elastic Enterprise Search
Deliver best-in-class Enterprise Search, directly from Kibana
Manage all of Elastic from Kibana, the single management interface across Elastic solutions, with the 7.14 release. Conveniently access Elastic Enterprise Search's powerful features with consistent, cross-platform navigation that's tightly integrated with Kibana. App Search customers can adjust search result precision and recall with an easy-to-use slider, an even better experience now in beta. Workplace Search is also delivering more configurability for content source synchronization and synonym support so customers can augment search relevancy.
Manage Enterprise Search through Kibana
Get a scoop on all of the new features in the Elastic Enterprise Search 7.14 blog.
Elastic Stack and Elastic Cloud
Deliver integrated data ingest and protection across data sources and hosts with Elastic Agent, centrally managed by Fleet
Elastic Agent, centrally managed by Fleet, enables our users and customers to more easily integrate data across multiple data sources while also protecting hosts. First released in beta in 7.9 and now generally available in 7.14, Elastic Agent serves as the single unified agent to make onboarding and managing new data sources fast and hassle-free while also offering endpoint security. Fleet centrally manages all of your Elastic Agents, making installing and updating all your integrations and protections straightforward with an intuitive UI. As an Elastic Stack capability, Elastic Agent delivers value across use cases. See more highlights in the Elastic Observability and Elastic Security sections above. 
Connect Elastic Cloud securely to your public cloud environments with Azure Private Link (GA) and, in the future, with Google Cloud Private Service Connect
We're excited to announce that support for Microsoft Azure Private Link is now generally available. Private Link provides private connectivity from your Azure virtual network to your Elastic Cloud deployments. The traffic between your virtual network and your Elastic Cloud deployment on Azure travels only within the Azure network, utilizing Private Link endpoints and ensuring that your data stays off the Internet. Soon, you will also be able to leverage Google Cloud Private Service Connect to secure the network connection between your Google Cloud VPC and your Elastic Cloud deployments on Google Cloud. Read the blog post to learn more about Azure Private Link.
Setting up an Azure Private Link connection in Elastic Cloud
Read about these features and more in the Kibana 7.14 blog, the Elasticsearch 7.14 blog, and the Elastic Cloud 7.14 blog.
Read more in our latest release updates
Elastic Stack
Elastic Cloud
What's new in Elastic Cloud for 7.14
Elastic Solutions
Elastic Enterprise Search 7.14 released
Elastic Observability 7.14 released
Elastic Security 7.14 released
Try it out
Existing Elastic Cloud customers can access many of these features directly from the Elastic Cloud console. If you're new to Elastic Cloud, take a look at our Quick Start guides (bite-sized training videos to get you started quickly) or our free fundamentals training courses. You can always get started for free with a free 14-day trial of Elastic Cloud. Or download the self-managed version of the Elastic Stack for free.
The release and timing of any features or functionality described in this post remain at Elastic's sole discretion. Any features or functionality not currently available may not be delivered on time or at all.