Product release
What's new in Elastic Enterprise Search 7.14: Kibana integration and precision tuning
Elastic Enterprise Search 7.14 now lets you manage all your Elastic products from a single management interface, so you can navigate to App Search and Workplace Search from Kibana without losing your way.
We're also delivering more flexibility and configurability with precision tuning in App Search and content source flexibility and synonym support in Workplace Search. With all these enhancements, you can set up your teams and customers to find what they're looking for faster than ever:
Generate more search experience insights with Kibana's powerful visualizations
Gain tighter customization over your search results with adjustable precision and recall
Configure how you want to ingest data with our out-of-the-box content sources
Create synonyms so teams can find information faster
Elastic Enterprise Search 7.14 is available now on Elastic Cloud — the only hosted Elasticsearch offering to include all of the new features in this latest release. You can also download the Elastic Stack and our cloud orchestration products, Elastic Cloud Enterprise and Elastic Cloud for Kubernetes, for a self-managed experience.
App Search and Workplace Search — a powerhouse inside Kibana
With 7.14, Elastic Enterprise Search brings both App Search and Workplace Search to Kibana, for a seamless management experience along with every other building block of the Elastic ecosystem. With this immersive integration, you can now create new engines, tune query relevance, manage user access, customize visual appearance, and more from the same familiar home where you observe and secure your operational and organizational landscape.
More than ever, search insights come alive in Kibana, with best-in-class data visualization tooling such as Kibana Lens: retrieve, interpret, understand search behavior of your team and audience, and immediately take action on this intelligence without ever leaving your browser tab. The new streamlined navigation and tooling keeps you focused and effective, so you can get on with your daily tasks unhindered.
Already an Enterprise Search user? Rest assured — with the introduction of the Kibana experience, the existing Enterprise Search standalone application remains available for deploying and managing your search experiences, like it has been over the last many years. Do take a peek at the Kibana experience though — we really think you'll enjoy it!
Take your precision to 11 with App Search
Narrow or broaden your website and application search results with our easy-to-use precision tuning slider — so your users get exactly what they're looking for, and nothing more. Precision tuning is available in beta with 7.14, both in the UI and via the App Search API. Learn more about how you can take your search results to 11 in the Guide to Precision Tuning.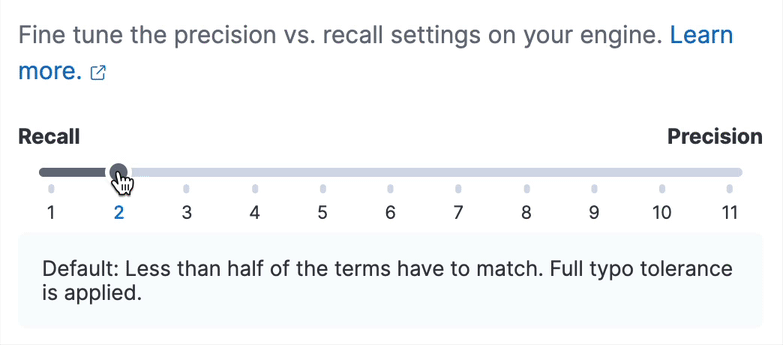 Get granular with indexing flexibility for Workplace Search
In the sprawling organizational world, data and content exists in many shapes and sizes, and two teams leveraging exactly the same tools are most likely to use the content capabilities in vastly different ways. This poses an interesting opportunity when discussing content synchronization: What should be considered important for my team? What should I keep out of the search experience? Are there any stale or archived documents that hold little value from a discovery perspective? These questions will almost always be answered differently, which is why 7.14 brings new flexibility to the prebuilt data integrations for Workplace Search — all 18 of them!
Your team wants to keep track of all accounts in Salesforce without the individual contact information? We got you. Your Google Drive instance has a large collection of archived folders? Easy peasy, no indexy. Your SharePoint Online setup is filled with noisy documents, but all you want searchable is PDFs? Workplace Search can clean up the mess for you.
Combining the simplicity of out-the-box data integrations and the power of configurable ingestion, synchronizing content and providing relevant search to thousands of users within your team becomes a blazing-fast affair.
Let teams speak their own language with synonyms in Workplace Search
Help teams find information faster with synonym support for Workplace Search. Stay ahead of your team's ever-evolving lexicon when you create relationships between terms — say vaccination and inoculation — and prevent dead ends in people's discovery journey. Once a synonym is created via the powerful set of APIs, it is immediately applied to the experience — no reindexing required! Synonym management lets you and your team elevate search relevancy while tailoring results to the vernacular your team uses.
Try it out
Existing Elastic Cloud customers can access many of these features directly from the Elastic Cloud console. If you're new to Elastic Cloud, take a look at our Quick Start guides (bite-sized training videos to get you started quickly) or our free fundamentals training courses. You can always get started for free with a free 14-day trial of Elastic Enterprise Search. Or download the self-managed version of the Elastic Stack for free.
Read about these capabilities and more in the Elastic Enterprise Search 7.14 release notes, and other Elastic Stack highlights in the Elastic 7.14 announcement post.
Related blogs:
The release and timing of any features or functionality described in this post remain at Elastic's sole discretion. Any features or functionality not currently available may not be delivered on time or at all.