Elastic Workplace Search
Boost your team's productivity by unifying all your content platforms — Google Drive, Salesforce, etc. — into a personalized search experience. With its ease of deployment, pre-tuned relevance, and intuitive interface, Elastic Workplace Search is the solution for your organizational search needs.
Download the beta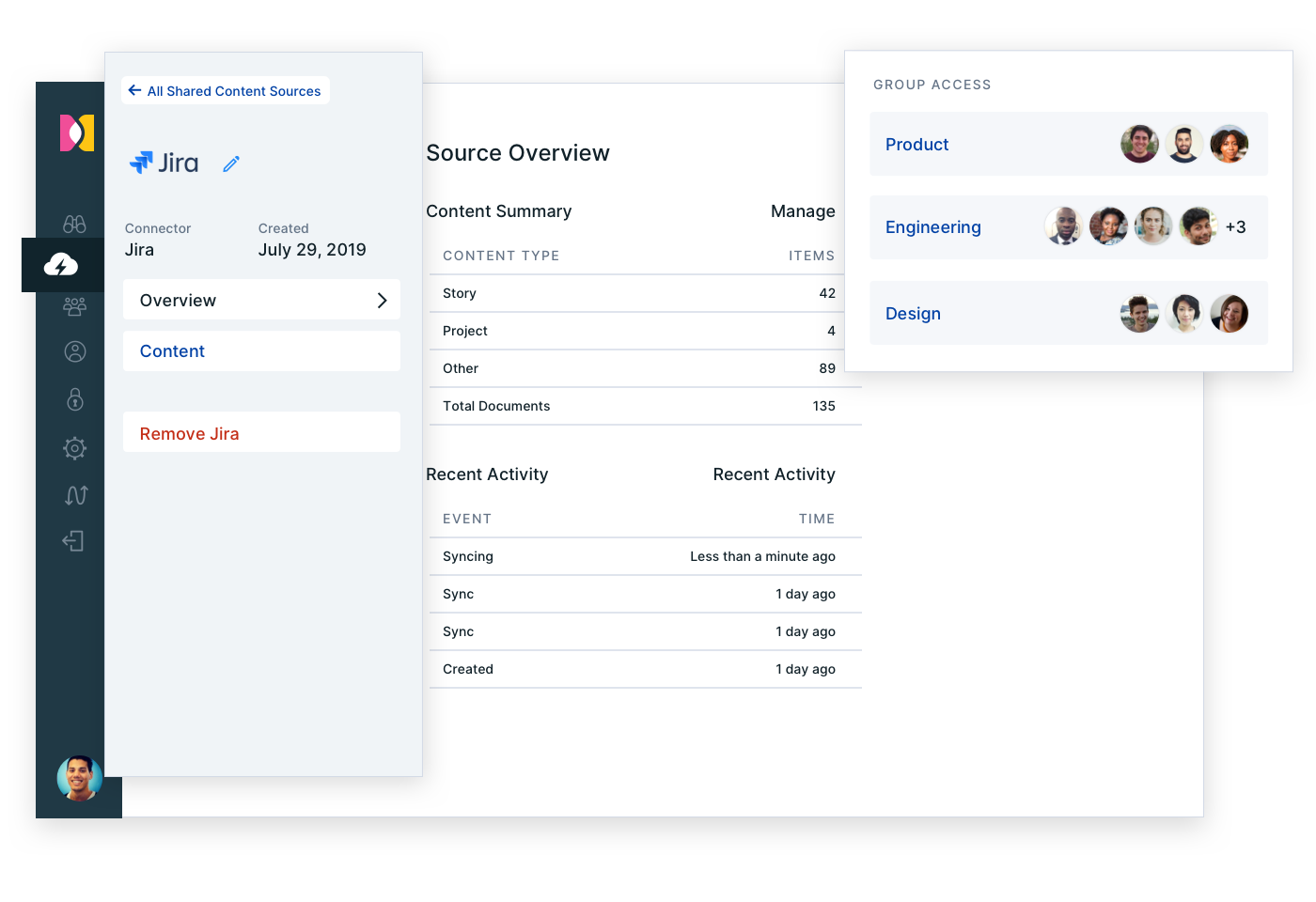 Get started with Elastic Workplace Search for unified search across common applications.
Watch video
Explore Elastic App Search for ecommerce sites, SaaS apps, mobile apps, and more.
Watch video
Become an Elastic Certified Engineer to grow opportunities as you work with Elasticsearch.
Learn more
New
Elastic Workplace Search 7.6 (beta) is out with improved performance, new connectors, and support for SAML/SSO.
PRODUCTIVITY
Elastic Workplace Search makes finding information at work not only effective, but enjoyable. With its highly polished, user-friendly search UI and out-of-the-box relevance, you can search like a human, not like a human trying to think like a search engine. And while you search, take advantage of helpful features like document previews and advanced keyword detection ("document" = .pdf, .doc, .xls,…). With search this helpful, it's like everyone in the office finally got their own personal assistant.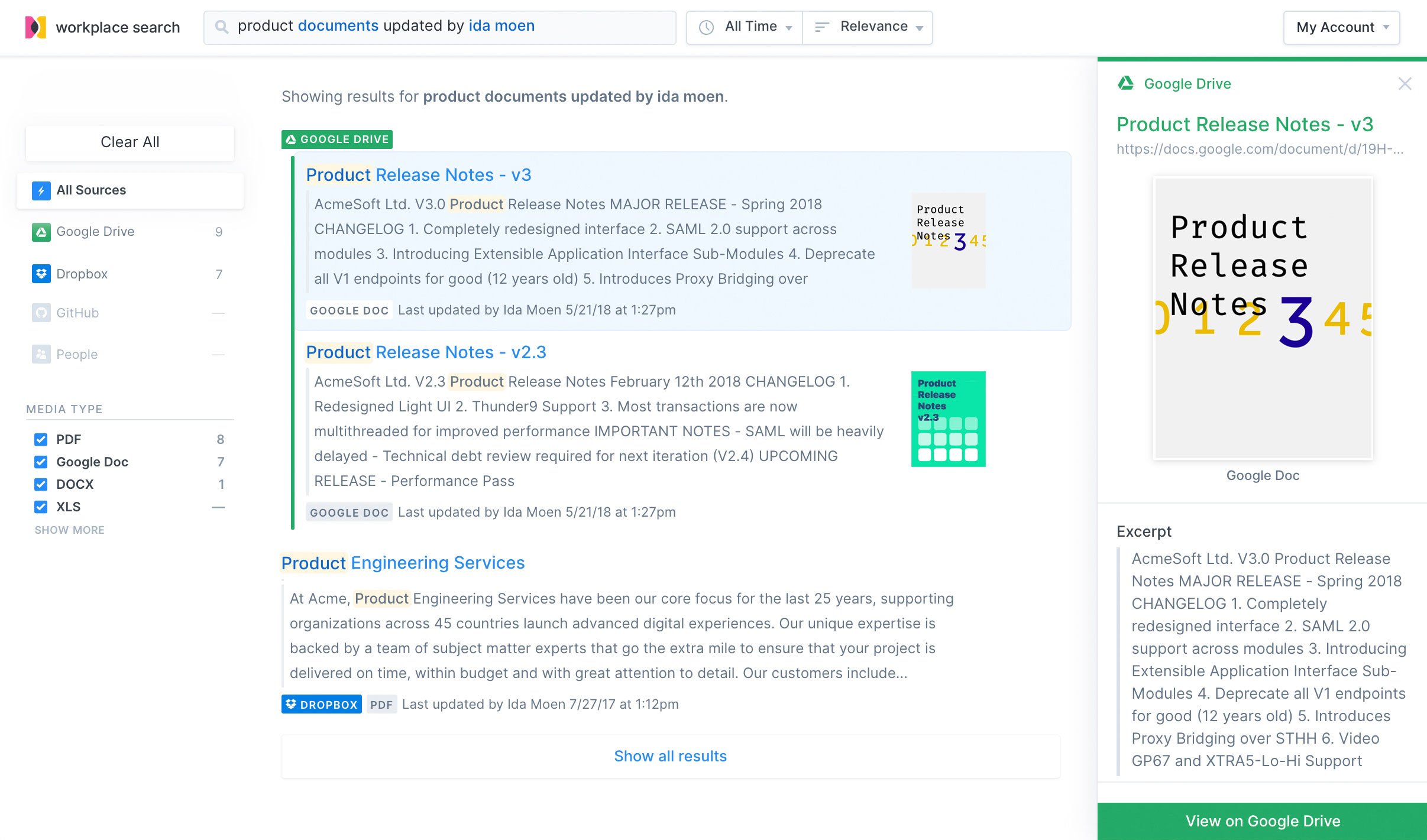 ALL THE DATA
Connect all of your common cloud sources to a single search engine, right out of the box. Or create a custom connection — on-prem or in the cloud — with the Custom Source API. Yup, it's that simple to unify all the data that took years to fling across the far corners of your infrastructure.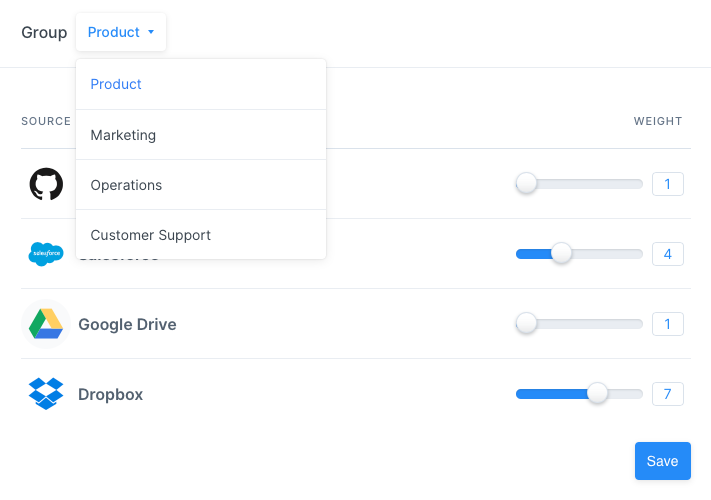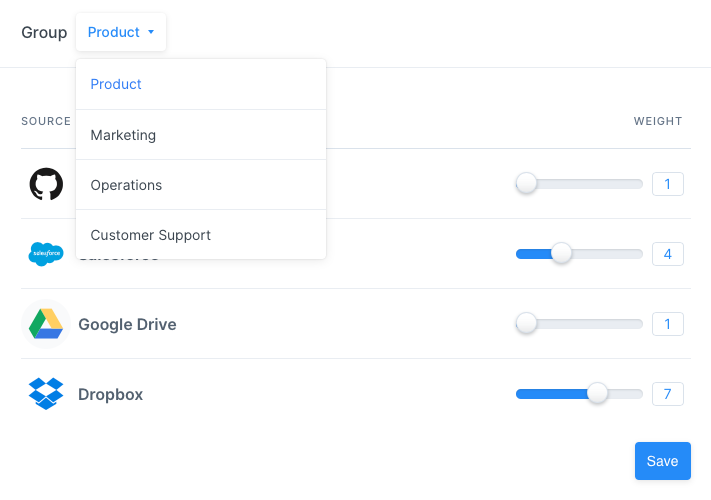 TUNED FOCUS
Different teams have different needs. With Elastic Workplace Search, you can go beyond global relevance tuning by curating results on a per-team basis. Whether Github and Google Drive for your engineering and support teams, or Salesforce and Dropbox for your marketing and sales teams, you can fine-tune results to ensure that every team in your company has the search engine that they need to be successful.
ACCESS CONTROL
Security is a priority for any company, and that extends to their search solutions. Elastic Workplace Search offers administrative options to help ensure that the right documents are only accessible to the right users. And if your organization leverages single sign-on (SSO), manage and provide access to Elastic Workplace Search using SAML. You're welcome, InfoSec.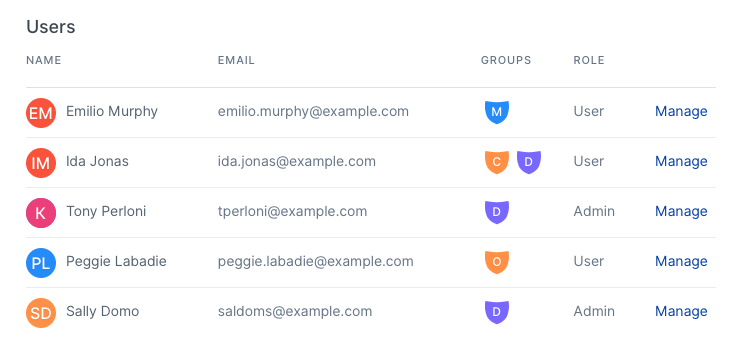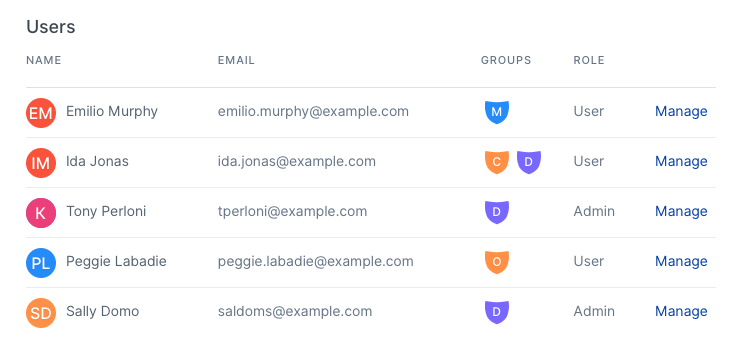 FUTURE-PROOF
Elastic Workplace Search is powered by Elasticsearch, so you don't have to sacrifice real-time speed for volume. As you connect more data sources and fine-tune your results, your deployment scales out with you. Users need their results quickly, no matter how many documents they're searching through.
SIMPLE ROLLOUT
Implementing Elastic Workplace Search doesn't require a large team of developers or a free weekend to take servers down. Get up and running in minutes without making any changes to your existing infrastructure. Just spin up a deployment, ingest data from your different data sources, and get searching.
SignUpCTA
Take the Elastic Workplace Search beta for a spin, and see what it can do for your company.
R&D
Engineering
Marketing
Sales
Support
At the core of Elastic Workplace Search is an engine powered by Elasticsearch. But if you want to use that same engine at the heart of your own custom enterprise solution, we're here for it. For some inspiration, learn how NASA's Jet Propulsion Laboratory uses the Elastic Stack to put the latest designs and research into the hands of the scientists and engineers building the spacecrafts that explore the universe. Then learn how they analyze and visualize the terabytes of data the robots send back.