Kibana
Discover, iterate, and resolve with ES|QL on Kibana
Run data analytics at speed and scale for observability, security, and search with Kibana. Powerful analysis on any data from any source, from threat intelligence to search analytics, logs to application monitoring, and much more.
Download Kibana
New to Kibana? Here's all you need to get started.
Watch video
Learn the core concepts of data analysis using Kibana.
Learn more
Are you using all of the features Kibana offers? Master the art of the Kibana dashboard.
Watch video
Build and iterate. Queries and results.
With ES|QL now in Kibana, write queries and make iterations based on the data you find. There's one in-line experience that gets you to the right results, quickly.
ANALYZE WITH PRECISION & SCALE
Make better decisions when seconds count and data is vast
Resolve issues faster and scale insights across use cases and teams when you use Kibana for data analytics. Discover insights to investigate threats, monitor systems, and evaluate search performance, and take action, all on one platform powered by the speed, scale, and relevance of Elasticsearch.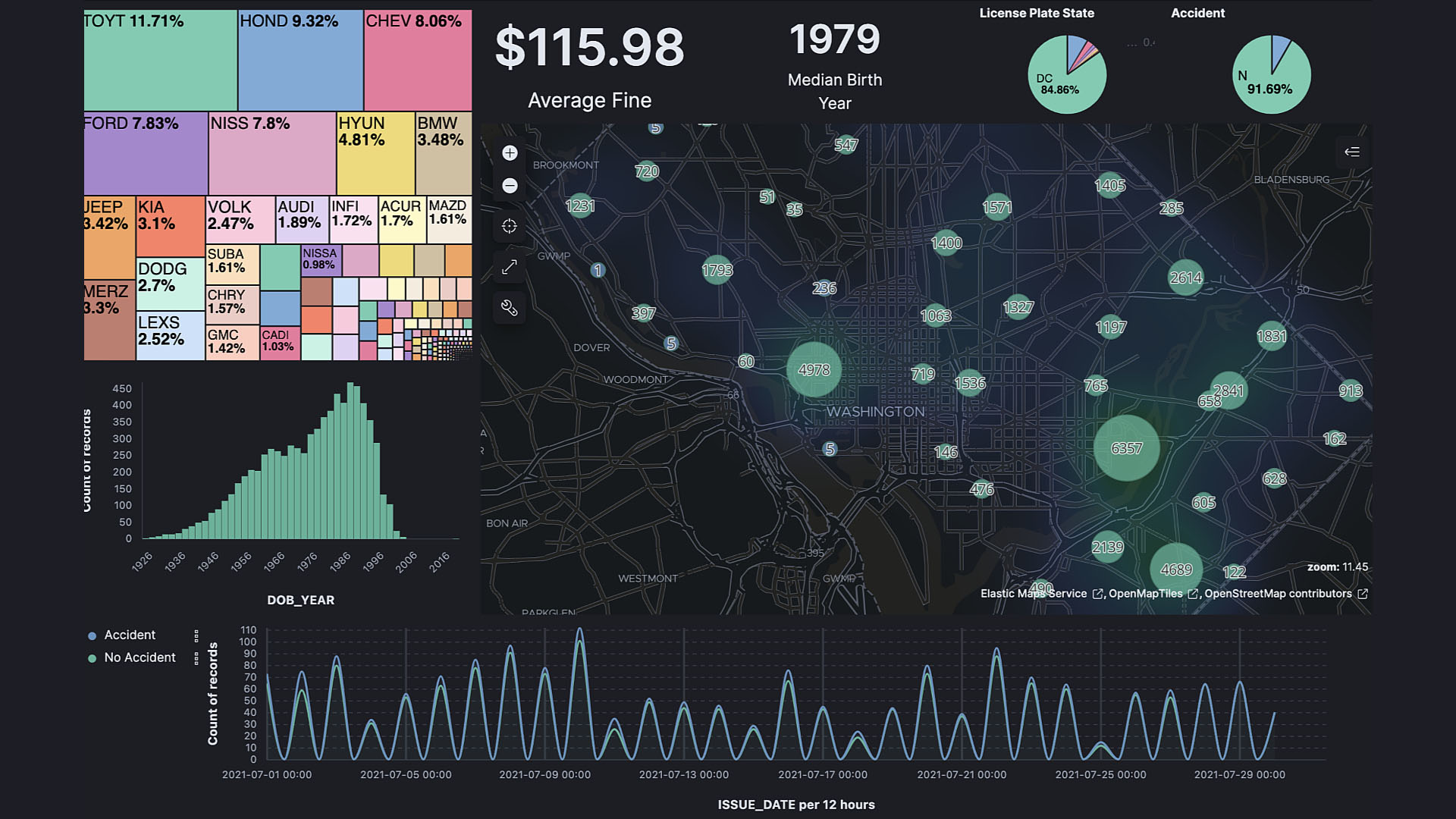 DATA ANALYTICS TO OBSERVE, PROTECT AND SEARCH
A picture is worth a thousand log lines…
Understand and explore your observability data, analyze and visualize potential security breaches, and share and take action on search analytics to improve your customer search results.
Faster analytics, faster solutions
From data exploration to finding insights to sharing results, Kibana gives you the ability to understand your data quickly, spot trends and anomalies at a glance, and route findings to the correct team on the spot.
EXPLORE AT SPEED
Survey your data landscape with field statistics
Go from bird's-eye view for strategic data discovery – to worm's-eye view in a few clicks to detect anomalies and troubleshoot issues. See all your fields and data distributions in one place so you can understand your data, transform it if you're missing something, and know the scope of your analysis before you start investigating.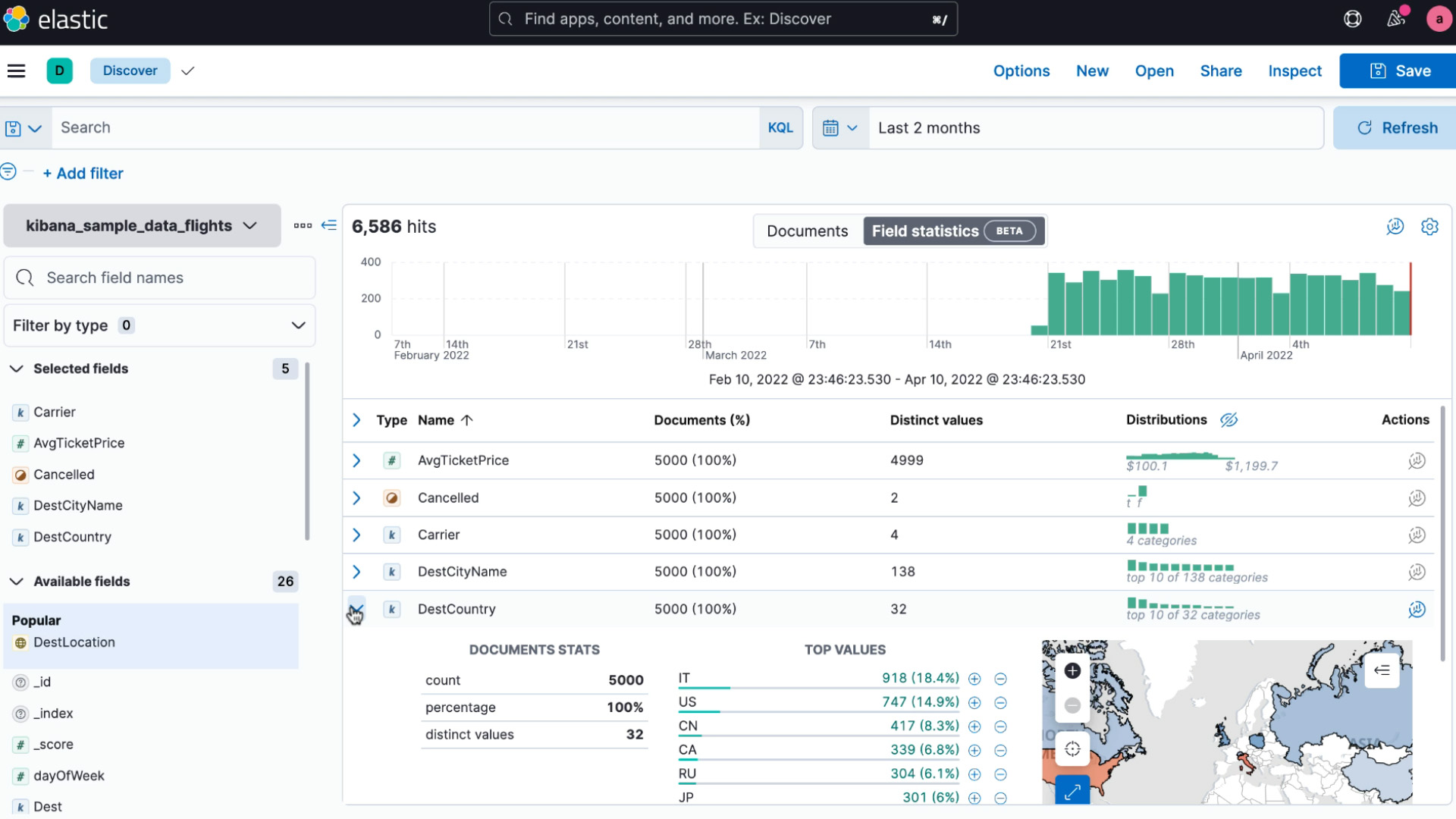 SHARE AT SPEED
Guide teams to insights with dashboards and cases
Rapidly create dashboards that pull together charts, maps, and filters to display the full picture of your data. Build customized dashboard-to-dashboard drilldowns that enable deeper analysis. Create cases for investigations and invite teammates to collaborate, making it easier to move from insight to action.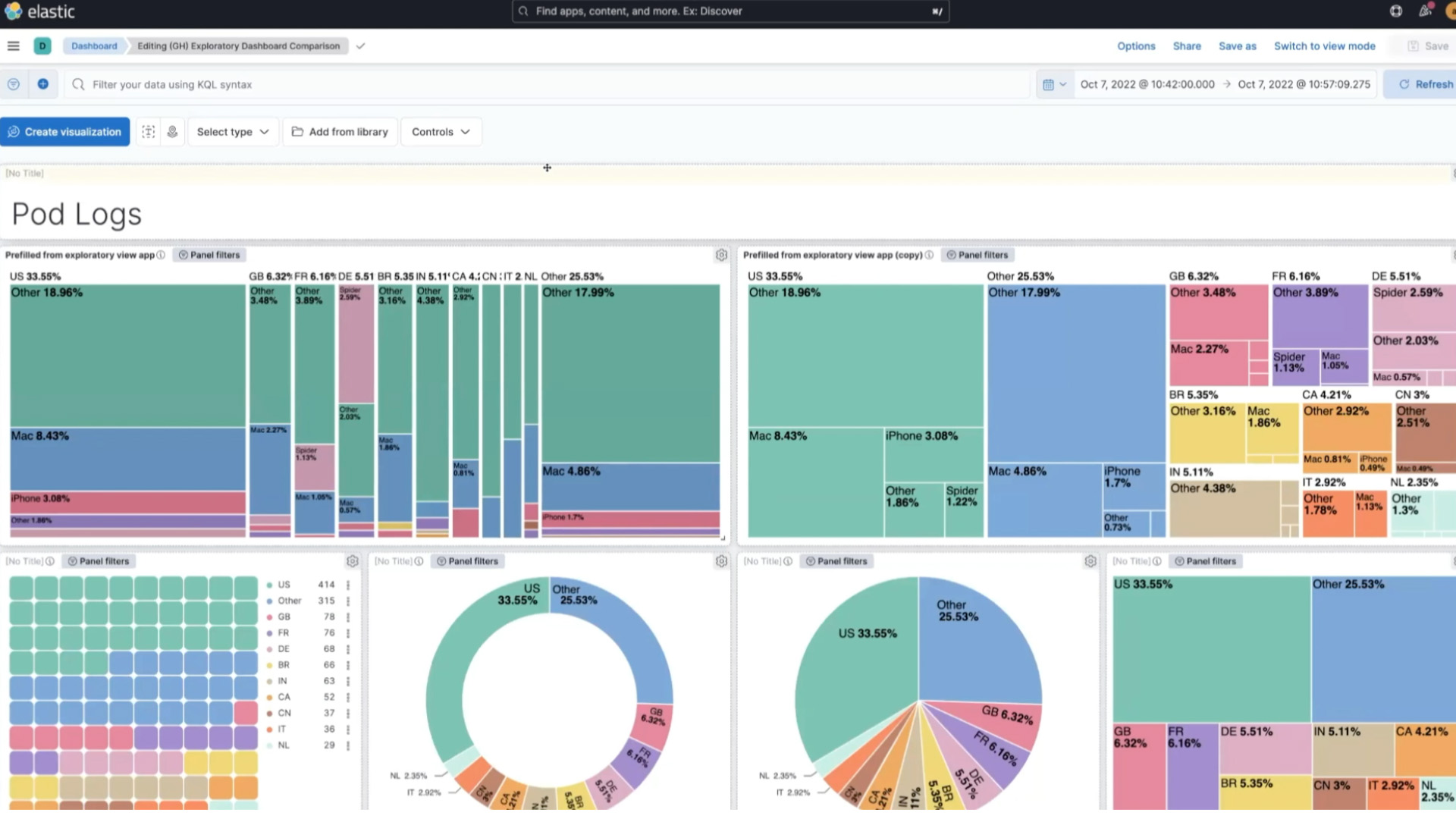 NOTIFY AT SPEED
Monitor and take action on alerts
Keep critical changes on your radar to avoid crisis scenarios. Create alerts that use index- and metric-based thresholds to send emails, create Slack notifications, activate PagerDuty workflows, or any number of other third party integrations. Define unique alerts from within Discover, Elastic Observability, and Elastic Security and monitor them holistically in the Management tab.
Scale your analytics for all your data
No matter how much, what data type, what data source, you can explore, visualize, and analyze a ton of data with Kibana.
Spot trends with precision
Answer complex questions using tools that improve the accuracy and precision of forecasting and finding correlations that are difficult to spot without trained models.
Match data findings to the audience with Canvas
Prepare results and findings for your leadership team with presentation-ready data visuals. Infuse your brand and style into the story of your data with the logos, colors, and design elements that are unique to you. Canvas helps you get creative with your live data — and it supports SQL.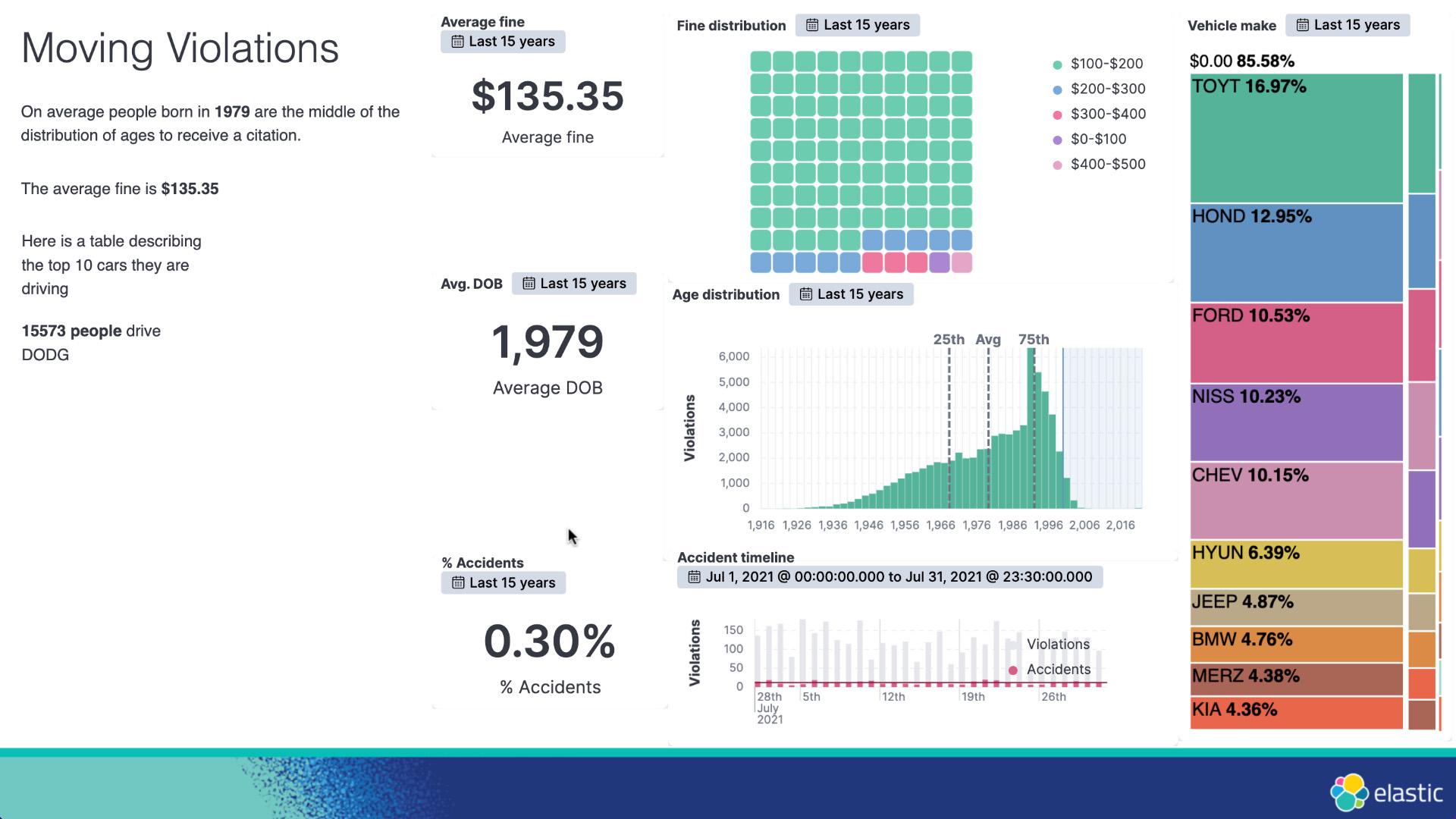 Run time series to find similarities
Replay your data in time and space to gain historical context and understand additional insight about the present. Use analytical power tools to spot anomalies and forecast future scenarios. Store all your historical data with searchable snapshots and data tiers and easily search archival data for use cases that require years of data.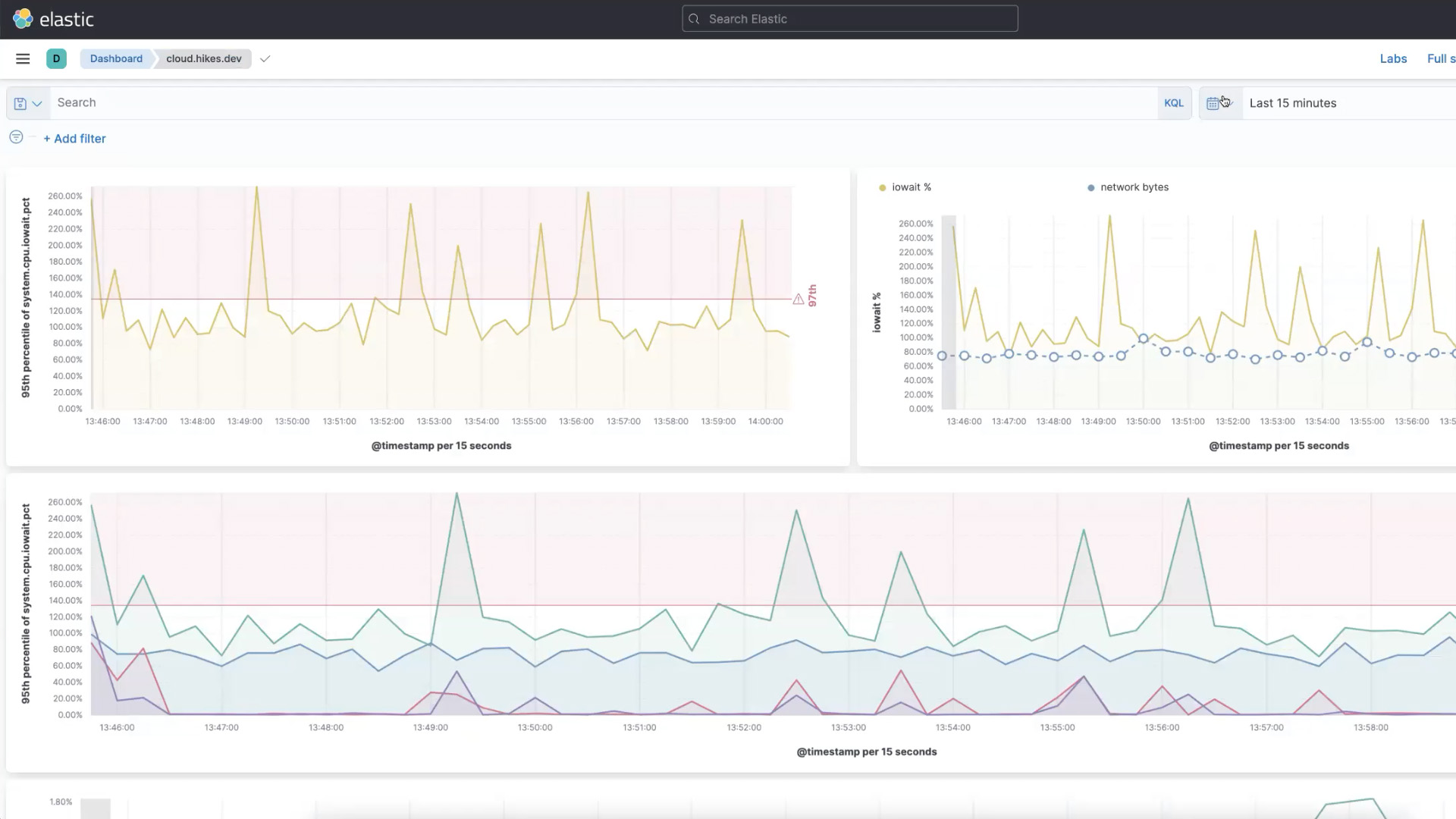 Analyze with the power of ML
Use Elastic's machine learning to automatically detect anomalies in your data, classify into categories, or identify trends that lead you to root causes. After visualizing data with Kibana Lens, you can transition straight into configuring the appropriate machine learning from your dashboard.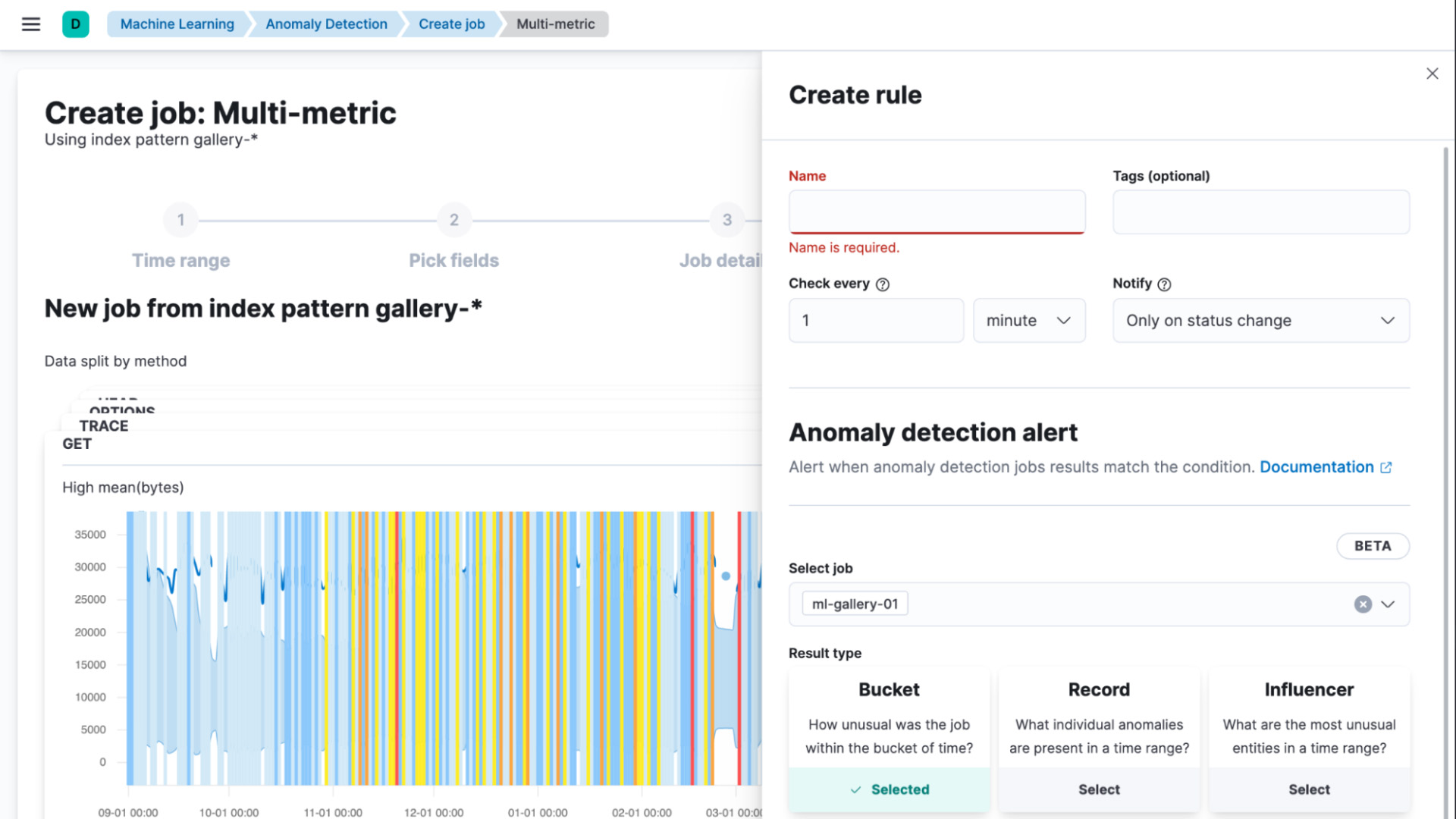 Elastic dashboards help our technical account managers deliver a better customer experience. Instead of coming to us with questions about the status of an incident or failure rates, they can see the information at-a-glance and take action to resolve customer issues more quickly.
Staff Software Engineer, WePay
Trusted, used, and loved by