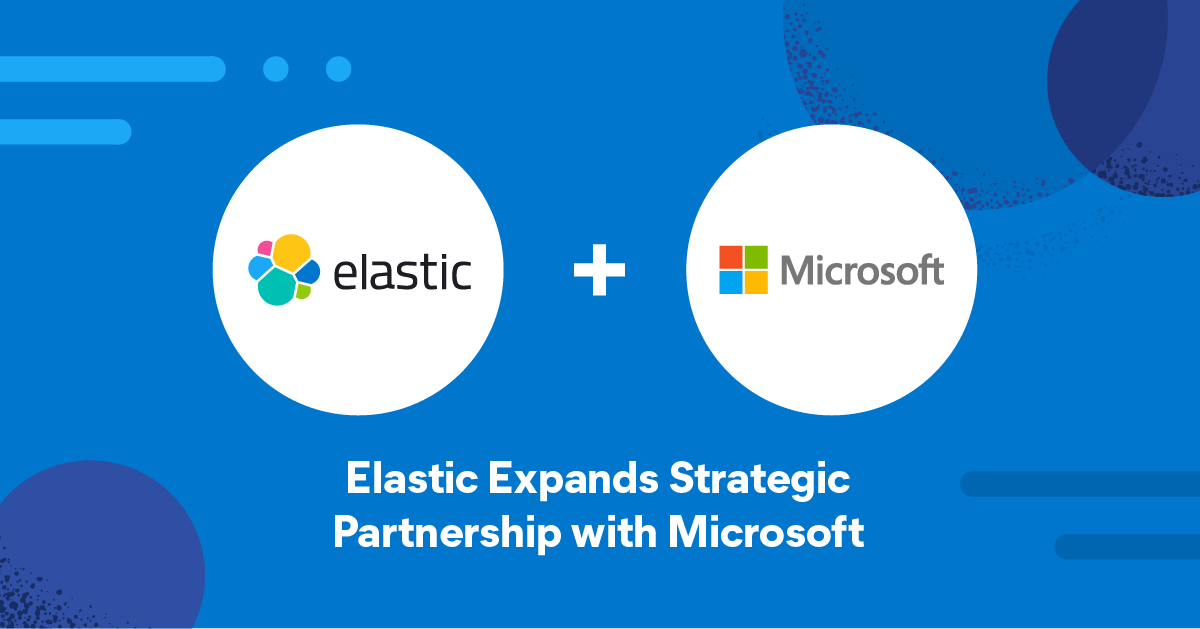 We're pleased to share exciting news regarding a new multi-year partnership agreement between Elastic and Microsoft. Today's announcement builds on our history of collaboration and will help you more easily search, observe and protect your applications, data, and infrastructure with Elastic Cloud on Azure. Our joint investments make it easier than ever for you to accelerate the results that matter.
"Microsoft and Elastic continue to forge a solid partnership and accelerate our collaboration on behalf of joint customers," said Ash Kulkarni, CEO, Elastic. "This new agreement expands our integrations and makes it even easier for customers to gain the operational advantages of observing and securing their applications, data, and infrastructure with Elastic Cloud on Azure."
"Search is not only a foundational element for building next-generation customer experiences, but a key technology for addressing the observability and security needs of businesses," said Judson Althoff, Executive Vice President and Chief Commercial Officer, Microsoft. "Through our strategic partnership, Elastic and Microsoft Azure's complementary technologies will help shorten the path to relevant data insights so customers can quickly find what they are looking for, visualize results, and take action to improve business outcomes."
Deploy and manage Elastic Cloud on Azure
Our partnership is focused on helping you get more out of both your data and your infrastructure. Elastic and Azure put the data you need to fuel your business at your fingertips, making it easy to find what you are looking for quickly and adapt to achieve your business objectives.

By combining the power of search and a future-ready cloud, it's easier than ever to innovate and adapt to turn possibilities into results. With Elastic and Azure, you can search faster, keep mission-critical applications running smoothly, and respond to complex cyber threats to minimize risk.
From the beginning of our strategic alliance, Elastic and Microsoft have prioritized integrations that extend Elastic solutions across Azure services. We've built an enhanced experience that makes it easier for you to bring in data from many different sources so you can transform data into actionable insights. With native integration within the Azure portal, it's easier than ever to accelerate the time to value for your search, observability, and security use cases. Deploy and manage Elastic Cloud on Azure like any other Azure resource using Azure's official SDKs, CLI, PowerShell, and REST API.
Elastic Cloud on Azure gives you the ability to deploy Elasticsearch directly within the Azure Portal, allowing you to benefit from easier deployments, integrated billing, and one-click integrations. Elasticsearch resources can be managed in the Azure portal just like any other native Azure service like virtual machines.
Transform data into actionable insights
Once your data is in Elastic, you can rely on one of the most widely deployed observability platforms available, built on the proven Elastic Stack, to converge silos, optimize application performance, and drive actionable insights. Elastic Observability delivers unified visibility across your entire cloud and on-premises ecosystem so you can monitor and react to events happening anywhere in your environment. 
Elastic brings logs, metrics, and traces together, at scale in a single stack with machine learning to help detect performance issues in real-time and surface root causes — before they impact your business. 
Azure subscription logs and Azure resource logs together provide an overview of the Azure platform to help you better audit activity within Azure. These logs can easily be exported from Azure into Elastic with a few clicks, eliminating the need for you to manually deploy an agent or configure an ingest workload. 
Using the depth of the data already living on Azure, Elastic helps you index big data at scale to improve the performance of enterprise apps while keeping the infrastructure that powers your business running smoothly. 
With the Elastic Common Schema (ECS) and single repository architecture, the same observability data from Azure and other data sets can also be used for extended detection and response (XDR) to drive mean time to detection towards zero with Elastic Security. Having a consolidated toolset and unified view of your data, you can reduce mean time to issues resolution and free up resources for innovation.
Benefit from cloud features to help you scale easily, save time, and reduce costs
Azure provides you with enterprise-grade cloud infrastructure and built-in features that help you design and operate mission-critical systems with confidence. Leverage Elastic features built for cloud such as autoscaling, frozen tier with searchable snapshots, and cross cluster replication and search. Move forward confidently on Azure knowing that Elastic applies security best practices to help make sure your deployment is secure from the ground up. Our managed service is continuously audited by independent parties to meet data security, compliance, and privacy industry standards. 
Through this partnership, you can do the following: 
Collect logs from any Azure service supported by Azure Platform Resources with Elastic's native Azure Portal integration. 
Monitor the health and performance of Azure environments by collecting and visualizing logs, metrics, and traces with Elastic Observability, including more than 20 agent-based integrations for services such as Azure Event Hub, Azure Monitor, Azure Spring Cloud, Azure Virtual Machines, and Azure Storage.
Protect Azure environments with a fast, scalable, and centralized platform for security information and event management (SIEM), threat hunting, and security response capabilities with Elastic Security.
Add powerful search and visualization capabilities to Azure applications, websites, and eCommerce search.
Enable knowledge workers to search across corporate data in Microsoft Teams, OneDrive, Sharepoint, and more with workplace search.
Start through Azure Marketplace
It's easy to get started with Elastic through Azure Marketplace. Building on the recent launch of Elastic Cloud in four new Azure regions (Brazil, Canada, India, and South Africa), you can quickly spin up a deployment in minutes on any of the 16 Elastic Cloud on Azure regions around the world. Additional regions are planned in the future, so you can run Elastic to solve your organization's challenges wherever your data resides – with lower latency and greater service resilience.
When you purchase and manage your Elastic subscription directly from the Azure Marketplace, you can frictionlessly provision your deployment using configuration defaults or using custom configurations. Easily ship and ingest data to Elastic using integrations with popular Azure and third-party services. Analyze and visualize it all with powerful Kibana dashboards. 
Your new account is automatically subscribed to the Elastic Cloud Enterprise subscription level, so you can experience all of the features and value offered by Elastic. You can update your subscription level at any time on the billing page within the Elastic Cloud Console. 
Additionally, your Azure Marketplace purchase of Elastic is included in your monthly consolidated billing statement and your investment in Elastic draws against your Microsoft Azure Consumption Commitment (MACC). You can explore your Elastic usage fees by region and deployment from the Elastic Cost Analysis page.
Deploy anywhere worldwide and get started with Elastic Cloud on Azure today!
Are you ready to transform endless data into endless possibilities with Elastic's search-powered solutions? Get started today by signing up via Azure Marketplace. 

The release and timing of any features or functionality described in this post remain at Elastic's sole discretion. Any features or functionality not currently available may not be delivered on time or at all.