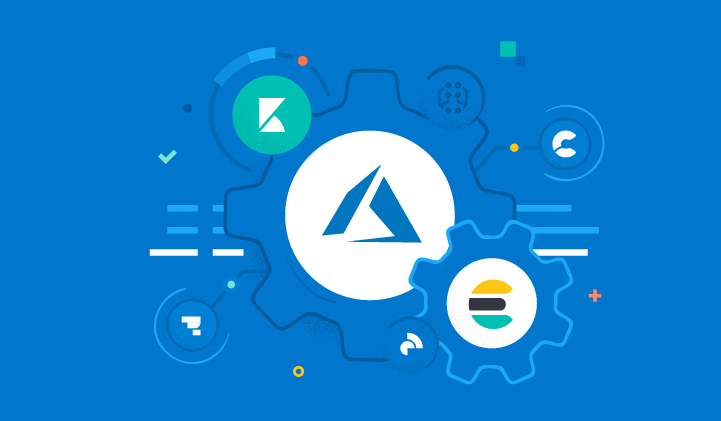 With Elastic Cloud and Microsoft Azure, you can remove data silos and uncover insights across your Microsoft Azure and on-premises environments. DevOps and IT practitioners can get the most out of their Azure infrastructure and data with Elastic, which adds the power of search to help teams monitor, manage, and protect environments. With Elastic on Azure, practitioners can analyze data logs and events to obtain insights, while DevSecOps and other security engineers can protect against threats by layering endpoint security and security event monitoring.
In this blog, we will review how to leverage end-to-end visibility across your Azure environment. We will also cover new enhancements to the Elasticsearch native integration on Azure offering, and subscription options.
Adding value to your business
Create improved customer outcomes and operational efficiencies with a holistic view into your Azure environment. Quickly gain visibility into the health and performance of your Azure environment by observing, monitoring, and analyzing logs, metrics, and APM traces with Elastic Observability.
View all of your logs flowing in from your on-premises locations to your Azure environment, including servers, virtual machines, and containers, in a single pane of glass. You no longer have to worry about watching thousands of screens from diverse sources. Instead of scrolling and manually identifying similar logs, quickly see trends with the log categorization view within the UI.
Once the data is streaming into Elastic, you can index your data into Elasticsearch and visualize it all in Kibana in minutes. Ingest all telemetry, add context, and automatically correlate between traces, logs, and metrics for faster root cause analysis and significantly reducing MTTR to increase productivity and innovation.
Tracking and securing data
Protect your Azure environment by applying the same observability data to perform involved threat hunts or just pull up a quick dashboard for management with Elastic Security. Extended protection and response (XDR) modernizes your security operations, enabling analytics across years of data, automating key processes, and bringing native endpoint security to every host. Elastic brings together SIEM and endpoint security, allowing you to ingest and retain large volumes of data from diverse sources, store and search data for longer, and augment threat hunting with detections and machine learning. Security events from Microsoft Defender Advanced Threat Protection (ATP) are collected in Elastic. You can eliminate your data silos, reduce alert fatigue, and arm yourself to stop threats, quickly and at cloud scale.
Explore options for cost-efficient storage
Having historical data also helps understand patterns to improve your standard of operations. You can retain your Azure data at any granularity for any length of time and then scale as your data grows. Elastic's autoscaling feature monitors and adjusts resource capacity across hot, warm, cold, and frozen data tiers to maintain node performance. Snapshots can be stored and searched cost-effectively in Microsoft Blob Storage. Cross-cluster search and replication lets you search clusters across regions and even cloud service providers, as well as place copies of data closer to the users that need it.
Deploy and manage Elastic on Azure
Whether you are focused on streamlining operations or maintaining security, you can immediately deploy Elasticsearch natively on Azure to benefit from the latest Elastic innovations and seamlessly integrate it into your Azure environment. Elasticsearch is operated, patched, secured, and supported by the experts at Elastic, so you can focus on gaining insights that help you run your business. By deploying Elastic directly within the Azure portal, DevOps and IT practitioners can automate ingestion of their Azure platform, resource, and virtual machine logs with just a few clicks.
To simplify access, you can use single sign-on (SSO) using your Azure account to access Elastic, giving you a seamless experience. DevOps and other IT practitioners can view and manage their Elasticsearch deployments directly within the Azure portal in any of the 12 supported Azure regions — and this number keeps growing. Additionally, Azure Private Link offers secure connectivity between other hosted Azure services and your Elastic deployment.
Since we introduced the Azure portal integration earlier this year, we have added enhanced out-of-the-box support for monitoring popular Azure services like Azure Spring Cloud, a fully managed Spring Cloud service. You can now deploy and manage Elasticsearch using the official Azure SDKs to easily orchestrate Elasticsearch instances.
Streamline billing options
There are four Elastic Cloud subscription options: Standard, Gold, Platinum, and Enterprise. You can choose to upgrade your subscription level at any time to meet your business requirements. These four options are available in monthly, annual, or prepaid multi-year subscriptions. You will receive consolidated Azure bills containing your Elastic usage charges as a line item and your Elastic spend can accrue toward your annual Microsoft Azure Consumption Commitment. Say goodbye to multiple bills, worrying about meeting your annual requirements, or the hassle of managing separate expenditures.
Getting started with Elastic Cloud
See an overview and demo of Elastic Stack in our on-demand Microsoft Ignite virtual session. We cover how you can find relevant content, quickly remediate IT issues, and protect against threats across your whole Azure environment. Or, watch the ElasticON Global keynote session featuring Scott Guthrie, Executive Vice President of Cloud + AI at Microsoft (at 27:05) to learn more about the Elastic and Microsoft partnership, including a brief demo on how to deploy and configure Elastic on Azure. If you are ready to get started today, visit the Azure Marketplace and subscribe to Elastic Cloud.
The release and timing of any features or functionality described in this document remain at Elastic's sole discretion. Any features or functionality not currently available may not be delivered on time or at all.