By migrating from Splunk, Entel has the capacity to grow its data ingest and can now provide 24/7 visibility into critical services across IT and Business teams in Chile and Perú — all powered by the Elastic Stack
Keeping Executives Informed
In a first, executives have a real-time view into business and operational metrics in addition to companywide analytics to help scale, enhance, and control the customer experience
Mobile business increased as Entel can now ingest data needed to identify sales channels to foster prepaid and postpaid customers
Company Overview
Entel is the leading telecommunications and technology operator in Chile, with fast growing operations in Perú. In Chile, Entel offers a full range of telecommunication services, data centers, contact centers, and IT outsourcing direct to consumers as well as businesses of all sizes. In 2013, Entel acquired Nextel and expanded operations to Perú. Now as the third largest provider in Perú, with about 8 million customers, Entel provides nationwide coverage for mobile voice and data services.

Future-proofing centralized IT operations with Elastic
For years, Entel was facing several technological challenges to compete successfully in the telco market. Entel's legacy systems had limited functionality to support and create new offers, online channels needed to evolve in terms of customer experience, and  the vendor support limited the go-to-market strategy and a host of other functions like sales and product development. As customer needs became more demanding, Entel needed the right technology to innovate and scale in an agile manner.
In 2015, to turn things around, Entel prioritized their digital transformation project. The idea was to define an enterprise architecture strategy and a technical architecture framework with a philosophy of "thinking big, starting small, scaling fast" to manage risk and merge operations in Perú and Chile and to simplify business complexity. Entel also wanted to build long-term relationships with vendors and partners, and would eventually choose Elastic to unify multinational observability in Chile and Perú, which had operated independently of one another. Entel started the business transformation following a strong governance model with a dedicated functional team to support operations, change management and to ensure end-to-end data quality.

Before the digital transformation, each country had its own set of teams, processes, and tools that were working with legacy systems for logging, visualization, monitoring and analytics. Having these separate tools was not only wasteful, they were costly to maintain.

The Elastic digital transformation journey begins
The challenge, which Elastic helped solve, was to implement robust operational control, combine teams, methodologies and unify a vision of service. To do that, Entel's digital transformation team was given the task of unifying and standardizing operations for both countries into a centralized IT monitoring framework. Oscar Narváez, Tools & Analytic Monitoring Team Leader for the digital transformation team for both Chile and Perú, says that the initial goals were not only to migrate all of Entel's services online, but also to standardize on a tool that would allow Entel to analyze all the data needed to ensure optimal operations. With this new tool—Elastic—Entel would no longer have to deal with the daily complications of deciding what not to index because they would no longer be limited by their legacy technology.
After finishing the first phase of the project, with the migration of 100% of PrePaid customers, Helder Branco, Head IT Operations, and Narváez, identified that the initial monitoring tools framework they chose — HP, now Micro Focus — were not in line with expectations. So the team spun up a PoC with the Elastic Stack, and in under a month the outstanding results convinced them to implement it as their standardized tool. With those initial successes seen so quickly, Branco and team knew they had their solution and wanted to get it up and running as quickly as possible. They reached out to Elastic to engage with the experts to help them architect, launch, and scale their system right away.
With the assistance of Elastic consultants, they built a centralized view of IT operations for Entel's Command Center to get 24/7 visibility into critical services across Chile and Perú, all powered by the Elastic Stack.

The Elastic Stack represents the backbone of the digital transformation project to give us visibility to Entel as a whole.
– Oscar Narváez, Tools & Analytic Monitoring Team Leader | Entel
Now in the event of an operational issue, no matter where it occurs within Entel, specialized support teams can easily view all the relevant information in their Kibana dashboards in near real-time, and can immediately start the initial analysis to isolate and mitigate issues. Moreover, because Entel's digital transformation operations are no longer limited by the amount of data that can be indexed and stored, all teams can easily investigate issues and correlate historic data with the near real-time streaming information. 
"Entel now has visibility into over 95% of all operations services," says Branco. "Now we just need to simply log in to Kibana and we can see what happens on every platform. We can pull data from orders, top-ups, commercial evaluations, store platforms, claims, and even technical issues. We integrated data from machines, stores, databases, all of the infrastructure indicator issues, and have made a single framework for Perú and Chile."
In addition, for the first time at Entel, business units and executives now have a real-time view into network metrics and analytics across the company that they can rely on to continuously grow the business and benefit customer experience. 
Narváez and team can quickly build visualizations for the team and for executives by having quick access to billions of documents. 
In Chile, for example, Entel has the following implementation: 142 Information loading pipelines, 206 dashboards, 10.5 billion indexed documents, 3.7 TB of indexed data and 35 GB of daily processing. In Perú´, Entel has this implementation: 68 information loading pipelines, 139 dashboards, 2.8 billion indexed documents, 600 GB of indexed data and 15 GB of daily processing.

I'm grateful for Elastic because I have no restrictions on performance, traffic issues, or space. Elastic has been incredibly helpful for building dashboards and reporting.
– Helder Branco, IT operations manager | Entel
Mean time to resolution reduced by 80%
With the successful launch of the Elastic-based centralized IT monitoring operation, Entel can now react to operational issues much quicker than before. However, as Entel continued to seek out ways to provide a better customer experience, Narváez and team realized they needed to shift their anomaly mitigation plan from simply reactive to a more proactive detection and prevention approach. Prior to Elastic, this approach and added benefits would have been impossible. With Entel's previous solution, identifying anomalies was incredibly time and resource intensive. Support teams and incident managers had to manually review the data to establish patterns or isolate issues.
By standardizing and engaging with Elastic, Narváez and team now have built-in access to the machine learning features of the Elastic Stack. This allows the team to naturally integrate machine learning into their centralized IT operations without additional tools or systems. With data streaming in from two countries—each with business and operational data coming from 20 different and disparate sources—the combination of Elastic's machine learning and alerting features have paid immediate dividends.

Once we started using Elastic machine learning, our mean time to resolution when it came to identify and mitigate these production issues was reduced by 80%, as what used to take hours, we are now handling in minutes.
– Oscar Narváez, Tools & Analytic Monitoring Team Leader | Entel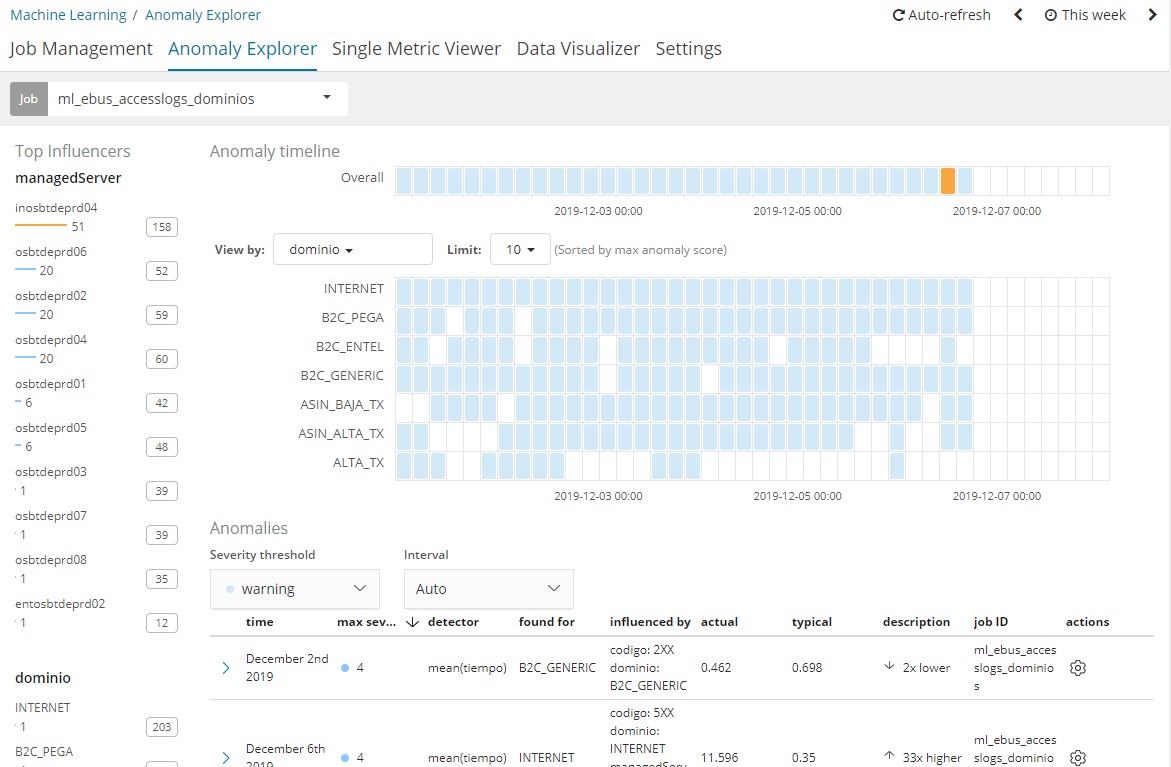 Boosting the prepaid mobile business
Now that Entel has a holistic view of its data, the digital transformation team can start providing answers to areas of the business that historically lacked visibility, particularly when it comes to Entel's prepaid mobile business.
Traditionally, prepaid mobile customers are hard to retain since they are purchasing a new line simply for temporary use with no intended long-term investment. This model is costly from an operational perspective and risky to the organizational bottom line because revenue from it is not guaranteed for longer than 30 days per customer.  However, if Entel could identify prepaid customers who continually recharge their accounts, they could start running integrated marketing efforts to encourage longer term investment. Before Elastic, Entel couldn't ingest the requisite data needed to identify which sales channels foster these positive prepaid customers. 
Now, unburdened from ingest limits, Entel teams have instant access to the data that allows them to easily discover these successful prepaid customers. Real-time dashboards, service logs, user interaction, and services correlations for the first time reveal the channels that encourage sales, including a quality indicator about customer refills and longevity. This, along with other factors, has helped the company boost availability and performance, as well as increase the base of prepaid mobile business customers by 1.27 million individuals in 2019 alone.

The Elastic partnership
As Entel scales, the company has continued to partner with Elastic consultants and support staff to create new development opportunities in Perú and Chile. According to Entel, conversations with Elastic Consultants were simple and easy when it came to connecting the business problem to the technical solutions.
Elastic Consultants were able to help us accelerate ideas, solve challenges, and optimize our projects. In less than one week they got a good knowledge on how they were collecting and transforming data.
– Oscar Narváez, Tools & Analytic Monitoring Team Leader | Entel
Entel's Elastic future roadmap
The next big shift in Entel's digital transformation journey is to move self-managed Elastic deployments to Elasticsearch Service on Elastic Cloud. According to Narváez, this change will enable Entel to continue to support both operations and analytics tools in a centralized way that scales seamlessly as Entel grows.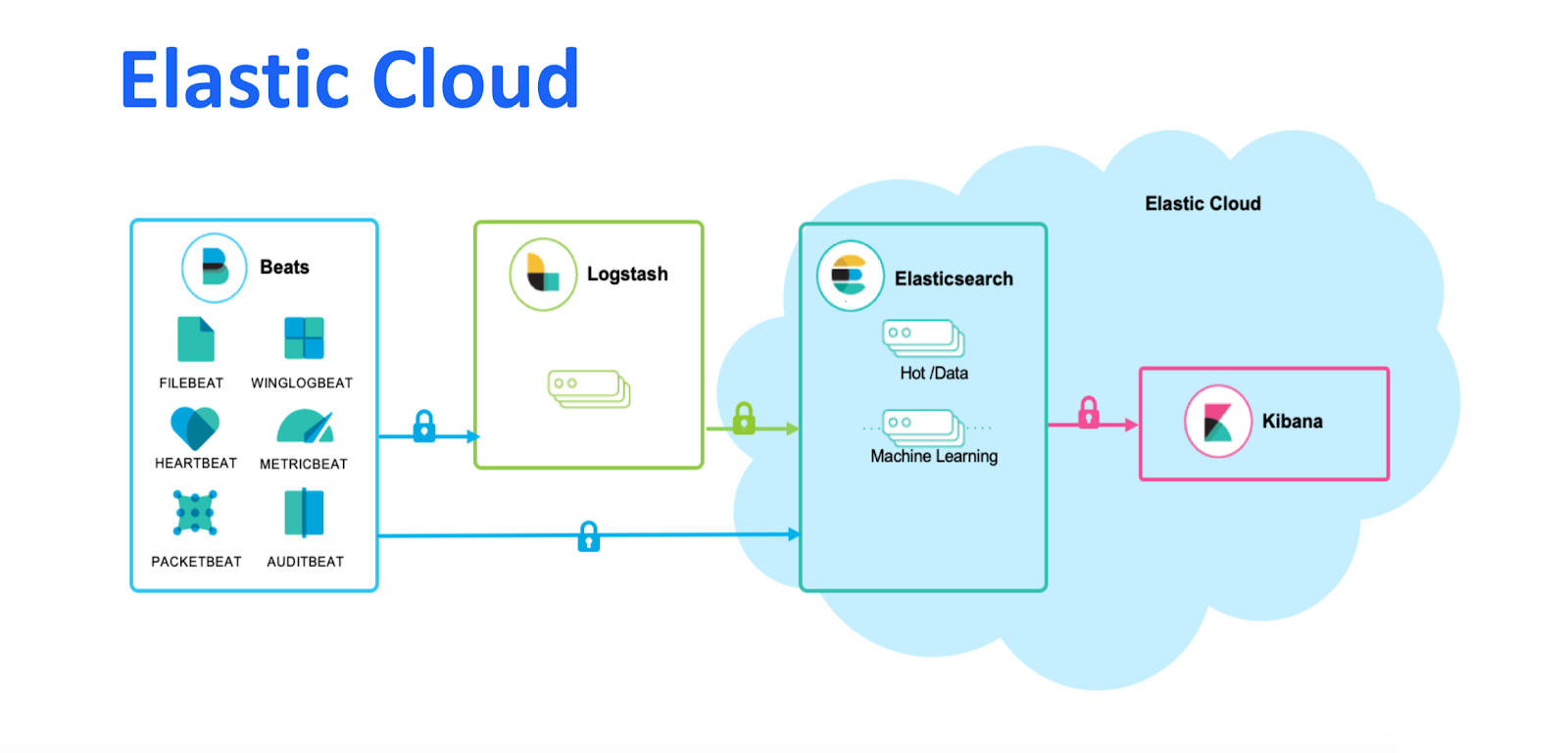 Entel is committed to improving customer experience every step of the way. Narváez says they already have plans to improve Entel's self-service portal that allows customers to manage their balance and data services. By analyzing which are the steps where clients are experiencing difficulties, Entel can improve user experience and prevent people from leaving the site and not completing transactions. 
In addition, the telecommunications company is looking into capturing performance times, seeing what equipment the client is using, which browser, and network connectivity (i.e. 3G, 4G, VoLTE). Other projects will come as well. 
Branco and Narváez are confident Elastic's technology and consultants will be there to support them every step of the way.
"Elastic helped us,"  Branco says, "and will continue to help us transform and scale our telecom in a successful way that our previous solutions could not."