Elastic Stack 7.17 released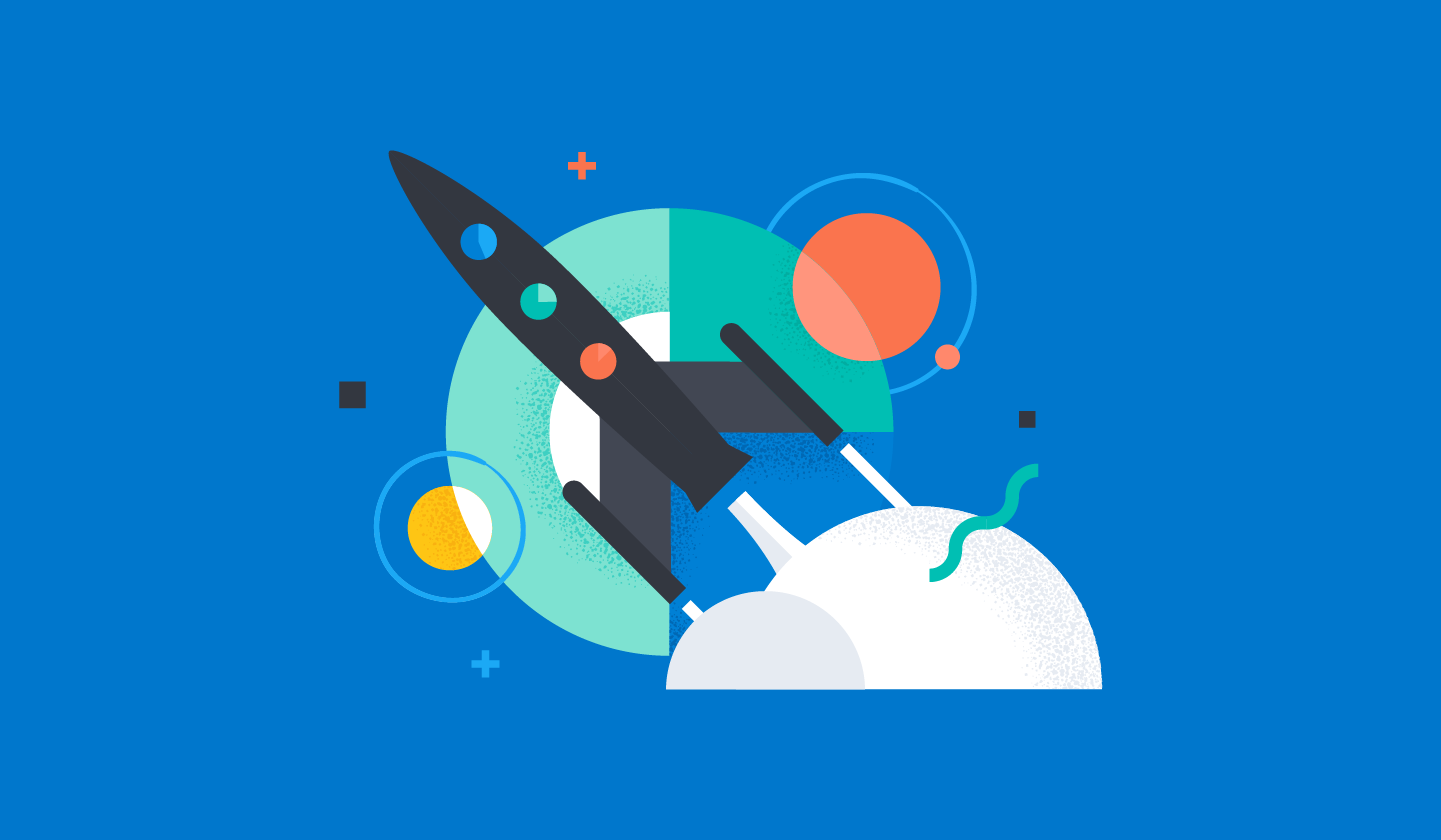 The Elastic Stack 7.17 introduces the last installment of the 7.x series, and includes the latest Upgrade Assistant which helps users upgrade to 8.0 and beyond. This latest version will bring you the best of search, analysis, visualizations, and actionable workflows, whether you're using one or all of Elastic's solutions.
The Elastic Stack continues to grow more performant, scalable, and faster for users of Elastic's managed cloud service (and those using a self-managed deployment). New features include:
A new and improved Upgrade Assistant to guide users through Elasticsearch and Kibana deprecations, providing automated system remediation where possible and instructions for manual remediation as needed.
Enhancements for performance and scalability.
Updated Docker images for all products that previously used CentOS 8. Due to Red Hat's end of support for CentOS 8, Elastic no longer uses CentOS 8 for Docker images with Elastic 7.17 and will end OS compatibility between Elastic products and CentOS 8 with Elastic 8.0. 
The Elastic Stack 7.17 is
available now on Elastic Cloud
— the only hosted Elasticsearch offering to include all of the new features in this latest release. You can also
download the Elastic Stack
and our cloud orchestration products, Elastic Cloud Enterprise and Elastic Cloud for Kubernetes, for a self-managed experience.
Upgrade for ∞ possibilities
Why upgrade?
Elastic 8.0 will be our most performant, scalable, secure, and fastest version of the Elastic Stack yet — with highlights such as vector search and Approximate Nearest Neighbor (ANN) search, modern NLP, and simplified Stack security, to name just a few. Upgrading to 7.17 will make your future transition to 8.0 smooth, with the newest Upgrade Assistant at your side. 
As we reach the end of the Elastic 7.x series, a look back on what we released over the past couple of years shows how far we've come and speaks to how much further we plan to go in the 8.x series. Don't miss out on all the exciting features that are coming with 8.x. You can preview the upcoming features in the 8.0 beta blog or try it yourself on-prem.
Upgrade Assistant to the rescue
The Upgrade Assistant was first introduced in 5.x and has gotten even better with 7.17. With a guided experience in Kibana, users can review the required steps to get from 7.17 to 8.x, learn about Elasticsearch and Kibana deprecations, and weigh remediation options including automated setting changes. Users must upgrade to 7.17 to use the Upgrade Assistant, as this is where the latest information lives.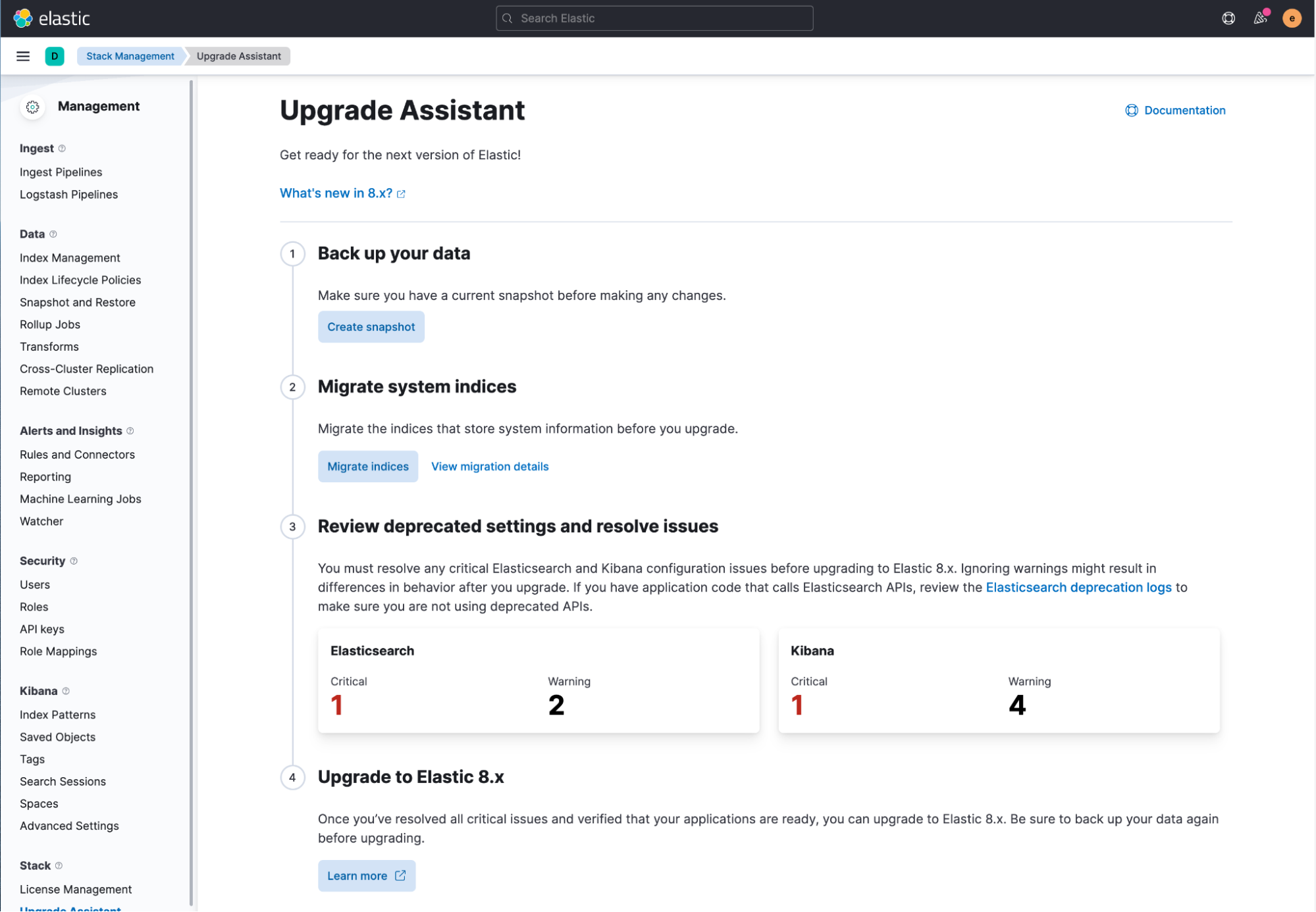 Expanded deprecation coverage
The Upgrade Assistant will take you through a list of Elasticsearch deprecations and Kibana deprecations (if relevant). Deprecations that must be addressed before upgrading will be clearly labeled as critical. Elasticsearch deprecations show deprecated cluster, node, and index configuration settings, and if a deprecation requires reindexing to mitigate, the Upgrade Assistant will provide an overview of the data that will change so that you can review and then acknowledge the change (required) prior to performing the reindex.
Broad range of remediation options
Besides assisting with reindexing, the Upgrade Assistant also provides several options for remediation depending on the deprecation. For some deprecations, like some Elasticsearch settings deprecations, the Upgrade Assistant will show the relevant deprecated settings for review and resolve these immediately with the "Remove deprecated settings" action. The same is available for certain Kibana settings with a "Quick resolve" action. For other deprecations that must be handled manually, the Upgrade Assistant provides basic information and links to documentation that will walk you through the remediation.
Updating deprecated API features for applications
The Upgrade Assistant also provides support for reviewing Elasticsearch deprecation logs to ensure users are not using deprecated APIs. With the new logging checkpoint feature, the Upgrade Assistant will help users track the number of deprecation logs emitted since that last checkpoint to observe whether deprecation fixes were successful.
Looking for more upgrade resources?
Want additional help and resources for upgrading to 8.x? Join us for Elastic Stack's Upgrade to 8.0 webinar or see CJ Cenizal's talk about the Upgrade Assistant from ElasticON Global 2021 (please note that this talk uses a preview version of the 7.17 Upgrade Assistant, so there may be minor differences).
Even more performance and scale improvements
Deduplication for enhanced performance and scale
Every index has a mapping and setting that contains a list of fields definitions and configurations related to the respective index. For time-series data, it is common that indices with the same index pattern (now data stream) would all have the same settings and mappings. Before 7.17, all of these were stored individually per index. The more indices you have, the more heap is required for storing the data structure on data nodes.
With the introduction of deduplication in 7.17, all identical mapping or settings are reduced to just one set for multiple indices. For example, 10,000 Auditbeat indices consume about 500 MB of the heap with duplicated settings before 7.17. The setting deduplication feature brings the heap consumption down to 1MB on every node in the cluster. As a result, the cluster state required to broadcast to all nodes is notably reduced, and performance and resiliency of the cluster operation are improved.
End of support for CentOS 8
Due to the end of support for CentOS 8, Elastic has updated its Docker images for all products that previously used it to Ubuntu 20.04. For the same reason, running Elastic 7.17 on CentOS 8 is not recommended — but is still supported — until Elastic 8.0, at which point Elastic will no longer support CentOS 8.
Try it out
Existing Elastic Cloud customers can access many of these features directly from the Elastic Cloud console. If you're new to Elastic Cloud, take a look at our Quick Start guides (bite-sized training videos to get you started quickly) or our free fundamentals training courses. You can always get started with a free 14-day trial of Elastic Cloud. Or download the self-managed version of the Elastic Stack for free.
Read about these capabilities and more in the Elastic Stack 7.17 release notes below.
7.17.0 release notes
Elastic Stack
Elastic Enterprise Search
Elastic Observability
Elastic Security
The release and timing of any features or functionality described in this post remain at Elastic's sole discretion. Any features or functionality not currently available may not be delivered on time or at all.