As a part of Elastic Cares, we offer 40 hours of volunteer time off (VTO) to all Elasticians. In a previous post, we heard from an Elastic group that built a family home. In this post, we hear from Nik Richers and how he used his VTO. Please note that this interview has been edited for length and clarity.
Can you tell us a little bit about yourself, what do you do at Elastic?

Hiya! I'm Nik and I'm one of three technical writers on the Elastic Cloud team. I work from Vancouver Island on the west coast of Canada and just passed my two-year anniversary at Elastic.
How do you use your Elastic volunteer time off (VTO)?
The volunteer opportunity I want to talk about is with Refugee Rescue, a small Irish NGO that has been operating on the north shore of Lesvos in Greece since late 2015. For two weeks, I crewed on the "Mo Chara," a wonderful, old Atlantic-class lifeboat helping refugees as they arrived in rickety, overloaded dinghies in an effort to help prevent further deaths at sea. When I wasn't driving our boat, I spent time helping out in a UN temporary refugee camp nearby.
Lesvos is one of the Greek islands off the coast of Turkey in the Aegean Sea that has been a hot spot for refugee arrivals, many driven out by the ongoing civil war in Syria, but refugees arrive from as far as Iran and Afghanistan. The peak of the crisis happened in 2015 - 2016, when a thousand people a day arrived on Lesvos alone, yet boats continue to arrive even today. When I was there, about 150 - 200 refugees were landing each day on Lesvos. About half were children, sometimes unaccompanied.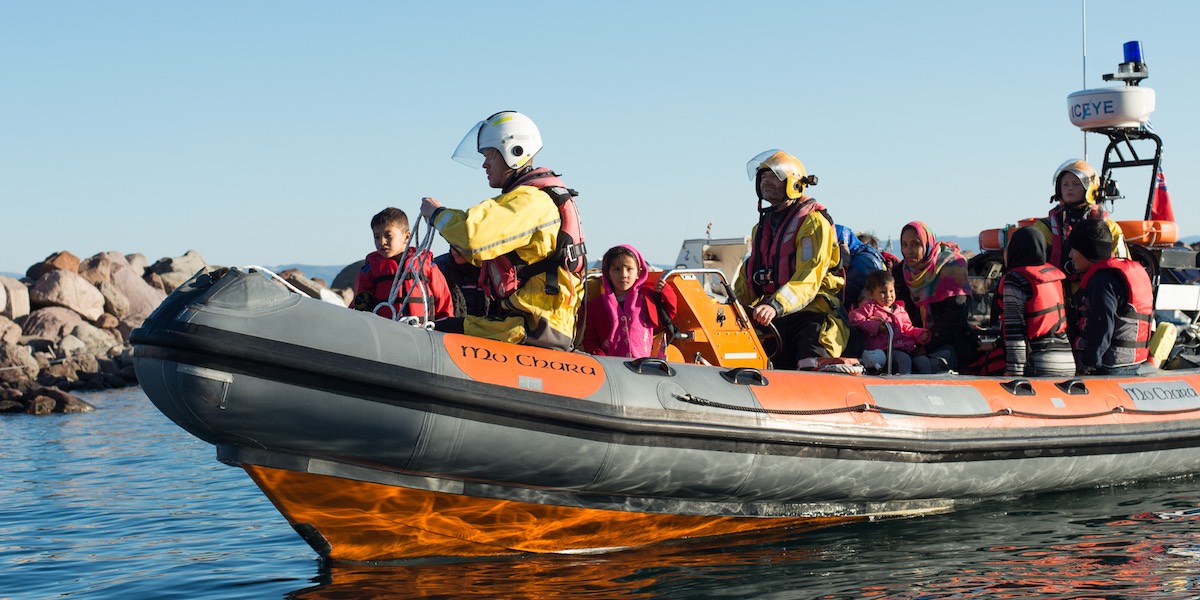 At the helm of the "Mo Chara" (Copyright: Roman Kutzowitz / Refugee Rescue 2018)
Outside of my time with Refugee Rescue, I'm a first responder with a decade of experience in marine search and rescue, both in Canada and in the UK. I'm currently a coxswain — our equivalent of a captain — with the Royal Canadian Marine Search and Rescue (RCM-SAR), where I have done over 85 rescue missions so far. I'm usually on call a couple of times a week. If my phone goes off, I need to call the Canadian Coast Guard, then hop on one of our boats in under 15 minutes. Once it's all said and done, I go back to work and make up for any lost time. I spend about 200 hours a year on training and missions, plus a few hundred hours more on call. If you can imagine a group of 40 people who all get excited when the weather turns bad — that's my rescue station!
How did you become involved with this organization?
This all began in 2015, when news about the refugee exodus from Syria started pouring in. I vividly remember a beautiful day in late December: we were out on a mission here on the west coast of Canada, lazily drifting about at sea for several hours, our big turbo diesels idling in the crisp winter air. We had been asked to watch over a broken down powerboat that was adrift with one person on board who was in no immediate danger and waiting for commercial assistance to arrive. Meanwhile, volunteers were heading to Lesvos and other Greek islands to help save lives. People were trying to make it across from Turkey to Greece in overcrowded boats, often with fatal consequences. I watched this grassroots marine search and rescue effort unfold, saw the good that some of my friends were doing in an effort to prevent further loss of life at sea, and thought to myself: "What am I doing here?!"
Among the volunteers who arrived on Lesvos and stayed were Joby Fox and Jude Bennett, who would go on to found Refugee Rescue, as well as a boat from the Atlantic Pacific International Rescue Boat Project. Refugee Rescue continues to recruit both land and boat crew to this day. The volunteers search for refugee boats from lookouts, help land refugees on shore safely, and care for them in the UN temporary refugee camp nearby. If you want to help, the land crew is an absolutely wonderful place to be and open to anyone (you do need search and rescue experience to serve on their lifeboat).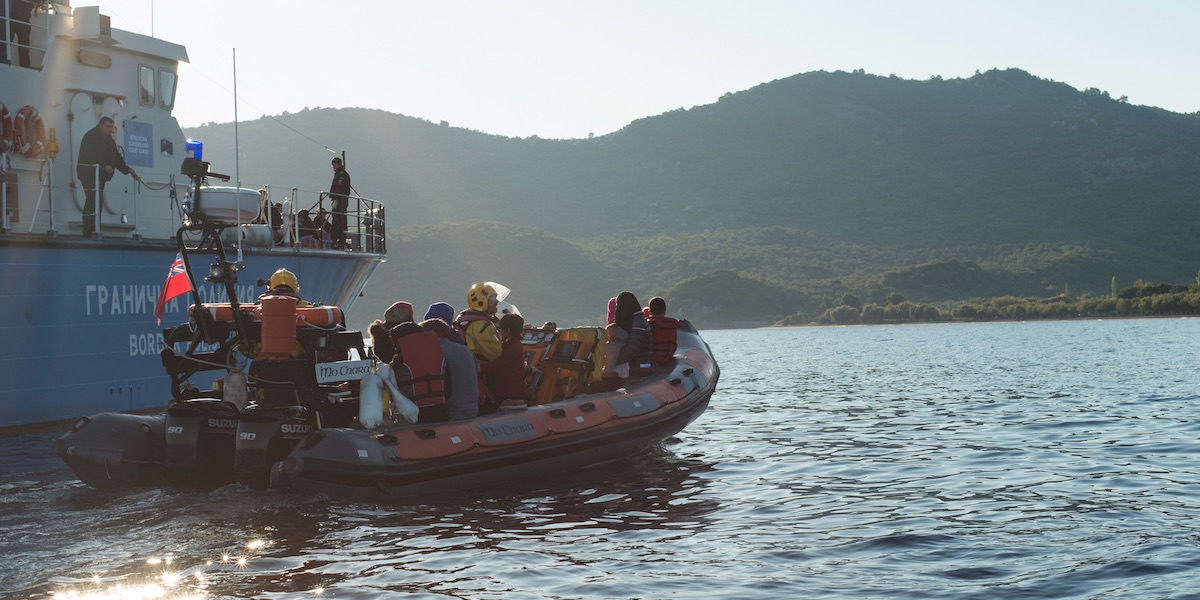 The "Mo Chara" (Copyright: Roman Kutzowitz / Refugee Rescue 2018)
The amount of good Refugee Rescue does, on an absolute shoestring budget, makes them an easy choice for volunteers and donors alike. In the last two years, my rescue station here in Canada is credited with assisting some 115 people. We're one of the busiest stations on the west coast of Canada. In the same timeframe, Refugee Rescue helped more than 6,000 (!) people.
What's it like to volunteer for Refugee Rescue?
You're based in Skala Sikamineas — Skala for short — which is a small Greek fishing village of 200 that has become home to a community of volunteers from all over the world. There are several volunteer organizations here, such as Refugee Rescue, Lighthouse Relief, and Refugee4Refugees, along with agencies such as IsraAID, all joining in for a common cause.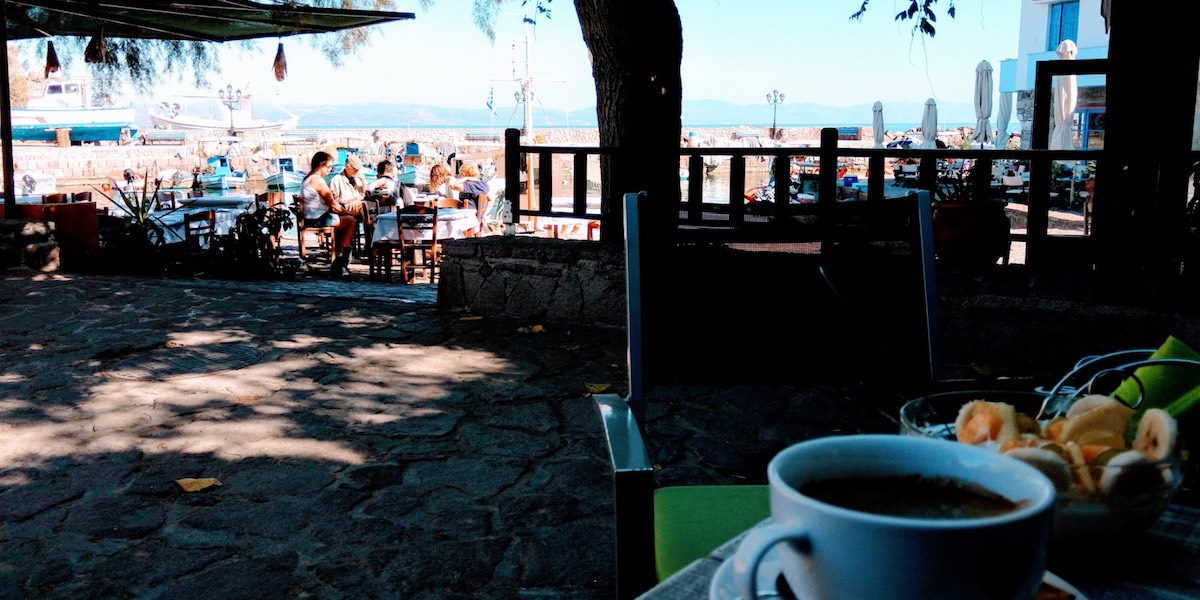 Looks idyllic, but there are refugees hiding in the forests on the other side. (Photo: Nik Richers)
The name of our boat — Mo Chara — means "My Friend" in Gaelic, and it shows. People here connect with an immediacy that is rare: they are friendly, they are here because they take an interest in what is going on, and there's a common bond created by the desire to do good. Ages range from university students to retirees, with everything in between and from all walks of life. Besides English and Greek, you'll hear languages from all around the globe. Most locals are accepting of the influx of volunteers — without them, there would be far less help to cope with the constant arrival of boats.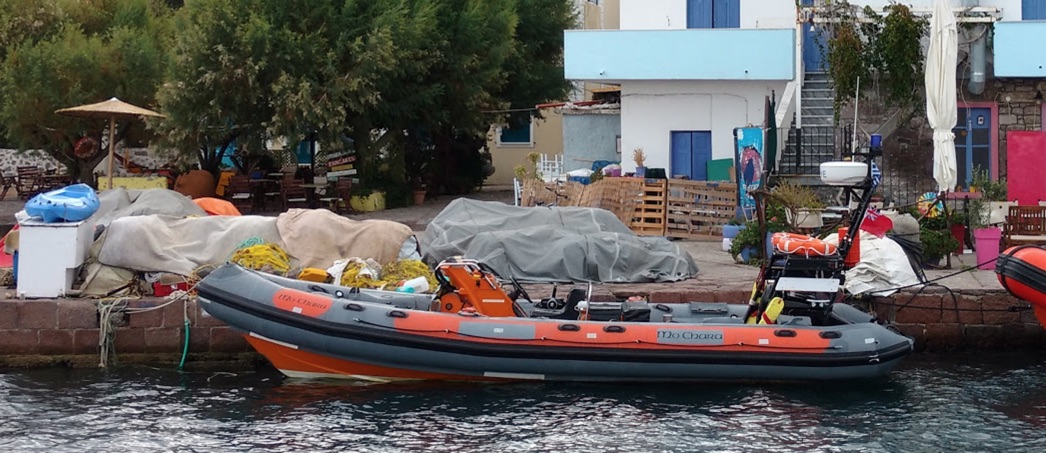 A recycled refugee boat hiding in plain sight. (Photo: Nik Richers)
There is evidence of refugee arrivals everywhere. For example, the large, grey cover for a pile of fishing gear right next to where the lifeboat "Mo Chara" gets moored is a recycled rubber skin from a boat that carried somewhere between 30 and 50 people. You can tell from the inflation valves that are still present. As each boat arrives, it's disassembled bit by bit and reused until very little remains. Even the "Mo Chara" benefits from this practice, as we had to make repairs using some leftover rubber.
As boat crew on the "Mo Chara", you're on call 24/7. Refugee boats typically arrive just before midnight or just before dawn, and your job is to find and help them. To find them, you run patrols, either early in the morning or late at night, or you launch with permission of the Hellenic Coast Guard after a confirmed boat sighting. Many boats land at Korakas lighthouse right next to Skala, which is easily visible, but not very accessible. The lighthouse is there for a reason — it marks a navigational hazard. Without last-mile guidance by the "Mo Chara", refugees can end up stuck on the rocks, exposed to the weather and waves with nowhere to go. It's a vital form of assistance, as none of the much larger government vessels can operate this close to shore.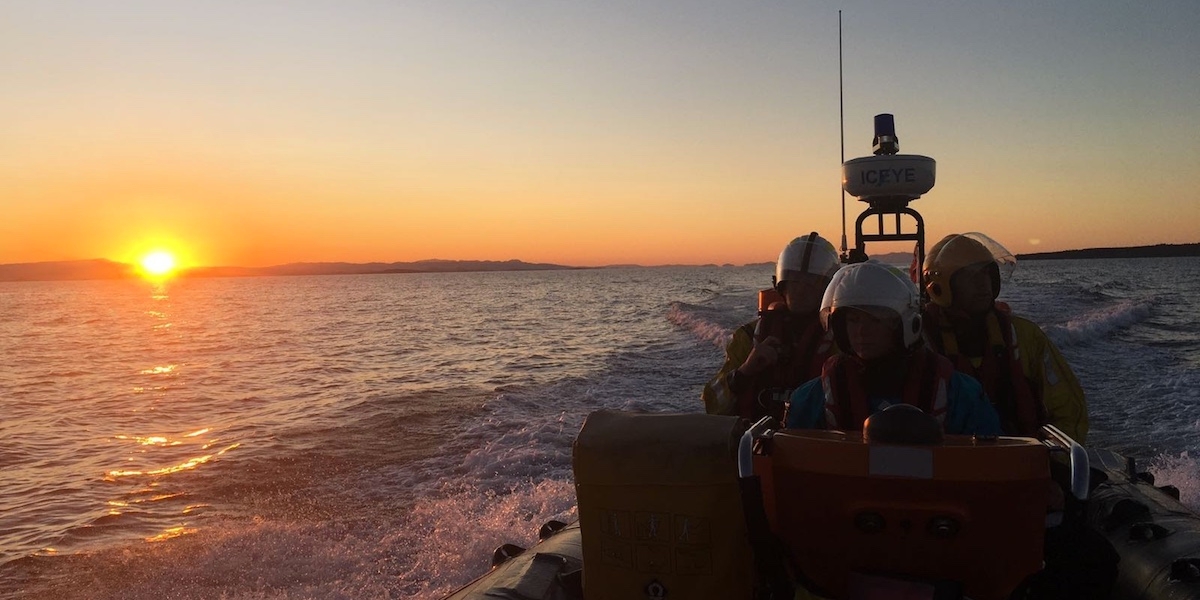 Looking for refugee boats at dawn. (Photo: Nik Richers)
During my two weeks with Refugee Rescue, I had encounters with hundreds of refugees, far more than I expected. All were memorable, some were surreal, and a couple managed to turn my soul upside down. I still think about those. But one really drove home the importance of the work that the volunteers from Refugee Rescue are doing.
One night, we found 38 people in a flimsy dinghy. Following up on a report of a suspected refugee boat, I raced the "Mo Chara" across the pitch dark ocean, feeling the waves more than seeing them. After spotting the boat by night vision and radar, we knew that it was about to shipwreck on a small island with jagged rocks and steep cliffs. Our biggest problem: the refugees were going to land no matter what and they ignored our hails to alter course or stop the boat. I ended up having to physically block the refugee boat with the "Mo Chara" to keep it safe while the crew looked for a more suitable landing spot on the charts. Luck was on our side and we managed to guide the refugee boat to another island nearby that has a small beach, and then worked with another boat from Pro Activa to evacuate everyone to a nearby Frontex vessel. Back in Skala, we shuttled the new arrivals from the Frontex vessel into the harbour and delivered them to the waiting land crew. The whole operation lasted seven hours and we didn't make it to bed until close to 5 AM.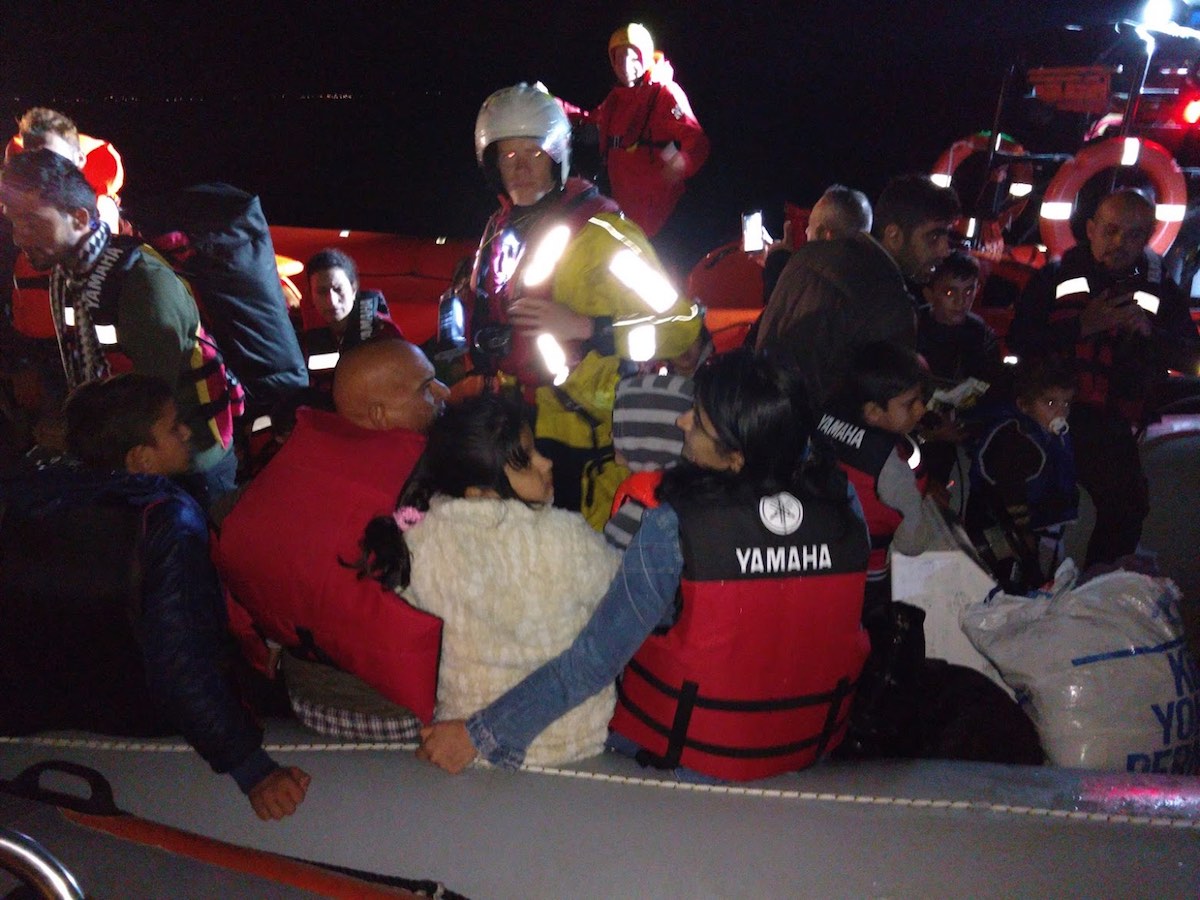 Helping refugees make it to safety. (Photo: Nik Richers)
I often think back about what it must have been like on that boat. Imagine being one of 38 human souls packed into a small handmade dinghy that is built so poorly that it is disintegrating under your very feet. Somehow, the dangerous path forward across the sea is safer than remaining on land. It is pitch dark. You and your loved ones are exposed to the wind and waves. The cheap plywood deck is swamped by several inches of water and is separating, exposed screws threatening to puncture one of the poorly made tubes on which your life depends. And yet it is the only way forward. You can't stop.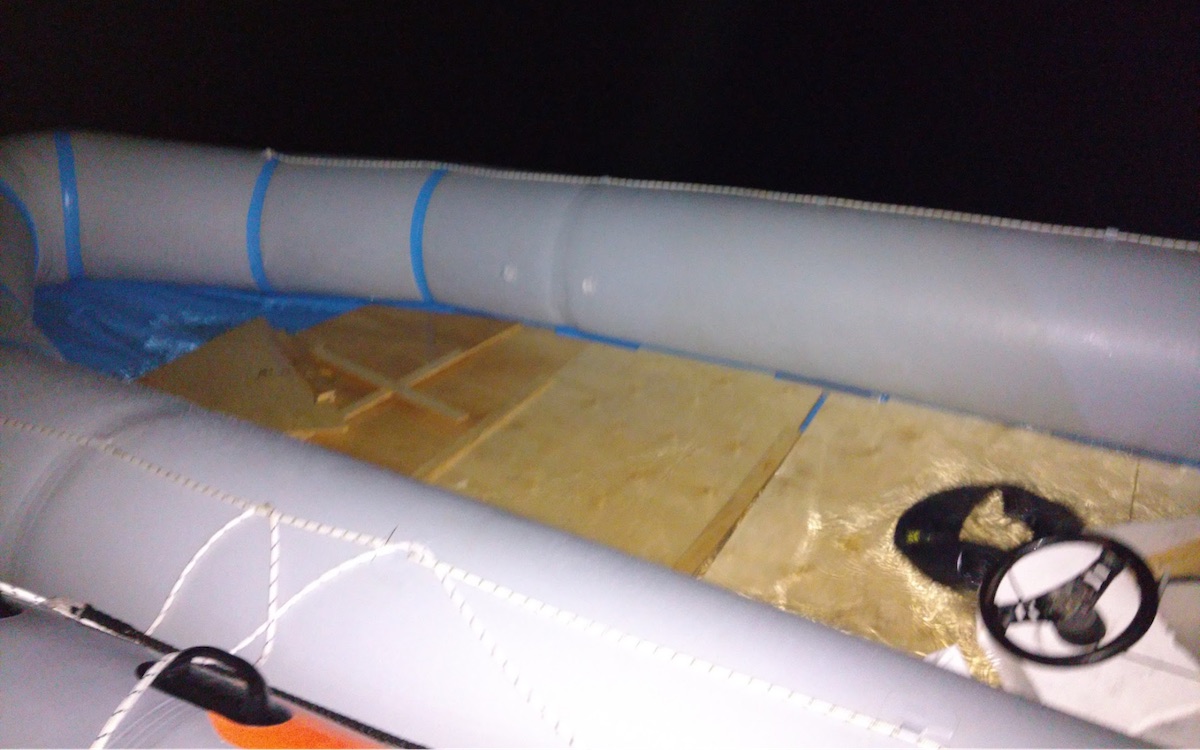 A refugee boat. The shimmer is standing water. (Photo: Nik Richers)
These 38 souls would have shipwrecked, had they stayed their course. Many of the life jackets are fake, children and even adults often cannot swim, and loss of life remains a very real threat. If it hadn't been for Refugee Rescue and the crew of the Mo Chara responding to a suspected boat report, finding them, and redirecting them to a safer location at the last minute, and then helping them several more times on their way to Skala, the outcome that night could have been far worse.
What's your takeaway from this volunteering opportunity?
I tried to make the most of my time on Lesvos, not just to helm a rescue boat, but also to bear witness to what is happening. If there was one thing I personally took away from this experience, it is that grassroots efforts by volunteers deserve our respect and support. It's a living, constantly evolving testament to what human beings can achieve when they come together as a group to help. Some day, these volunteers will no longer be needed, I hope, but I feel fortunate that I got to see them in action and do my own, small part with Refugee Rescue.
I am also deeply grateful that Elastic gave me a paid week off to volunteer. I started at Elastic in mid-2016, and when we announced our Elastic Cares program, it felt like coming full circle: here was the chance to finally make good on my 'What am I doing here?!' moment.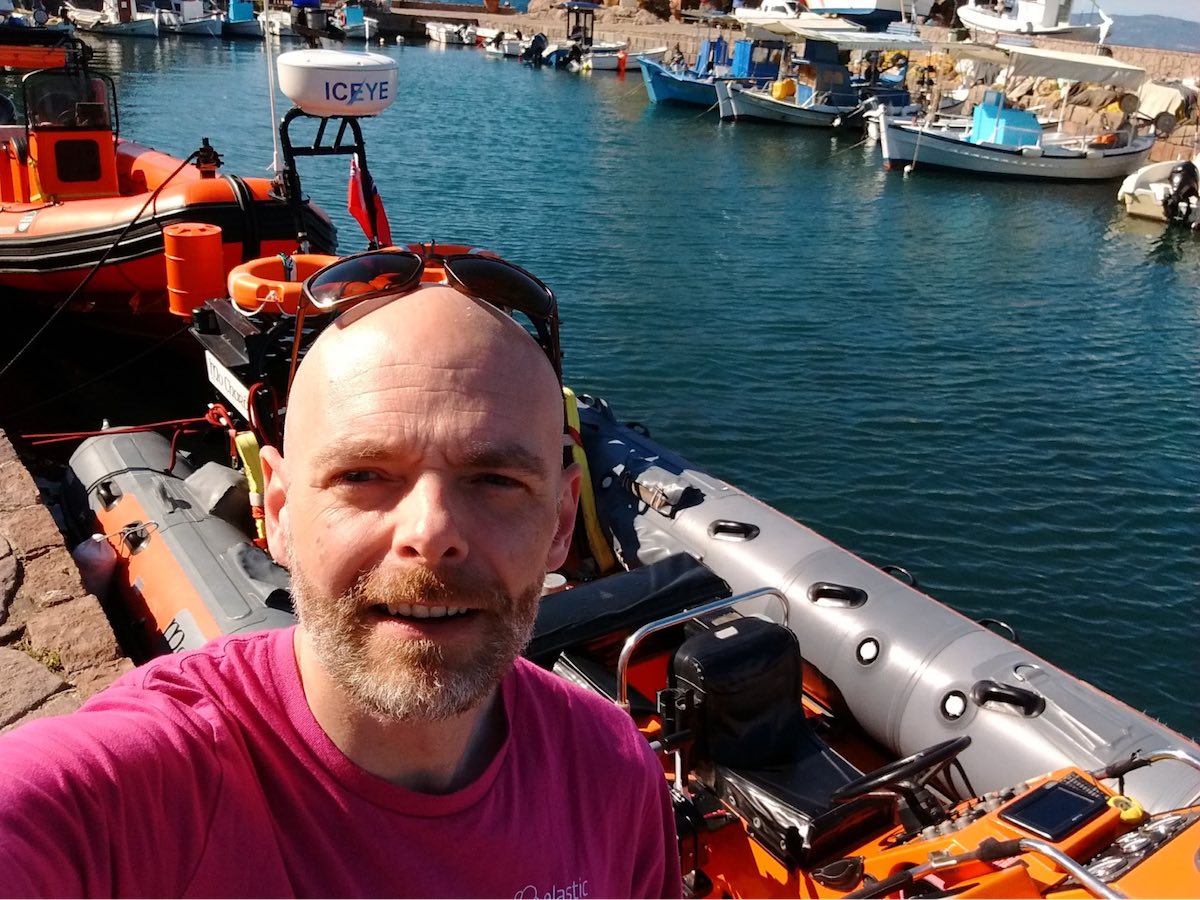 Last day. I spent a lot of time in that seat. (Photo: Nik Richers)