My name is Thom O'Connor, and I am the VP of Services at Elastic. My responsibility is for our Education and Consulting practices. These teams operate mostly independently, although they share a mission under the umbrella of Professional Services to distribute knowledge of Elastic to our students, users, and customers. Providing our users the tools to be successful is our objective, and I believe this model has a lot in common with what we accomplished with the homeowners through our recent volunteer work with Habitat for Humanity.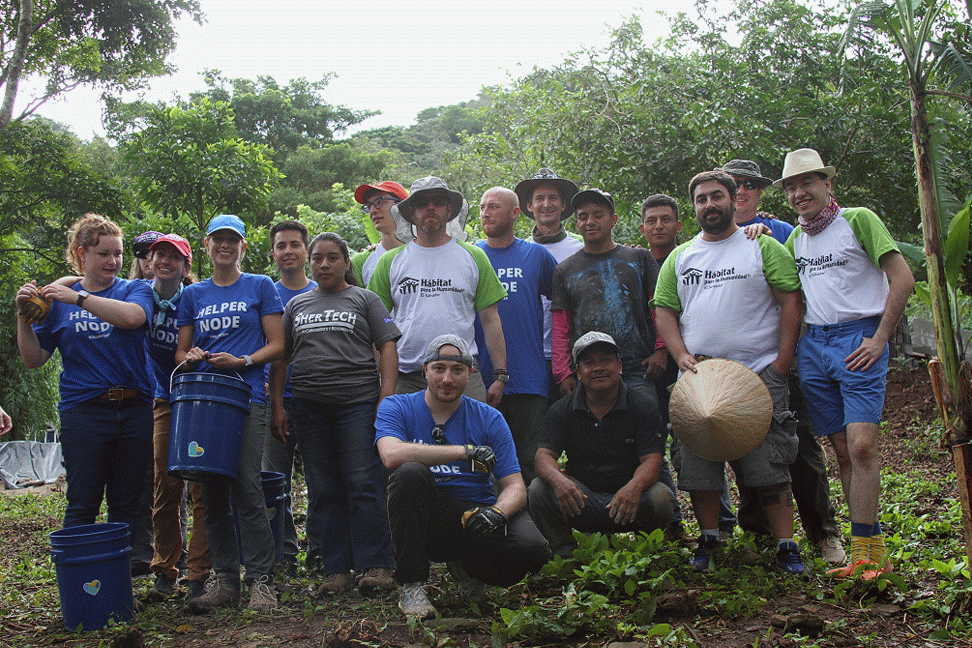 This is my second trip with Habitat for Humanity Global Village (H4H). I honestly didn't imagine I'd go on the first trip, but I enjoyed that experience so much that when the opportunity arose again through Elastic's inspiring Volunteer Time Off (VTO) program, I couldn't wait to volunteer.
There are at least two core aspects of Habitat for Humanity Global Village that inspire me. One is Habitat's steadfast commitment to improving people's lives through home ownership. Having control over your life is a key ingredient of hope, and few of us could imagine gaining any control of our own lives without a home in which to build our personal and financial nest. The second is the deep, personal connection that takes place within a collaboration that includes homeowners, professional builders, volunteers, and the local Habitat organization. Working side-by-side with a global and diverse group on a shared task creates a deep level of personal understanding between all involved, and creates a connection through cultural insight that is difficult to describe without experiencing it firsthand.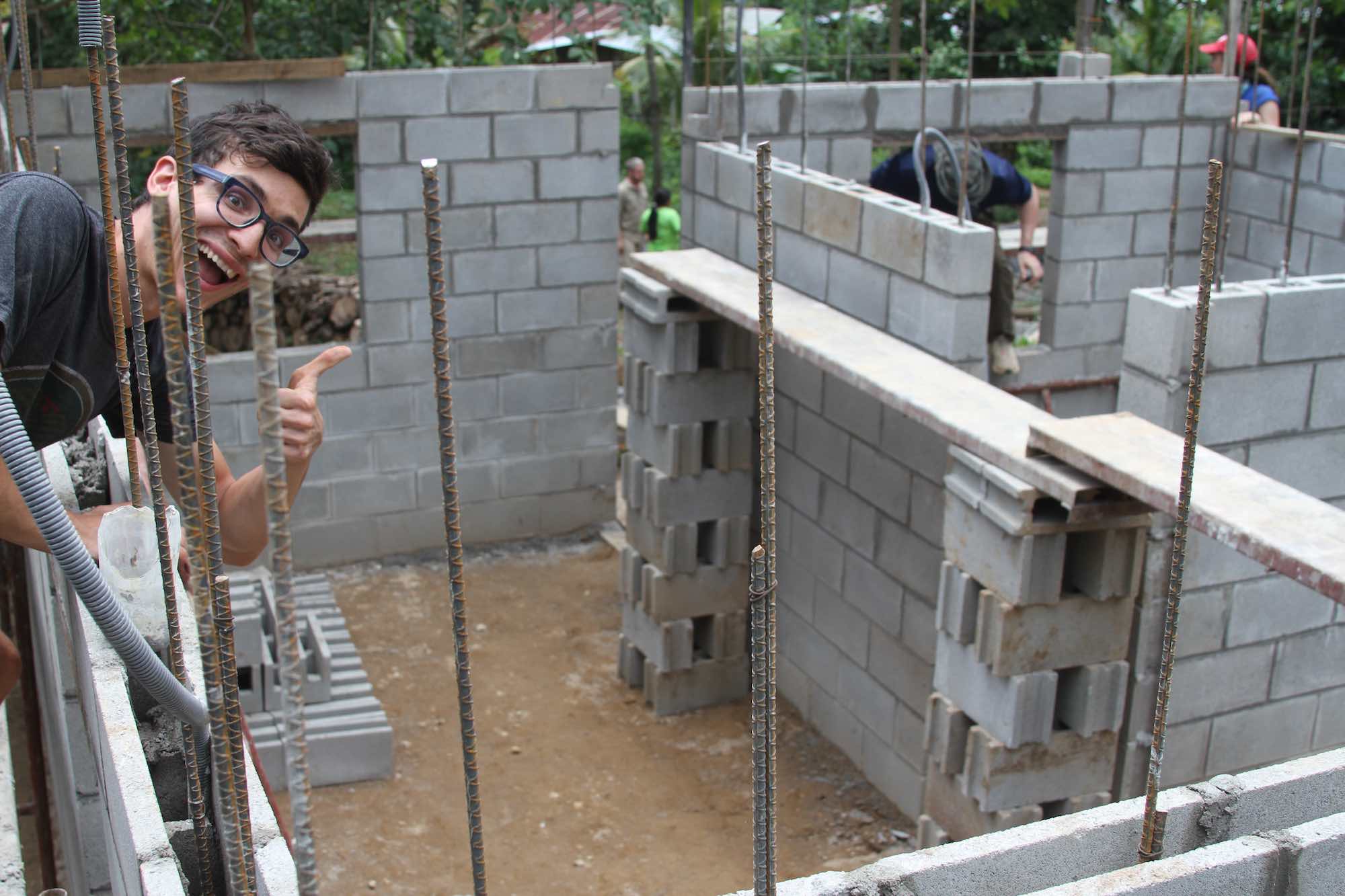 A Habitat build is undoubtedly hard work. The weather in El Salvador is challenging — high heat and humidity in summer, in addition to periodic heavy rain and intense sun make for difficult conditions. Add in dense volcanic clay and dirt, thousands of concrete bricks, and tasks that include major landscape modifications and tying seismically secure rebar by hand — these are long, exhausting days. However, these hurdles only enhance the companionship, mutual respect, and fulfillment we feel throughout the experience. We laugh as much as we sweat and curse.
Committing to a week far off in the mountainous jungle of El Salvador is not easy — it requires time away from work, from our families, and from the constant demands of everyday life. However, this is also part of its greatest benefit — truly separating from one facet of our reality and entering another to allow a new perspective, new learnings, new friendships, and space to give and grow.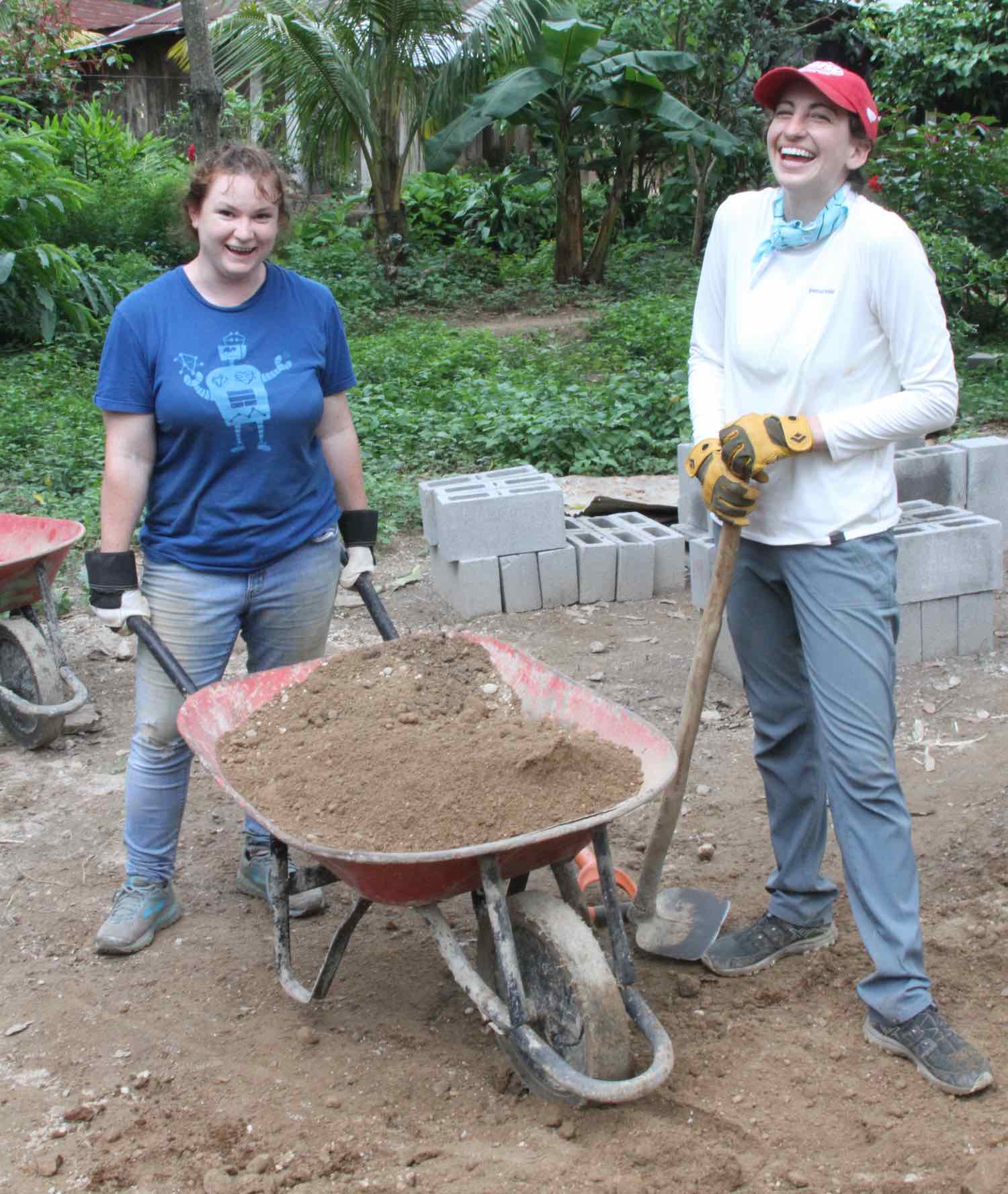 So beyond VTO, how do we Elasticians make the time to accomplish such important work? The key is to commit first to the vision, and then to the schedule. Once your heart and mind is ready for the adventure, the body will follow. Elastic and its stellar VTO program provides us both the time and funding assistance for giving back — it is our responsibility to use these great gifts. Our Elastic Source Code guides us to be both humble and ambitious, and to find the space and time to pursue our passions. To me, the VTO program represents one implementation of the Source Code.
There are moments in life when one is presented with an open door into a new perspective, and stepping through that door requires a leap into the unknown. Making that jump is the key to my personal growth. Elastic VTO provides our team members an opportunity to give not only our funding, but also our time and effort towards a greater good. I find a genuine state of gratitude in doing a Global Village build. I feel so very grateful for how fortunate we are. But I also gain through the experience the lasting realization of just how similar and inter-related we all are, across the planet. We have more similarities than differences with others. We are all partners in this global effort.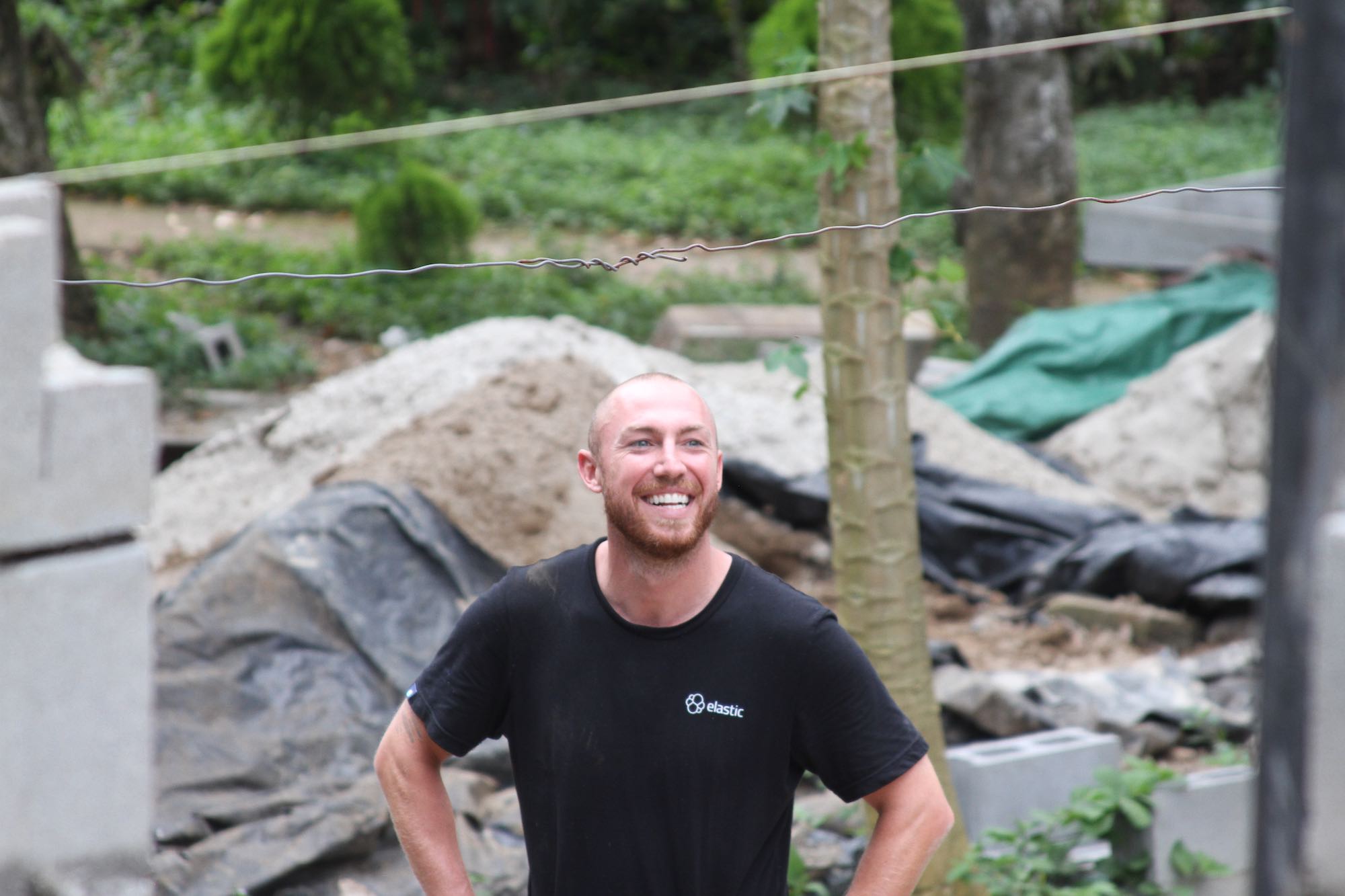 Here are a few reflections from the Elastic team that joined me down in El Salvador.
Rikkae Wesson — General Ledger Accountant
Volunteering with Habitat for Humanity in El Salvador was a physically hard experience. I came back from this trip with stronger muscles, a sore back, and a few more scrapes than before I left. Building a house on the side of a hill in the jungle, as it turns out, is pretty difficult manual labor. Regardless of the difficulty, the team from Elastic stuck together, built friendships and memories, and created the physical structure of a brand new home. I would do this trip again and again in a heartbeat.
Morgan and Adam Goeller — Solutions Architecture Manager (and son)
This was a truly amazing experience, both for me and my 16-year-old son Adam, who traveled with us as a part of the build team. We had a chance to work hard, really physically hard, and to see that effort create something tangible. We had a lot of opportunities to learn new skills — like how to mortar a cinder block wall, how to bend wire to make hooks, and how to turn a bare patch of ground into a somewhat level walkway. We got to experience life as it was in El Salvador, and to challenge ourselves and our organization and our assumptions about the world. It was really hard, in the best possible way.
However, for me the most memorable thing was being with my fellow Elasticians and how kind and generous they were to me and my son. I so appreciated our group dynamic, and while it wasn't always perfectly smooth, it was always loving. I was very proud of my son and his contribution, and this couldn't have happened without the encouragement of the build team. Everyone was generous and took the time to share their experiences and their skills and to help everyone be successful and contribute. It was beautiful to see a group of strangers develop a sense of inclusiveness and togetherness and to bond with people of different ages and genders and beliefs and backgrounds.
This has become a new family tradition and we can't wait for our next opportunity with H4H!
Melvyn Peignon — Curriculum Architect
I always liked volunteering. Back in the day, I was a first aid rescuer for the Red Cross. Volunteering a lot, I've found that many non-profit organizations have two main issues: funding and action. Funding is solved by having fundraising and donors, but actions are a tough problem to solve as it requires manpower, which is typically hard to get. The fact that Habitat for Humanity requires both really motivated me to participate in this volunteering experience.
When I finally decided to go, I was scared. Fear of an unknown situation can only be beaten by facing it. We were lucky enough to have the support of Thom, who took the time to go over his previous experience with Habitat to help us be better prepared.
I think it's an easy excuse to say: "I don't have time for VTO. I have this task to do and this task, etc." I used this excuse a lot. But as my mother used to say, "The cemeteries are full of people who thought the world couldn't get along without them." (I'm pretty sure she stole this quote from someone else though.) I decided to write down the date on my calendar and refuse any tasks that were scheduled during this time. Elastic and my management really helped me a lot in making sure that I had the flexibility to do so, and I'm really grateful to them.
David Anderson — Senior Software Engineer
There is no way to know what to expect when taking a leap with a trip like this. Putting yourself out there can be scary — terrifying for some. But our team, who is made up of a diverse set of incredible human beings, made it easy. Everyone was welcoming and open, and absolutely ready to make friends from every background and every personality type. Elasticians are amazing.
Our team leadership from Habitat for Humanity and Elastic set a path for our team to do great things, and I'm thankful for the opportunity to see so many new friends at their best, while still being true to their own individual selves.
I can't imagine what could be better.
Megan Anderson — Manager, Global Recruiting Operations
One of the things that I love most about working at Elastic is that I get to work with people from all over the world and get an insight into different cultures that I might not otherwise experience. The opportunity to participate in this Habitat for Humanity trip allowed me to not only experience the feeling of giving back and helping a family to have a house of their own, but allowed me to immerse myself in a new culture. I also got to learn a lot about my fellow co-workers, and during this week were were able to bond in ways not often possible even for colleagues that work in the same office. I likely would never have met most of them if not for this trip! We laughed, we cried, we lifted, we pushed, we made an impact on a family's well being, and we made a long lasting impression on each other.
Manuel Guerrero — Senior Salesforce Developer
Being part of this Habitat for Humanity project in El Salvador was a great experience, which I strongly recommend to anyone considering volunteering with H4H.
Initially I was skeptical about how and how much a group with barely any experience in building could really help. I thought that maybe if we donate the money we were spending to fly to El Salvador (in my case from London), and have H4H use the money for our accommodation, transport, and food, on the project, they could finish faster. But the skepticism didn't survive the first day of work. While it may be true that they could hire more skilled builders than us, and finish the house in a week, it's also true that we were not there just to build, we were there to also raise awareness about H4H and their projects. Actually, I was one of those who knew very little about H4H. All I knew about H4H was that one of my teammates participated in one of their projects last year. Building in El Salvador was a hard but fulfilling experience. I was able to work with a group of Elasticians, only one of which I'd met before. Without a doubt, one of the best takeaways of this experience was the way we bonded as a group of friends. The other great take away was seeing the evolution of the whole group under the direction of the local mason and his helpers from a chaotic bunch of minions to an organised group of slightly more skilled minions in the span of five days.
Interested in joining a company with a Source Code to live by? We're hiring. Check out our teams and find your fit!  Want to read more about Life at Elastic? Read more on our blog!