For the last eight years I've been a volunteer with the Australian fire fighting services. We respond to emergencies throughout the local area, from active fire fighting roles, to providing fire protection at motor vehicle accidents, or acting as resources to assist other agencies. Every call is different, and we rarely know what's actually happening before we arrive on-scene. While at times it's exhausting, dangerous, and horrific, other times it's tedious and boring (hurry up and wait will be familiar to anyone in a similar role). It's also one of the most rewarding things I've been a part of. There's a great sense of camaraderie within a brigade and you build and maintain strong links to the community. With firefighting you also have very tangible results, such as being able to look at houses still standing because your crew arrived in time. Volunteering has provided valuable skills to help with my role at Elastic, including leading groups with disparate backgrounds, incident management, and training opportunities. It also provides physical, outdoor activity which is a nice contrast to working within Elastic Engineering.
Due to the worsening fire situation in New South Wales (NSW), members from my district began being deployed from late October into the areas of New South Wales in need of extra volunteers. In these situations we typically have three days of work, with a day travelling on either side. Firefighters from my district have been deployed throughout NSW, spending time in Glen Innes, Port Macquarie, Newcastle, Richmond, and Batemans Bay.
In early November, I used my Volunteer Time Off (VTO) as an Elastic employee and was deployed to Glen Innes in New South Wales as part of a strike team (a unit of firefighters, on around five trucks, used to organise response to large fires) from our district. We arrived via charter flight on Wednesday afternoon and settled into the base camp in town before familiarizing ourselves with the trucks we'd been assigned.
Our first two days were spent constructing containment lines around the Kangawalla fire, burning out remaining areas in front of bulldozed fire breaks. A fire break is a gap in vegetation constructed to stop or slow the spread of a wildfire. In our case, a bulldozer had constructed a line for access and as a safer line to burn from. Our trucks were assigned to a larger, more accessible section of the fire front whilst I went with a smaller group of firefighters on National Parks (NPWS) vehicles to burn out a section of more difficult terrain. Working closely with the local NPWS crews we established a deep break, and thanks to favourable winds all day we were able to burn out unburnt ground up to the fire front.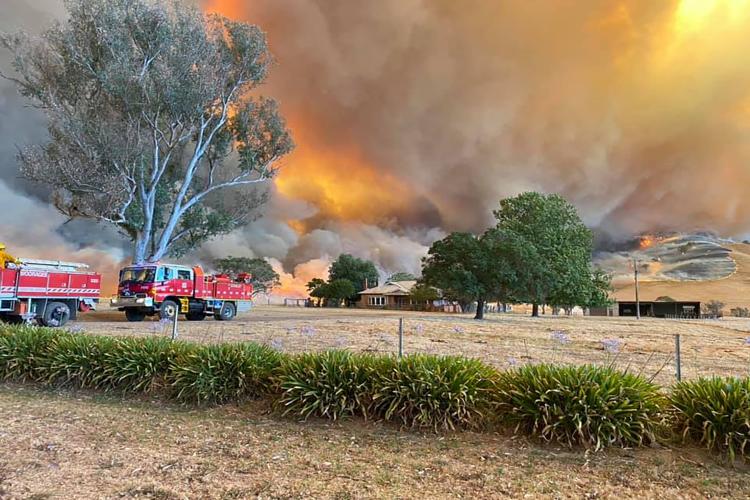 Returning to the area on the next day we deepened any poorly burnt areas before blacking out along the bulldozed line. "Blacking out" involves extinguishing any hot areas within some distance (in this case 30 metres) from a containment line; wetting down ash and burnt wood usually turns them black, hence the name. Anything burning, smoking, or showing up as hot on a thermal imaging camera is wet and cooled down. It was dirty, tiring work, dragging hoses through steep country, with a continual risk of falling trees — meaning ongoing vigilance for the safety of a crew. We left the Kangawalla fire that night with our area being marked as contained, only requiring occasional patrolling over the following days.
Whilst driving back to Glen Innes we could hear crews being turned out to a new ignition around the nearby town of Ebor. The fire was burning up inaccessible hills around the town and crews were attempting to make contact with remote properties within its path. The next morning we were sent to Ebor to provide property protection, since the fire was expected to impact the town throughout the day. With dangerous winds expected late in the afternoon, our group was once again split, with some trucks working on containing the Western edge of the fire before the expected wind change, and the remainder of our group assigned to the town itself. We fought several spot fires throughout the day which threatened properties across the town. Thankfully, no properties were lost.
Late in the afternoon the wind changed 180 degrees Celsius from a gentle westerly wind into a stronger easterly. This meant that Ebor was no longer under imminent danger. However, whilst we had been protecting the town, the other (Western) side of the fire had been slowly burning towards containment lines still being constructed. This wind change caused a relatively benign fire burning into the wind to turn into the main fire front, which roared through the eucalypt forest, spotting far over the containment lines and creating new ignitions within surrounding forest. This was a pretty frustrating day. We didn't have sufficient resources to protect both the town of Ebor and establish strong containment lines on the Western side of the fire, causing the fire to break out in the afternoon and continue to grow over the coming days. The time immediately following significant changes in fire behaviour are often chaotic, with crews scrambling to locate the new fire front and any properties in immediate danger. As the sky darkened we rushed around several farm houses in the new path of the fire to ensure that any people still at home were informed and prepared. As we were relieved that evening, a clearer picture of the new fireline emerged. Night crews were being deployed to burn out around critical communications infrastructure and new containment lines were being planned after the afternoon's breakouts. The Ebor fire would continue burning over the next week.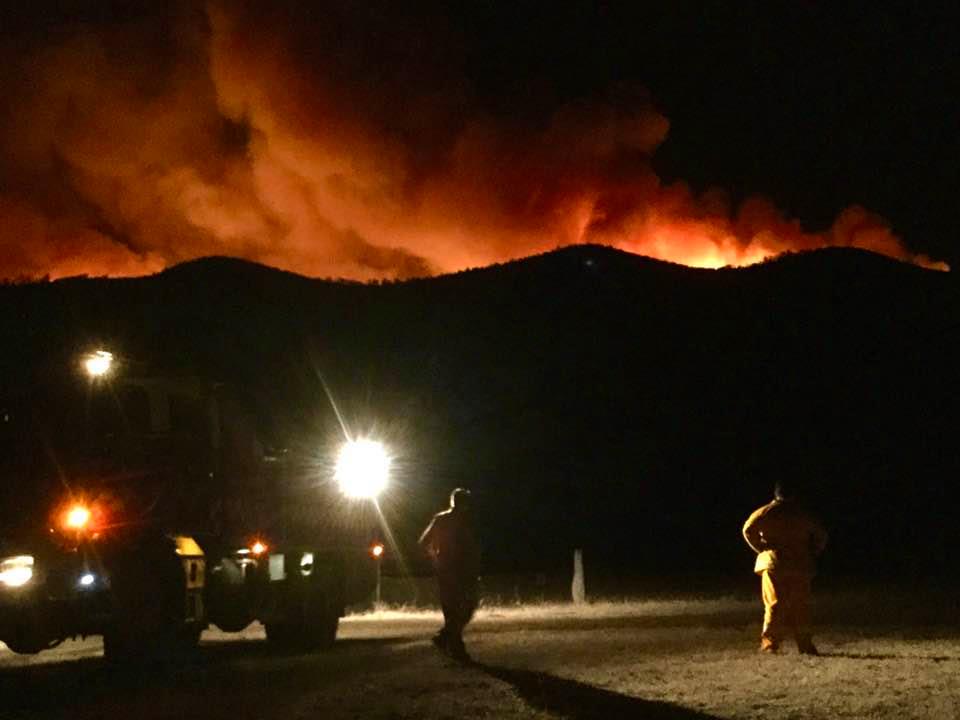 Leaving Glen Innes on Sunday we were thankful to have had a well organized and useful deployment and looking forward to being back with our families.
The New Year period arrived with the Upper Murray fire. This fire jumped the Murray river from New South Wales. Strike teams were sent to protect the towns of Walwa and Cudgewa. I arrived in Corryong on New Years Eve. The town was completely surrounded by fire. We spent the day battling blazes with barely enough time to fill trucks with water before our presence was needed at a new fire. With all roads coming into the town cut off, and with all crews busy protecting the town, finding food for the firefighting crews was impossible. It was awesome to see the Upper Murray Pizza do their part by finding a generator to power the shop so they could open for fire crews at two in the morning. The shop donated anything in the store to the firefighting crews, and cooked pizzas throughout the night and day. Having a fresh pizza handed through a truck window whilst you drive through town was very satisfying.
Much of Eastern Australia is currently experiencing milder weather with lower fire danger ratings. The Gospers Mountain fire has recently been contained after being out of control since late October. It's only mid-summer however, with still two months of fire season in front of us (at the very least). The outlook for the rest of summer is similar to the last few months, with hotter and drier weather than usual and as a result, higher fire danger ratings are to be expected. It's expected that the current fire situation will continue throughout the season.
So what can others do to help? If you already live in Australia, you can become a volunteer firefighter. You can join your local brigade, who will help you complete basic training courses before being able to attend an incident. The same volunteers working on the fire line are instructors for these courses, so don't expect to take part in this fire season, but you'll be ready to go next time around. If you don't want to fight the wildfires directly, there's usually plenty of work elsewhere within a brigade that needs volunteers. Get in touch with one of the fire brigades listed at the end of this post and see how you can help out. Having someone else wash a fire truck after a long day is very helpful.
If you want to help rehabilitate affected animals, join WIRES (or the equivalent within your state or territory). Similarly to firefighting roles, there's some basic training required here. If you don't have time for training, or want to get involved right away, there's lots of work building enclosures and anyone can help with right now.
Lastly, one of the most direct ways to support the rebuilding of fire affected communities is by supporting local businesses. Plan a holiday somewhere for after the fires have gone out. Take nothing with you (except maybe an Empty Esky) and explore the area, go to the local restaurant or pub or grocery store.
Here's a list of organizations you can volunteer with or donate to.
Firefighting services:
Wildlife rescue:
Interested in joining a company with a Source Code to live by? We're hiring. Check out our teams and find your fit! Want to read more about life at Elastic? Read more on our blog!