Pride month is always an exciting time for me. First, it's the start of the summer and the dreary rainy months of Portland winter are finally behind me. Equally as exciting as the reappearance of the sun is the start of Pride month, which happens every June (with some countries holding Pride celebrations in different months).
During Pride, I look forward to seeing friends and allies gather to celebrate the progress of LGBTQIA+ rights (standing for Lesbian, Gay, Bisexual, Pansexual, Transgender, Genderqueer, Queer, Intersexed, Agender, Asexual, and Ally community) and to support the continued work towards intersectional equity. My first pride was in 2001, in Minneapolis. I was 16 at the time and finally finding acceptance about myself after some awkward and painful adolescent years filled with shame about my sexuality. I arrived at the festival grounds in Loring Park, where the local Pride celebrations were taking place, and felt like I had finally found people like me. Unlike me, they seemed happy, dare I say excited, to be openly expressing their queerness in public, free of shame.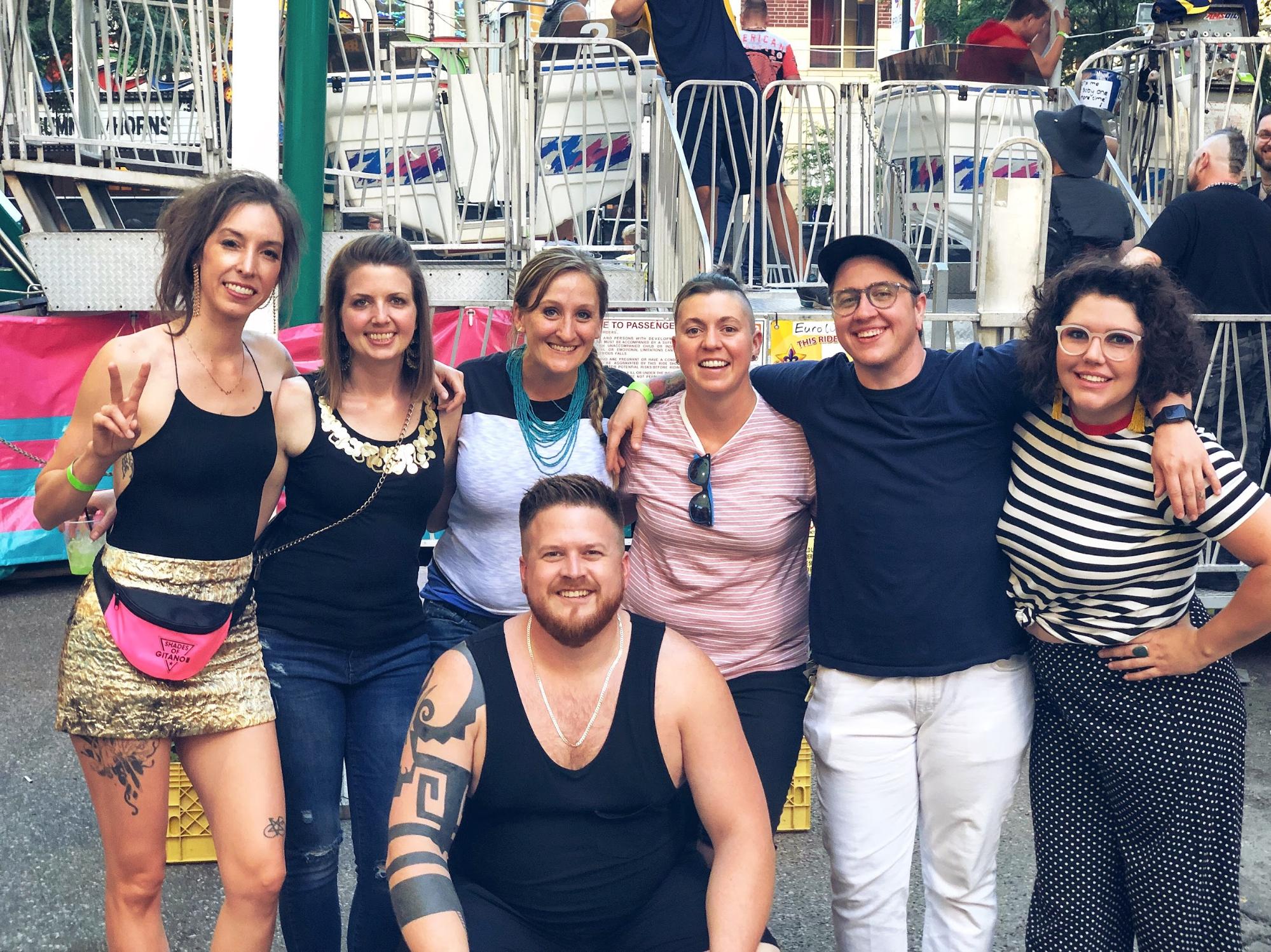 My partner Lauren and I (far right) at Minneapolis Pride in 2018 with close friends.
But what is Pride month exactly on a global scale?
Pride month gathers LGBTQIA+ people from across the globe to commemorate the Stonewall Uprising that took place in New York City from June 28th to July 3rd back in 1969. At that time, trans and queer folks in the US could only gather in secret at clandestine locations for fear of being arrested or brutalized for living authentically, as themselves. Too often the history of the first Pride and the people who started it is white washed, its message sanitized by the fantasy that the darkest days are over for most of us. It's not lost on me that as I write this the fight against police violence towards black communities and other communities of color persists. George Floyd was murdered in my hometown, just three miles away from the park where Minneapolis Pride is usually held. Breonna Taylor was recently slain by police in a botched raid in Louisville, Kentucky. And, at the time I was writing this, a black trans man named Tony McDade was killed by police in Tallahassee, Florida. As a white queer, trans ally, I have a tremendous amount of privilege — I would be remiss if I didn't acknowledge that what would eventually become the Gay Liberation Movement and the modern fight for LGBTQIA+ rights was started because black and latinx trans women, like Marsha P. Johnson and Sylvia Rivera, had finally had enough. They stood their ground against an unjust, mostly white police force and we're still able to fight today because of their bravery.
Today, Pride is celebrated in a number of ways: festivals across the globe, concerts, block parties, in bars and dance clubs, and perhaps most recognizably, the Pride parade. In 2019, to mark 50 years since the first brick was thrown at Stonewall, New York City hosted WorldPride 2019, which is, to date, the most attended LGBTQIA+ event in history. With the threat of COVID-19, and on the heels of such an amazing global event, the biggest question facing our community became: what does Pride look like during a global pandemic?
Pride organizers were among the first to cancel or postpone events back in March once it became clear that public safety would be compromised if events were held. After all, LGBTQIA+ folks are no strangers to the reality and horrors of epidemic when left unchecked. The AIDS epidemic of the 1980s and 90s ravaged the LGBTQIA+ community and largely went ignored by those who could affect change until it was far too late. So in light of the epidemic, the obvious answer to "what do we do'' was that Pride had to go fully virtual.
Right now people and organizations are leveraging technology to host parties, events, concerts and, of course, drag shows to celebrate Pride and to raise money and awareness for important LGBTQIA+ causes. But some organizers are refocusing their energy and diverting funding that might be used for Pride events to communities, particularly BIPOC and trans individuals, who live at the margins and are put at even greater risk during this pandemic. For many of these smaller organizations, Pride events help raise funding for them to function. Without normal Pride festivities these organizations are anticipating COVID-19 could adversely impact them and are trying to do what good they can in lieu of having in-person pride events and celebrations. That's why this year, more than any other, it's important to get involved and give money to organizations doing direct action with LGBTQIA+ communities, or legal organizations like the ACLU who challenge unconstitutional bills aimed at discriminating against the LGBTQIA+ community in court.
For Pride this year, I had the chance to design some fun Pride-themed virtual backgrounds for Zoom based on the fun Elastic illustration style and color palette.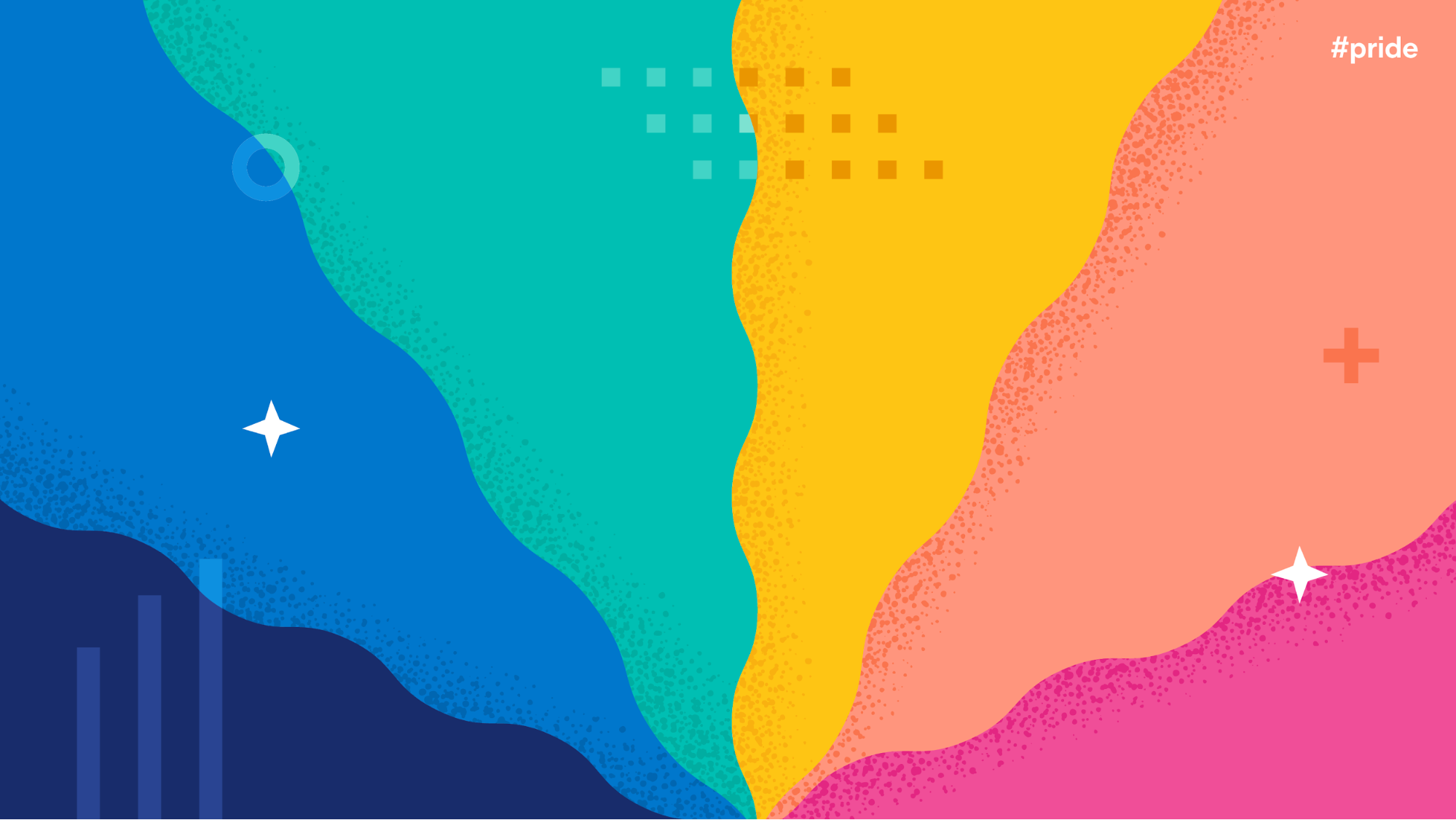 One of six available virtual backgrounds for Pride.
Similar to the backgrounds made for our Global All Hands (GAH) event, these backgrounds let us all connect as one Elastic community during Pride. Not to toot my own horn, but I think they are pretty great. ::BEEP BEEP::
Even more significant than the backgrounds is Elastic's commitment to charitable giving during the month of June. Elastic is offering a 200% match on Benevity to some amazing LGBTQIA+-led organizations. I'm particularly fond of the Venture Out Project, a non-profit that brings queer and trans youth and adults into the wilderness for education, recreation, and adventure. Every year organizations just like the Venture Out Project rely on support from allies within the community so that they can continue to provide vital services. This year, especially with the very real threat of COVID-19 shutting doors for good, it's even more important to continue to give generously.
Working for Elastic has been a unique experience in that there is such an unmatched emphasis on social justice causes and a push for equity. It's refreshing to be able to have a platform like this that allows me to honor the hard history of my community, the sacrifices that have been made in the name social progress and the sometimes scary reality of being a queer, trans person in the world today. All of this while working for a company that really is trying to show up, listen and take action from the bottom up.
The silver lining in all this is that despite this pandemic, we're living in the most technologically connected era to date. We've already seen how quickly we all can adapt if given the right tools. Resources, like the $1000 home office budget for all Elasticians, communications tools like Zoom, Slack and cloud-based file sharing, things that we all used pre-COVID, made for a relatively easy transition to full-time home office life. At Elastic, we're distributed by design, so going fully virtual for our day-to-day work, and for our GAH event, was far less of a feat than at other organizations. We lean harder into the tools we already use and refer back to our Source Code as our guiding principles, especially when the future feels uncertain.
To that end, I want to leave some final food for thought. While in the US we've seen progress in the fight for LGBTQIA+ rights, the fight is by no means over. Trans women of color are still being murdered at alarming rates (many go unreported), and job and housing discrimination based on sexual orientation or gender identity is still legal in 27 states. It seems like every day we hear about a new anti-trans bathroom bill or anti-LGBT bill introduced at the state level. Globally, the problem is much worse, complicated by local customs and laws. The reality is that LGBTQIA+ people are still extremely vulnerable to prejudice, discrimination and violence. This makes Pride events feel so important and special to many who attend them. For some, it's the one time of the year they can let down their guards and be fully themselves, amongst other people like them.
With Pride being virtual this year, people in countries with historically hostile positions towards the LGBTQIA+ community are being given a big chance to log on and be in the community with their peers and friends in a way like never before. It's also an opportunity for you to reach out, be an ally, and do everything you can to push the movement forward. So find a Pride event in your city or across the globe (why not?) that speaks to you and get involved.
Want to use our Pride Zoom backgrounds? I've made them available as a public download. 

If you're interested in joining a company with a Source Code to live by, we're hiring. Check out our teams and find the right career for you! Want to read more about life at Elastic? Read more on our blog!