We all want to work for a company where we fit in. That's why Elastic has built a Source Code that encourages all to come as they are. In the Someone Like Me blog series we highlight Elasticians who have a unique story — one, perhaps, just as unique as yours.
In this edition we talk to two Elasticians: Kevin Sandom, Site Reliability Engineer (SRE) at Elastic, and Bill McConaghy, Kibana team lead, about accessibility at Elastic, how accessibility affects their lives, and how we're creating empathy for those issues and making our products more accessible.
How did you come to the work you do today?
Kevin Sandom: I have been fascinated by computers since the age of 10, and started programming age 12. I was self employed by age 16 and have done a variety of programming, ops, and devops projects over the last several years. I've always loved building things and understanding how they work.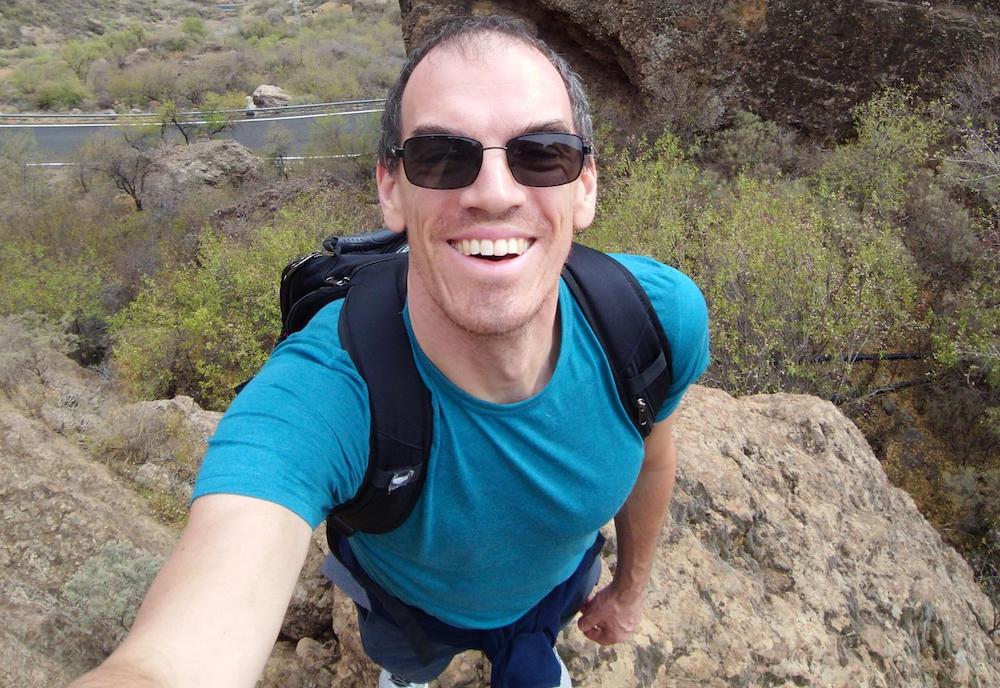 Kevin Sandom out on a hike.
Bill McConaghy: I actually pursued a PhD in English and taught at the university level for seven years at the University of North Carolina. After that I started a record store with a buddy of mine around the turn of the century. I did all the programming and web stuff for that store. That's how I got my start, and now I've been doing it for 20 years.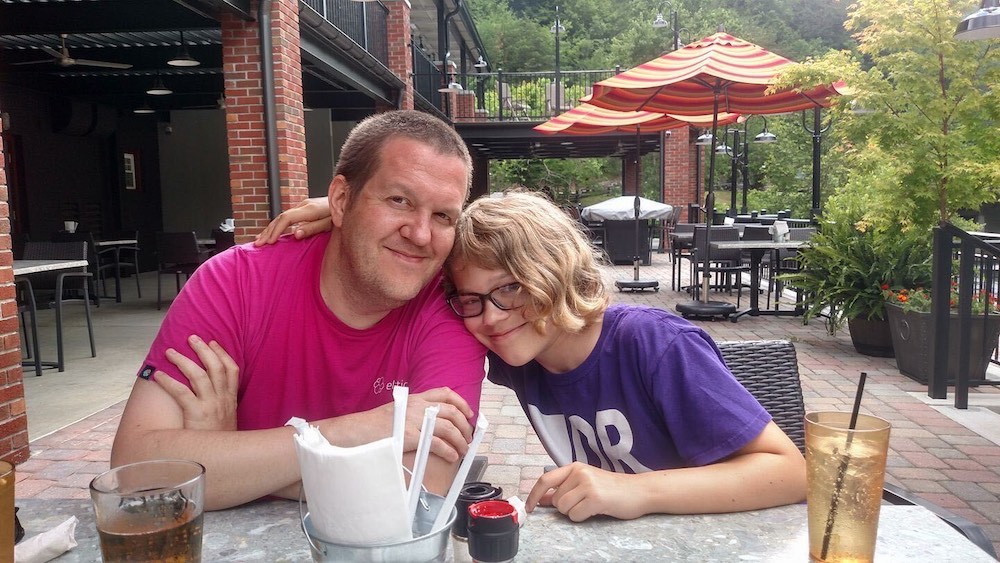 Bill McConaghy and his daughter, Kate.
How did you get involved with Elastic?
Kevin: I was previously with a company that was quite … hostile. I had a colleague there who joined and exited really quickly. When I asked him where he landed, he told me that he was at Elastic and had a lot of great things to say about the company. He helped me make connections here.
Bill: Well, I have always wanted to work on open source as my job. So when I saw a job listing for Kibana, I was really excited by that prospect. I was an Elasticsearch and Kibana user for many years, which made the opportunity even sweeter. I was just a user before so getting an opportunity to contribute was a dream.
You're heavily involved in the Elastic Accessibility Working Group. How did you get started with that?
Kevin: There was an email sent out to @all (our company-wide email) from an individual at Elastic who was going through some incredible life changes. She decided to announce it to the entire company, which I thought was very brave, and I was impressed that they felt so open to do that. So when I saw another email about the accessibility group come through, I felt compelled to do something to help make a difference.
Bill: I've always been interested in, for a lack of a better term, social justice issues. My PhD. studies were on African American literature and I was really interested in civil rights, broadly defined. Accessibility falls under that, in a way, as a web developer. You have to confront those sorts of issues if you want to do a good job because you want to build a user interface that's usable for everyone.
What does accessibility mean to you?
Bill: While I've been committed to accessibility for a while, I think that commitment was a lot more abstract for me until about two years ago. I've been having vision issues for six or seven years, but never really got a good diagnosis for what those issues were. I'd been told that I was having ocular migraines but that was it. And then finally, a couple of years ago, the doctor that I saw knew it was more significant than that. So I finally got some testing done, including genetic testing. And then, long story short, I found out that I know this condition called Stargardt disease which ordinarily affects people when they're much younger than me. The typical person with Stargardt is legally blind by the time they leave their teens. I'm almost 50 years old at this point — not legally blind but headed in that direction. So I have a hard time seeing people and reading texts. I have my monitor set up to scale fonts, and the cursor is huge. So, you know, that brings it all very close to home. I have to care about accessibility because now and certainly more in the future, I'll have to use accessibility technologies in order to do my job and live my life.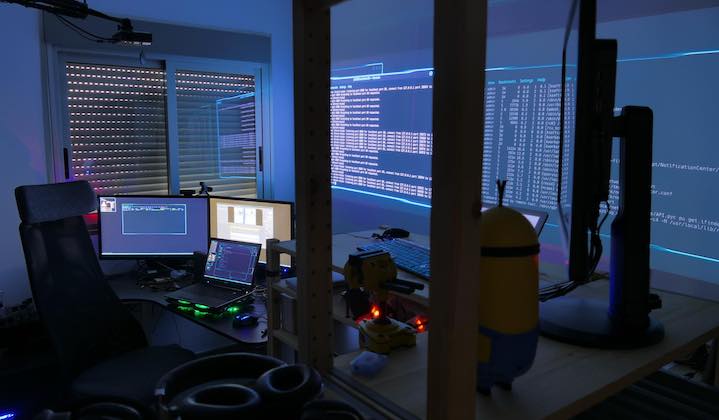 Kevin's office set up.
What goes into making a website accessible?
Bill: There are a set of web technology standards called WAI-ARIA. When you're writing the HTML that forms the basis of your website there are specific HTML attributes that you have to include to give the screen reader the information that it needs to know. That's really important when you have dynamic content on the web page. It takes a lot of very painstaking work to do all that work, and some people leave it out, sometimes because they don't even recognize the issue. I think it's important to note that the general state of accessibility on the web is pretty awful.
How is the Accessibility Working Group helping make our products and services more accessible?
Kevin: It's all about improvement by iteration. The group will never stop its work. You think you have a system absolutely nailed and just then a new piece of software or an update comes out and all your previous solutions need to be thrown out or updated. We have to have regular conversations to make things visible.
Bill: For doing most of the things that I do here at Elastic, from reading GitHub issues to emails, I have to use a screen reader. But there are some places where the screen reader won't work, and that's something we need to work on. One of the teams under me is the core UI team in Kibana, and that team is directly responsible for the accessibility work being done within the product. I think being around the people I work with here gave me the courage to send out an email to the entire dev mailing list to raise accessibility issues with them. The amount of encouragement I got was amazing. Now, people are always working to make fonts bigger, more readable, without my even asking. Support here has been amazing — from accommodating my sight, allowing me time off to find the right setup — people just go out of their way to help you without you having to to raise it as an issue is pretty amazing. And we can implement changes with that kind of empathy into our products.
Is there anything you would like to communicate to other Elasticians about accessibility?
Kevin: I think the one thing is — if you're coming across accessibility challenges, reach out. We're really welcoming and eager to help you solve problems.
Bill: Global Accessibility Awareness Day has a pledge that they try to get individual open source contributors to sign which amounts to them saying that they'll work on accessibility issues and raise bugs when they find them. I'm working to get as many Elastic engineers as possible to sign on. It doesn't really commit us to anything we're not already doing, but I think having our name out there will inspire others to do the same. I encourage everyone that's a developer or programmer to make this pledge.
If you have additional questions about accessibility at Elastic, or about joining the Elastic team you can contact Kevin Sandom and Bill McConaghy over email.
Global Accessibility Awareness Day is May 21, 2020. To truly understand what it's like to navigate the digital world with a disability, take part in an Empathy Exercise by visiting this Empathy Exercise Generator.
Also, we'd love to share your experiences — good or bad — regarding accessibility with our Life@Elastic community. Please tag us @LifeAtElastic on your social media accounts and add #LifeAtElastic and #GAAD.
Finally, if you're interested in joining a company with a Source Code to live by, we're hiring. Check out our teams and find your fit! Want to read more about life at Elastic? Read more on our blog!