Elastic APM
Already housing logs and system metrics in Elasticsearch? Expand to application metrics with free and open Elastic APM. See exactly where your application is spending time so you can quickly fix issues and feel good about the code you push.
Download the latest version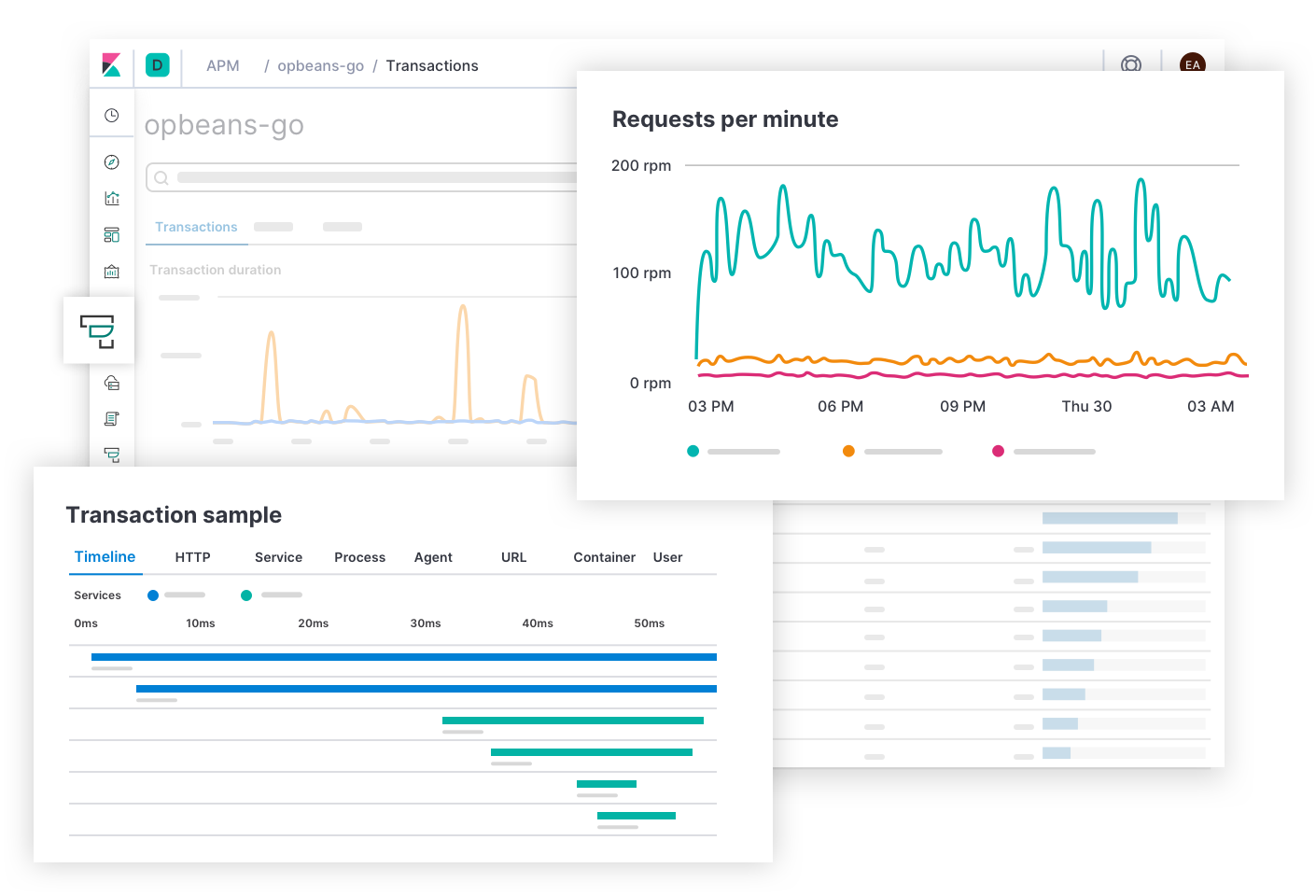 Learn how to get started with application performance monitoring using the Elastic Stack.
Watch video
Take a deep dive into Elastic APM with our APM training.
View training
See how to get your observability initiative up and running quickly with Elasticsearch Service.
Watch video
New
In 7.10, Elastic APM introduces a PHP agent, automated alerts via ML, a brand new User Experience Monitoring page, and service maps go GA.
Finding and fixing roadblocks in your code boils down to search. Our dedicated UI lets you identify bottlenecks and zero in on problematic changes at the code level. As a result, you get better, more efficient code that leads to a speedier develop-test-deploy loop, faster applications, and better customer experiences.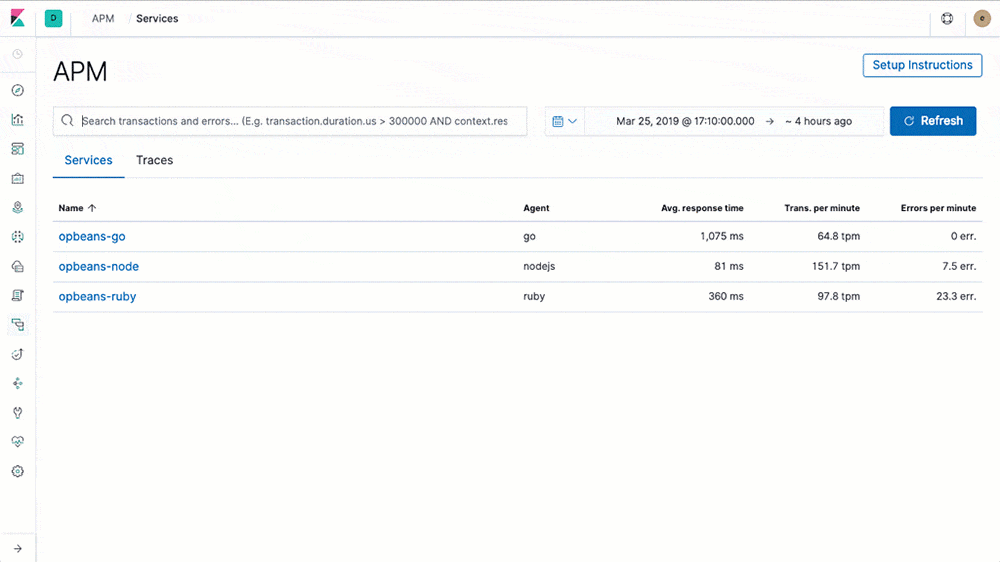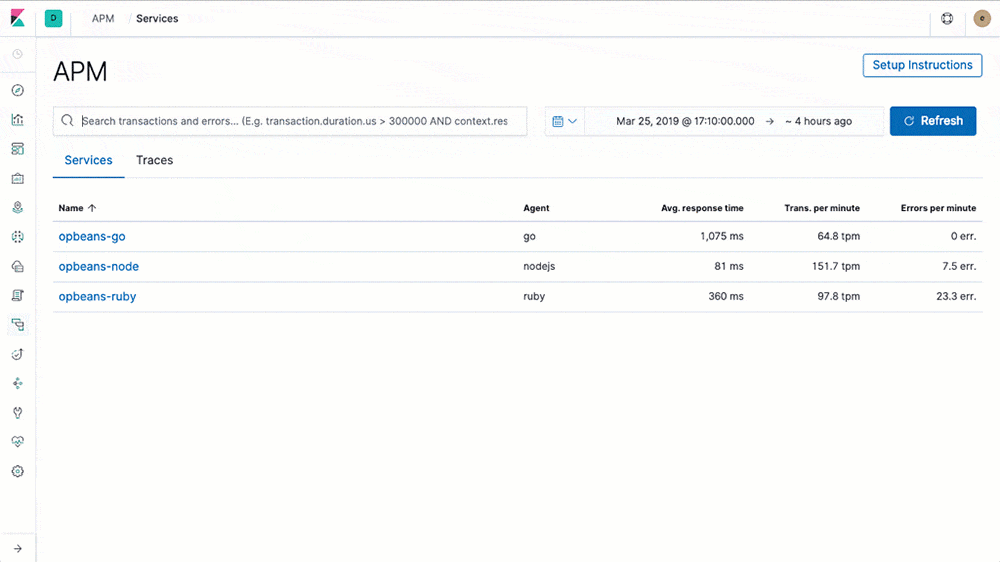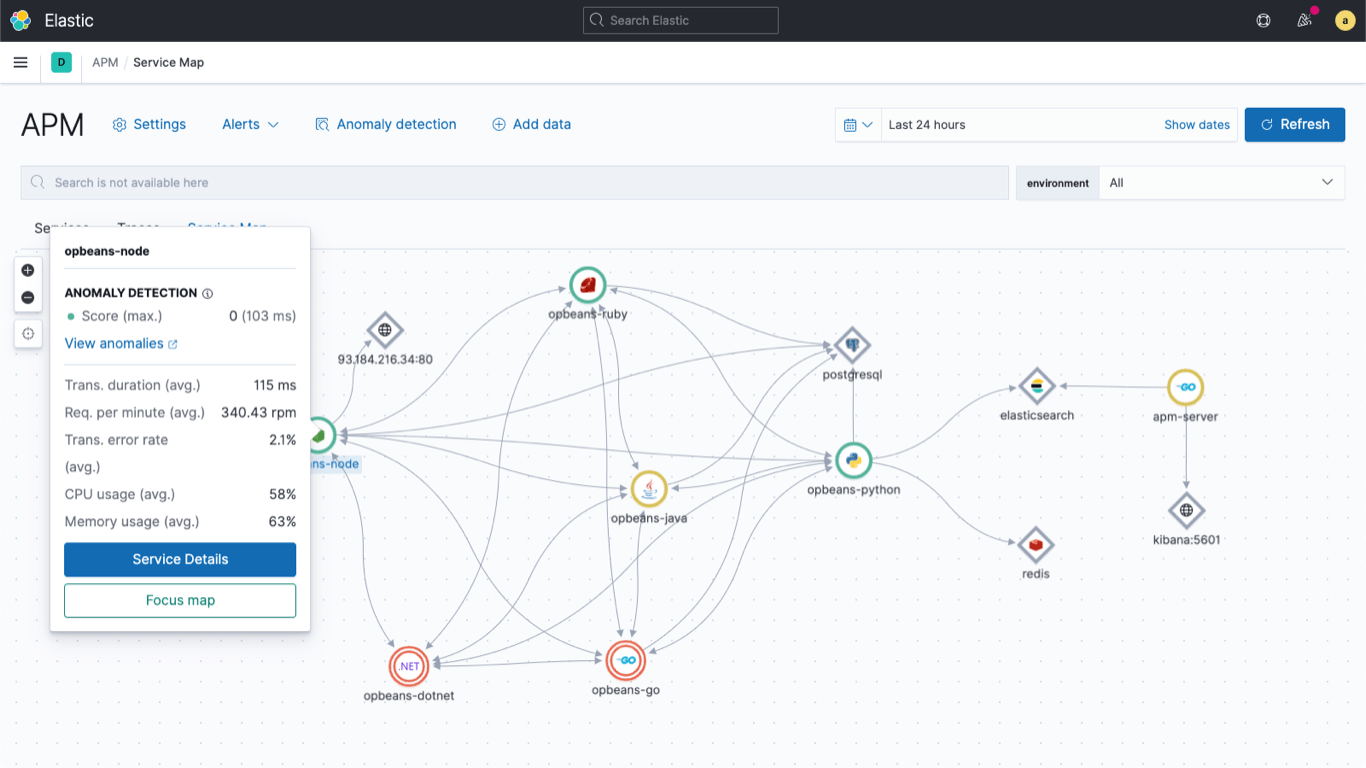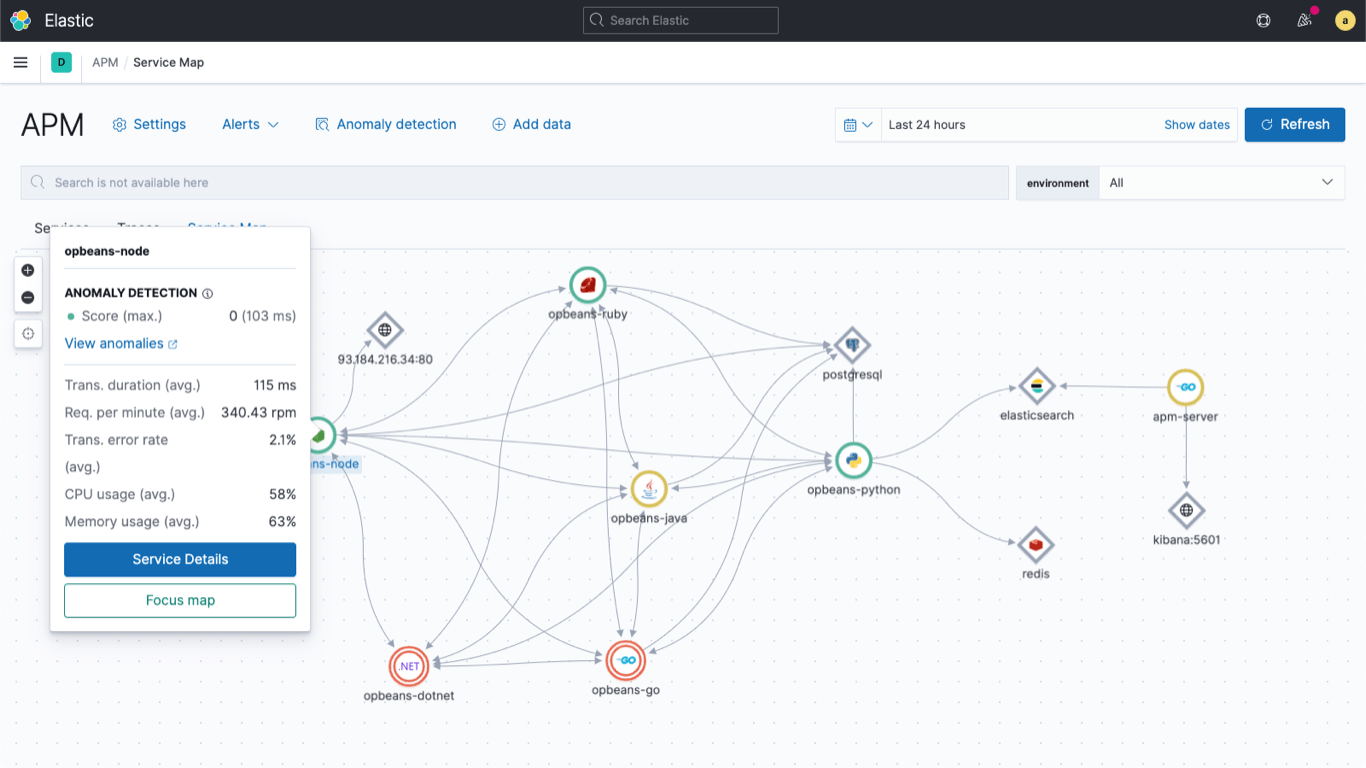 Get a visual representation of how your services are connected in one, clear-cut view. See how they're performing with highlighted KPIs, identify potential problem areas with health indicators powered by machine learning, and zoom in on individual services to identify blockers. Start here to investigate outage impacts and take action to optimize performance across all of your services.
Wondering how requests are flowing through your entire infrastructure? String transactions together with a distributed trace and get a clear view of how your services are interacting. See which messaging frameworks (like Kafka) were utilized and visualize service calls across them, find where latency issues are arising in the path, and pinpoint the components that need optimizing. Test code locally using multistep synthetic monitoring capabilities, and then monitor user experience live from a curated view.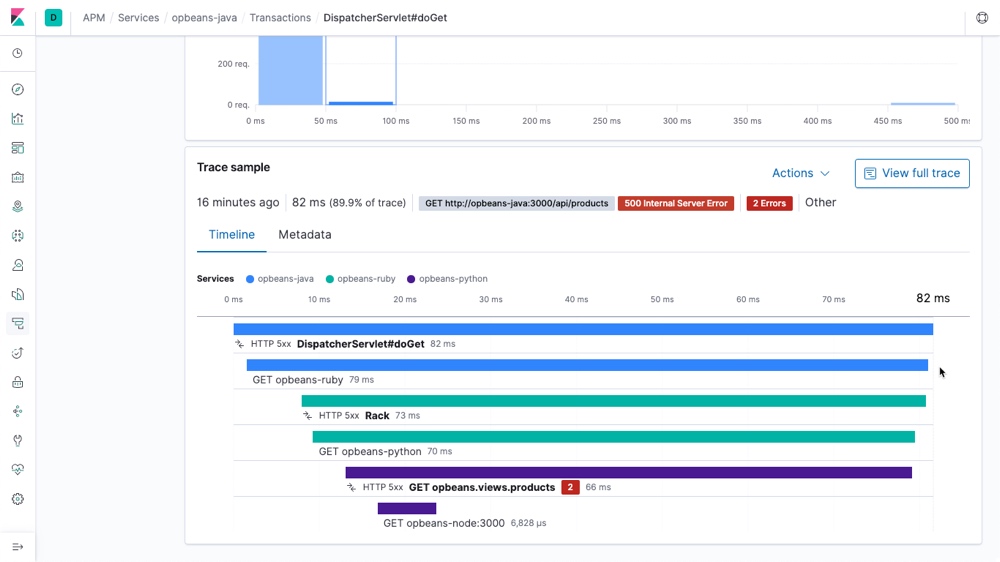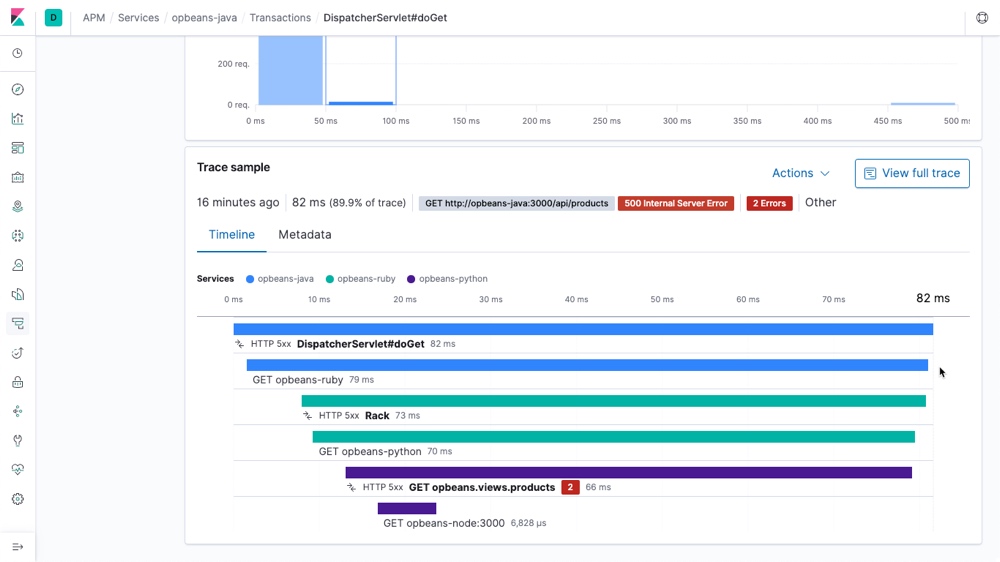 SignUpCTA
With free and open APM, you can get end-to-end visibility into the performance of apps in any stage, on any environment  — cloud native, on prem, and anywhere in between.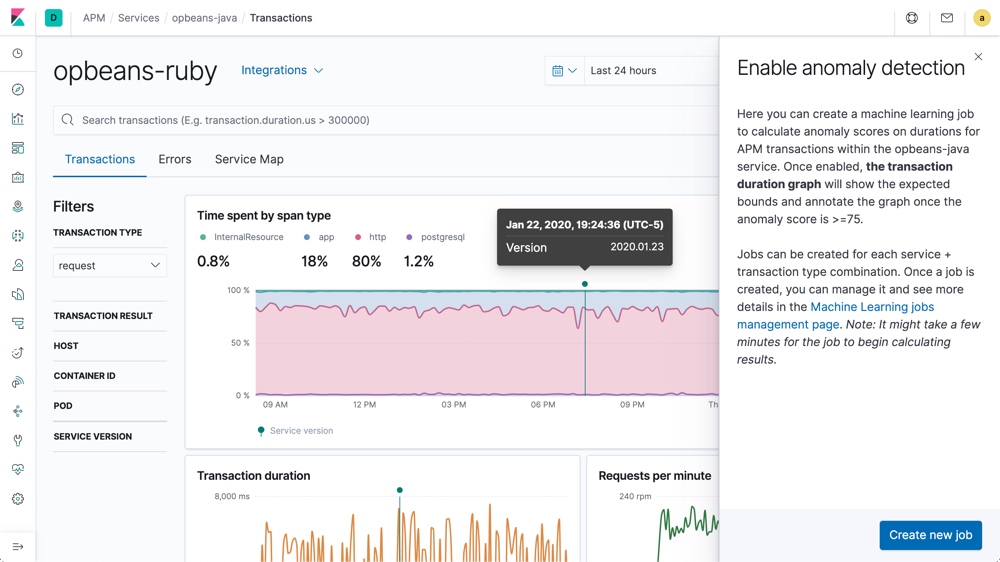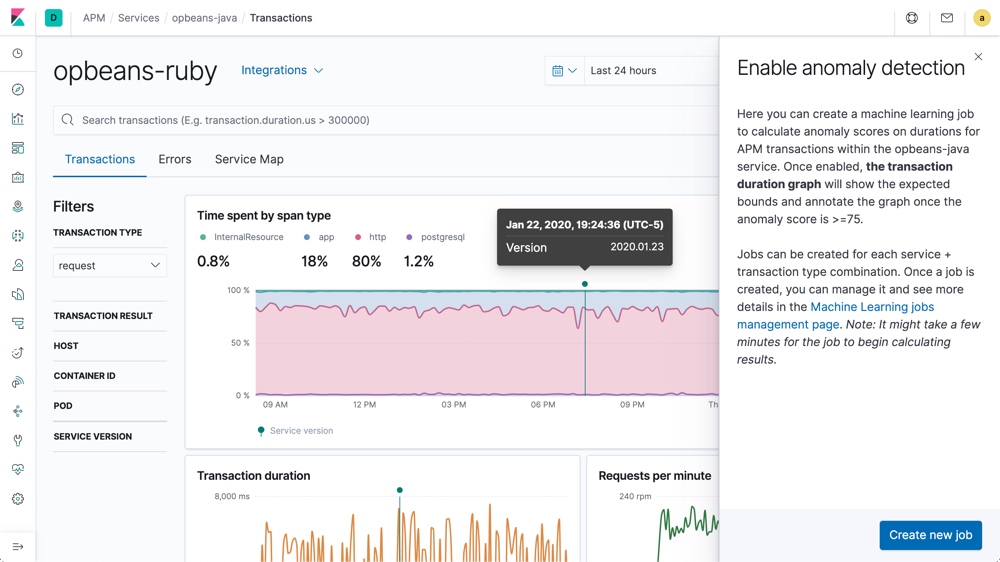 Create a job directly from the APM app in Kibana. Find the abnormal behavior and the problematic pieces with machine learning features that automatically model your data.
Our dashboards are pretty, but you'll probably have to look away at some point. Stay up-to-date on how your code is performing with our alerting features. Get an email notification when something goes awry or a Slack notification when something goes really right.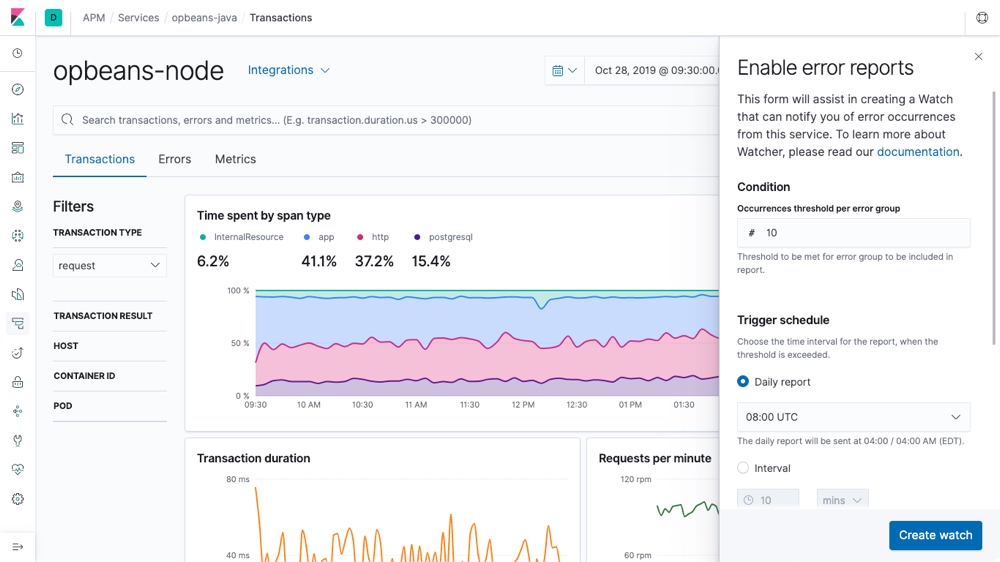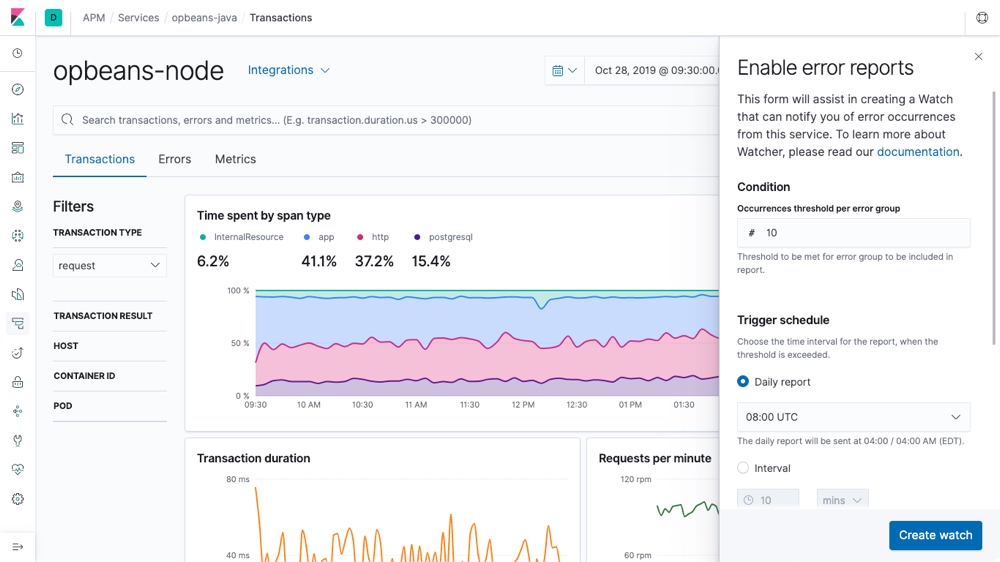 Elastic APM ships with support for Java, Go, Node.js, Python, PHP, Ruby, .NET, and Real User Monitoring (JavaScript) for multiple-page and single-page applications — with more languages on the way. Plus, with support for open standards like Jaeger and OpenTelemetry, sending data from existing instrumented apps to Elastic APM is a breeze. Don't see what you need? Build it or leverage the open source community. Explore all the languages we support.
Deploy a cluster on Elastic Cloud or grab a fresh installation of the Elastic Stack, spin up an APM Server, and add a bit of code to instrument your app with agents. That's all it takes to send your application performance data to Elasticsearch. Use the server-side agent to track your application, and Real User Monitoring (RUM) to catch any problems in the browser. Have questions or want to tweak your install? Visit the Elastic APM documentation or join us on the Elastic APM forum.
Java
.NET
Node.js
Django
Flask
Rails
Rack
RUM - JS
Go
The APM agent installed in your application collects and streams application performance metrics to your APM server, where they are processed and stored in Elasticsearch. In a matter of minutes you can start viewing your performance data either in the dedicated APM app or prebuilt dashboards.
Have security events? Website or server logs? Documents with tons of text? Centralize it all in the Elastic Stack and use free and open Elastic Observability to expand your analyses, lower operational costs, and make your use case even richer.