React to availability issues across your apps and services before they affect users.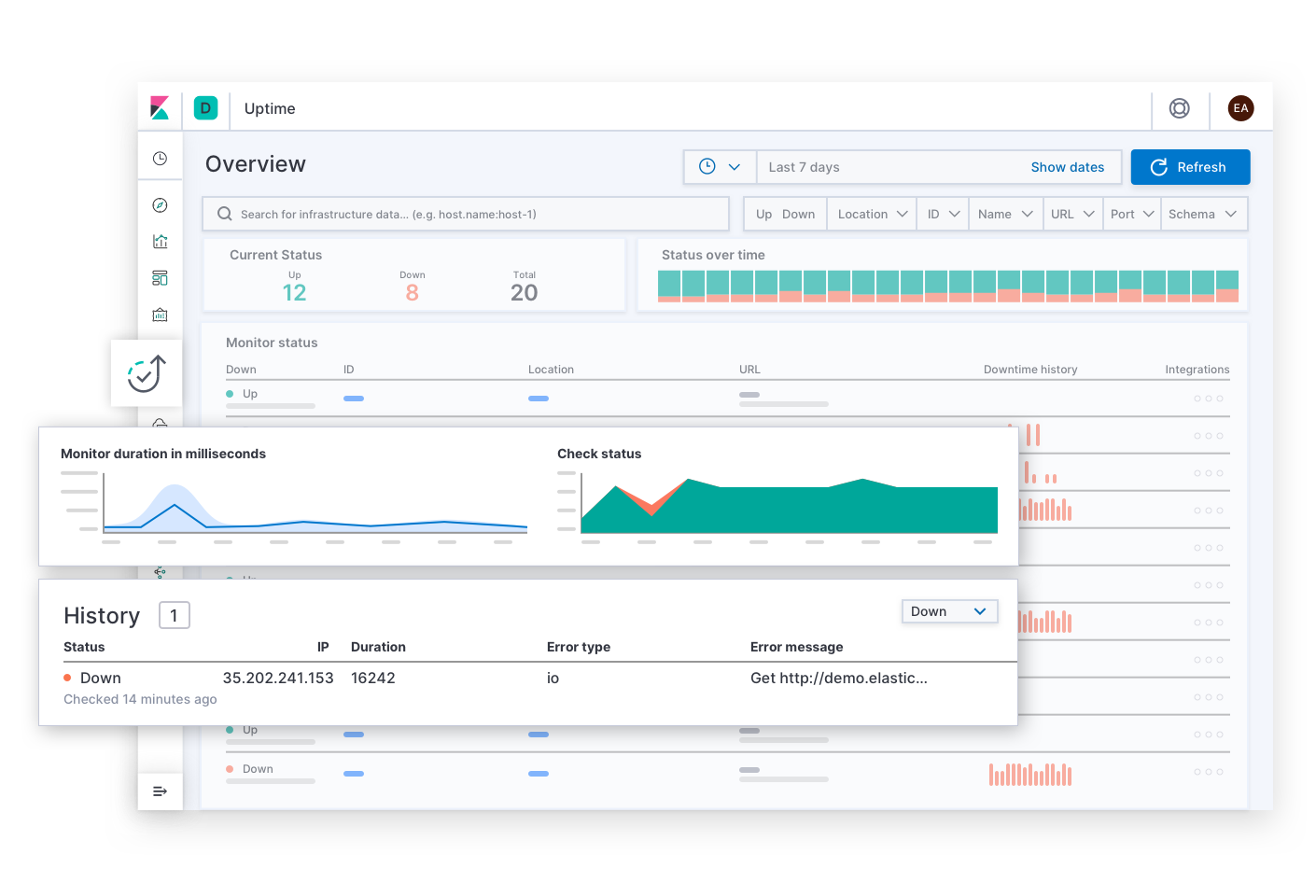 Learn how to monitor the availability of your systems and services with Elastic Uptime.
Watch video
Learn the fundamentals for working with metric data and the Elastic Stack.
View training
Spot potential security anomalies such as irregular latency with Elastic Uptime and more.
Watch video
While a service being "up" or "down" might seem binary, the data surrounding each data point isn't. Give your team the context they need to go well beyond status codes. With Elastic Uptime, powered by open source Heartbeat, your availability data works in concert with rich context provided by logs, metrics, and APM — making it simpler to connect the dots, correlate activity, and solve problems quickly.
Organizations need to track the performance and availability of a rapidly expanding list of components and services. Investigating the inevitable question, "Is X down?" is streamlined with Elastic Uptime. Active monitoring with custom alerting options keeps you ahead of your users — ensuring they have a positive, issue-free experience.
Get up and running fast using this simple configuration. It's API-driven and lightweight, so you can focus on making sure all your status codes are green. And because the data is stored in an Elasticsearch index, you can use machine learning and alerting to automate anomaly detection and notifications.
Heartbeat executes periodic checks to verify whether the endpoint is up or down, then reports this information, along with other useful metrics, to Elasticsearch. In this case, you've asked Heartbeat to check the uptime for the availability of the website https://www.elastic.co. Heartbeat then sends this data to Elasticsearch and you can see the data in the Uptime app.
Heartbeat was set to use the default ports for Elasticsearch and Kibana in this example. See the documentation for configuration options.
Have security events? Proxy or firewall logs? Documents with tons of text? Centralize it all in the Elastic Stack and use free and open Elastic Observability to expand your analyses, lower operational costs, and make your use case even richer.