Understanding if your applications are not just available but also functioning as expected is critical for any organization. Third-party dependencies and different end-user device types means that infrastructure monitoring and application observability alone are not enough to spot and minimize the impact of application anomalies. 
To enable the best experience for our customers, Elastic is very excited to announce that we will be bringing front end monitoring into the Elastic Observability solution starting next year. Our reimagined synthetic monitoring solution has all of the basics you would expect plus some really innovative new features that will significantly improve the way you create and manage your synthetic monitors.
A global managed testing infrastructure at your fingertips
No need to worry about managing your own synthetic monitoring testing infrastructure. Leave that to us. You will be able to schedule your tests to run from a global network of testing agents to get better visibility into regional variances. Beta access to this infrastructure is available to try out within our Uptime capability today.
Entirely new synthetic monitoring UI
Synthetic telemetry data is full of rich signals to help SREs and developers spot and troubleshoot problems in production. To support this need, we're building a completely new Synthetics UI. It's optimized around getting you the answers you need, quickly.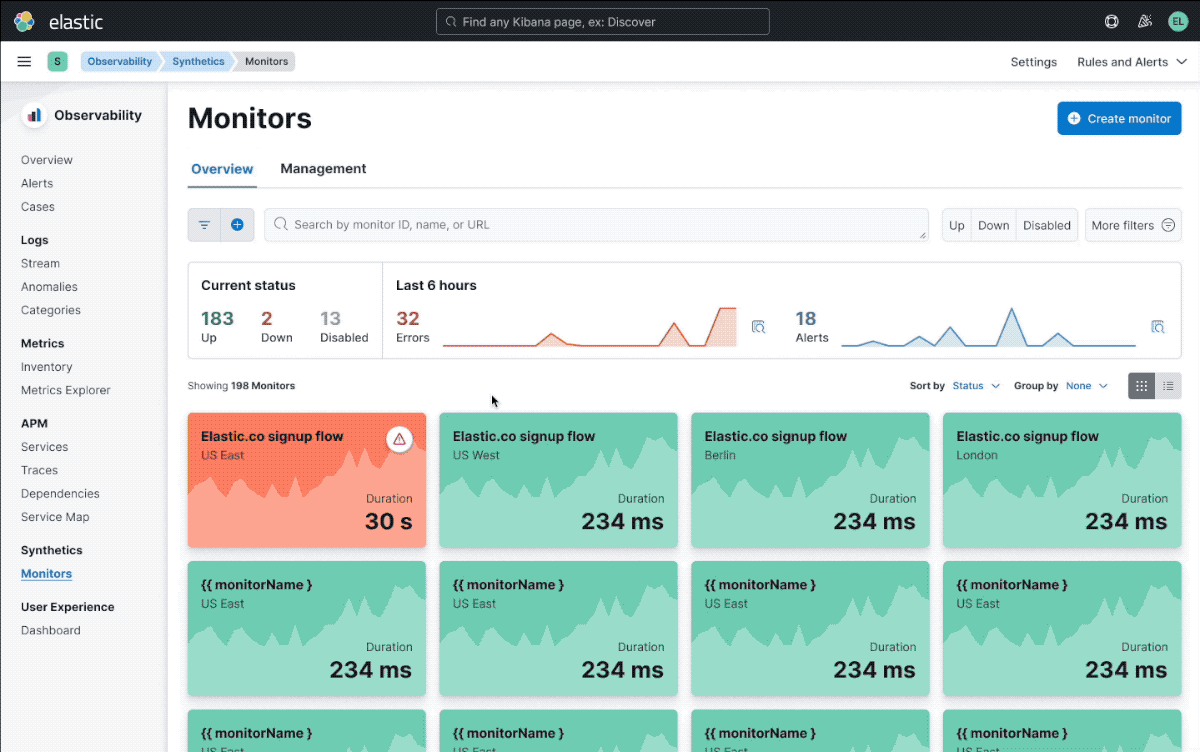 Synthetic monitoring optimized for developers, CI/CD, and GitOps
A synthetic monitor is effectively a functional test running against production. You're already writing functional tests in dev and now you can avoid duplication of effort by pushing those functional tests into our synthetics solution as monitors when you release to production; create, edit and delete monitors entirely in code. An additional feature that will make the lives of developers easier is the ability to run the synthetics agent locally, which is a step change in usability when creating and debugging monitoring scripts. These scripts can then also be included in your CI/CD pipeline to ensure your tests and applications are aligned and passing before pushing to production.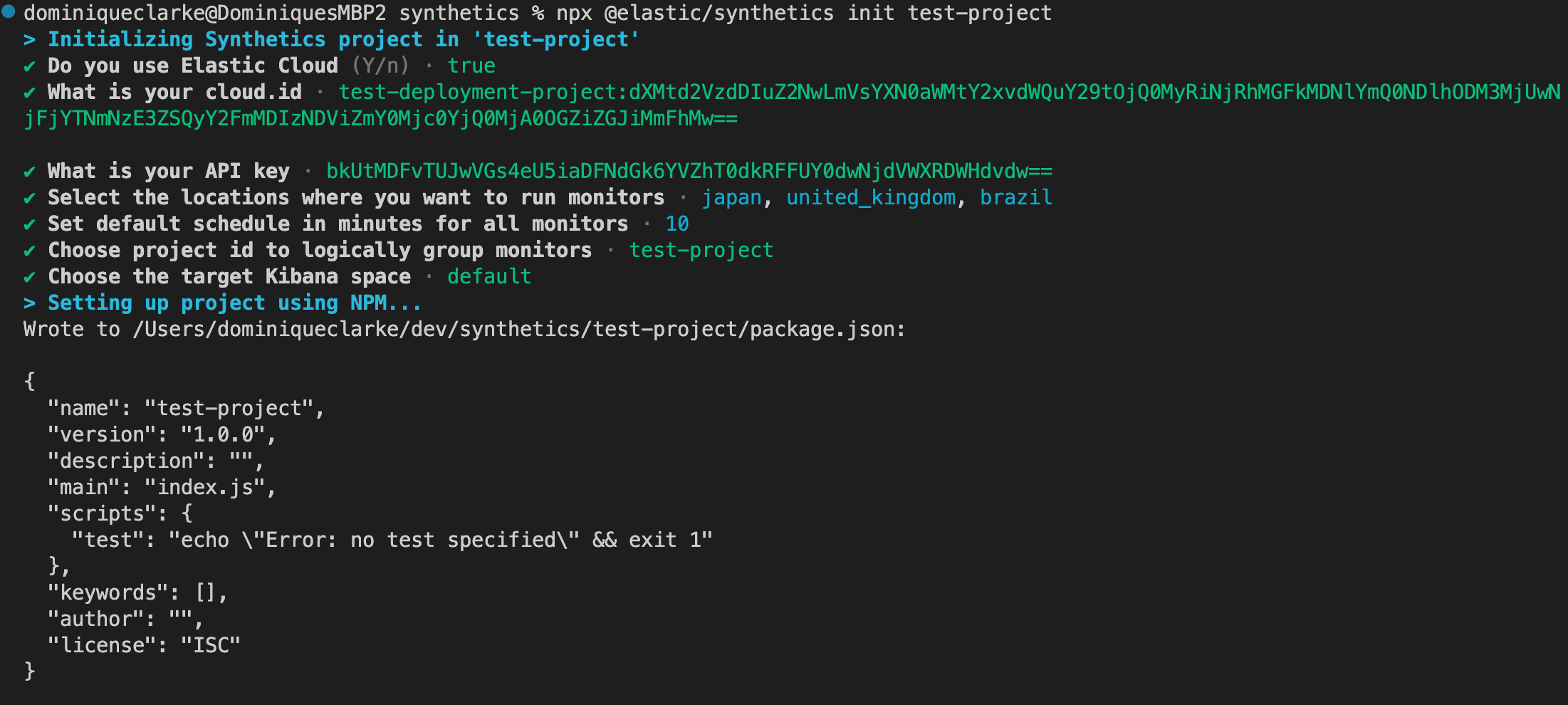 Simple point-and-click script recording
Scripting synthetic monitors is a big pain point for everyone we talk to and not everyone has the ability to write them from scratch. With our point-and-click script recorder, even non-technical users can quickly create a user journey through an application and turn it into a synthetic monitor. The script recorder also dramatically speeds up the process of creating monitoring scripts for developers by quickly giving them a framework that they can edit locally. The beta is available today.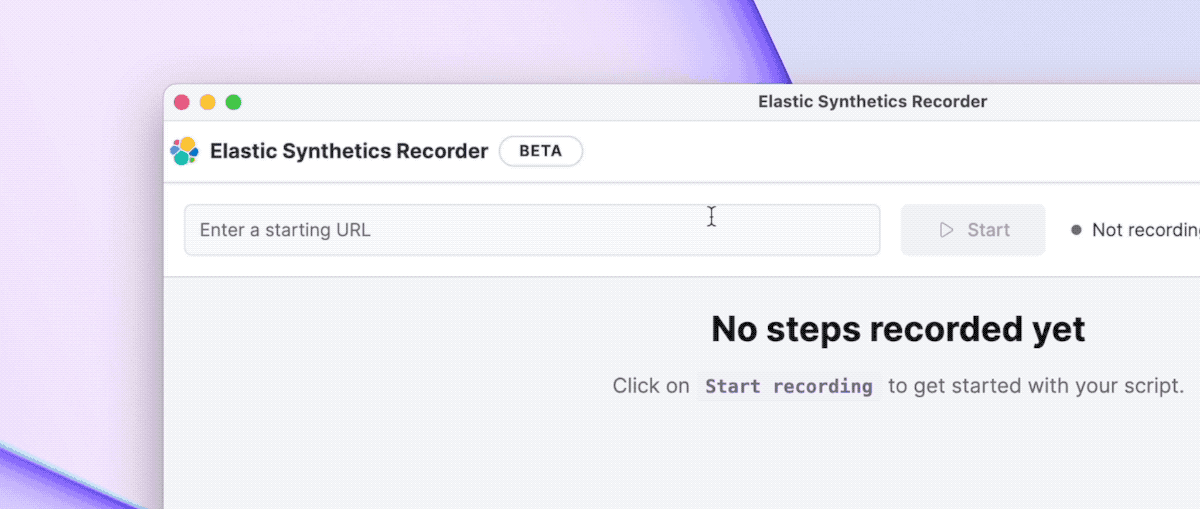 We're extremely excited to tell you more about our reimagined synthetic solution over the coming months. Stay tuned for more beta previews and news about our launch dates as we bring these important new capabilities to market.