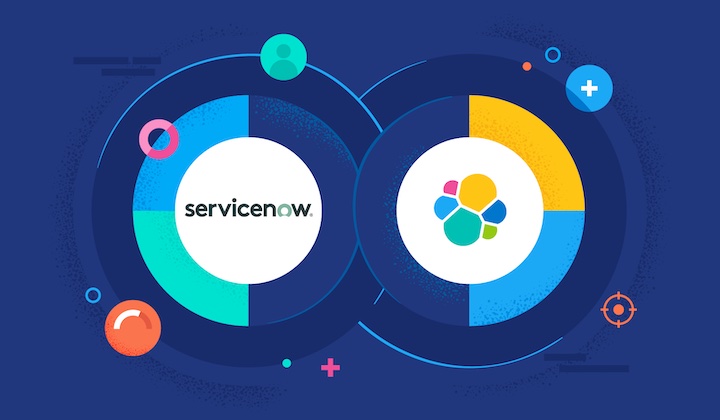 In our latest release, we have doubled down on our partnership with ServiceNow®, streamlining observability and security workflows while also improving practitioner productivity.
In addition to deepening existing integrations with the Now Platform® through new extension points for Elastic cases and alerts, we've added an integration that streamlines event management for IT operations workflows.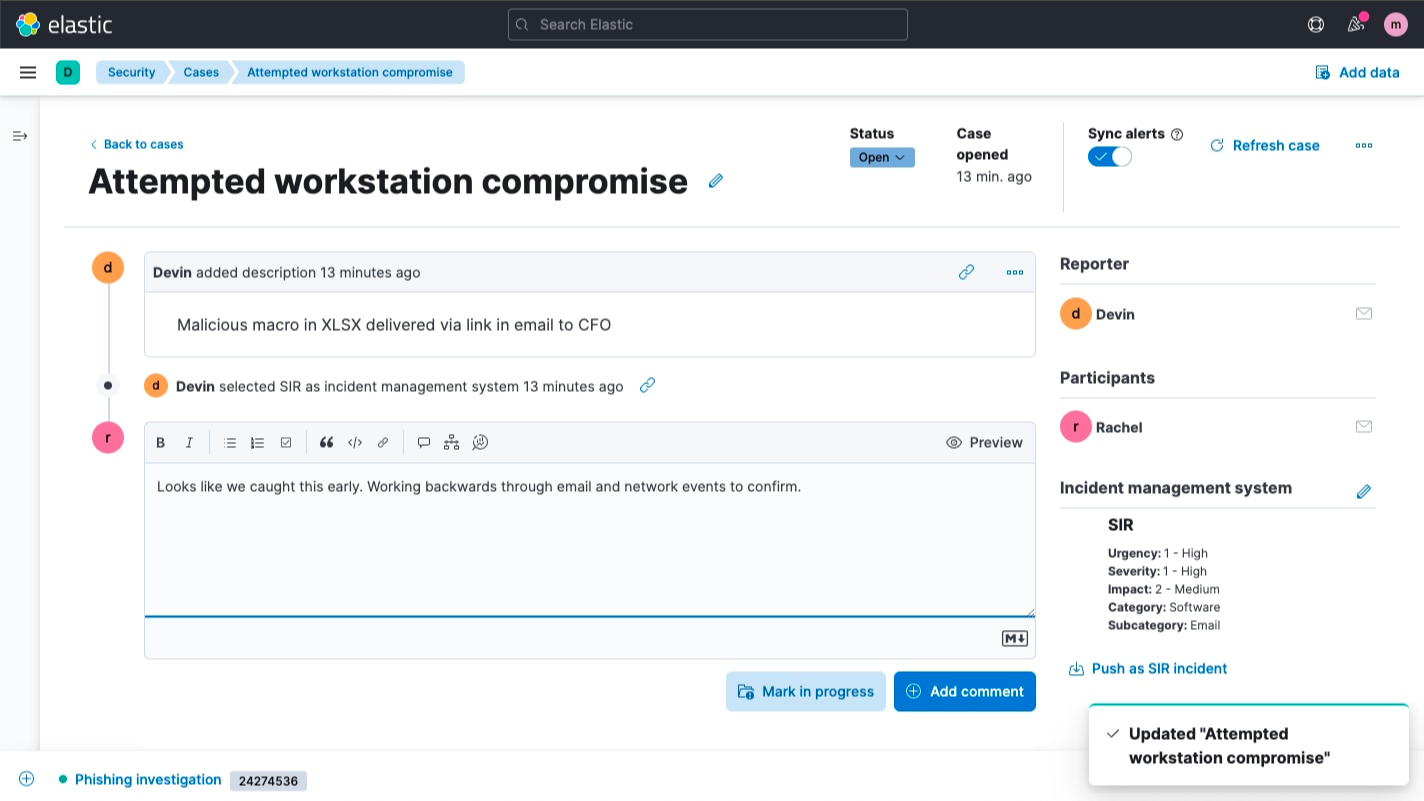 In 7.16, administrators of Elastic deployments can access two certified applications in the ServiceNow Store that optimize for more efficient and productive IT Service Management (ITSM) and Security Incident Response (SIR) workflows. In addition, our integration ecosystem expands further with a new integration for IT Operations Management (ITOM) event generation. These investments improve the experience for end users, and lay the foundation for building even richer integrations in the future.
Streamline IT service management and security operations
Service reliability engineers and security analysts who rely on Elastic and ServiceNow for their critical workflows now have in-product experiences for both ServiceNow ITSM and Security Incident Response products. Certified applications in the ServiceNow Store give administrators increased control over the generation of incidents in ServiceNow by Elastic. With the addition of an Elastic staging table, transformation map, and role, ServiceNow administrators can simplify the experience for their end users.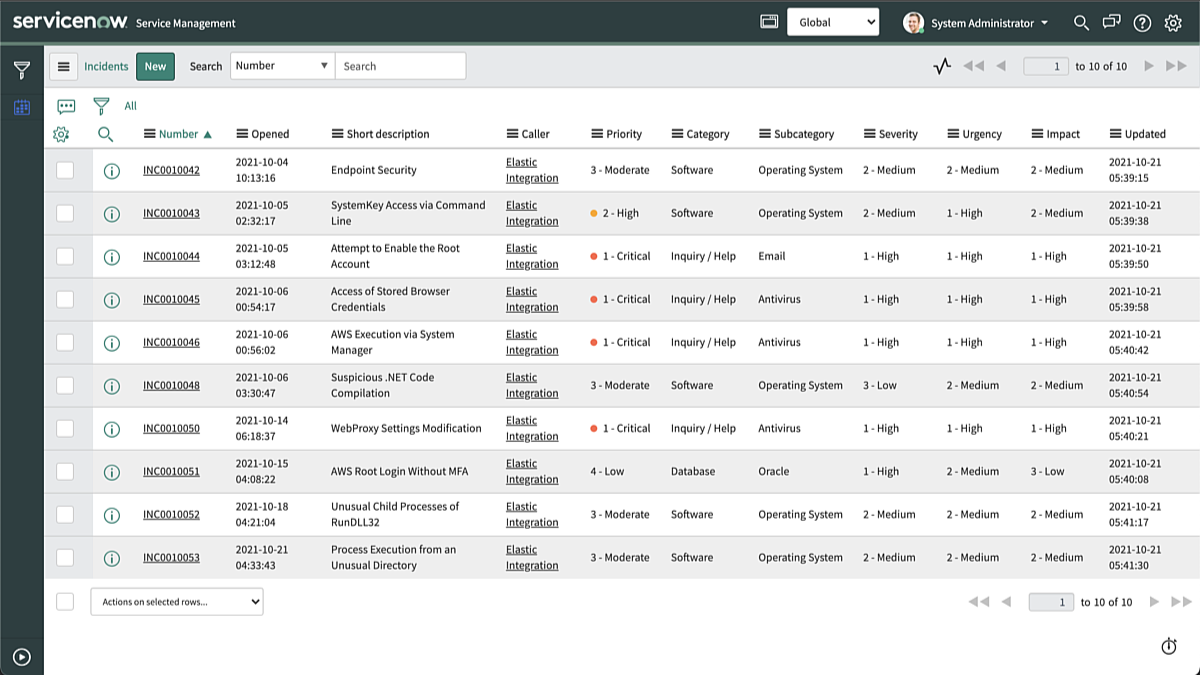 Practitioners can now escalate cases into ServiceNow incidents with just a single click, and automatically create and update ServiceNow incidents from an Elastic alert. By streamlining observability and security workflows across products, these integrations demonstrate our commitment to our joint user base and provide the first building blocks for richer integrations in the future.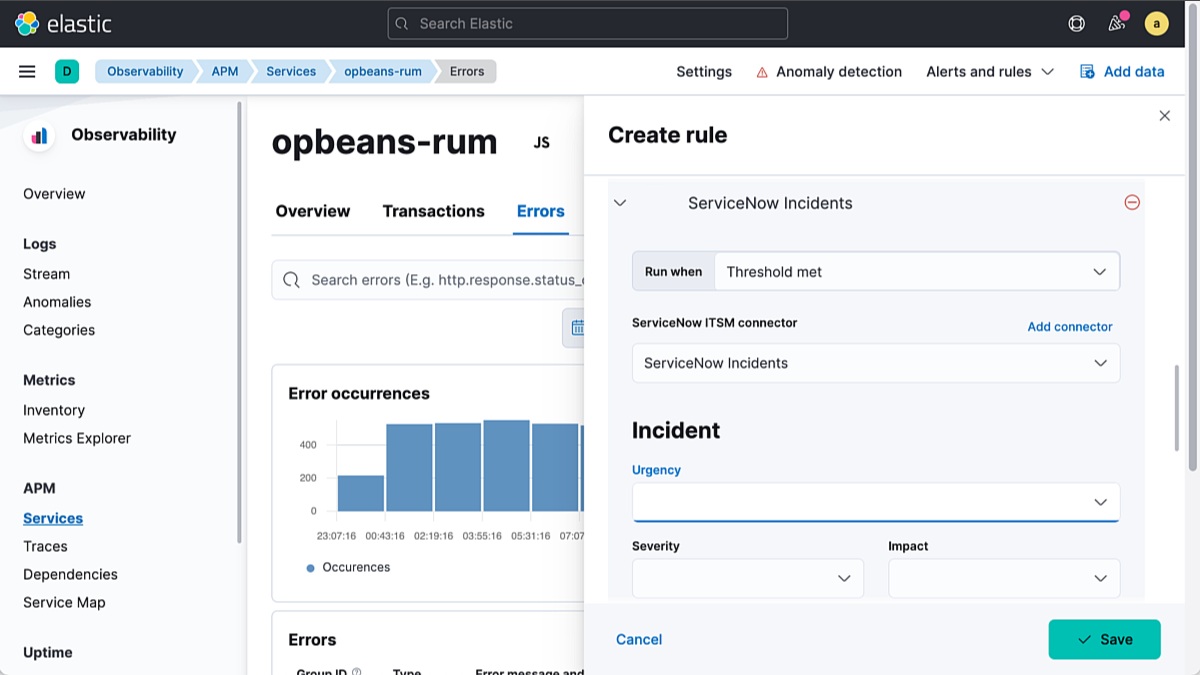 Accelerate the workflows of DevOps and SRE teams
ServiceNow IT Operations Management (ITOM) provides automation and workflows for proactive IT operations. Elastic powers the unified analysis of diverse data sources (logs, metrics, APM traces — you name it), enabling monitoring, automated detection, and incident response. The combination of Elastic and ITOM empowers DevOps and SRE teams to increase overall visibility into their applications, automate repetitive workflows, and quickly identify root causes across multiple sources and technologies.
In 7.16, Elastic can now push detection alerts directly to ITOM. Connecting your ServiceNow environment and prebuilt playbooks with Elastic streamlines team workflows and dramatically increases visibility into your applications and infrastructure.
Get started today
Enterprise organizations work smarter by combining the power of search and the wide variety of use cases it supports with ServiceNow digital workflows. You can truly unite your data and processes with Elastic and ServiceNow.
Interested in learning more about our ServiceNow integrations? Get started today by adding connectors for ITSM, ITOM, and SIR in a free Elastic Cloud trial to see how Elastic and ServiceNow can solve your challenges more efficiently.
The release and timing of any features or functionality described in this post remain at Elastic's sole discretion. Any features or functionality not currently available may not be delivered on time or at all.