Teams, rejoice! It is with a great deal of excitement that we are today announcing the general availability of Elastic Workplace Search, a unified search platform for organizations of all sizes and horizons. As the newest addition to the Elastic Enterprise Search solution, Workplace Search brings modern search to every collaborative decision, every new hire's onboarding journey, every new business transaction closed.
With work happening faster and in more distributed ways than ever, a wealth of content is created in real time on a broad range of collaboration tools. Elastic Workplace Search is rooted in a simple but powerful idea: creating a centralized way to search over the knowledge scattered across all the applications your team uses every day, deployed at scale in a matter of hours or days. Think of it as a fresh dose of zen in today's sprawling information landscape: a unified discovery experience that is both relevant and personalized.
Workplace Search is released today at the Platinum license level. We recognize the broad applicability of this product to companies of all sizes as the transition to remote work increases, which is why we are already hard at work preparing a free version of Workplace Search, available in an upcoming release. Platinum users can get started with no additional step, and anyone else curious to get a better feel for this new product can seamlessly start a free trial directly from the Workplace Search user interface.

Get started today or sign up for the Introducing Elastic Workplace Search webinar.
Navigating the virtual workplace
Elastic Workplace Search seamlessly connects to the world's most widely adopted productivity tools (such as Microsoft 365 — formerly known as Office 365 — and Google G Suite), customer relationship management platforms (Salesforce, Zendesk), cloud storage platforms (Google Drive, OneDrive, Dropbox), collaboration tools (GitHub, Jira), operation management platforms (ServiceNow), and content management systems (SharePoint Online, Confluence). Set up automatic synchronization of content and documents and create a centralized source of truth powered by Elasticsearch — without the traditional headaches associated with third-party integrations and complex systems. And since you are not bound by hardware or software limitations, you will probably find yourself looking for more sources to synchronize over time.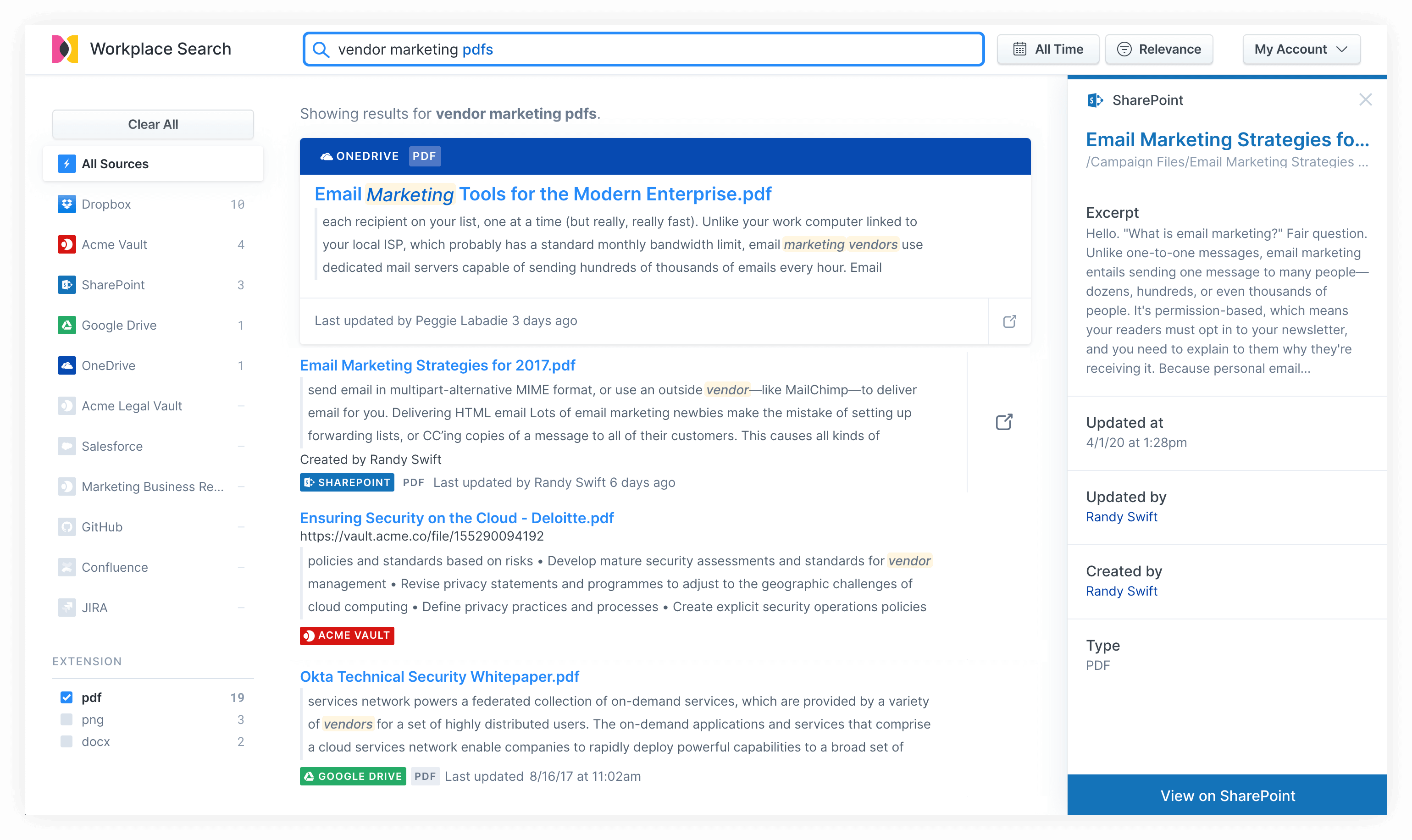 Secure, personal, relevant
With Workplace Search, results are tailored for every member of your team and easily accessible from anywhere, surfacing records, documents, and files based on what matters most to each and every contributor. Finding more about the latest project or getting access to new employee onboarding information is easy thanks to typo-tolerant search, natural language querying, and automatic filtering. Files, articles, presentations, or customer records are all a simple question away.

We also understand that not everyone on your team is trusted with the same information, and Workplace Search makes sure to reflect proper access to content for increased relevance and enhanced access control. Some may think of information security as the icing: we think of it as the whole cake.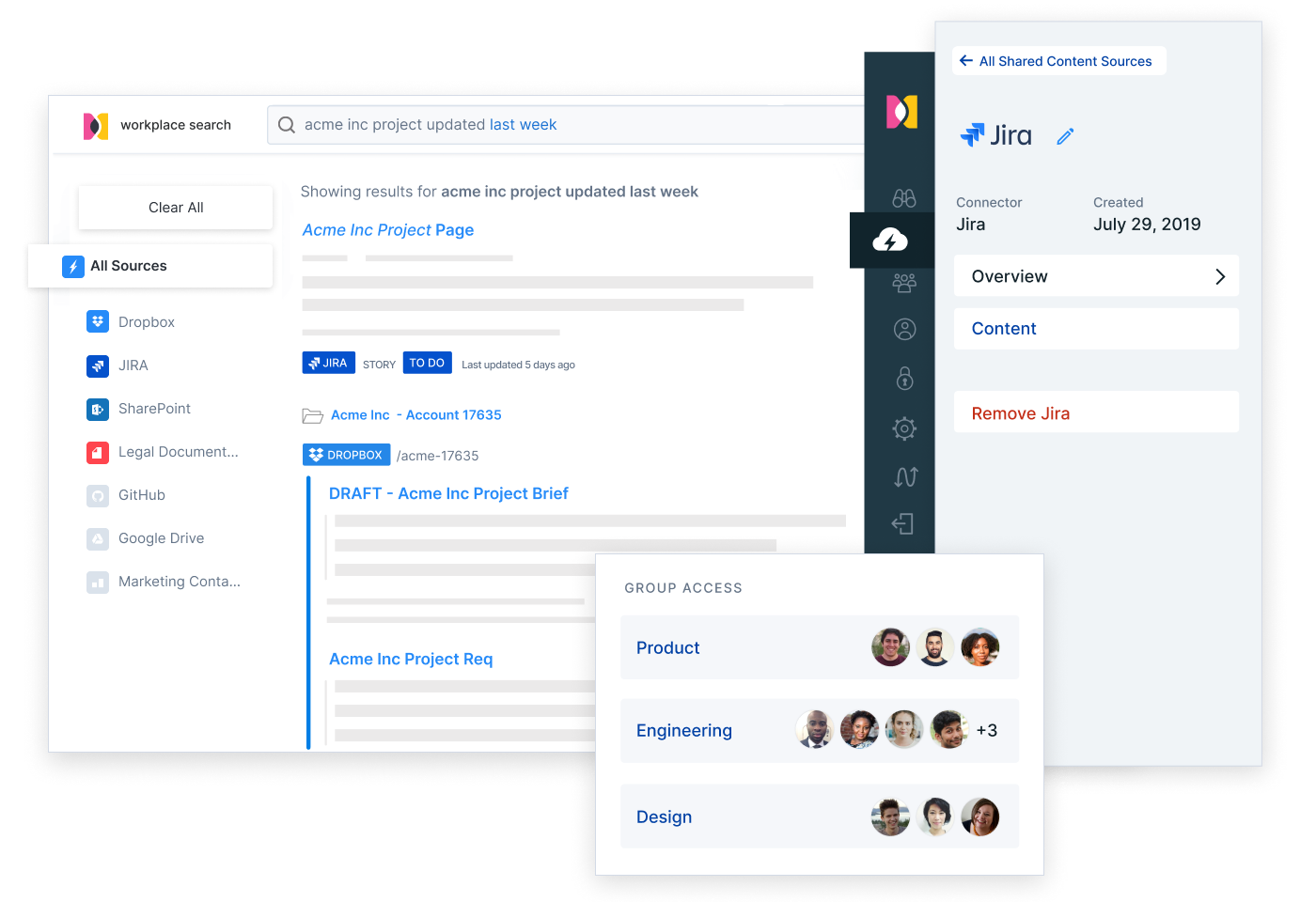 Search, in your image
Crucial business information lives well beyond the most popular content platforms. Custom sources provide an elegant set of APIs that lets you ingest any type of content from just about anywhere, access control information included. And while Workplace Search's web-based search experience boasts all the features you have come to expect from a modern query interface, Search APIs are also at your disposal for deeper integration into portals, applications, or high-traffic environments in your information ecosystem. After all, Workplace Search is all about reduced context shifting, increased efficiency, and enhanced accuracy with the many tasks your team handles on a daily basis.
Collaboration at scale
The more sources you consolidate under one roof, the more likely you are to create an environment where collaborators find what they are looking for quickly and build trust in collaboration processes. To support this idea, Workplace Search follows the same principles as the rest of the Elastic product portfolio: you will only ever pay for the resources that you use. Gone are the days of creating artificial pricing structures around the number of active users or the number of sources connected. We believe in growing with your team, and not getting in the way of your operational success.
And since you will be well on your way to deploying a successful, unified search implementation for departments across your organization, you can make good use of the intuitive management features, from the simple embedded user management interfaces to advanced SAML support. You can even adjust relevance based on roles and groups within your company, ensuring optimal access to information for everyone. With Elasticsearch at the heart of it all, you know that search will always be fast and relevant, even as your implementation scales over time.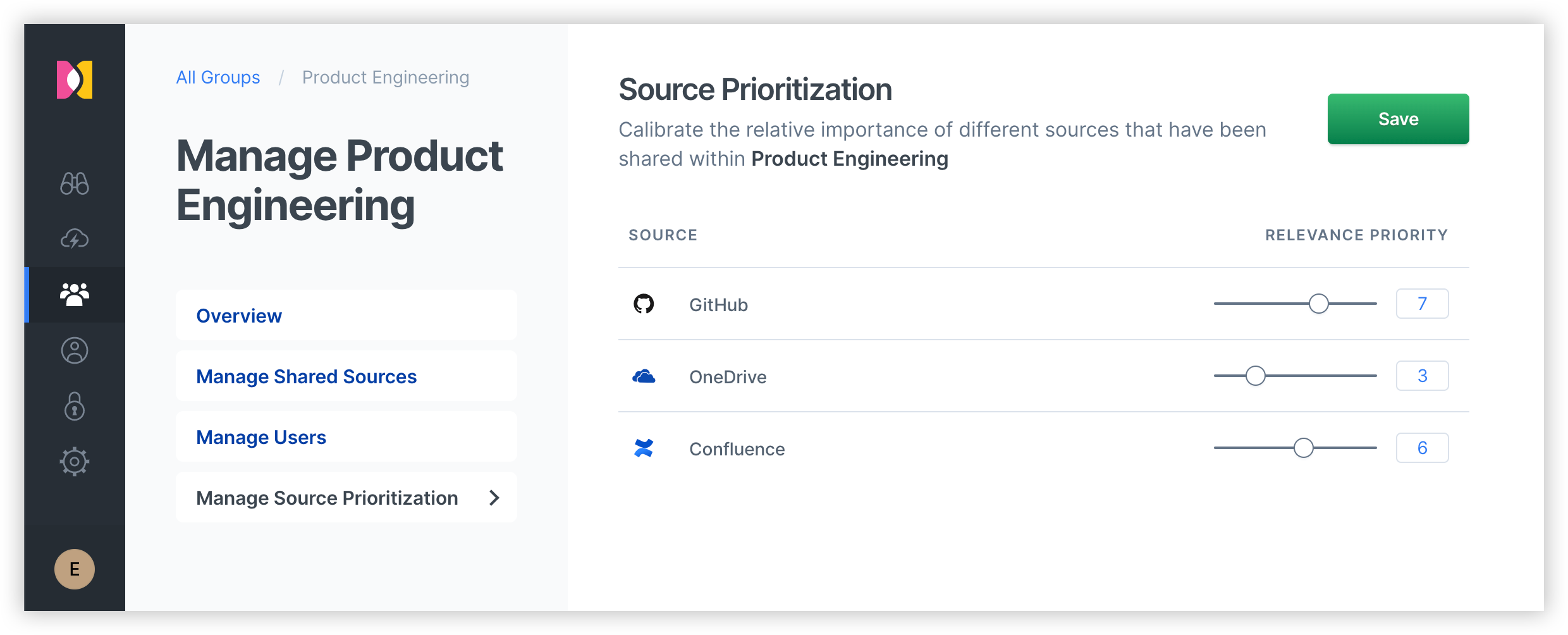 A foundation for generations
Our investment in Elastic Workplace Search is the culmination of numerous inspiring encounters over the years. Teams across industries have committed to capitalizing on the wealth of information created every single day; many turned to Elasticsearch to successfully support their initiatives. We believe that thousands more will greatly benefit from a similar experience, yours included. And we are just getting started.
Try out Workplace Search today with a free 14-day trial (or free download), or watch the Introducing Elastic Workplace Search webinar.