For all of us at Elastic, community matters. Our users and contributors have helped to ensure that the Elastic Stack is more than just code.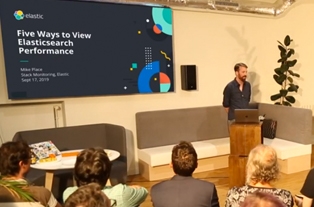 In this talk, we'll look at five lenses through which one can view the performance of an Elasticsearch clusters. Taking each in turn, attendees will come away with a set of principles and concerns through which they can monitor and understand the health and performance of their production Elasticsearch systems.
Aujourd'hui les organisations (entreprises, associations, personnes, …) produisent et consomment des quantités de documents et de textes numériques (rapport, étude, synthèse, contrat, réponse aux enquêtes, sous format PDF, Office, web, …).
App Search : Déployez rapidement l'expérience de recherche Elasticsearch sur n'importe quelle plateforme (French)
App Search est un outil puissant qui s'appuie sur Elasticsearch et qui permet d'intégrer un moteur de recherche pertinent et flexible à des sites internet/intranet ou applications en seulement quelques heures.