Welcome to This Week in Elastic! In this weekly round up post, we bring you news on all aspects of the ELK Stack, including updates on Elasticsearch, Logstash and Kibana development, tips and tricks and upcoming events.
Always wanted to ask our devs (almost anything)? Join our Dev Hangouts Series! @robynbergeron brings you the scoop https://t.co/5hg6KEUNgc
— elastic (@elastic) June 3, 2015
Elastic News
Useful blog posts, how tos, tutorials and articles from the wide world of all the ELK stack ecosystem.
Couldn't catch our live #Shield and Beyond webinar yesterday? Catch @smayzak & @antoinegirbal now on demand! http://t.co/6Nlbj8Zohy
— elastic (@elastic) May 29, 2015
Slides and Videos
Pssst! We visited CERN last week to learn about all the ways they're using the ELK stack and for our team to tell the scientists there who didn't know us more about our technology. Check out the video, featuring the ever amazing Alan Hardy and Pere Urbón-Bayes.
But wait, there's more!
Beautiful visualizations and beautiful beverages from Berlin Buzzwords 2015
Antoine Girbal on Performance Tuning: Best Practices for your Elasticsearch Cluster under Heavy Load from our recent Elastic Chicago Meetup
Where to find Us
We'd love to feature all the great Elasticsearch, Logstash, and Kibana presentations and meetups happening worldwide in this section. If you're speaking about the ELK stack or hosting a meetup, let us know!
Austria
The .NET Community Austria Meetup will get together on June 11 to talk all about the ELK stack. RSVP now to save your seat.
Canada
The Montreal Monitoring Meetup will get together on June 8 to talk about the ELK stack, amongst many other tools. Register now to save your seat.
France

David Pilato will also give two talks at the web2day conference. Join him in Nantes from June 3-5.
Our team will be hanging out in the exhibits hall at dotScale, which takes place in Paris June 8. Come say hello!
During @RivieraDEV 2015, @dadoonet will show us how to add @ElasticSearch to legacy applications in a blink ! https://t.co/SEQK4M9ZVe
— RivieraDEV (@RivieraDEV) May 5, 2015
Université Kibana et Elasticsearch @breizhcamp : http://t.co/ZRAomhneKC. Analyse de données temps réel avec la suite @elastic et Adelean.
— Lucian Precup (@lucianprecup) May 5, 2015
Germany
If you'll be attending the Munich Developer Conference on June 12, make sure to say hello to Alexander Reelsen in the hallway track!
Ireland
Join Mark Harwood for an expert level session at NoSQL Matters Dublin on Building Entity Centric Indexes. The conference takes place on June 4.
India
The Big Data Analytics on Cloud Meetup in Hyderabad will host a free workshop on Elasticsearch on June 20. Register now to attend the workshop.
Japan
Please join all members of Elastic's team in Japan at LinuxCon Japan in Tokyo on June 3-5. We will have a booth in the exhibits hall and will be very happy to answer any questions you may have.
The Netherlands
GOTO Amsterdam Special Edition Meetup
Reg now: @elastic Netherlands Meetup will get together 17 June w/ talks from @rashidkpc & @Wikimedia dev Nik Everett http://t.co/Sh1R9u1sxR
— Leslie Hawthorn (@lhawthorn) May 27, 2015
But wait, there's more! Join us at GOTO Amsterdam 2015 for a full track on Elasticsearch, featuring five talks on topics from Scaling your ELK Cluster to Securing it with Shield. The conference runs June 18-19, with the Elasticsearch track running all day on June 18.
And even more! DevOps Days Amsterdam returns to the Pakhuis de Zwijger June 24-26. You can visit us at our booth or hear from Leslie Hawthorn on her latest DevOps and Culture topic, Fear of Failing Fast: How to Avoid Sabotaging Your Success. Rumor has it that the amazing BBQ will be reprised this year, so do not miss this one!
Poland
If you'll be in Katowice, Poland on June 11, join the AWS Poland User Group to talk Elasticsearch on AWS.
Register now
to save your place.
David Pilato and João Duarte will attend Devoxx Poland 2015 taking place June 22-25 in Krakow. Between the two of them, they'll deliver three talks:
Spain
The Madrid Open Analytics Meetup will get together on June 25 to talk big data before your holidays, including Elasticsearch. Register now to join them. (No holiday included, but definitely great knowledge sharing.)
United Kingdom

For folks in Cardiff, Wales, your welcome to attend our Elasticsearch Meetup hosted at DjangoCon EU. Make sure to pop by the conference to say hello to Honza Kral in the hallway track. DjangoCon EU 2015 runs May 31 - June 5. The nifty meetup featured below takes place on June 4.
If you happen to be in Bristol tomorrow night, join the Bristech User Group to hear from Neil Andrassy on Elasticsearch. RSVP to save your seat for June 4.
Join us at Big Data Analytics London on June 16 for a seminar on How To Extract Value From Your Data and Create Dazzling Dashboards. The event takes place at the Hotel Russell.
South Wales Elasticsearchers: a meetup with a talk by Honza Král @HonzaKral, Elasticsearch developer: http://t.co/ZwUe3ln5VL All welcome.
— DjangoCon Europe (@DjangoConEurope) May 11, 2015
United States - East
United States - West
New meetup: On Friday, June 5, the Elastic San Francisco Meetup group will get together for lightning talks: Justin Zhu on How Iterable Uses Elasticsearch, our very own Shaunak Kashyap on Watcher and Amir Kibbar on his new Elasticsearch plugin to use Gradle to help with integration tests. There are still seats left, so register now to save your seat. 
New meetup: On Friday, June 5, the Elastic Seattle Meetup will convene to talk Elasticsearch + Docker and throw in some Swarm and Compose on the side. Register now to save your place. 
Our team will be on the show floor at Hadoop Summit, which runs June 9-11 in San Jose, California. Stop by, say hello and learn all about our solutions to make Hadoop sing by using Elasticsearch.
The Austin Scala Enthusiasts User Group will get together on June 11 to talk how Avention Uses Akka to load data into Elasticsearch. Register now to save your place.
Join us at Monitorama 2015 in Portland, Oregon and catch a lightning demo from our very own Suyog Rao. Monitorama runs June 15-17.
The Elastic Silicon Valley Meetup will get together on June 16 to talk Elasticsearch and MapR, plus even more Apache Hadoop goodness. Register now to save your seat.
The Elastic LAX Meetup group will convene on June 24 to talk about the ELK stack. They're also looking for a venue host and presenters, so get in touch! You can RSVP and talk to the group organizers via meetup.com.
The Elastic Dallas Fort Worth Meetup will get together on June 25 for an Introduction to Elasticsearch, which will include both a presentation and interactive learning / hands-on component. Register now to save your seat. (Plus, while you are there, congratulate the community organizers, Charith Tangirala and Jason Gaylon, on getting the group to 100 participants!)
This may be our coolest swag ever, courtesy of the PyWaw Summit 2015 Organizing Team.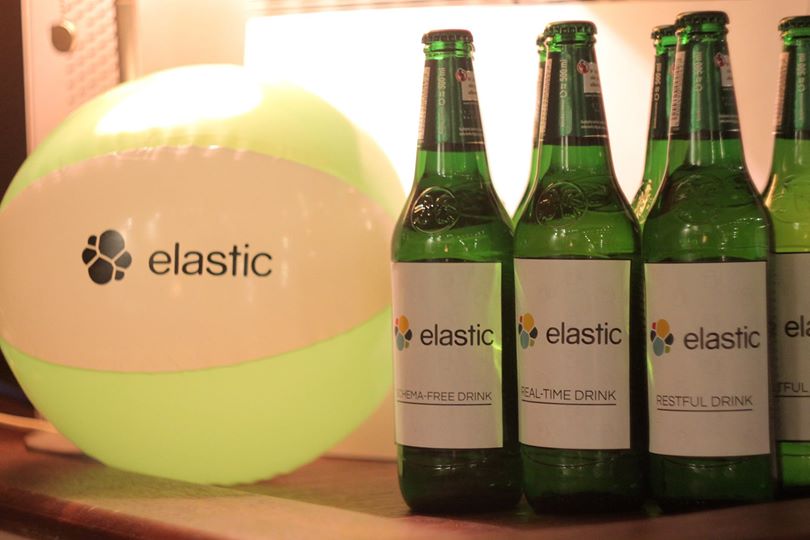 Where to Find You
PSST! If you're a regular reader, you're thinking of skipping this section. You may even be thinking to yourself, yes of course I will drop a note on Twitter when I am giving a talk on all things ELK. That's awesome, because we'd like to showcase every meetup, conference presentation and workshop on Elasticsearch, Logstash, and Kibana happening worldwide. And now, we've made it even easier for you to get support for your meetup!
Head on over to  our meetups page! (And we'll still totally send you swag if you're giving a talk on anything ELKy at a conference.)
Oh yeah, we're also  hiring. If you'd like us to find you for employment purposes, just drop us a note. We care more about your skill set and passion for Elasticsearch, Kibana, and Logstash than where you rest your head.
Trainings
If you are interested in Elasticsearch training we have courses taught by our core developers coming up in: