Welcome to Kurrently in Kibana, your source for keeping up with the Kibana project. With information on project releases, work in progress, and learning resources, this weekly update helps you satisfy your Kuriousity around what's been happening in Kibana!
tv commercial @BUX_NL showing some promising results already! #kibana pic.twitter.com/1UgL4Z5S0P
— jwijgerd (@jwijgerd) May 28, 2015
Kibana 4.1: QA Time!
All of the planned pulls have been merged and we're into QA. You can track our triaging of QA-identified issues here.
Heat Map Merged
The new geo heat map has been merged. You turn it on in the view options tab of the tile map, along with settings to tune it to just your use case. It brought with it a normalization of the tooltips used on the heat map. At the moment they're using the geo_point field formatter, which we plan to improve on. This also makes sure that the field formatters are used to display the value of the result of a metric aggregation.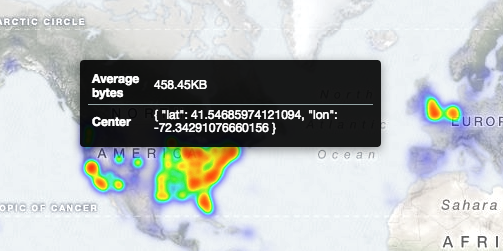 Refactored Filter Functions
We found some instances in which adding and removing filters could create duplicate history entries. We did some refactoring here and added a bunch of test coverage as well.
Merged deb and rpm Packaging
Thanks to Jordan, we now have the ability to create rpm and deb packages for Kibana 4.1. We'll let you know as soon as they hit the repository!
Plus This Stuff:
Fixed a inconsequential but still annoying bug that was causing console errors
Improved the behavior of the fit-to-bounds option on the map
Fixed field formatters and slice highlighting on pie charts
Fixed a few firefox css bits
Fixed a bug in importing objects
Improved the markdown editor to give the user plenty of space
Fixed a bug in the saved object editor in which missing index patterns would cause errors
Fixed some bulk actions in filters
We have great news: Packetbeat is joining @elastic! https://t.co/zGpzHUkhsX #devops #monitoringlove pic.twitter.com/BW0HYREHOz
— Packetbeat (@packetbeat) May 27, 2015
See You Next Week!
Did you know? Elasticsearch and Apache Lucene, Logstash and Kibana all have weekly updates published to the Elastic blog. Tune in next week to Kurrently in Kibana to stay Kurrent on All The Things!.