Elastic believes in giving back, both by supporting the communities in which we live and work, and by recognizing that participating in these activities can inspire and enrich our lives in unexpected ways. That's why we offer our Elasticians volunteer time off (VTO) to foster a culture of caring.
The Helper Node blog series shines a light on the inspiring ways our Elasticians use their volunteer hours to help their community and the world at large. In this edition of the Helper Node series we meet Nancy Heiss, Brook VandenBrink, and Isabella Squarisi who volunteered with Reserva Playa Tortuga, a non-profit biological research and education center in Costa Rica focused on conservation and management of key coastal environmental resources.
Nancy Heiss
I'm a big proponent of taking advantage of Elastic's generous VTO initiative, which offers hours of volunteering time to do good work, either locally or far afield. Last year I volunteered with a group of other Elasticians on a build project for Habitat for Humanity in Guatemala. It was a fabulous experience, one that I highly recommend to anyone considering it.
This year I wanted to switch it up and do something around conservation: specifically, I looked for organizations supporting sea turtle conservation. I did some googling for sea turtle conservation projects in Costa Rica and found the Reserva Playa Tortuga. After researching a few other options, I chose Reserva Playa Tortuga because of the varied, interesting projects they run in addition to their sea turtle conservation efforts.
I approached my managers after making the decision to go to Reserva. They were very supportive of my plans. My whole team, in fact, was supportive, with different team members offering to step in and cover tasks while I was away. Once the plans to go were finalized with my managers and team, I sent out an email to everyone at Elastic to see if anyone else was interested in joining (there were two additional spots available at the time I was going). Several people responded to me, but ultimately Brook VandenBrink and Isabella Squarisi went on a seperate trip a couple of months after seeing my initial email.
What was really great about this volunteering opportunity was the variety of ways we were able to give back. While most of the activities were about counting and measuring animal species, and documenting observations about movements and diet, we were also there to help collect sea turtle eggs to protect them from poachers. Collected eggs are taken to a hatchery where they are kept safe until the babies emerge. Once born, the turtles are brought to the beach and released into the ocean. I went in July, which meant there were not many turtles out yet, so I'm already planning to go back later in the season!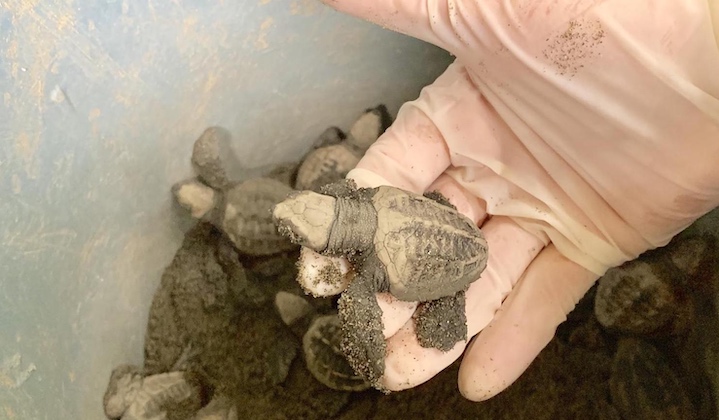 Some baby turtles from the hatchery.
Every day at the Reserva was different. Activities included planting plants for the butterfly garden, hiking through the jungle to survey howler monkeys and bats, patrolling the beach in the middle of the night to look for new nests (with the intention of taking any freshly-laid eggs to the hatchery), and helping the organization catalogue turtles and their nests. We also captured and cataloged crocodiles and caimans, as well as tree boas. We monitored for toucans, macaws, and vultures—and so much more. One day I even went to a local elementary school to help judge a spelling bee for English Festival Day.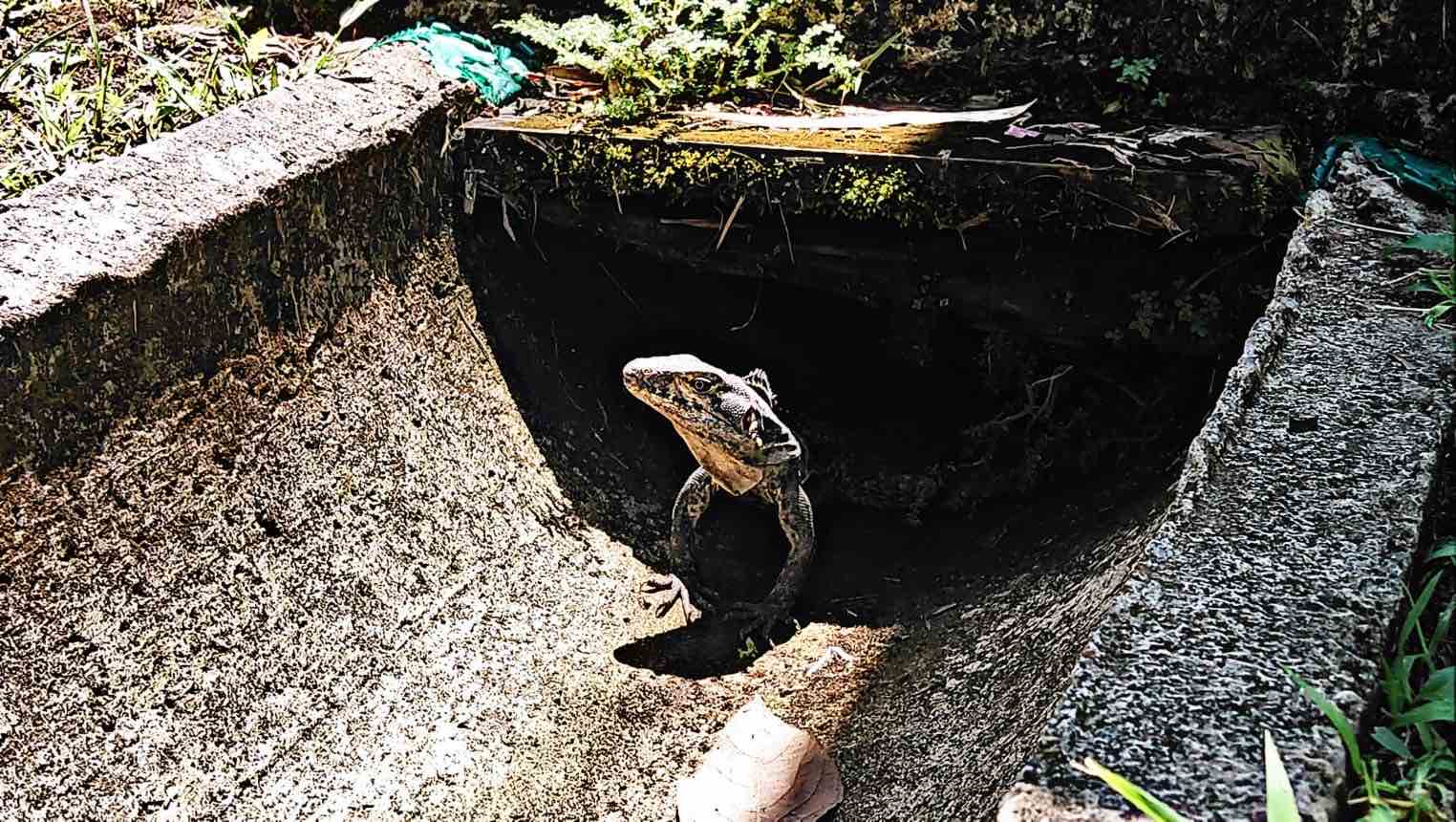 An iguana hanging out in the butterfly garden.
One thing I was particularly interested in was how they process and utilize the data we collected. Right now, everything is done manually. Volunteers take a clipboard with them on all the excursions and later enter the info into an excel spreadsheet. Right now, they don't have much in the way of visualizations, at least not that I saw. The data volumes are much lower than what would be normal for an Elasticsearch database, but I did talk to one of the staff about what they are doing with the data and she got really excited when I told her about Elasticsearch and Kibana.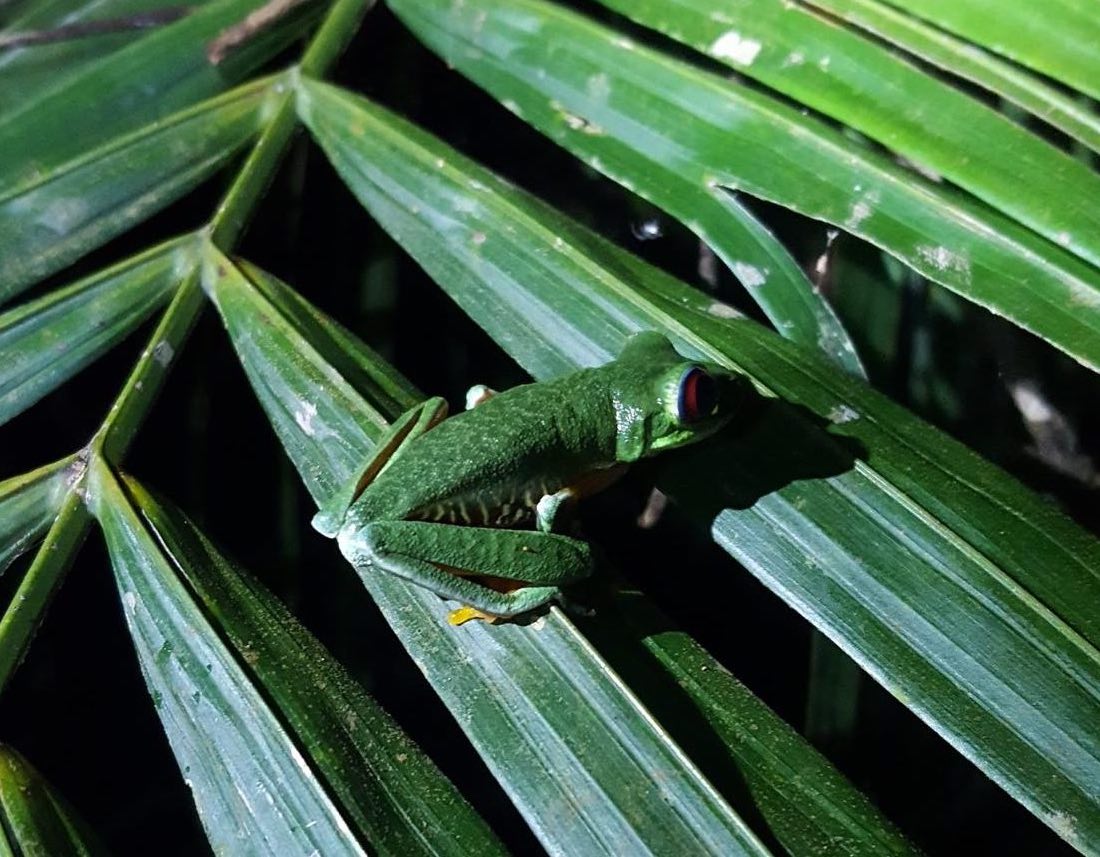 One of the many varieties of frogs in the area, here seen at night.
It was incredible to see the need for data analysis even in the low-tech jungles of Costa Rica. Since my trip I've been thinking that there should be a way to streamline the process by having volunteers and researchers record the data on their smartphones using a voice recorder, convert the audio to text and then automate inputting the data — Elasticsearch anyone? That could be a fun project for my VTO next year!
Isabella Squarisi
Working at Elastic for less than six months, I was concerned about requesting time off so early in my tenure to participate in a volunteering effort. However, when I shared my desire to go on this trip, I was overwhelmed by the support I received to take advantage of my VTO. I was encouraged to make the most of it and bring back experiences to help foster and expand the extraordinary culture of caring at Elastic.
Feeling extremely grateful before even setting foot in Costa Rica, I embarked on a beautiful journey through "pura vida." A simple translation of "pura vida" from Spanish would be "pure life." For Costa Ricans, this is their way of living; at its core is all about enjoying little pleasures, slowing things down, and living to the fullest. And it was at the Reserva Playa Tortuga that I understood and experienced the emotion, attitude, and meaning of ¡pura vida!
The beauty of volunteering at the Reserva expanded beyond the sea turtle conservation program. We were able to partner and collaborate with other volunteers and biologists from all over the world, which was a rewarding experience all in itself. There was a family we met on our first day at the reserve who arrived a week before us. They were spending two weeks of a three-week vacation volunteering there. By the time Brook and I arrived, the son of this family had fully learned the duties of the butterfly garden and the nursery, where all the plants are kept that larvae eat to grow and develop into butterflies. We also met four British volunteers that had an extremely diverse background and were invested in working and helping the reserve as much as they could during their stay.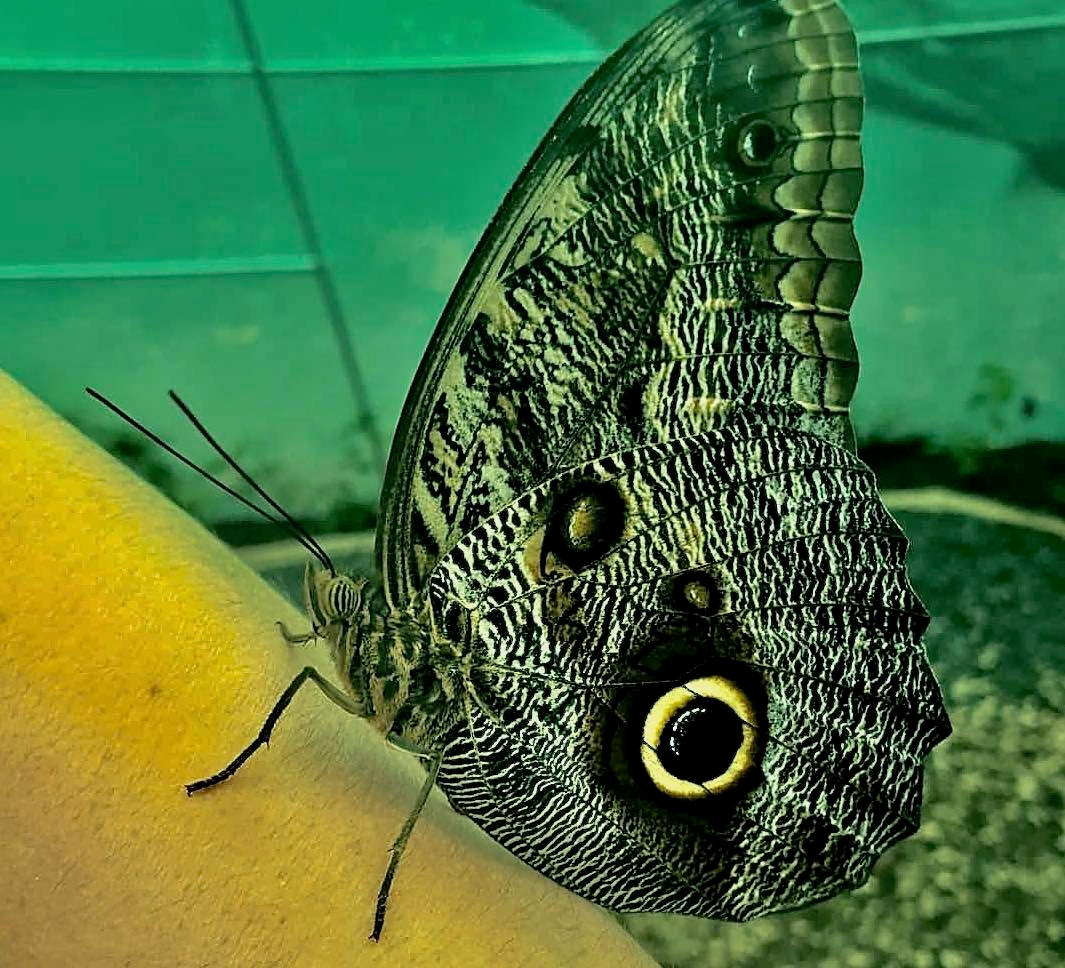 A butterfly from the garden.
We also had the rare opportunity to contribute to six other outstanding research projects that immersed us in the diverse flora and fauna of Ojochal, Costa Rica. Each day was a beautiful new adventure that included patrolling the beach for turtles at night, exhuming nests and releasing baby turtles, cleaning out and hatching butterflies, as well as frog and snake walks in the swamps. We also monitored crocodiles from a boat, monitored macaws and other birds, measured beach erosion, cleaned beaches. The list was endless, and no day was ever the same.
By participating in this VTO experience, I gained so much more than a whirlwind tour of environmental conservation in Costa Rica. I was able to capture these volunteers' enthusiasm and my understanding of pura vida and bring it all back to my work at Elastic.
Brook VandenBrink
Volunteering at the Reserva was truly a life-changing experience. I had been told about the incredible beauty of the landscape of Costa Rica from family and friends who had already been there, and my online research had promised magnificent vistas. Still, like most first-timers, I was immediately awestruck by the beautiful beaches, volcanoes, and dense jungles of Costa Rica.
It's one thing to travel somewhere visually stunning, but in Costa Rica the culture is also part of the experience. People are SO friendly. Everyone smiles at each other on the street. Favors are done for strangers readily and without question. I never felt judged for not speaking perfect Spanish (or even close to it) or asking questions about how things worked. Locals are happy to talk to you and help you, and everyone seems to laugh easily. Sometimes when I'm traveling I feel like an outsider, but in Costa Rica I felt like I had friends everywhere I went.
The Reserva offered both the charm of the country condensed into 172 acres of protected land, as well as the warm, welcoming culture mentioned above. And even though the Reserva team works very hard—from dawn until dusk, and nearly always through the night—there was still the undercurrent of a more relaxed pace. Life is slower there, with plenty of time to reflect, appreciate, and just be. And reflect, I did.
I marveled at the experiences I was gifted every day: the volunteers and students that arrived at the Reserva from all over, each one incredibly kind, funny, and passionate, the delicious lunches prepared for us by the Reserva's cook, a group of strangers that quickly became old friends. And so, so much more.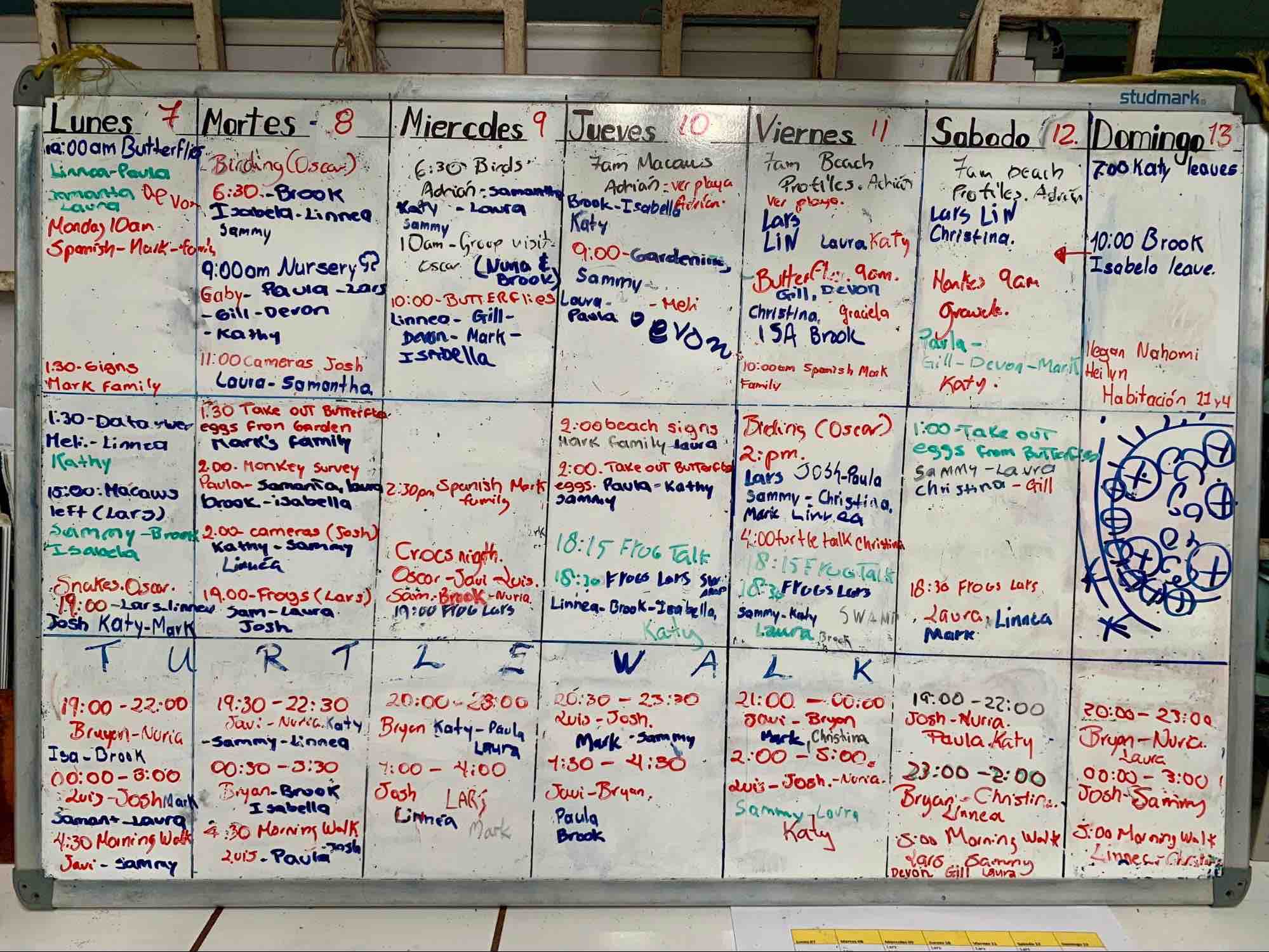 The volunteer schedule.
Then came the volunteering. Being at the Reserva means participating in preservation initiatives and helping the team collect data on the wildlife in the area — though there are many other things to help with such as beach cleanup, painting, sign-making, and helping with the education of local students. On the very first night we did a "turtle walk" and met a mother sea turtle covering up her nest on the beach. We were devastated to find all the eggs — except one — had already been robbed by poachers. The next night was "croc night," and we tagged a large lady crocodile measuring 2.3 m (one of over 40 crocodiles we recorded that night). The team of biologists and volunteers swooned over her beauty as we measured and logged all the data about her and her environment. On the third day we helped with frog research, and we were lucky enough to spot two tree frogs in amplexus (Latin for "embrace"), with the tiny male cuddling the female's back, ready to make new froggies. And nearly every day, we woke to the sounds of howler monkeys, napped during torrential midday rainstorms, and waded through moonlit estuaries up to our armpits to reach the shore.
And on the last day, we gathered a little blue bucket of baby turtles, who fumbled all over one another trying to climb out. They were born in the facility's outdoor hatchery, away from the beach and safe from poachers. We, a group of about a dozen humans, giddy and awed, carried them to the sea and watched through misty eyes as they waddled across the wet sand to begin their journey.
All of it, simply magnificent.
Interested in joining a company with a Source Code to live by? We're hiring. Check out our teams and find your fit! Want to read more about life at Elastic? Read more on our blog!