Elastic on Amazon Web Services (AWS) gives you the power of Elastic Enterprise Search, Elastic Observability, Elastic Security as well as the Elastic Stack. You can quickly and easily search your environment for information, analyze data to observe insights, and protect your technology investment. Elastic Cloud lets you deploy your way, whether as a managed service or with orchestration tools you manage in the cloud.
Gather insights
Some of the insights Elastic can collect for the AWS platform include:
Leveraging Metricbeat and CloudWatch for fetching metrics, collecting log files, and setting alarms for resource utilization, application performance, and operational health on things such as:

Metrics on billing, EC2, Lambda, S3, usage, and more
Containers for ECS, EKS, Fargate, and vanilla Kubernetes data
Application Insights to monitor .Net and SQL Server on Windows and Linux

Leveraging Filebeat and S3 input to get log files from AWS S3 buckets with SQS notifications from services that log to S3, including:

VPC flow logs, ELB access logs, CloudTrail logs, CloudWatch, and EC2
S3 server access logs, including: security audits and access logs, which are useful to help understand S3 access and usage charges

Leveraging Functionbeat as a serverless Lambda function to collect CloudWatch logs and events from SQS and Kinesis
Almost all of the Elastic's modules that come with Metricbeat, Filebeat, and Functionbeat have predeveloped visualizations and dashboards, which let you rapidly get started analyzing your data.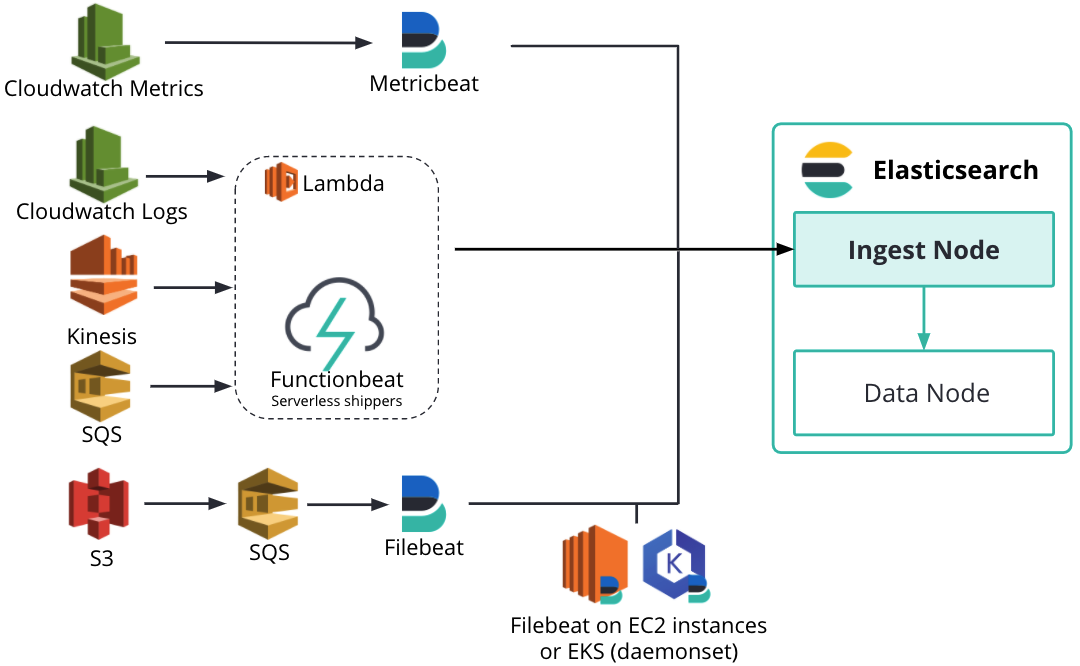 Getting started
You can easily get started with Elastic on AWS through our listing page on the AWS Marketplace. From there you can sign up using your existing AWS account, which is billed directly through your existing AWS account.
You're charged for software and infrastructure usage based on the following pricing model.
If you're already logged into your management console, simply search for "Elastic Cloud (Elasticsearch managed service)" from the AWS Marketplace > Discover products search bar.
From our AWS Marketplace listing page, click Continue to Subscribe.

Read the end user agreements, and then click Subscribe.
A pop-up message appears directing you to the Elastic Cloud signup page, where you will create your new account.

Please note that if you had previously signed up with Elastic Cloud, you will need to create a new account to take advantage of integrated billing. Signing up directly with Elastic will not provide you with this option.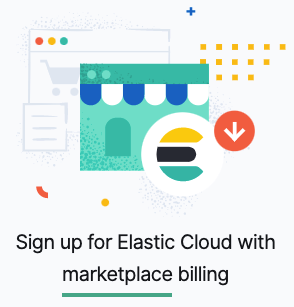 Once you've confirmed your account through an email notification, log in and click Create deployment.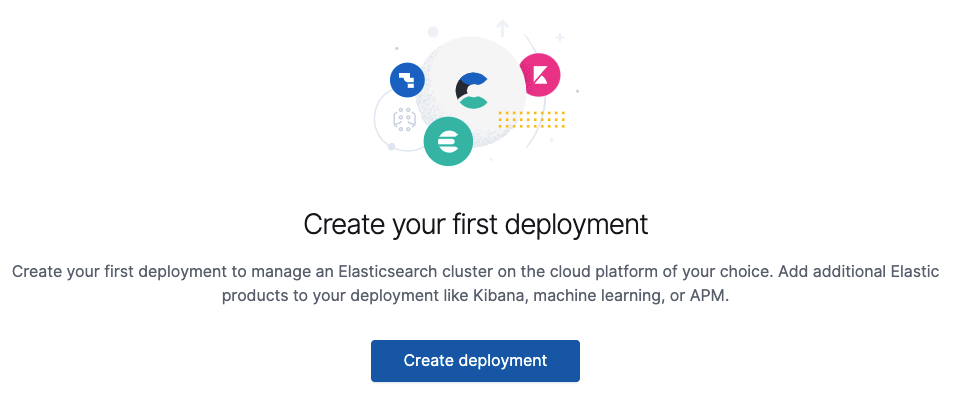 Deployment choices
Now you can choose one of the preconfigured solutions that best fits your needs. To better understand your options, read more about how to create your deployment. We'll highlight each below to help you make a decision.
Elastic Cloud brings the power of Elastic Enterprise Search, Observability, and Security to your AWS environment. Here's how:
In this scenario, we'll select Elastic Observability, a versatile solution that offers enough flexibility to support most use cases.

Deployment settings
Now that you have chosen the Elastic Observability solution, you must confirm the cloud provider, region, and version.
Since you came from the AWS Marketplace and are taking full advantage of integrated billing, the Amazon Web Services provider is already selected.
If you need to make a change, simply click Expand.

Elastic Stack versions
The latest version will always be selected, enabling you to take full advantage of the latest features and security updates.
Once deployed, upgrades are just as simple to execute, making it easy to take advantage of newer features — as well as the latest security patches — the day they are released. You will receive email notifications as new releases are made available.
The upgrades are designed to be automated while helping mitigate unplanned downtime. To learn more about upgrading to newer versions of the Elastic Stack on our managed service, see how to upgrade versions.
Complete deployment settings
Simply assign a unique name to the deployment, if you'd like, and then click Create deployment.
Customizing a deployment is not necessary at this point and can be done as needed at any time. Feel free to check out the different options, such as enabling machine learning, but again, nothing needs to be done at this point. The default deployment options are perfect to get started with Elasticsearch and Kibana.

Launch Kibana
During the deployment creation, you're provided with an elastic user password that you'll need to securely save. Take note of this, but if you don't remember your password in the future, don't worry. You can easily reset it at any time. You can just reset the elastic user password.
Click Open Kibana.
Launching Kibana from the Elastic Cloud console will seamlessly log you on as the user who created the deployment. However, additional users will want to use the Kibana Copy endpoint link provided within the console once configured.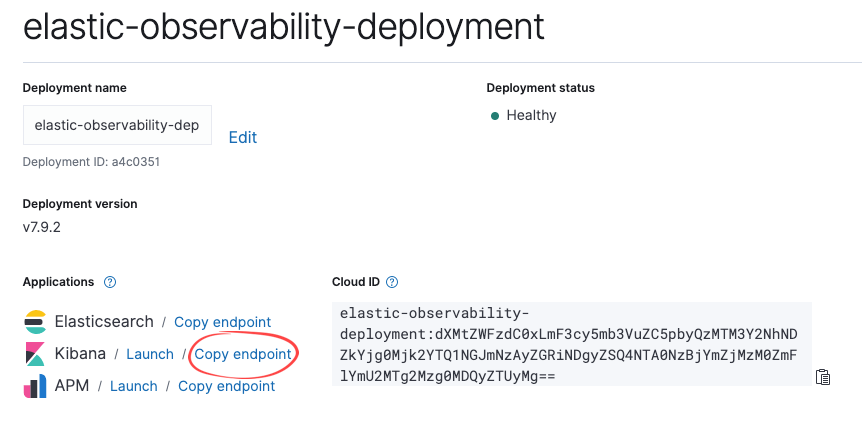 Once you create other end users, such as someone who may be tasked with running reports, they'll click Log in with Elasticsearch after following the Kibana endpoint link.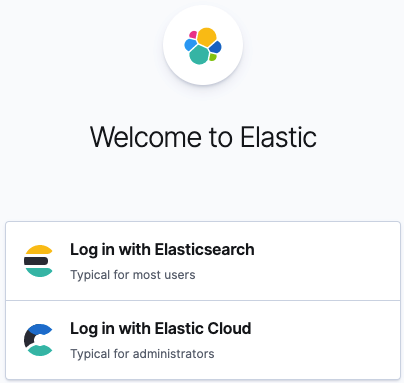 As the administrator, you can also utilize this link by choosing to Log in with Elastic Cloud and entering the same credentials you used to log in to the Elastic Cloud console when creating the deployment. This provides the highest administrative privilege.
Ingesting sample data
We know you're eager to look at real-world data in Kibana. Elastic provides sample data you can add, which is a wonderful way to get familiar with visualizing real-world data without spending too much time on configuring data ingestion.
As of deployment version 7.10, when you log into Kibana for the first time, you'll see the Observability Overview page, since we're using the Elastic Observability solution for this example.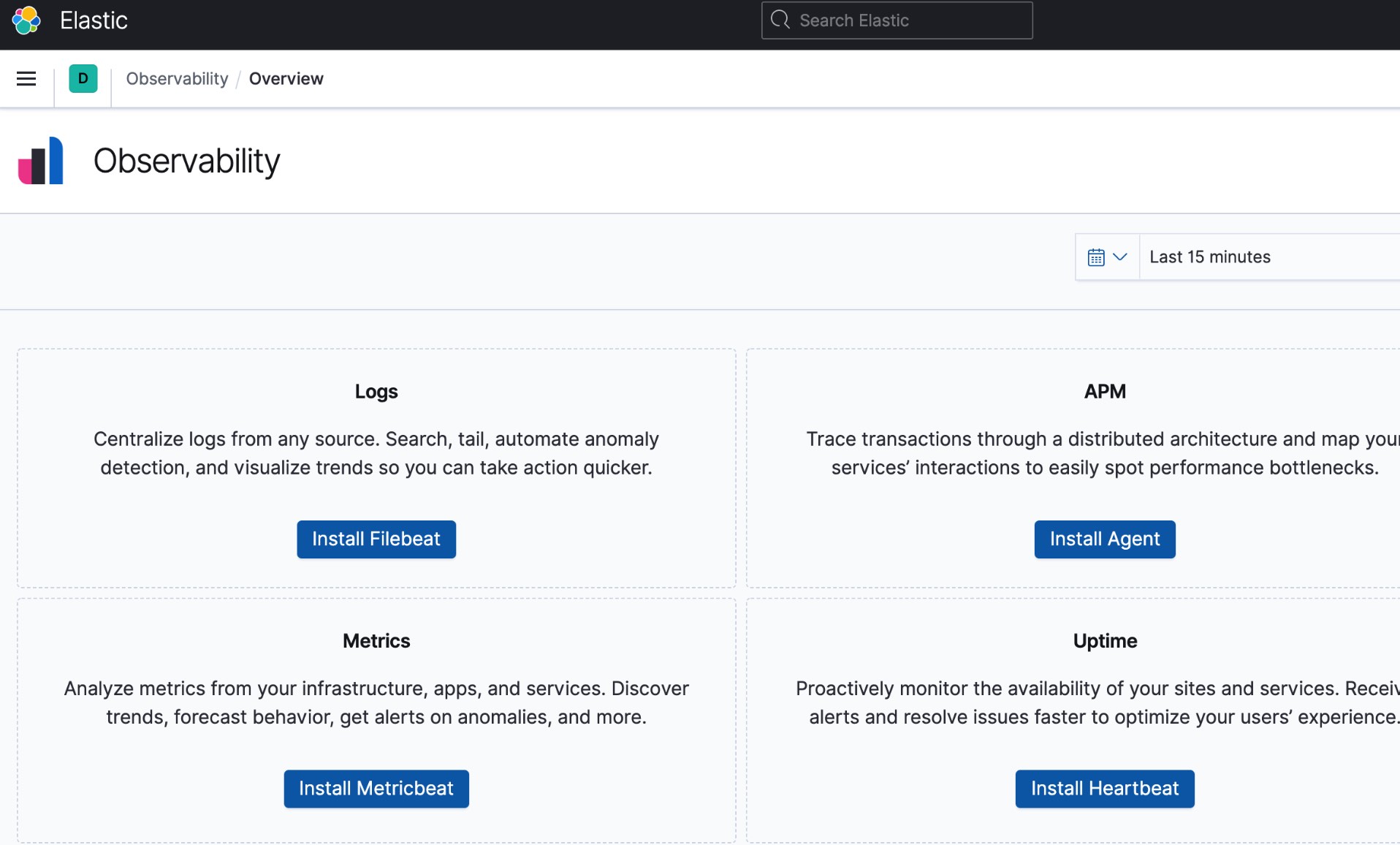 There are also helpful links to get you started in the Resources section.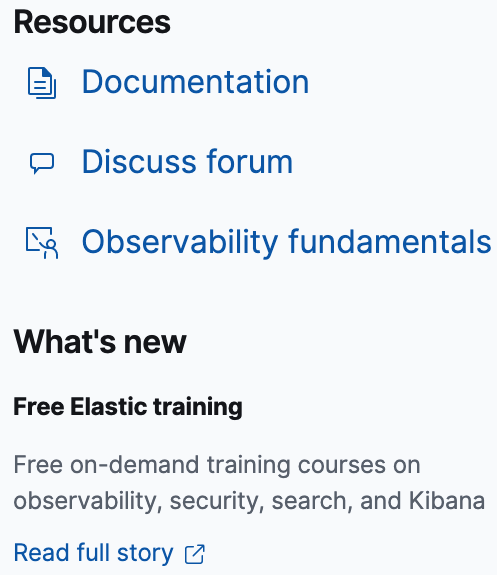 From the Observability page, click Add data.

Then click Sample data.

Whichever sample you wish to choose, simply click Add data and then wait for the data to load.
Once loaded, click View data and then select Dashboard to see the power of Kibana firsthand.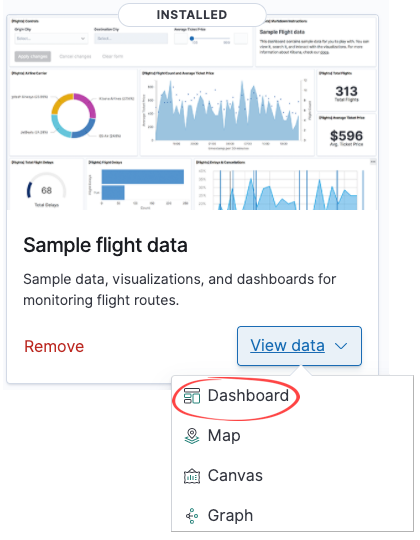 Customizable settings
Preconfigured solutions and deployment templates help get you up and running quickly. You don't need to worry about sizing the cluster and you have the ability to customize deployments at any time. For example, you can increase memory, which automatically adjusts for capacity and performance. You can also change the level of fault tolerance and add features such as machine learning.
Feel free to read more about customizing your deployment.
Get started with Elastic on AWS
We hope you found this to be a helpful resource for getting started with Elastic on AWS through the AWS Marketplace. Read more about AWS Marketplace billing in our documentation. You can also create an Elastic Cloud account directly billed to Elastic with a free 14-day trial if you do not wish to take advantage of integrated billing.
Have questions or feedback? Please reach out to us at
awsmarketplace@elastic.co
.