Welcome to This Week in Elasticsearch. In this roundup, we try to inform you about the latest and greatest changes in Elasticsearch. We cover what happened in the GitHub repositories, as well as many Elasticsearch events happening worldwide, and give you a small peek into the future of the project.
Groovy scripting vulnerability. See the blog and download Elasticsearch v1.4.3 / v1.3.8 https://t.co/BfUEcwek0R
— elasticsearch (@elasticsearch) February 11, 2015
Elasticsearch Core
wow! "@mattTheLenda: @elasticsearch is now powering our @MarsCuriosity data analytics platform. Welcome to Mars, @kimchy… #freakyfast"
— Shay Banon (@kimchy) February 6, 2015
In Apache Lucene This Past Week
90-170% indexing throughput boost with new Elasticsearch-php core. Informal test, but encouraging results so far! pic.twitter.com/8he5v7Qa8o
— Zachary Tong (@ZacharyTong) February 10, 2015
Elasticsearch Ecosystem
Here's some more information about what is happening in the ecosystem we are maintaining around the ELK stack - that's Elasticsearch plus Logstash and Kibana - including plugin and driver releases.
Slides & Videos
Shay Banon on the how and why of building Elasticsearch's API
Spotify's engineering team share their Elasticsearch Use Cases at the recent Stockholm Meetup
Alexander Reelsen's quick introduction to Elasticsearch's percolator, showcasing the potential of performing document enrichment before indexing
Where to Find Us
We'd love to feature all the great Elasticsearch, Logstash, and Kibana presentations and meetups happening worldwide in this section. If you're speaking or hosting a meetup, let our Director of Developer Relations, Leslie Hawthorn, know!
Austria
The Vienna Ruby Users Group will get convene on Feb 12, with talks on Logstash, Jekyll and Octopress. You can register now to save your seat.
The Vienna Elasticsearch Users Group will get together on March 4 to talk Elasticsearch at Cloud Foundry and more. Register now to let the organizers know you're attending.
Germany
Want to know more @logstash and happen to be in Berlin next 24/02, join me @elasticberlin (http://t.co/Kh6SyckgnW) for an all night on logs!
— Pere Urbón-Bayes (@purbon) February 11, 2015
India
The Configuration Management Magic Meetup will convene on February 21 in Bangalore. Among the many talks on offer, you can hear all about Log Analysis using Elasticsearch, Kibana and Fluentd. Register now to save your seat.
Israel
The Tel Aviv-Yafo ELK meetup group will be talking How to Use ELK to Analyze Logs from a Large Production AWS Environment on February 24. You can register now to attend.
Japan
Registration is already full for the next Elasticsearch Japan Study Session in Tokyo, but you can add yourself to the waitlist. The user group will get together on February 13 at 7:30 PM.
Speaker Update: Peter Vulgaris from @facebook speaks in the #Elasticsearch track at #GOTOams: http://t.co/TcA6fFyHjp
— GOTO Amsterdam (@GOTOamst) February 11, 2015
Norway
The NDC Meetup Group in Oslo will get together on Feb 18 to talk Data Exploration with Elasticsearch. Register now to save your place.
South Africa
The inaugural Capetown Elasticsearch Meetup will convene on March 5 to talk shop and plan for the future of the group. Register now to let the organizers know you plan to attend.
Taiwan
The Agile Code Camp team are convening a developer and designer hack day on February 23, and attendees will be developing with Elasticsearch. Register now to attend the full day event.
United Kingdom
Elasticsearch will be out in force at QCon London, which returns to the Queen Elizabeth II Conference Center this year. You can visit us at our booth on the show floor, plus we'll be having one of our engineers take the stage for the main program. Those details are in the works, but in the meantime you can take a look at Kristoffer Dyrkorn's talk information. He'll be sharing the story of how Elasticsearch and other technologies are powering the Norwegian Roads Authority's brand new system to provide real-time traffic information to travelers throughout Norway.
United States
Heading to Strata in San Jose? We've got several activites planned for around the conference. Check them out - you don't have to be attending Strata to enjoy some of the fun!
Join Costin Leau, creator of Elasticsearch for Apache Hadoop, at the conference. He'll present on Search Evolved: Unraveling Your Data on Friday, Feb 20 at 11:30 AM.
We're hosting a tutorial, Going Beyond the Needle in the Haystack: Elasticsearch and the ELK Stack, on Feb 18. You can still add a tutorial option to your Strata pass if you'd like to attend, or register for a full conference pass and the tutorial session with a 20% discount using code ES20.
Whether or not you're headed to Strata, we have a special edition meetup of the Silicon Valley Elasticsearch Meetup happening on Feb 18. You'll hear from Costin Leau, creator of Elasticsearch for Apache Hadoop, Holden Karau from Databricks on Elasticsearch and Spark, and Todd Nine from Apigee on Apache Usergrid & Elasticsearch. Register now to save your place. If you're attending Strata, the venue is a mere 10 minute walk from the convention center.
Coming up in San Francisco next month, you can join the SF MySQL Meetup to hear all about using MySQL and the ELK stack for audit logging. The user group will get together on March 11, but the event is filling up quickly. Register now to save your seat.
And for our friends beyond Silicon Valley:
Honza Kral mentors attendees at the recent Django Girls Brno workshop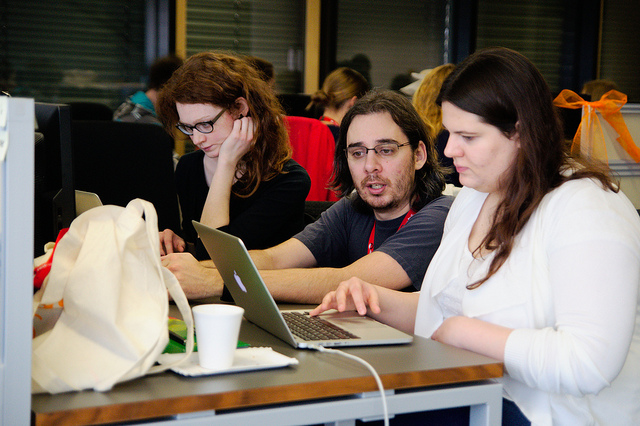 Photo Credit: Martin Kyral for Django Girls
Where to Find You
PSST! If you're a regular reader of This Week in Elasticsearch, a.k.a TWIES, you're thinking of skipping this section. You may even be thinking to yourself, yes of course I will drop a note on Twitter when I am giving a talk on all things ELK. That's awesome, because we'd like to showcase every meetup, conference presentation and workshop on Elasticsearch, Logstash, and Kibana happening worldwide. And now, we've made it even easier for you to get support for your meetup!
Head on over to our meetups page! (And we'll still totally send you swag if you're giving a talk on anything ELKy at a conference.)
Oh yeah, we're also hiring. If you'd like us to find you for employment purposes, just drop us a note.  We care more about your skill set and passion for Elasticsearch, Kibana, and Logstash than where you rest your head.
Trainings
If you are interested in Elasticsearch training we have courses taught by our core developers coming up in: