Getting started with Elasticsearch: Store, search, and analyze with the free and open Elastic Stack.
Watch video
Intro to ELK: Get started with logs, metrics, data ingestion and custom visualizations in Kibana.
Watch video
Getting started with Elastic Cloud: Launch your first deployment.
Learn more
Countless organizations depend on the Elastic Stack and ServiceNow products — IT Service Management (ITSM), Security Operations (SecOps), and IT Operations Management (ITOM) — to pursue their missions effectively, efficiently, and at reduced risk. Native integrations between the platforms help organizations make the most of their data and empower their people.
Connect ServiceNow with Elastic to streamline workflows and enhance team productivity with:
ServiceNow certified applications in the ServiceNow app store for ITSM and SecOps, connecting with Elastic alerting and case management workflows
Native integration for ITOM, connecting with the Elastic alerting workflow
Workplace Search connector for ServiceNow, putting information stored in ServiceNow just a search away
By integrating Elastic Observability with ServiceNow (ITSM and ITOM), organizations can standardize and streamline incident management workflows and facilitate collaboration within and across ITOps, DevOps, and SRE teams. The integrations equip organizations to rapidly address operational issues by automatically forwarding Elastic alerts to ServiceNow ITSM and ITOM, thereby generating corresponding ServiceNow incidents.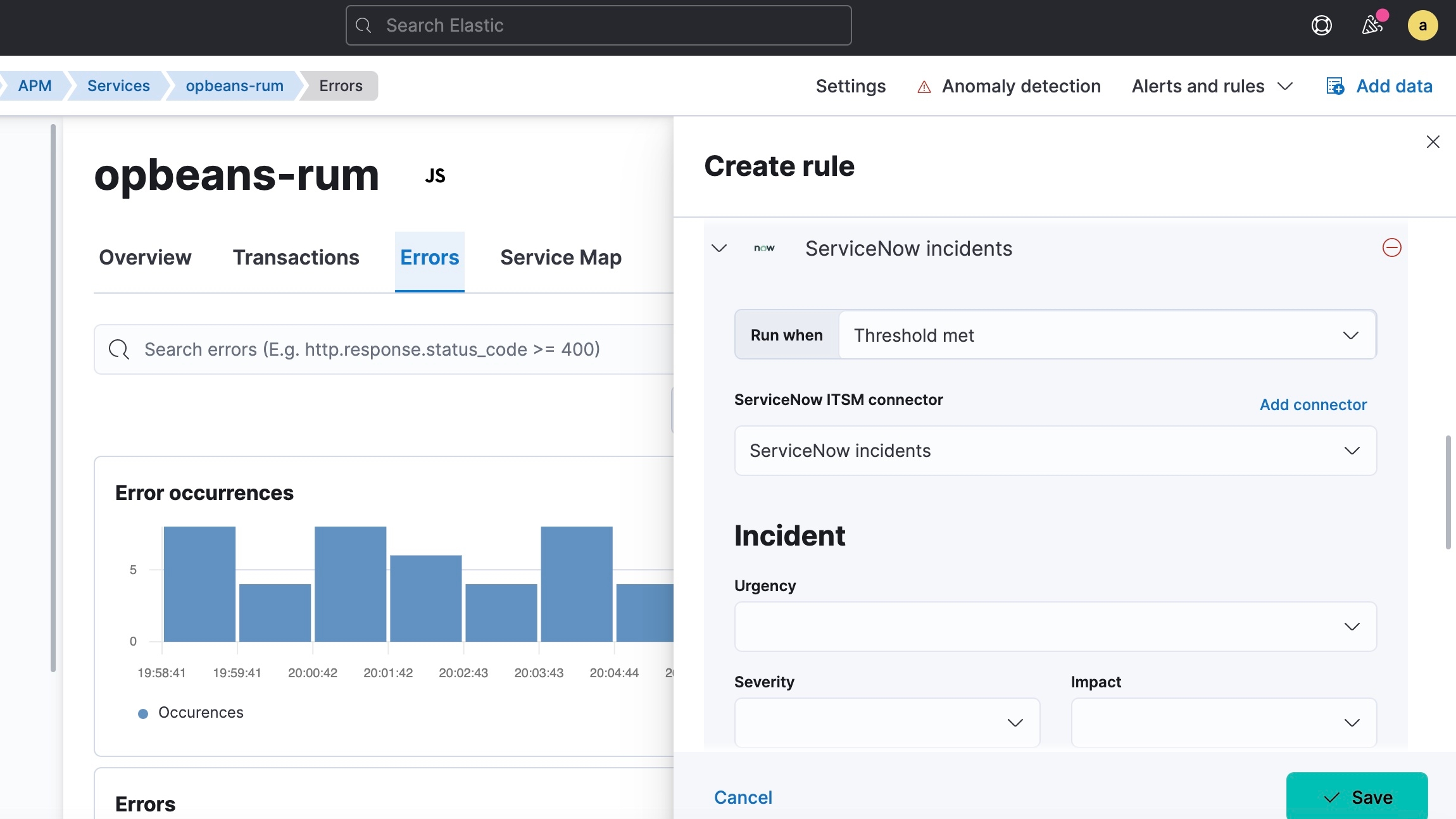 Elastic Security accelerates investigation and response via integrations with ServiceNow SecOps and ServiceNow ITSM. The integrations reduce risk by ensuring a clear handoff between security, incident response, and related teams, aligning workflows and enabling the measurement of MTTR and related metrics. The integrations link ServiceNow with two core functions of the Elastic Stack:
Connecting alerting enables admins to configure forwarding of individual Elastic alerts to ServiceNow and automate the creation of corresponding ServiceNow incidents, shortening the interval between detection and response.
Connecting case management enables practitioners to quickly escalate Elastic cases (including case details, data observables, analyst notes, and associated arms) into ServiceNow incidents, raising team productivity.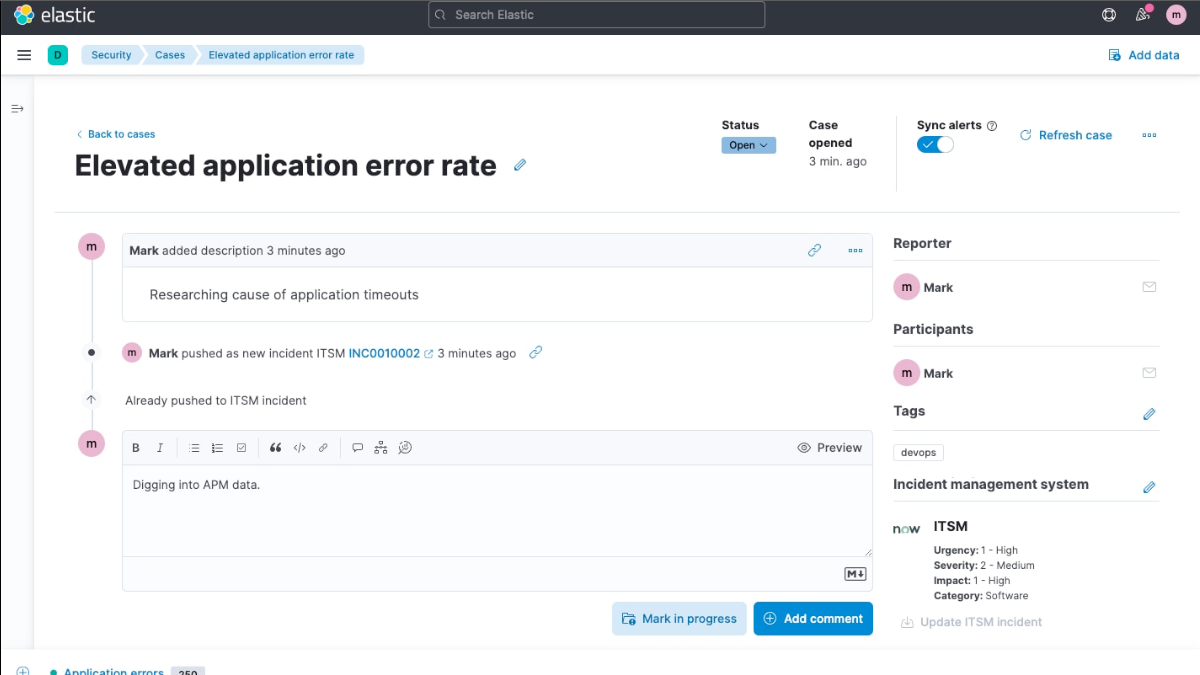 This integration provides analysts direct access to vital information maintained in ServiceNow. The solution augments the knowledge of individual analysts with the expertise and resources of the broader organization — all through a simple search. In the process, the solution promotes cross-team learning and collaboration.
Investigating an application attack? Simultaneously search Jira and GitHub. Need to know who works where? Look across Confluence, Google Drive, and custom sources added with our prebuilt connector API. And do it all from a single console, quickly pursuing valuable information from across your ecosystem, no matter where it lives. A prebuilt connector makes implementation easy, and the combined power of ServiceNow and Elastic Workplace Search makes it possible.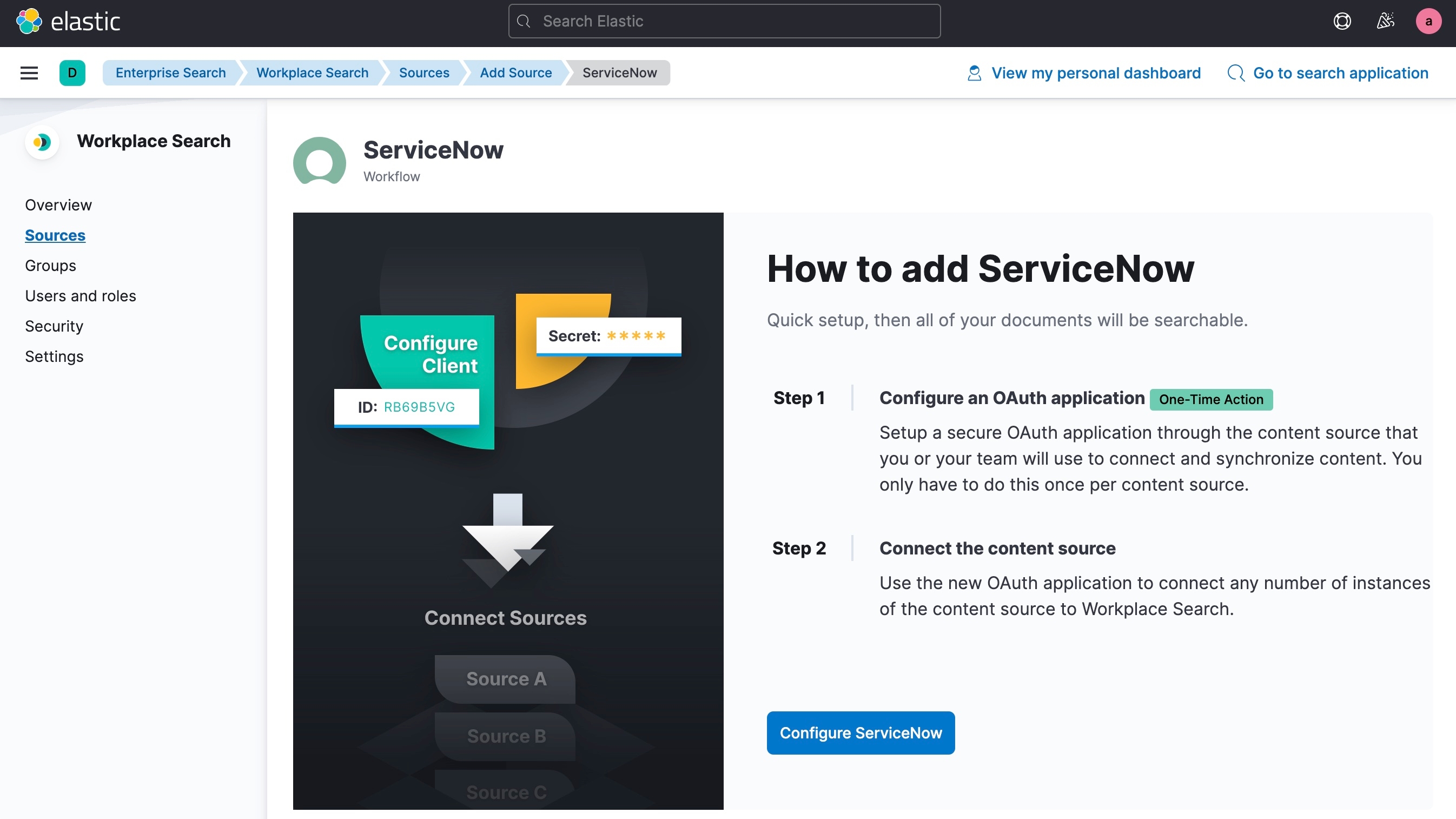 Check out the following technical resources or connect with your local Elastic field team to learn more about these integrations.