Welcome to Kurrently in Kibana, your source for keeping up with the Kibana project. With information on project releases, work in progress, and learning resources, we're betting you'll need a Kalculator to add up all the things you'll learn each week!
Exotic and stealth paramiko based SSH bruteforce from 94.79.33.21/30 in Russia. Visualization done in Kibana 4: pic.twitter.com/Lb5aMakECm
— Eric Leblond (@Regiteric) May 7, 2015
Kibana 4.1: Progress, it's progressing!
We're making progress on 4.1. There's some pretty big features in this release and we want to make sure they get the attention and proper review they so rightfully deserve. Here's a couple highlights that have gotten some of that attention this week:
Pinned Filters

Pinned filters allow you to specify a filter as one of your BFFs. A pinned filter is always there for you, no matter which application you switch to next. From Dashboard back to Discover, they are there, by your side (in your filter bar), filtering your searches. But, unlike your BFF who is, frankly, starting to get a bit irritating and should probably make a few more friends and stop smothering you, pinned filters go away with the click of an icon: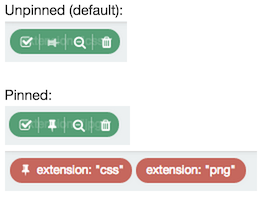 Automatic Precision on Maps
We've always allowed you to configure your geohash_grid precision, but now Kibana is taking it back. I mean, if you let it. (Please, it'll be worth it!) As you zoom in and out on a map Kibana will change the precision automagically for you. In combination with the recently merged pull to only draw that which can be seen, this really jazzes up interactions with maps.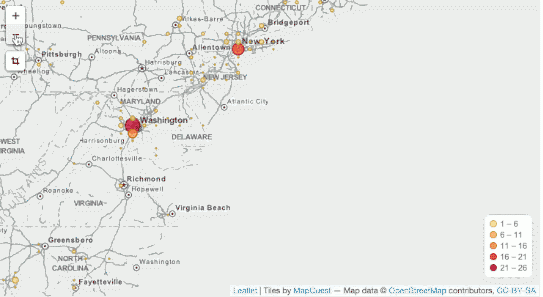 A Fun Review of the Kibana 4 Client Side Code
Gill Barr took the time to really dig into the Kibana 4 code and give us a kind review. Check it out!
And Many Other Things!
Fixed a bug where the spy would sometimes clobber the vis.
Updated the tile map tooltip to match the others. 
Fixed a big ol memory leak in the map.
Made some tweaks to hit flattening.
Fixed an issue with the x-axis growing when charts were split into columns.
#Kibana 4.1 enables display of images and URLs inline. Love it! pic.twitter.com/TqpSqi9LsR
— Robin Moffatt (@rmoff) May 7, 2015
See You Next Week!
As you may have seen, we're now publishing weekly updates on Elasticsearch and Apache Lucene, Logstash and Kibana. We'll bring you the newest, koolest stuff in next week's Kurrently in Kibana.