Spring time is upon us! The birds are chirping, the flowers are blooming, and Kibana awakes from its two month slumber with the release of version 5.3.0. Unless you're in the southern hemisphere, where winter is coming. In any case, Kibana 5.3.0 for everyone!
With 20 enhancements, 13 bug fixes, and an untold amount of improvements under the hood of Kibana 5.3.0, there has never been a better time to upgrade.
Kibana 5.3.0 is available on our downloads page and on Elastic Cloud. When you're finished reading, take a look at the complete release notes for all the goodies.
Top hits aggregation
If you find yourself asking questions like "how do I visualize the most recent number for each bucket?" or "what's the peak CPU usage for each server in the last day?", then the top hits metric is for you.
It's available in most visualizations, but check out this example with heatmap: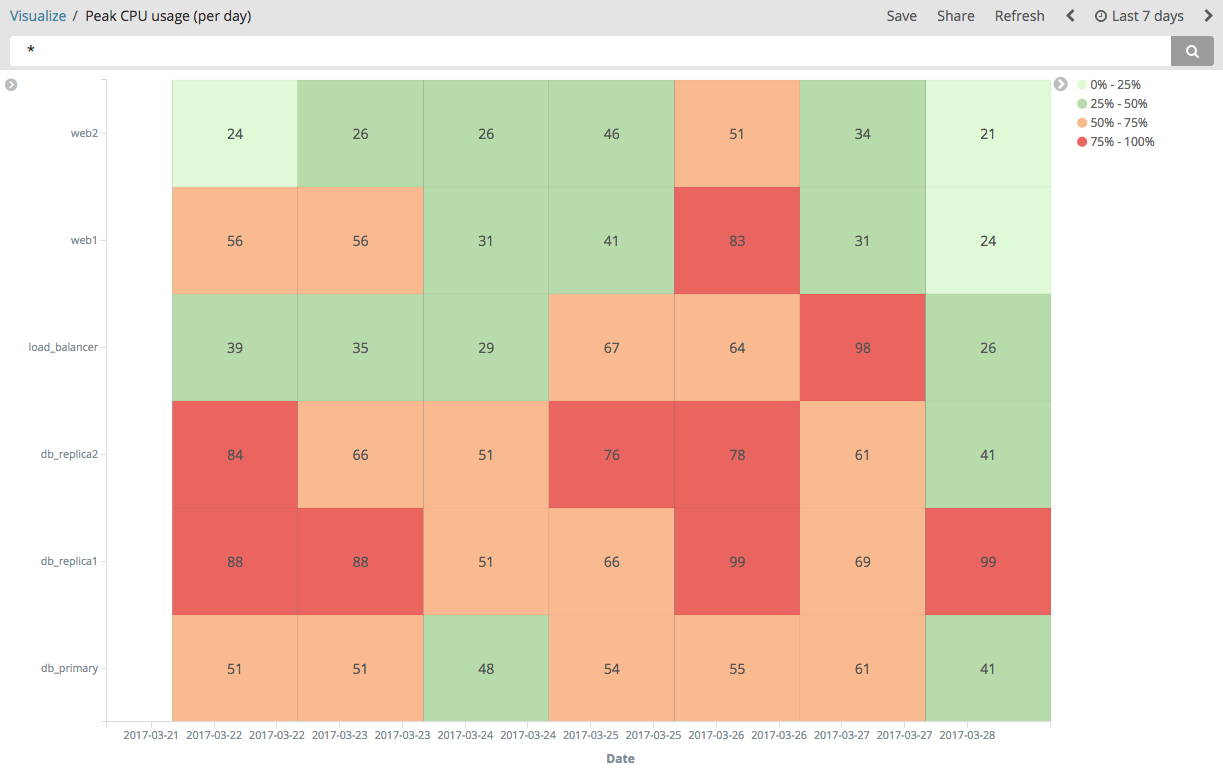 Thanks to github user scampi for all of your hard work on this feature!
Timepicker improvements
Hello, fellow time traveler! Sick of opening the ole timepicker whenever you want to move forward or backward in time? We hear ya, which is why we added some fancy time-navigation buttons in the header to do just that.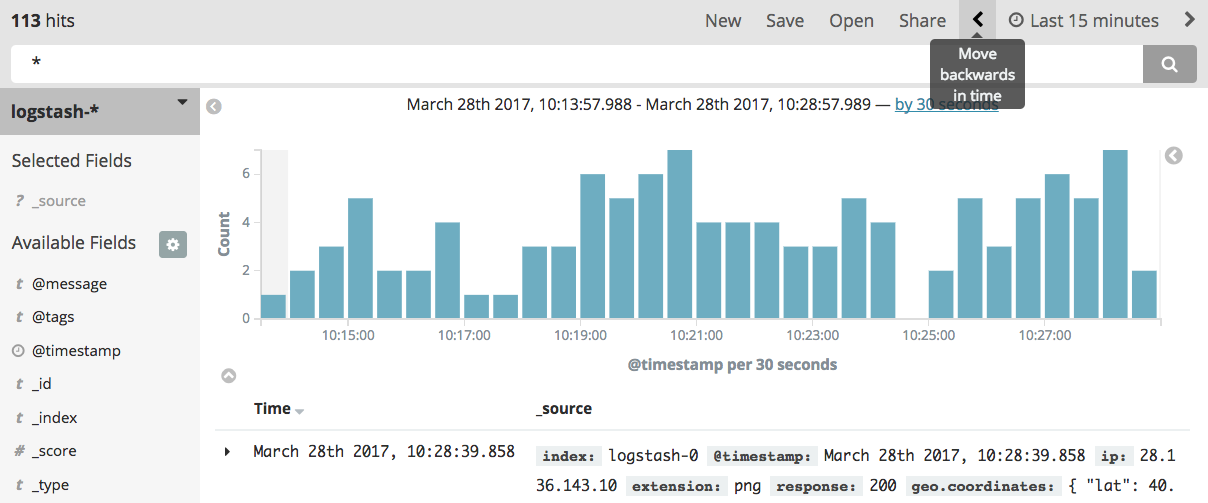 Every click is precious, so when you do need to use the timepicker, it'll now close automatically after you select a new time.
Full screen visualizations on dashboard
The dashboard is a great way to gain insights from many different visualizations, but you sacrifice real estate for each individual visualization to make it happen. In Kibana 5.3.0, you can now quickly expand any single visualization to take up the whole dashboard area temporarily when you want to examine it more closely. No more manually navigating to visualize just to get the information you need!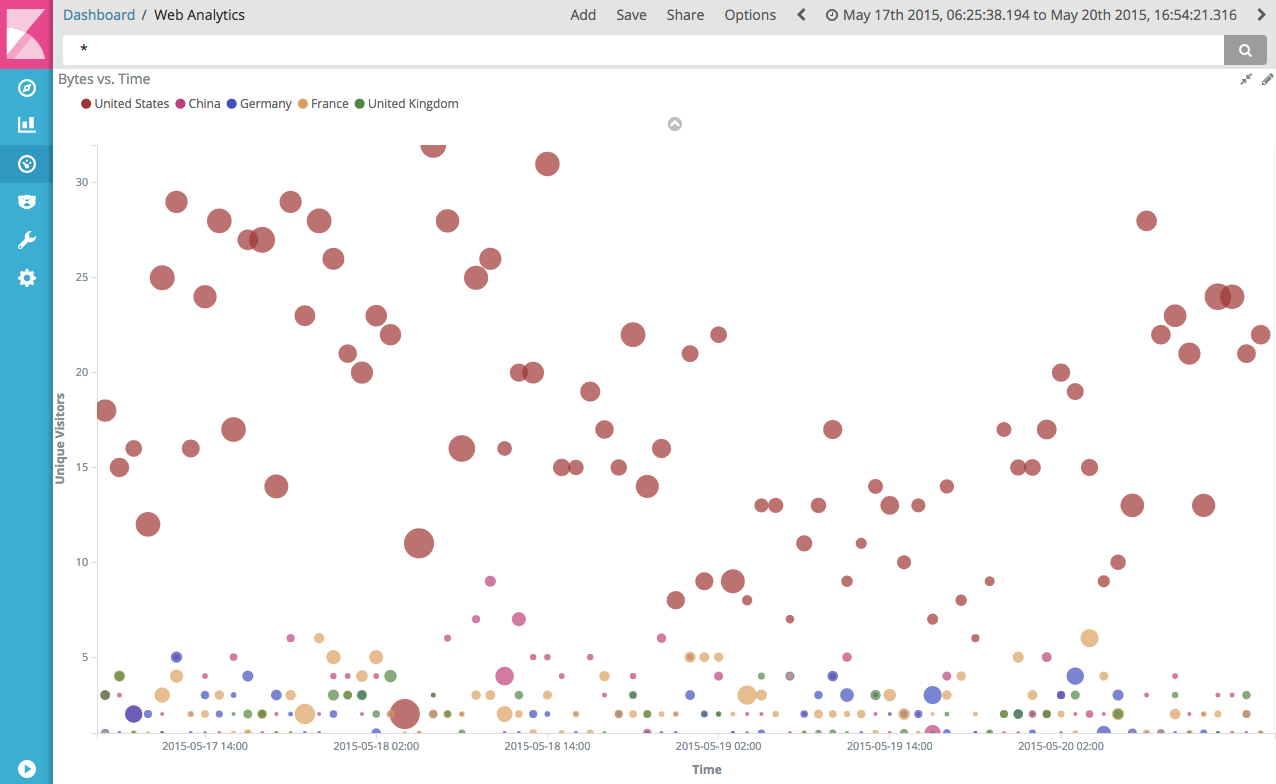 SSL passphrases, and other configuration treasures
We added the ability to use passphrase protected certificates in your SSL configuration. And while we were at it, we threw in the ability to configure certificate authorities, the supported "SSL" protocols, and the available cipher suites. Kibana's defaults here are pretty darn secure, but if you want to tweak them even further, why should we stop you?
And more
Kibana 5.3.0 is a big release, and we encourage you to read the release notes to do it justice. You can grab the release right now from our downloads page.
Don't see a feature that you want in this release? Head on over to our GitHub repo and file a feature request! Have feedback for us? We'd love to hear it on Twitter or on our forums.