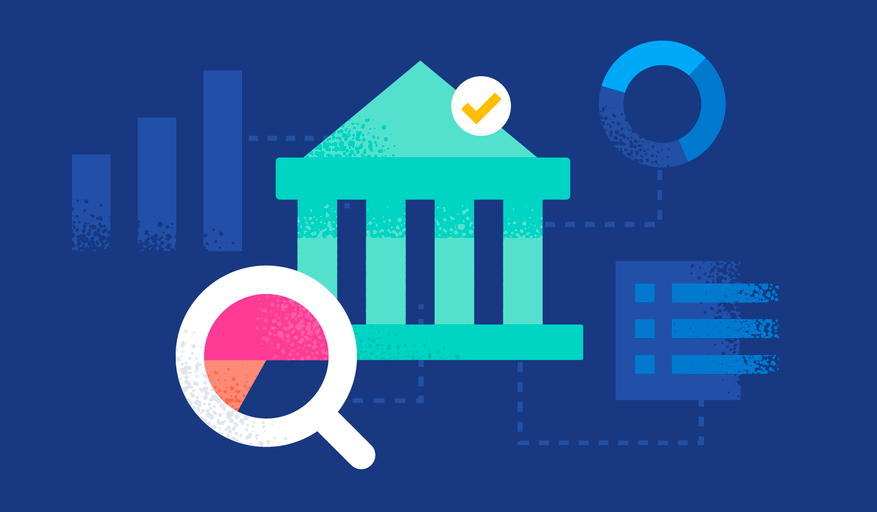 Fingerprint is a UK-based regulatory tech company that develops and hosts software solutions to allow regulated businesses to monitor and supervise their staff's electronic communications, to ensure compliance with regulations in their region and domain. The Fingerprint platform provides everything firms need to supervise all electronic communication channels for compliance, simply and effectively. 
Fingerprint's clients range from regulatory hosts and principal firms, outsourced chief compliance officers, and compliance consultancies to boutique hedge funds, investment and asset managers, and retail financial companies. For Fingerprint's clients that oversee risk on behalf of their own roster of customers, the multi-tenant architecture of the platform allows them to supervise and manage the potential communication risk for hundreds of their clients via a single login platform. 
Fingerprint's features include automated voice and electronic communications surveillance, as well as risk identification and ranking, complemented by in-platform review, investigation and reporting tools, and much more. Fingerprint's ultimate goal is to enable its customers (and those customers' customers) to achieve and maintain compliance and deliver better oversight, more effectively, and faster!
In the early stages of Fingerprint's evolution, it became clear that the team needed a technology partner to enable them (and their clients) to have superior visibility across disparate data sources. Elastic® was the only real choice for searching across vast amounts of semi-structured data. The Fingerprint system ingests a massive amount of communications data and calculates a risk score for each item, which enables a compliance officer to triage the most important. The platform enables users to search across multiple communications channels (e.g., email, Bloomberg chat, Slack, Zoom, WhatsApp, voice channels), to help discover potential wrongdoing or misconduct, such as suspicious trading activities, personal account dealing, product mis-selling, coercive sales tactics, and general compliance policy breaches (such as gifts and entertainment).
To meet these needs, the team chose Elastic Cloud, given its superior flexibility and scalability, to deliver on their vision. Fingerprint's platform is a mix of custom developed applications, native AWS services, and Elasticsearch®. Fingerprint applications — all running serverless on AWS Lambda and Step Functions — connect to various data endpoints and retrieve data into AWS S3. The data is then parsed and ingested into Elastic for search and analysis.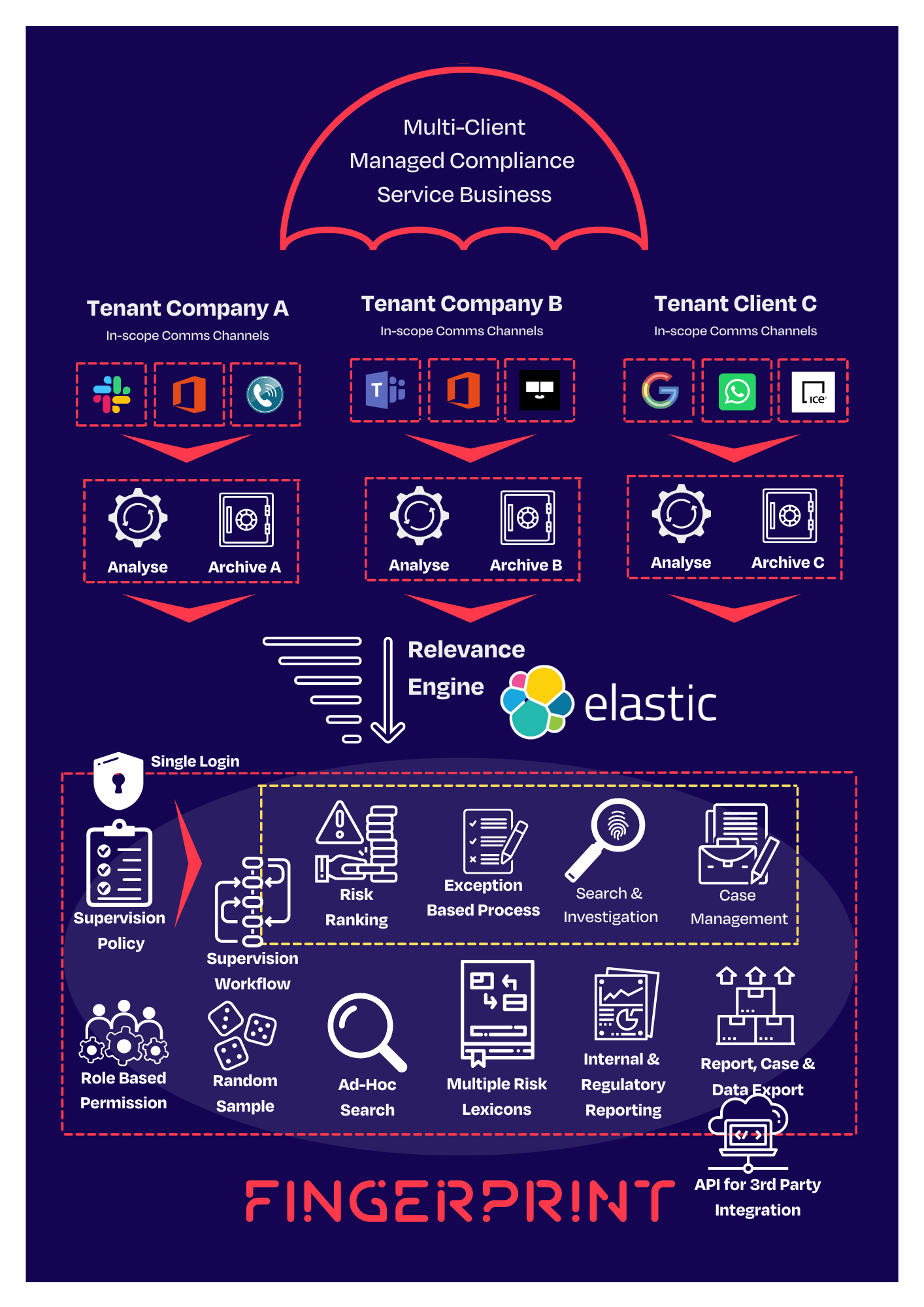 The key is that from ingest onward, everything is multi-tenanted, so each client has their own segregated data. Even when the information is sent to Elasticsearch, we use Datastreams to keep the data physically separate, with each item tagged to a firm ID. Elasticsearch aliases allow us to slice and dice any search whilst security is maintained in our middleware and API gateway to the front end. Elastic is our central search engine that allows all this to happen.
With all the communications data flowing through Elasticsearch, Fingerprint has built a secure platform for risk analysis and ranking, enabling customers to automate the vast majority of the compliance supervision in their business today. Users can triage the risk items identified and swipe right on those that need further investigation workflows, ad-hoc search across multiple communication channels, or configure Fingerprint to look for suspicious activity regularly. Every user interaction on the platform is audited to Elasticsearch, which Fingerprint uses to analyze and then generate regular KPI reports against the compliance policies that customers put in place. 
Fingerprint also maintains the health of its environment with Elastic. Critical signals are extracted from AWS (logs, metrics, and traces) and analyzed in Elastic APM. This enables the team to understand how their ecosystem runs and how the software works.
The Fingerprint platform uses a unique combination of natural language processing, sentiment analysis, lexicographical techniques, and metadata analysis to continually scan for and assess risk within communications, which are systematically ranked into the Fingerprint Risk List. The Fingerprint Risk List ensures that, at a glance, you can identify the sharpest needles of suspicion in your company's data haystack.
Elasticsearch is a critical component of this formula, providing the capabilities upon which Fingerprint adds its secret sauce. For example, Fingerprint is leveraging Elastic machine learning to help look for certain anomalies in activity. If an individual joins and leaves a conversation or someone suddenly stops or starts talking in a chat, that might be viewed as a suspicious activity that the firm needs to investigate. Fingerprint also leverages Elastic for semantic search and analysis around specific activities. 
Fingerprint's automation capabilities help save customers 80%–90% of the time spent in their daily monitoring workload, removing significant levels of manual work and enabling faster compliance investigations.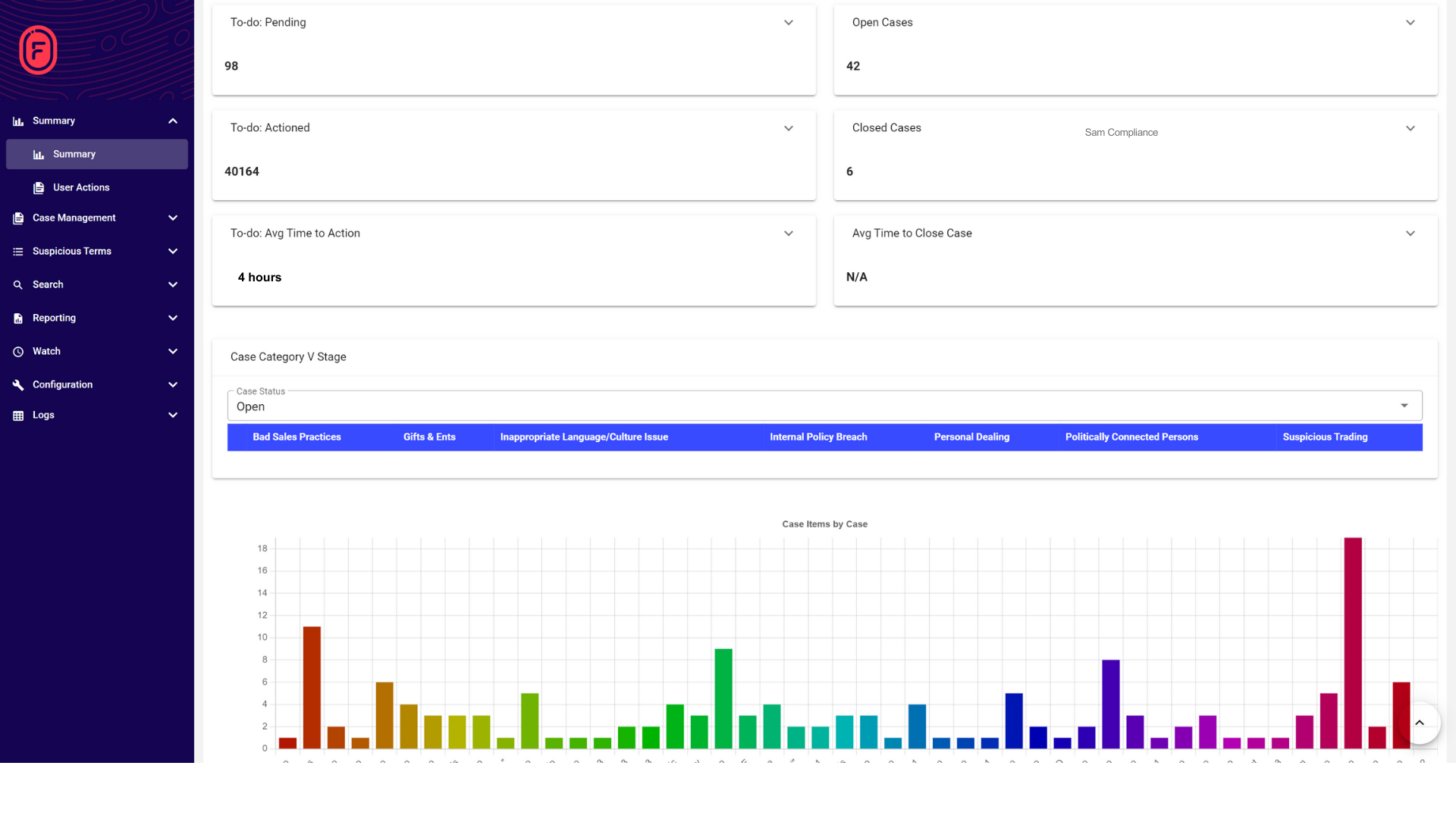 Given James and the team's success in building on top of Elasticsearch, they are looking to expand their usage even further and leverage other critical capabilities of the platform. The team is exploring leveraging the capabilities of Elastic cross-cluster search to enable them to search data across geographies. Given the importance of data residency in financial services, Elastic can allow customers to keep data in the local region but be able to search across clusters, with a single query. 
The team is also looking at other opportunities, such as ingesting new static data sources that may represent misbehavior (e.g., sales staff downloading data onto USB drives, unusual patterns of login activity, using the office printer at odd hours), as well as leveraging Elasticsearch combined with market data to do anomaly detection. This will build on Fingerprint's unique value proposition, enabling its clients to instantly deliver complete oversight and drive intelligent risk detection across all their communications channels.
The release and timing of any features or functionality described in this post remain at Elastic's sole discretion. Any features or functionality not currently available may not be delivered on time or at all.