When making investments in our tech stack, we tend to have doubts about companies that don't use their own products and services. At Elastic, we deploy the full suite of our technology across the enterprise.
We do so because our technology not only works, but it makes us more efficient and flexible on so many levels. And it can do the same for you and your business, too.
All of which is to say that, today, we're kicking off an occasional series of blog posts about how we at Elastic embrace our own technology. With the help of various contributors, each post will highlight how we are using our solutions and features of the Elastic Stack to support our business.
Introducing Vision
At its most basic level, our internal business analytics solution, running on our hosted Elasticsearch Service, is one that almost anybody can recreate using the tools of the Elastic Stack. We leverage the power of our Kibana product on top of our lightning-fast Elasticsearch product to provide real-time, actionable insights to a variety of business stakeholders.
Internally, we refer to our analytics platform as "Vision."
Vision provides us with the vision, if you will, and the business insights into our various functions at Elastic. It's used by everybody from our IT Ops and HR teams to our Marketing team and sales reps and executives. Vision helps solve the vexing problem that many organizations face: piecing together a web of data from siloed business applications to surface new insights for the express purpose of helping us make better products and services for our customers.
Vision provides our employees with the intelligence to understand and engage with prospects and customers, analyze territories and pipeline, improve our software and services, monitor key financial metrics, drive our global HR efforts, and so much more.
"Vision is an amazing showcase of the power of Elasticsearch and Kibana — with it, we can do things that are not possible with Salesforce CRM," says Jeff Yoshimura, Elastic's VP of Marketing. "For example, if we want to plan a marketing campaign, in real time, we can correlate web data with our CRM data in Vision, allowing us to make more informed data-driven decisions."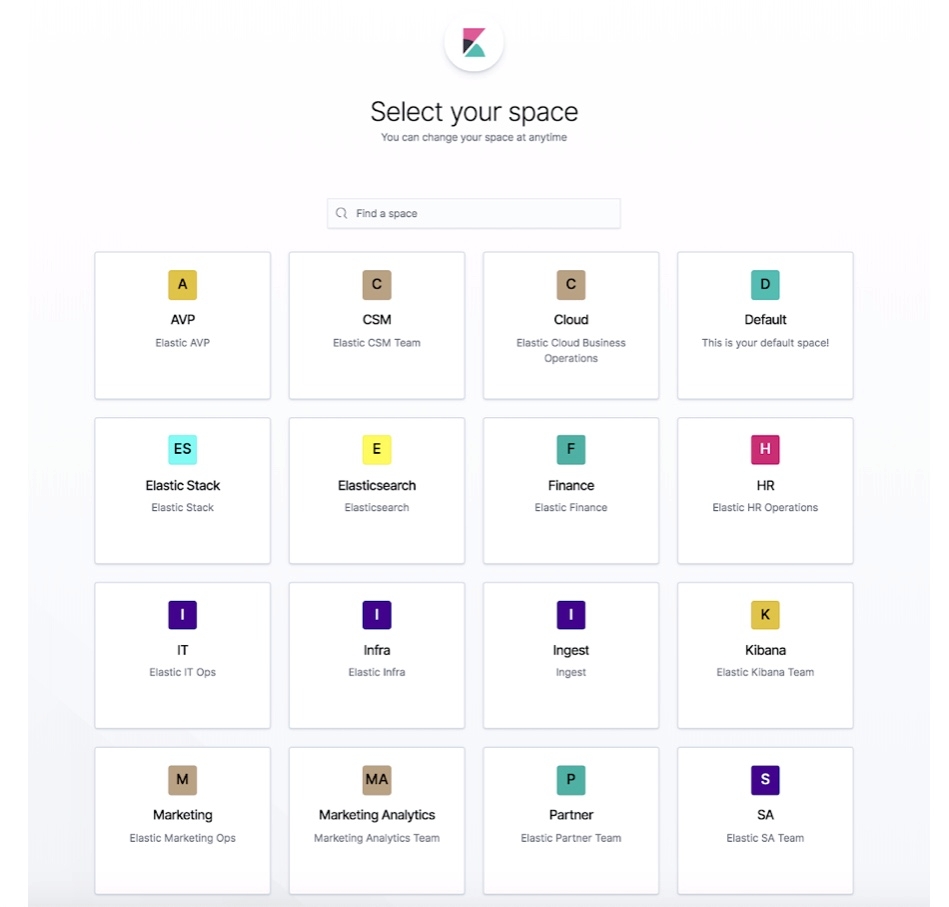 A partial screenshot of Kibana Spaces, above, which allows us to organize our Vision dashboards by department as well as provide role-based access management.
Deploying Vision
We leverage data from a number of our core business systems such as Salesforce.com, Marketo, NetSuite, Workday, and a host of other tools. The data is replicated hourly from our data warehouse using Logstash on a Docker and Kubernetes environment into our hosted Elasticsearch Service. From there, the data is then analyzed in Kibana for rich and fast visualization and reporting. The beauty of this solution is that it is ETL and data warehouse agnostic. If you already have ETL set up to a data warehouse and your team is struggling with applying speed and flexibility to mine the data, this type of solution is perfect for you.

The value of the solution speaks for itself. Driven by positive feedback from our initial users we found adoption and demand across the Elastic enterprise to be rapid and organic. We initially rolled out the Vision solution to our sales teams, who found the 360-degree view of their customers valuable and they, in turn, began to talk about it. Once the word got out, we started receiving a number of requests for support to help with dashboards and insights into various areas of the business.
From a solution support perspective, we have developed a hybrid model for maintenance and enhancements. IT supports the underlying integration, infrastructure, and data tables. We have found that some internal teams are not as well versed in data analysis and dashboard creation, so we support the end-to-end solution for those organizations. Other teams have dedicated data analysts that are able to leverage the dedicated views to create insights through Kibana dashboards with little to no support from IT.
Through the Vision looking glass
Elastic's Services division was also among the first to adopt and operationalize Vision. The team did so without needing our IT team's help. Instead, they relied on Taylor Roy, a consulting manager with the Services team who took the Vision bull by the horns and turned Vision into a tool that now serves as a foundational backbone of the Services' division's business operations.
"We use a lot of data in our day-to-day as well as in making our strategic business decisions. Historically, this data resided in a number of separate systems, like Salesforce, FinancialForce, and Qualtrics as well as additional third-party sources," says Thom O'Connor, VP of Services. "Vision has brought this data together and allowed us to answer many complex questions we couldn't before."
Thanks to Roy's work, here's just a fraction of the questions our Services team is visualizing with Kibana:
If we were to provide Elastic training in a new city, which one would do well?
What is the demand of Elastic training in any city?
If we are to hire another consultant or teacher, which region or country should be the highest priority?
Which markets, verticals, or use cases are growing fastest?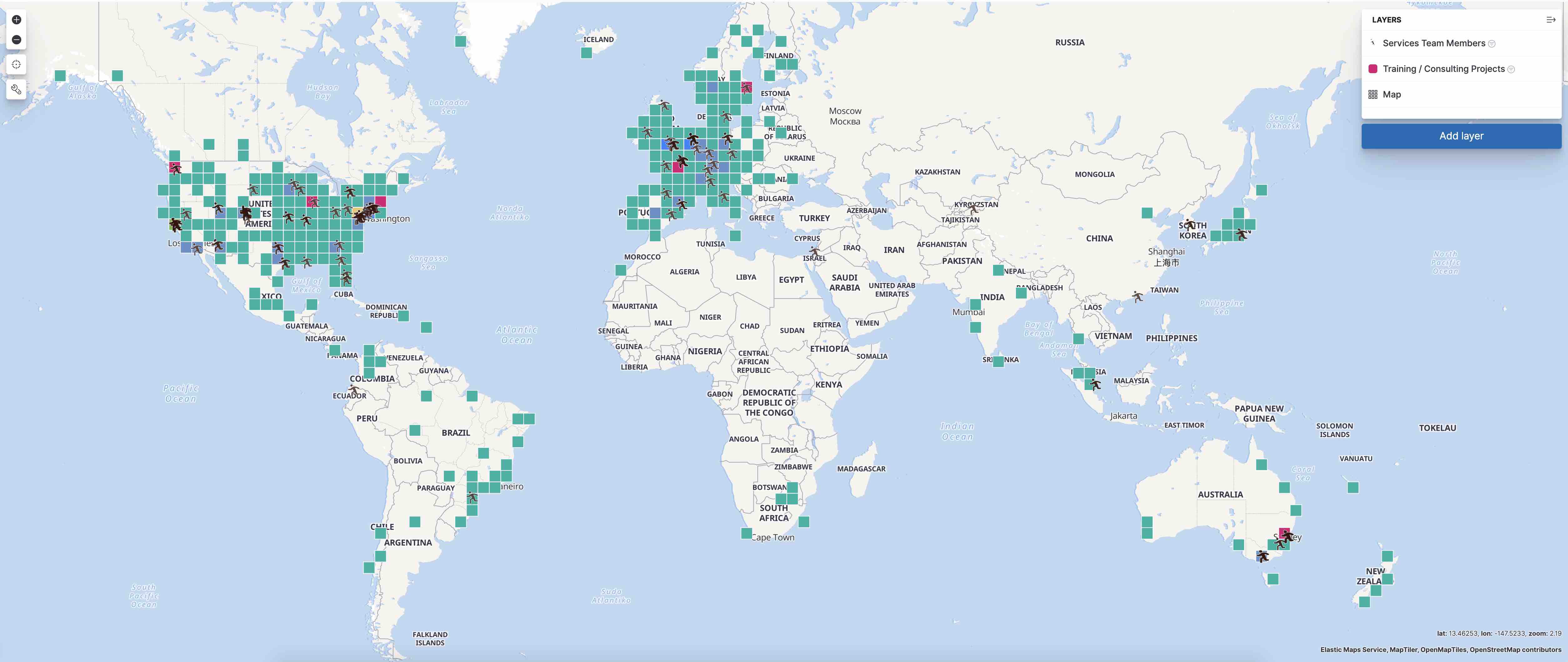 A Kibana dashboard, above, visualizes the locations of our consulting and training events in relation to where our Elastic Services team members reside.
In other areas of the organization, the IT team has partnered with company leaders to build dashboards to help answer and monitor key business processes and metrics.
For the Accounts Receivable (AR) team, we leveraged data from NetSuite and Salesforce to gain greater insights into our AR and collections activities. By doing that, the AR and Sales teams now operate from a single view of accounts receivable by account and sales rep. This also provides a view, and a filtering capability, where a sales manager can actually see all the accounts and reps in their territory and partner more effectively with the AR team.
"Vision enables Sales to partner closely with Finance in a very holistic fashion to drill down into our uncollected invoices by allowing for an aggregated view by sales rep, manager and sales region. This level of rich analytics is really powerful," says Jane Bone, Elastic's chief accounting officer.
In addition, as a growing company, it's important to know where we stand in terms of recruiting on a real-time basis. Our HR team previously was managing this through spreadsheets. There were so many of them that they couldn't keep up. And when HR would present to our executive team, the data would be out of date.
We partnered with the HR team to create HR job and application dashboards, which are sourced in real time from our recruiting tool, Greenhouse. Vision is now providing us with accurate and granular data on where we align with our hiring goals across the globe. What's more, managers across all the functions are getting a divisional picture of their teams' hiring pipeline. One HR dashboard, for example, visualizes all of our open positions, time open, offers extended, future starts by job, region, department and by recruiter.
"Because of Vision, we now have real-time trust in the hiring data and we can drill down to how many applicants are in application review, function, recruiter screening, interviewing, offers pending, application country of origin and you name it," says Leah Sutton, Elastic's VP of Global Human Resources. "HR has moved to a single source of truth that's also provided in real time directly to the hiring managers for each division."
We really love our employees and our Source Code speaks to that. And we often like to discuss that we're a distributed company by design, with Elasticians in nearly four dozen countries globally. We've got a pretty cool heat map to illustrate that, too.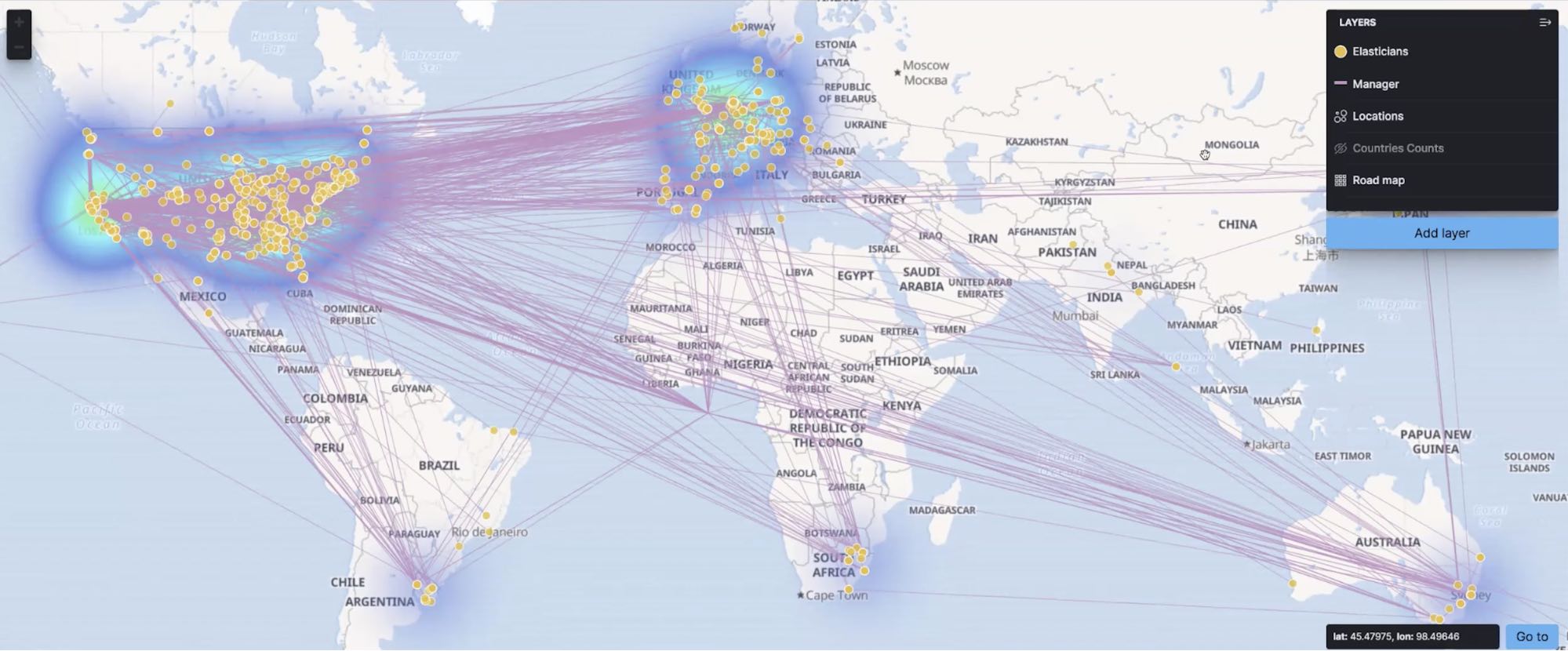 This Kibana dashboard, above, visualizes the global location of our employees. The purple lines align Elasticians with where their managers are on the globe, and vice versa.
Conclusions
Just like our Elastic users and customers, we are continuously finding new opportunities with the Elastic Stack. It really is a boundless platform limited only by the imagination.
So stay tuned as we periodically walk you through Elastic's journey with Elastic.
---
Kim Huffman is VP of Global IT at Elastic. Chris Suen is Sr. Manager, IT Data & Integration at Elastic.