Tips for veterans to successfully transition to civilian life, from two former military members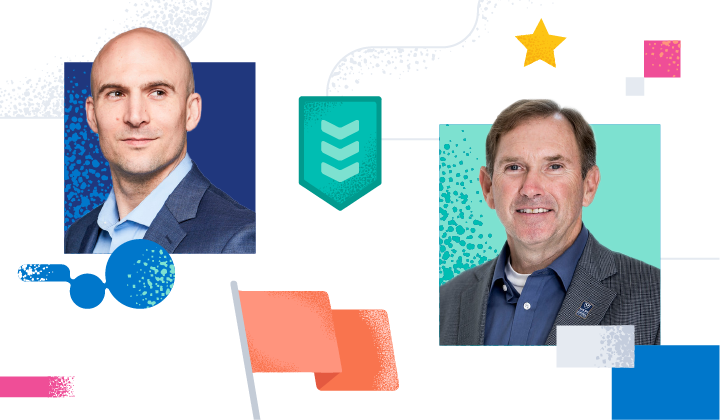 There isn't a playbook to follow for those transitioning from a career in the military to one in a corporate setting. Leaving the military and embarking on the next phase of your career can be intimidating, especially coming from a culture with clear steps. 

Recently, Elastic's Jesse Sladek, Chief of Staff, Global Sales, sat down with Ken Keen, Associate Professor in the Practice of Organization & Management; Associate Dean for Leadership; Lieutenant General, USA (Retired) to discuss the transition to civilian life and how to translate skills from the military.
Leadership is something all servicemen and women learn while in the military, and it's an essential and valuable skill to have as a civilian.
Sladek has three leadership principles he lives by: Lead by example, share risk with your team, and take care of your people.

"It doesn't matter what you're working on, if you don't care who gets the credit you can get stuff done," he says. 
When he transitioned to a job in the corporate world, he noticed a gap where leaders don't always understand the power of commander's intent, or what the purpose and end goal of a mission is. 
Commander's intent is widely used in the military. Keen describes a time when he was in Haiti following the 2012 earthquake. The commander's intent was to save lives and mitigate suffering of the Haitian, so all of their actions were tied back to that intent, what the priorities were, and what success looked like.
With this defined, operational lines were created to complete actions like setting up hospitals, providing potable water, and clearing rubble on the streets. 
"We didn't get off track of what was mission essential," Keen says. "Having ways to find gaps of communication takes leadership and work to listen to feedback." 
Another aspect of a good leader is vulnerability, something Keen says veterans can have a hard time with. But, as servicemen and women look to find fulfillment in the civilian world, it's important to ask for help and stay connected with other veterans. 
While Keen left the military 10 years ago, he says there isn't one right path to take as you navigate your transition. But he did share three pieces of advice:

1. Reach out to mentors, friends, family to discuss your transition. 
All veterans will struggle, Keen says. "Make sure you have a network that can support you."
2. Think about your goals. Ask yourself "What's your purpose beyond the military?"
"The military gives us a purpose and the culture that we're a part of gives us a purpose. When we leave there is a bit of a hole there," Keen says. 
Find your motivation, but take your time to figure it out. It's a process and it can evolve. 
3. Don't limit yourself. 
If you had a dream to own a business or pursue a graduate degree, put yourself out there and go for it, Keen says. 
"Our vets are comfortable being uncomfortable," Keen says.
Jesse agrees, saying the first job you get isn't your end all be all. 
"You're going to learn and iterate and find new interests," he says. "The skills that made you successful in the military will help you." 
Elastic supports veterans in a few ways, including offering free training for veterans and participating in the Skillbridge program, which helps active duty military members in internships to bridge their skills gap as they transition into a civilian career.
Interested in joining a company that supports veterans? Browse open roles.