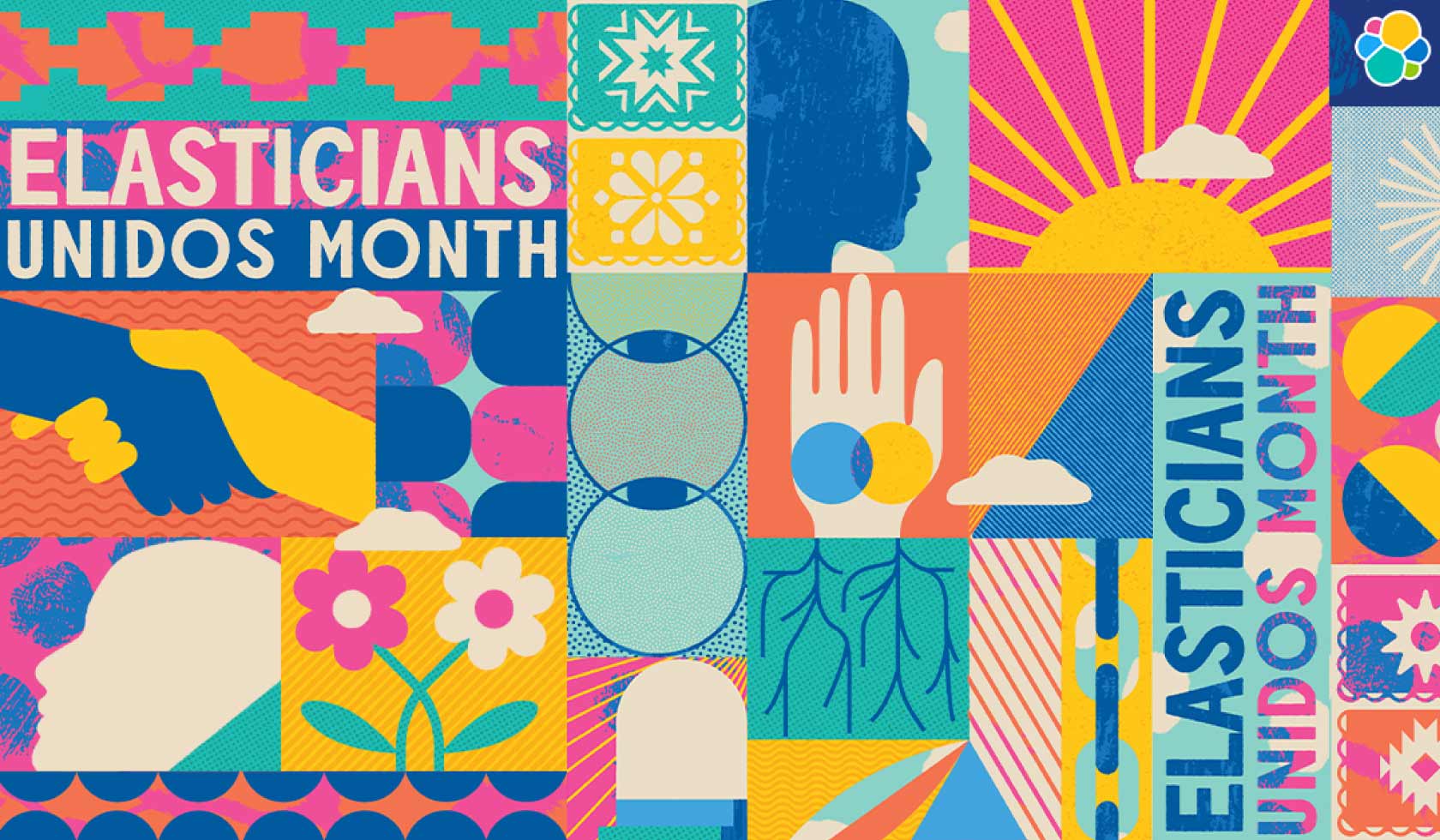 Employee resource groups, or Elastician resource groups as we like to call them, are formal groups within Elastic that are aligned with shared identities, experiences, interests, affinities, and allyships. 
We formalized these groups in 2021, but they've been a part of our culture since 2016. The formalization means that they are now ensured structure, budget, and a voice based on any dimension of diversity, identity, allyship, and advocacy. This was an important step in our global diversity, equity, and inclusion strategy. 
Each ERG has their own mission and goals, but as a whole they want to create community and belonging around shared interests and experiences. 
Our Core ERGs
We have seven formal ERGs: The Accessibles, Blasticians, ElastAsians, Elasticians Unidos, Rainbow Stack, Mil-Asticians, and Women of Elastic. We'll be spotlighting them over the next year as they relate to culture or commemorative events and holidays.
Elasticians Unidos: Who are they?
September 15 through October 15 is Hispanic Heritage month—or as we like to call it, Elasticians Unidos Month. It's celebrated in the United States as a way to honor the achievements and contributions of Hispanic Americans on U.S. history and culture. We're taking the celebrations globally, though, and welcoming all that wish to participate in events throughout the month. 
This year, the ERG is hosting a few different events starting with a Zumba class with various forms of dance including salsa, bachata, merengue, samba, and cumbias. They're also hosting an interactive cooking class that will highlight Latin American dishes. All events are held via Zoom for participation by our distributed workforce.
These types of events are a great way to meet other Elasticians who identify with or have an interest in learning more about different cultures. That's why Ana Cervantes, Recruiting Coordinator and first generation Mexican-American, joined the ERG—to bond with others. 
"I got a sense of belonging, that your culture and heritage is celebrated," she says. "I appreciate knowing that there are people that have a similar background to me that I can relate to."
Ana is excited to learn about other cultures, and to showcase her own. 
"I hope to gain more knowledge on other cultures and to showcase that we are all interconnected," she says.
Last year, Kimberly Chavez Crea, Accountant at Elastic, joined the ERG right around Cinco de Mayo. Then, for Elasticians Unidos month in 2021, she and her husband taught a cooking class on Zoom where they made ceviche, a staple in her Peruvian heritage. 
Now, she is one of the leaders of the ERG and hopes to welcome others so people can find connections, relationships, and be proud of who they are, she says. 
"It's nice when you connect with someone that was raised in the same background as you, and you can use food and music as a way to connect," she says.
It can be hard to come from a different background, Kimberly says, so building a sense of camaraderie within the ERG is helpful. Ana feels similarly. She was introduced to our Source Code when applying and the "Come as YOU are" tenet resonated with her, something that the ERGs help to bring to life. 
"I may have an accent at times and may not have the strongest 'Corporate Vocabulary'," Ana says. "But that took a lot of pressure off and I feel confident and accepted  with how I speak."
Fabio Martínez, Commercial Account Executive and another leader of the ERG, sees Elasticians Unidos as a way to acknowledge, on a wider level, that there is power and influence in the Latino community. 
"This power comes from our heritage, the values and experiences we bring directly or through our families," he says. "I'm an immigrant and live here, but it can be seen everywhere Latinos/Latinas have gone. They bring grit, tenacity, and dreams for a better life. Those are values every society needs."
To accomplish their goals and build a community, the ERG has a dedicated Slack channel and monthly meetings to connect, on top of the events they put on. 
"I hope people can find connections and relationships and be more proud of who they are," Kimberly says.
As YOU are starts here. Join the Elastic team.