For more than two decades, Sovren has upheld its competitive advantage in the recruiting world by staying laser focused on its core solution: powerful resume parsing and matching software to help recruiters quickly connect companies with top talent.
Stifled by on-premise search technology that was difficult to scale, in 2017 Sovren found the missing piece: Elasticsearch. Sovren also knew that in order to grow as a modern business, the company needed to rethink how it delivered software to customers.
By choosing Elasticsearch Service on Elastic Cloud, Sovren has been able to deliver high-performing search capabilities at scale, and use a cloud-first approach to create an ever-adapting, scalable system that meets evolving customer needs.
To deliver on the promise of helping recruiters minimize the time they spend looking through resumes, Sovren's matching product needs to be fast and accurate. Speed and accuracy drive a positive customer experience and help Sovren differentiate its product.

However, Sovren's legacy, on-premise search solution, dtSearch, wasn't performing well at scale. Customers were hitting a search performance ceiling at about 4 million resumes and installations were starting to rot from lack of customer attention to required maintenance activities, and performance was declining.

Before switching to Elastic, it was painfully difficult for customers to get the matching product to work -- and to keep it working well. While it was easy to justify spending time supporting large companies, Sovren couldn't justify adding enough resources to devote to lower-revenue deals, so they chose not to market the product to that segment of the market. This closed off a potentially lucrative source of expansion and ongoing revenue.

With growth in mind, Sovren knew that they had to deal with the underlying engine scalability problem.
Over the course of five years, Sovren spent an enormous amount of money in an effort to update the search technology. Every approach failed. For example, when they moved the solution to Solr, they still hit a scalability barrier at 4-5 million resumes, where search degraded, along with the user experience. Plus, as they looked for a cloud-native solution, Solr's offering would not satisfy their requirements.  


When James Parks joined Sovren as the lead architect of the company's matching product, he quickly turned things around. In his previous role at a consulting firm, Parks' colleagues had often used Elasticsearch to address similar search issues, so he set out to see if it could be the fix Sovren needed.


Parks asked President Robert Ruff for two weeks to prove that Elasticsearch was a good fit.
Ruff was skeptical, because he had seen "two weeks" turn into "two months" on proofs-of-concept, but he still gave Parks the green light, warning him that at three weeks, the project would be killed.


And Parks delivered. He built a proof of concept on Elasticsearch Service in 48 hours, and completed a customer-ready product on a new architecture within 3 weeks. Scalability tests blew through previous barriers. Sovren had found its path forward..
We went from being stuck to being thrilled. With our new Elastic platform, we no longer have to grit our teeth and hope it works. With Elastic, we know it's going to work and keep working.
– Robert Ruff, President, Sovren
Once Sovren landed on Elastic as a platform they could trust, they set out to optimize the searches.

Elasticsearch enabled Sovren to streamline its matching capabilities, improving overall query performance by 60x. By further removing the bottleneck of indexing data, Elasticsearch ensures that recruiters can access candidate match results in real time and accelerate time to hire.

With Sovren's cloud-based Elastic solution, recruiters can use sliders to adjust the weight given to certain categories (e.g. education, skills), allowing them to control how the engine scores matches. And for the first time, Sovren was able to roll out a highly responsive auto-complete feature.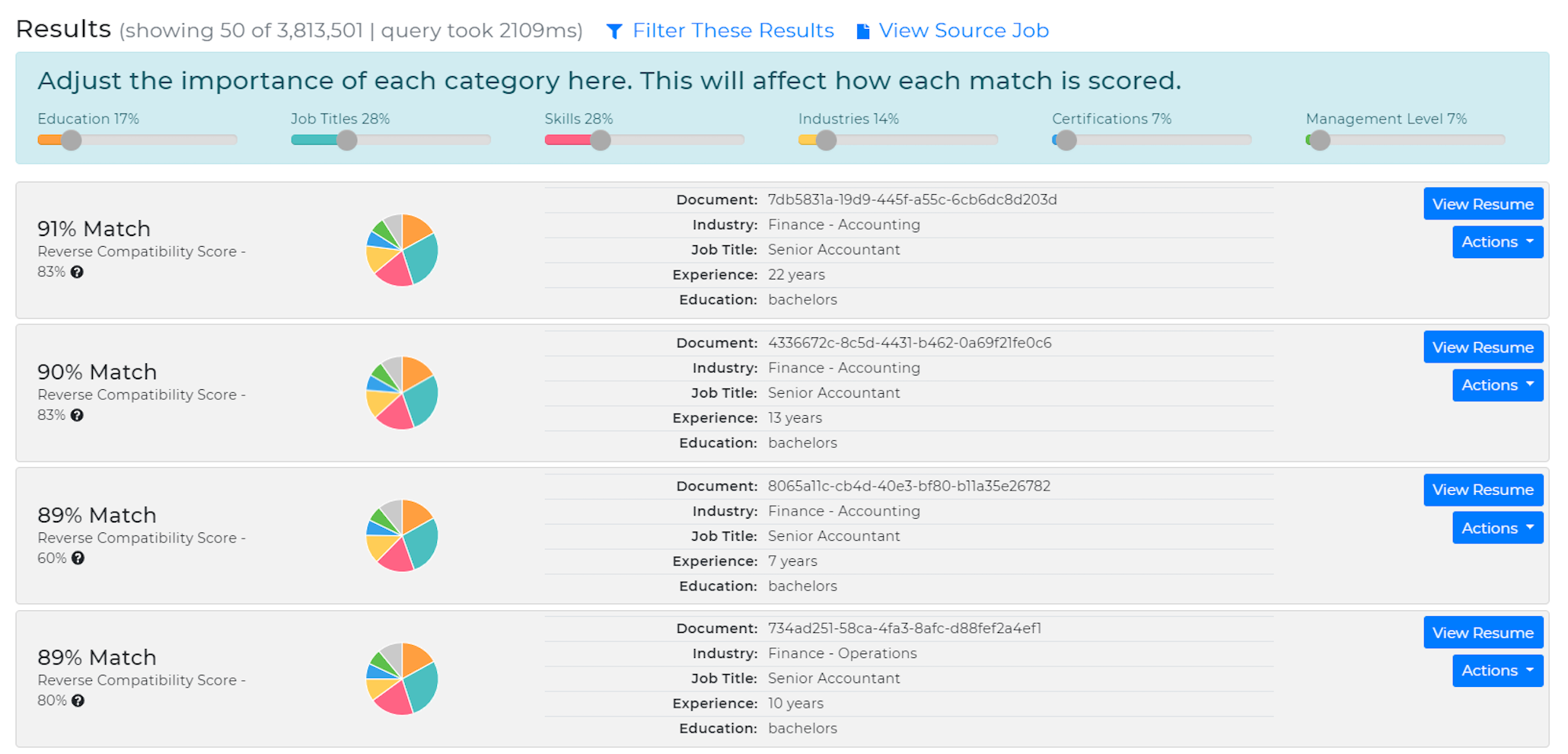 Sovren no longer has to sacrifice speed for accuracy. Before, Sovren paid a high price on performance to eliminate "clipping" (e.g. partial data results that may not surface a resume at the bottom of the shard.) Now, Elasticsearch searches the full shard with zero impact on performance, so that recruiters can be confident they're seeing complete and accurate results for relevant resumes. Ruff says, "Our product was stunted, but with Elasticsearch, that's now solved. We turned it into a huge viable product line for us that we don't see any limits to other than our own marketing."
Along with solving Sovren's decades-long search challenge, Elasticsearch Service was a natural fit for Sovren as they adopted a cloud-first approach to their business. The deployment on Elastic Cloud removed onerous administrative burdens, enabling Sovren to refocus time and energy from operational challenges to strategic development. 

Using Elasticsearch Service on Elastic Cloud has allowed me to offload searching and indexing and focus on the core competencies of our software, so I can further differentiate from competitors.
– James Parks, Lead Software Architect, Sovren
Free of the operations shackles that created product deployment timelines of 4-6 months, Sovren could now deploy new features and updates in days with no risk of losing performance over time. That means that new prospects can be instantly onboarded using a self-service portal, and have a fully-working instance of Sovren's AI Matching product ready to use within minutes, not months.

Elasticsearch Service has also given Sovren the peace of mind that it can readily handle additional customers and their growing data as cluster capacity increases are only a few clicks away within the Elastic Cloud console. "That's the magic the Elastic Cloud brings. Elastic manages it all for us", says Parks.

And after two years on Elastic Cloud, they've had zero downtime (scheduled or unscheduled) and zero performance complaints.

By delivering on the promise of real-time search, eliminating the need for index maintenance, and simplifying onboarding, maintenance, and support with a cloud-native architecture, Sovren has improved customer satisfaction and catalyzed massive business growth.

With the ease of management gained from the cloud platform, Sovren now has the confidence to actively market their matching software to customers of all sizes, opening up new revenue streams for the company. And it's paying off. As a result of a 2019 marketing push, Sovren grew the total business almost 45% over a three-month time period.

Features that were previously untenable (because they required too much processing power) are now possible because the search function is so fast.

Elasticsearch Service on Elastic Cloud is everything we needed plus everything we want to grow into.
– James Parks, Lead Software Architect, Sovren
In line with their ongoing quest for innovation, Sovren is planning to expand the use of the Elastic Stack by investing in the Elastic Observability solution for logging and monitoring as well as is looking to take advantage of the Elastic Stack capabilities to continually tune their matching engine.

The power of Elasticsearch Service on Elastic Cloud makes it easy to undertake a new use case—be it for internal application monitoring or search on a customer-facing app that drives revenue.  It's as simple as clicking a few buttons, getting the data in, and hitting go on the project.

The amount of foresight built into Elastic is unparalleled. Whatever we dream up is possible. It gives us an opportunity to get smarter and more creative with what we're building.
– James Parks, Lead Software Architect, Sovren