We're thrilled to announce the release of Elastic Enterprise Search 7.12 — delivering more scalability and performance enhancements with the introduction of cloud autoscaling and greater storage efficiency. Plus, the recently announced Elastic web crawler adds additional support for web standards.
As a refresher, Elastic Enterprise Search is our suite of products featuring easy-to-implement, pretuned search experiences for your apps, websites, and internal teams. Elastic Enterprise Search is available as a single download or to install on Elastic Cloud with the cloud provider of your choice.
Before we dive into the 7.12 release highlights, we'd like to call out some exciting news! We're thrilled to announce that, as a new entrant in the 2021 Gartner Magic Quadrant for Insight Engines, Elastic has been recognized as a Challenger. You can download the complimentary report today.
Now on to the 7.12 release.
Newly optimized architecture for faster, more efficient searching
Elastic pioneered resource-based pricing for search use cases, providing a predictable, transparent, and fair approach to operating search experiences at scale. With the same principles in mind, the Enterprise Search team is constantly looking for ways to optimize resource usage, capacity management, and relevance through research and domain expertise — investing in complex modeling decisions so you don't have to. That way, all you have to do is enjoy the benefits of a pretuned, ready-to-deploy experience.
In this release, Elastic Enterprise Search provides a reimagined underlying data architecture, completely optimized for performance and relevance. Some deployments benefit from up to 70% improvement in storage efficiency, up to 40% reduction in indexing latency, and significant improvements with relevance across App Search and Workplace Search. 
Proactively scale up your storage capacity and gain peace of mind with autoscaling
Because Elastic Enterprise Search is built on the Elastic Stack, powerful features can be pulled into App Search and Workplace Search based on user needs.  The Elastic Enterprise Search solution inherits the index lifecycle management (ILM) policies feature from the Elastic Stack to automatically manage logs and analytics, and additional ILM features from the Stack can be easily rolled into App Search and Workplace Search going forward. 
In 7.12, autoscaling allows users to proactively set rules that monitor storage usage — whether that storage comes from content, logs, or analytics. When a threshold is met, autoscaling automatically increases your storage capacity based on predefined rules. That means less worrying and more peace of mind (something we can all use a bit more of.)
Elastic App Search web crawler continues march toward GA
Introduced in 7.11, the App Search web crawler allows users to extract publicly accessible web content into their App Search engine using simple point-and-click tools, no coding required. With 7.12, the App Search web crawler includes several performance and stability improvements, along with better support for web crawling standards.
The App Search web crawler adds support for robot exclusion standards/protocols, also known as robots.txt. The web crawler will now respect the robots.txt file rules found on the website's server. These rules dictate which content to extract and index paths that shouldn't be followed. By supporting robots.txt files, web crawler users can now have control and peace of mind over which content is being extracted for querying.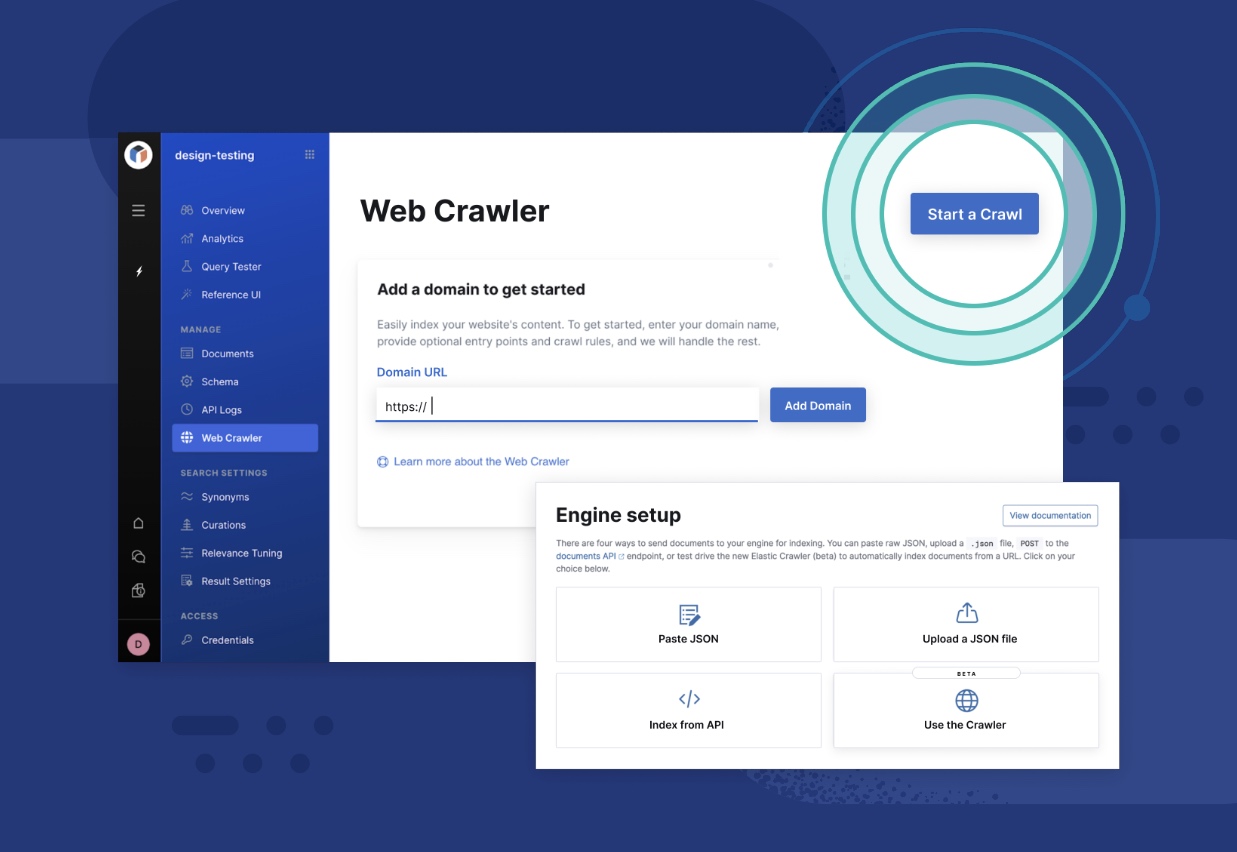 The App Search web crawler adds another straightforward method — in addition to JSON and APIs — for ingesting content into App Search so websites and custom apps have the built-in relevance of Elasticsearch.
Be sure to save your spot for the upcoming webinar Getting started with Elastic App Search web crawler.
Give it a try!
Existing Elastic Cloud customers can access Enterprise Search directly from the Elastic Cloud console. New to the Elastic Cloud? Take a look at our Quick Start guides — bite-sized training videos to get you started quickly — and then start a free 14-day trial of Elastic Enterprise Search. Or download the self-managed versions of App Search or Workplace Search for free.
The release and timing of any features or functionality described in this document remain at Elastic's sole discretion. Any features or functionality not currently available may not be delivered on time or at all.