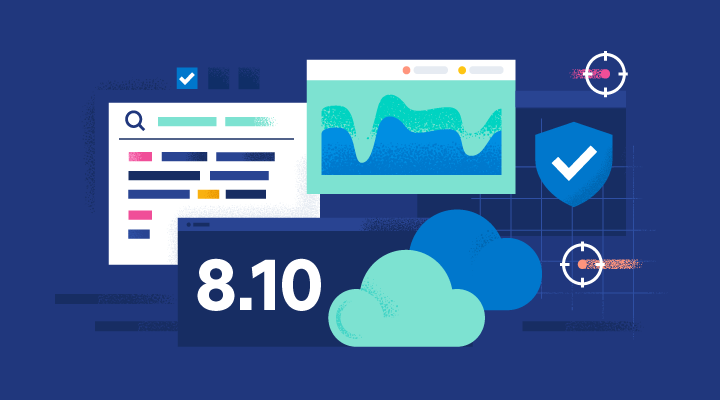 Today, we are pleased to announce the general availability of Elastic® 8.10.
Elastic Observability transforms metrics, logs, and traces into actionable IT insights to unify observability across the digital ecosystem.
Read about additional capabilities in the tech preview of Elastic AI Assistant for Observability, powered by ESRETM, and GA of Universal Profiling, which allows organizations to get visibility into application code and infrastructure performance with zero instrumentation. Both are found in our Elastic Observability highlights blog or in the 8.10 release notes.
Elastic Security unifies SIEM, endpoint security, and cloud security to detect, investigate, and respond to threats at cloud scale.
Read about enhanced alert contextualization, GA of Elastic AI Assistant for Security and the new MITRE ATT&CK Coverage page, beta of cloud security posture management (CSPM) for Google Cloud, GA of automated CSPM onboarding of AWS accounts from AWS, and more in our Elastic Security highlights blog or in the 8.10 release notes.
Elastic Search helps developers implement modern search and discovery experiences.
Read about the tech preview of the query rules API, the beta of synonyms API, the GA of web crawler scheduling of multiple crawls via Kibana®, the beta of several new connectors for integration of proprietary data to use as prompts for large language models (LLMs), and more in the Elastic Search highlights blog or in the 8.10 release notes.
All of Elastic's out-of-the box solutions are built on one platform — the Elasticsearch® Platform. All users, regardless of use case, benefit from core enhancements: 
GA of support for 2048 dimensions in dense vector search, which enables the use of popular models like OpenAI NLP
GA of enhanced information within cross-cluster search (CCS) including status, shard accounting counters, and error details
GA of CCS functionality to include/exclude specific clusters
GA of new ML functionality to choose a reference and a comparison time range on the UI for data comparison views
GA of client cert support in the Webhook connector
GA of multi-value filtering using tooltip actions within Kibana
GA of a redesigned API keys view in Kibana
Beta for Kafka output support for Elastic Agent
More details are in the Elasticsearch platform highlights blog or in the 8.10 release notes
Ready to get started? Elastic 8.10 is now available on Elastic Cloud — the hosted Elasticsearch service that includes all of the new features in this latest release.
The release and timing of any features or functionality described in this post remain at Elastic's sole discretion. Any features or functionality not currently available may not be delivered on time or at all.