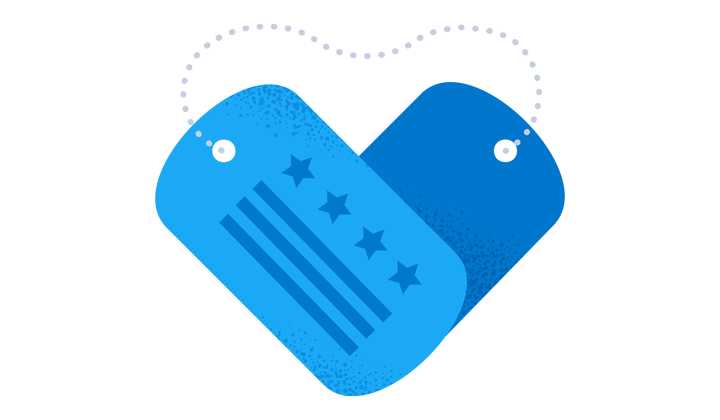 Launched in September 2021, Operation Giving Back provides all U.S. veterans and active duty military personnel with access to Elastic training to help them grow and diversify their technical skill set.  
Operation Giving Back is about Elastic saying thank you to all military personnel by providing a leg up when it comes to technical skills development.
Veterans who are considering transitioning into the dynamic, exciting career path of tech, should consider the free training on Elastic products. This valuable training offered by Elastic is a great springboard to entering tech where you can work from anywhere and move your career in the direction of your dreams.
Customize your training experience
Designed to support individuals looking to develop their Elastic skills in a variety of areas, participants in the program have access to a customized training program that includes the following courses:
Data Analysis with Kibana

Observability Fundamentals

App Search Fundamentals

App Search Web Crawler Fundamentals

Workplace Search Fundamentals

ECE Fundamentals

Kibana Fundamentals

Kibana for Splunk SPL Users

Elastic Security Fundamentals: SIEM
Elastic products provide the means to store, secure, access, and make actionable any data regardless of size, location, or complexity. Veterans interested in continuing to work at the 'Tip of the Spear' of the world's fastest growing commodity should take advantage of the free training Elastic offers.
Participants can choose to complete all courses or identify a select few that are most beneficial to their personal and professional growth. Sign up to begin your free training program today! 
Don't just take our word for it 
With over 600 active participants, Operation Giving Back continues to grow as the demand for advanced technical skill sets increases in a variety of industries. One participant, Tanner Greeb, of Cyber Advanced Analytics, completed the program because it was essential to his work with observability engineering. When asked about what impact the training had on his professional and personal goals, he shared the following: 
"Personally, it made the giant tool of Elastic feel a lot more user friendly. Professionally, I feel comfortable enough that I can write signatures, tune, and train much more effectively now… It put me on a fast track to understand how to utilize Elastic's large knowledge base more effectively." 
Greeb is just one of the many success stories associated with this program and is an example of how Operation Giving Back can impact the career trajectory of those looking to advance in their current role or break into a new field. 
More than just a training program
Elastic continues to expand our support for the military community. We believe it's not just about the free training, but also about providing the necessary resources, networking opportunities, and career support essential to achieving long-term success. Below are just a few of the resources and initiatives available to support veterans and active duty military: 
There's never a bad time to consider your transition plan or to start building skills that will help you transition smoothly from military to civilian life.
When my husband left the military, we didn't have a plan. It took over a year to find a suitable position for him in the state we wished to reside in and complete the necessary training to do that job. It was a very challenging year for us and made us question the decision to leave the military. I wish we had known more about transition resources available to my husband at that time.
Join our community
The Elastic Community is excited to welcome you to connect with users and advocates around the world. Whether it's finding the support you need to complete a course or solve a problem using Elastic, connecting with fellow users in your area, or learning more about Elastic at a local meetup, we are here for you! 

Ready to get started? Sign up today!