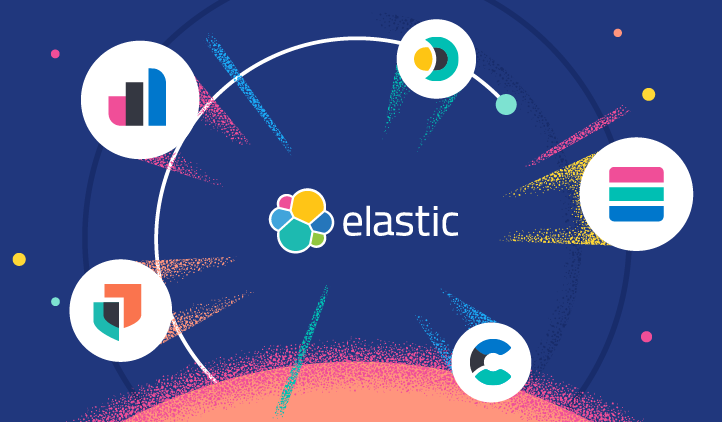 Elastic, the company behind both Elasticsearch and the ELK Stack, today introduces the latest innovations in the Elastic Search Platform — the data analytics platform for search-powered solutions.
As organizations navigate today's always-on and connected world, technology leaders face immense pressure to keep pace with customer and employee demands, to ensure operational resilience, and to mitigate security risks — challenges that are all connected by a single common denominator — an exponential avalanche of data.
According to Accenture, 8 in 10 businesses today lack a comprehensive data strategy — and just as many do not have a centralized digital platform to manage data.
This is where the Elastic Search Platform comes in. Designed to address the complete data lifecycle, for any type of data, and to run anywhere — from on-premises to hybrid-cloud and multi-cloud environments — the Elastic Search Platform enables organizations to continuously surface relevant insights from petabytes of data in real-time. These insights empower technology leaders to confidently take action and to deliver results that matter.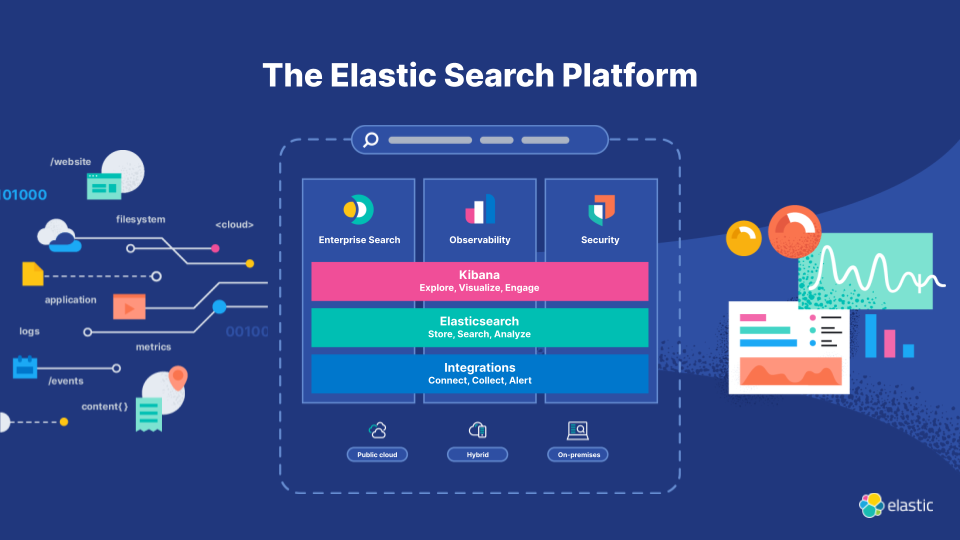 Elastic Enterprise Search
Elastic Enterprise Search is the gold standard for implementing powerful, modern search and discovery experiences with Elasticsearch — enabling you to search everything, anywhere.
With today's launch, Elastic Enterprise Search elevates relevance and precision at scale with a new combination of traditional, and machine learning-assisted techniques. Read more about what's new with Elastic Enterprise Search here.
Elastic Observability
Elastic Observability is the most widely deployed solution for transforming metrics, logs, and traces into actionable, proactive insights — enabling you to unify observability across your entire digital ecosystem.
With today's launch, Elastic Observability empowers organizations to gain deeper visibility into complex cloud-native apps with frictionless, "always on" universal profiling. In addition, we are announcing an all-new cloud and developer first synthetic monitoring capability coming next year. Read more about what's new with Elastic Observability here.
Elastic Security
Elastic Security unifies SIEM, XDR, endpoint security, and cloud security on a single platform, helping teams prevent, detect, and respond to threats quickly and at cloud scale.
With today's launch, Elastic Security includes all the context security practitioners need to investigate and rapidly remediate threats with SOAR and TIP capabilities on an open and transparent SIEM. Read more about what's new with Elastic Security here.
Elastic Stack and Elastic Cloud
In addition, as each of Elastic's search-powered solutions are built on one stack — the Elastic Stack — customers benefit from: a new capability to accelerate time to insight, the ease of being able to apply advanced machine learning models (including vector search) in situ with their data, and a vision for how a new, stateless Elasticsearch architecture will lower total cost of ownership and continue to push the boundaries of speed, scale, and relevance.
Elastic continues to make it faster and easier to get started on every major cloud provider. Elastic customers can natively ingest logs and metrics from Microsoft Azure, and utilize a simplified architecture to stream events and logs from Google Cloud. With today's launch, users can now get started with Elastic on AWS in just a few clicks, in a single UI within the AWS console. They can subscribe to Elastic, create Elastic deployment in any of our supported AWS regions, and simplify data collection by provisioning the Elastic Agent from an AWS environment via AWS CloudFormation. Read more about what's new with Elastic Stack and Elastic Cloud here.
Whether it's connecting people and teams with content that matters, optimizing mission-critical applications and infrastructure, or protecting your digital ecosystem from cyber threats, the Elastic Search Platform is helping everyone find success by transforming data into results that matter.
Existing Elastic Cloud customers can access many of these features directly from the Elastic Cloud console. If you're new to Elastic Cloud, take a look at our Quick Start guides (bite-sized training videos to get you started quickly) or our free fundamentals training courses. You can always get started for free with a free 14-day trial of Elastic Enterprise Search. Or download the self-managed version of the Elastic Stack for free.
The release and timing of any features or functionality described in this post remain at Elastic's sole discretion. Any features or functionality not currently available may not be delivered on time or at all.