Elastic Enterprise Search: Build with speed, search with ease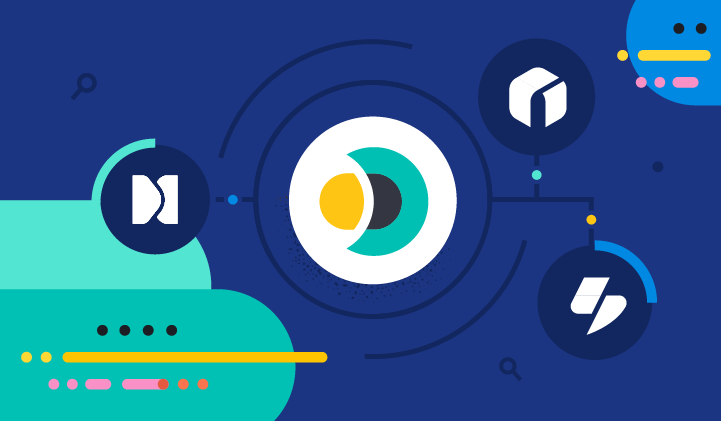 Elastic continues to help everyone find what they need faster with Elastic Enterprise Search, a comprehensive solution for building search-powered applications.
Elastic Enterprise Search elevates relevance and precision at scale with a new combination of traditional and machine learning-assisted techniques.
Elastic delivers the best platform for search builders
Elastic's open source roots have allowed us to build the most powerful platform for search-powered solutions in the market. From the beginning, we've made it easy for developers to build search capabilities into their applications with a combination of out-of-the-box and flexible developer tools to build their own experiences. Our vast community of developers helps us drive innovation and take search technology in new directions.
Elastic has always had an expansive view of the power of search — well beyond the search bar. To allow Enterprise Search to deliver what's needed faster, we continue to invest in evolving technologies. Enterprise Search delivers search analysis and management tools — saving development cycles to bring improved relevance and insights to end-user experiences. Our history and future investments in evolving technologies are centered around making complex search functionality accessible and scalable within our existing ecosystem — with deployment options to suit every need.
Improve search relevance by combining traditional search with the power of vector search
Traditional relevance ranking models continue to offer highly predictable performance for text search use cases. Newer approaches — like Elastic's native vector search relevance ranking capability — can work with these models to provide similarity-based search techniques required for modern experiences that also interpret natural language. Applying vector search or hybrid approaches take a query's context into account, and allow for using non-textual elements like images as search inputs.
At Elastic, we're continuing to improve our vector search capabilities by seamlessly combining the traditional methods of matching search results with newer approaches that take into account the meaning and intent behind queries. This results in more accurate and relevant results. Here are examples of how vector search can improve search relevance:
Retail recommendation engines: Generates intelligence that recognizes similarities in bodies of information and their vectors. For example, search applications that may recommend related movies or products that similar user cohorts also liked.
Support Q&A: Converting documents to text embeddings, combined with modern natural language processing (NLP) to deliver full text answers to questions. This approach spares end-users from studying lengthy manuals and empowers support teams to provide answers more quickly.
Image search: Allows end-users to compare search results visually for ecommerce product discovery, boosting cross-sell potential.
Multi-dimensional pattern matching for academic and scientific needs: Classifies and correlates patterns in search data like medical results in an academic study.
We're excited to combine both traditional and vector search scoring responses to create highly relevant and optimized responses for countless use cases, bringing together the best of both scoring models. 
Try it out
Existing Elastic Cloud customers can access many of these features directly from the Elastic Cloud console. If you're new to Elastic Cloud, take a look at our Quick Start guides (bite-sized training videos to get you started quickly) or our free fundamentals training courses. You can always get started for free with a free 14-day trial of Elastic Enterprise Search. Or download the self-managed version of the Elastic Stack for free.
The release and timing of any features or functionality described in this post remain at Elastic's sole discretion. Any features or functionality not currently available may not be delivered on time or at all.