Wordpress is the world's most popular open source content management system. It appears in almost one third of the top 10,000,000 websites. How did it get there? It is easy to install, use, and maintain. As a result, Wordpress has a vibrant community and a bustling ecosystem that contains tens of thousands of useful plugins and robust themes. We're happy to announce that the Elastic Site Search Wordpress Plugin is now available for anyone looking to bring leading search experiences to their websites.
Wordpressing the Issue
Wordpress has search by default. You can add it to the sidebar, header, or footer, as a widget. The Site Search Wordpress Plugin replaces the default Wordpress search experience, providing a more robust and configurable search experience backed by Elasticsearch, the leading open source search Engine.
Getting started takes a few moments. If you already have an active account, retrieve your API Key from the Site Search dashboard. If you don't, signup for a free 14 day trial and explore some of the features.
Login to Wordpress admin and click Plugins.
Click Add New, and search for the Site Search Plugin for WordPress plugin.
Once installed, Site Search will appear: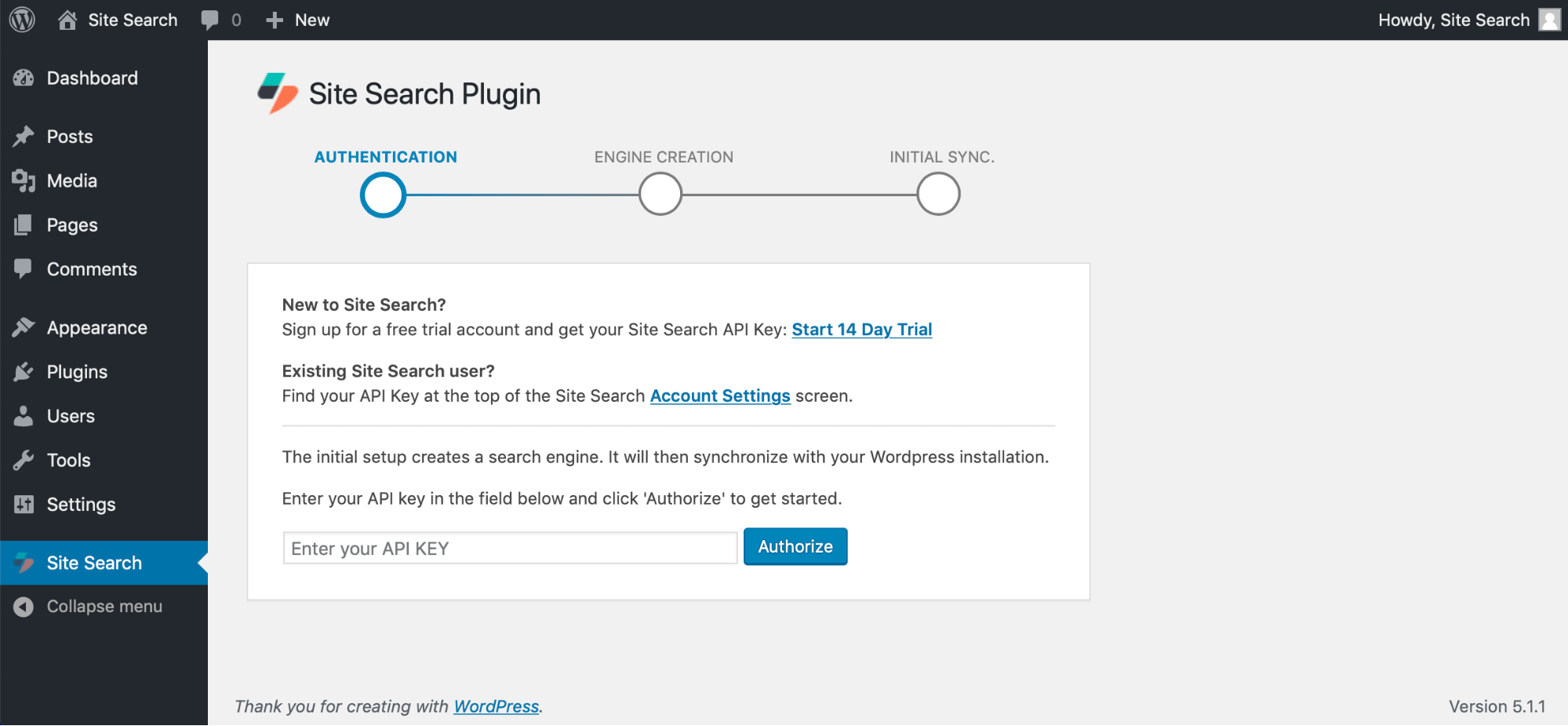 Place your API Key where requested, then click Authorize.
Empowered with your API Key, the plugin can now create things on your behalf. The first thing it will create is a search engine, or Engine for short. Provide a name for it, then select from one of 13 different languages: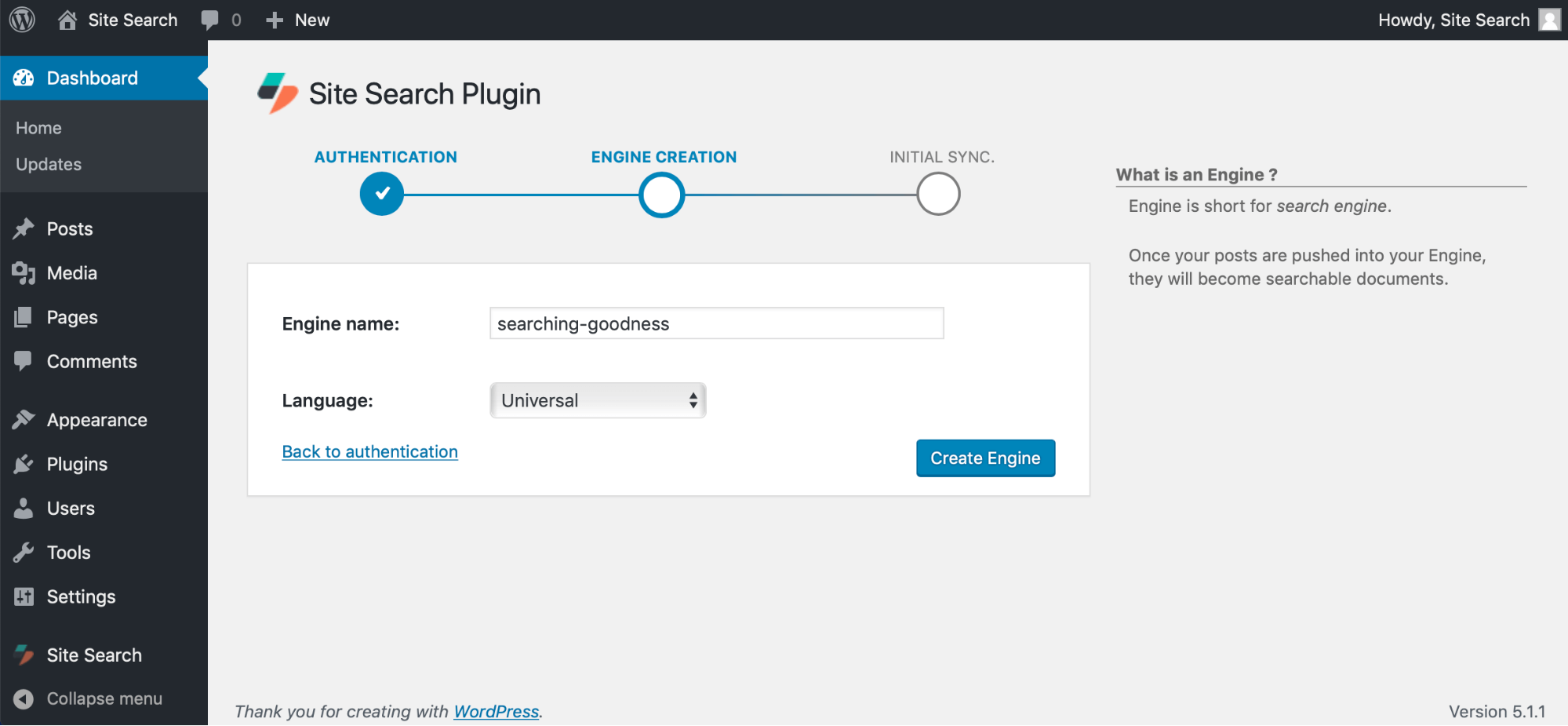 The plugin synchronizes with your Site Search account. This means that all the content you have created will be indexed into your search engine. Indexing transforms your content into documents which can be searched and analyzed with great cleverness and agility.
Begin synchronization! Click Synchronize: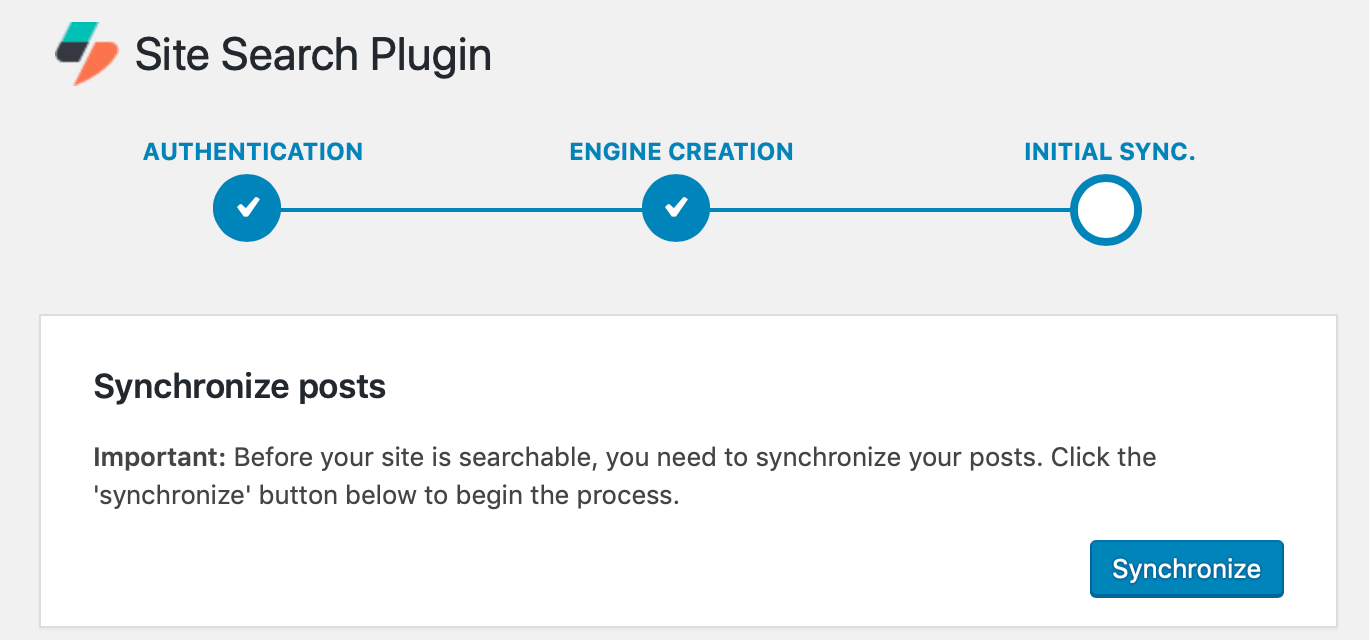 You will be notified when the sync is complete: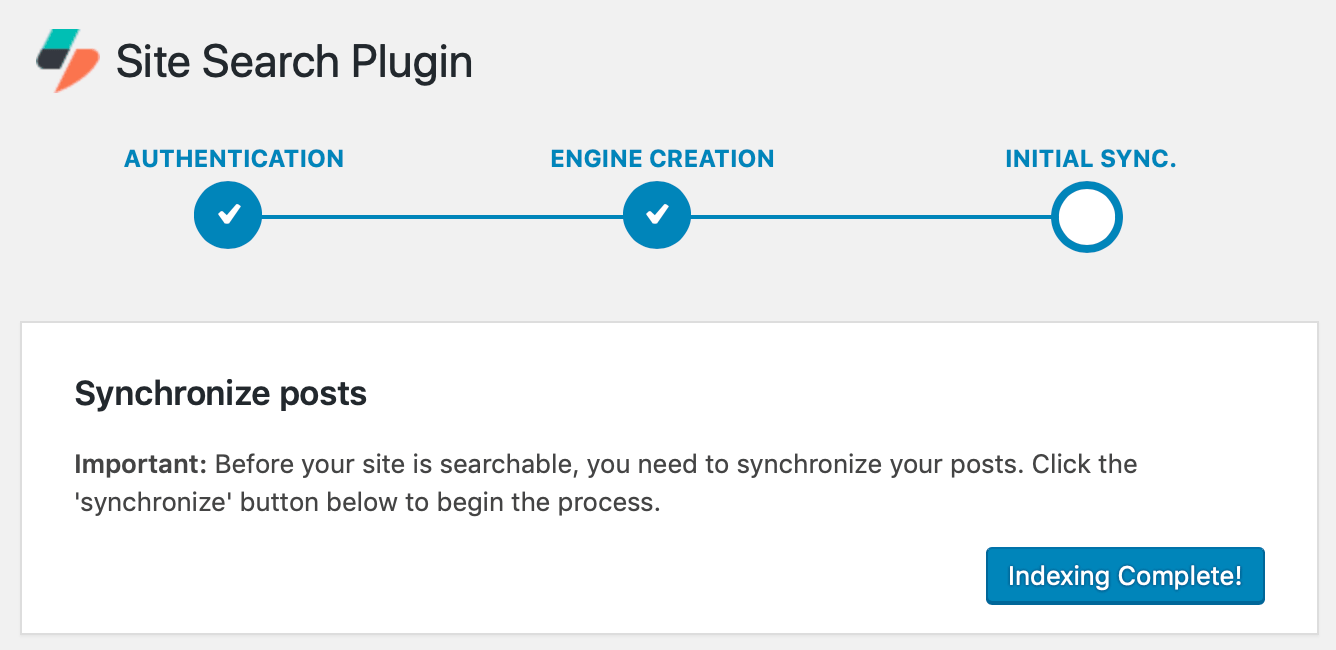 All adjustments from this point will be synchronized automatically. Add content, delete content, edit content, and it will be updated. If you make the change in Wordpress, it will be reflected within Site Search.
Once synchronized, the fun begins.
Out of the box, Site Search provides refined search relevance through fancy and sophisticated features like typo-tolerance, partial word matching, synonyms, phrase matching, bigram matching, stemming, and more.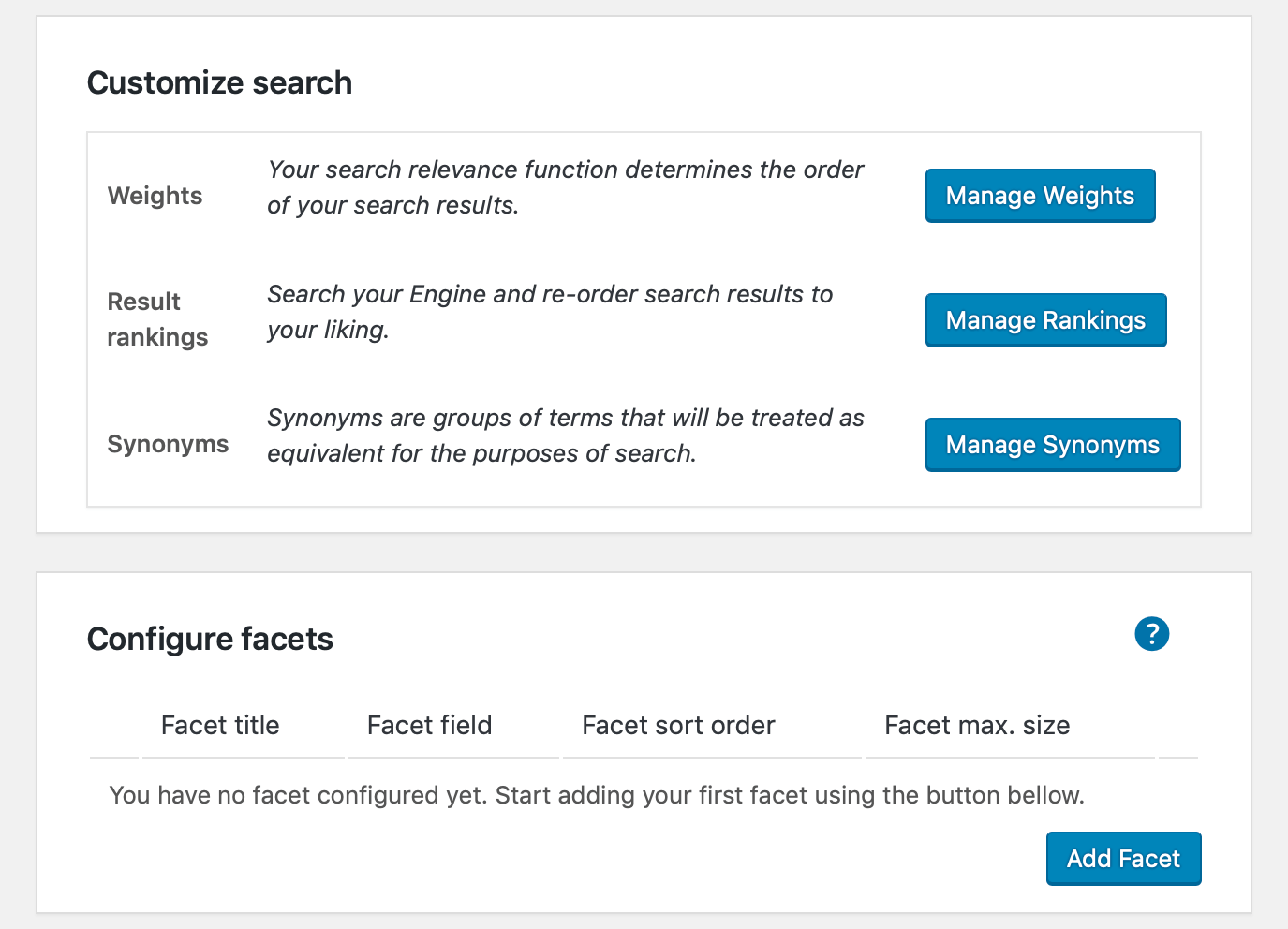 But where it really shines is through hands on tuning through the polished Site Search UI...
You can...
Construct faceted queries.
Configure Result Rankings to choose the order of result sets.
Build your own Synonyms.
Manage Weights and scale whether the title, description, or other fields should match more than others.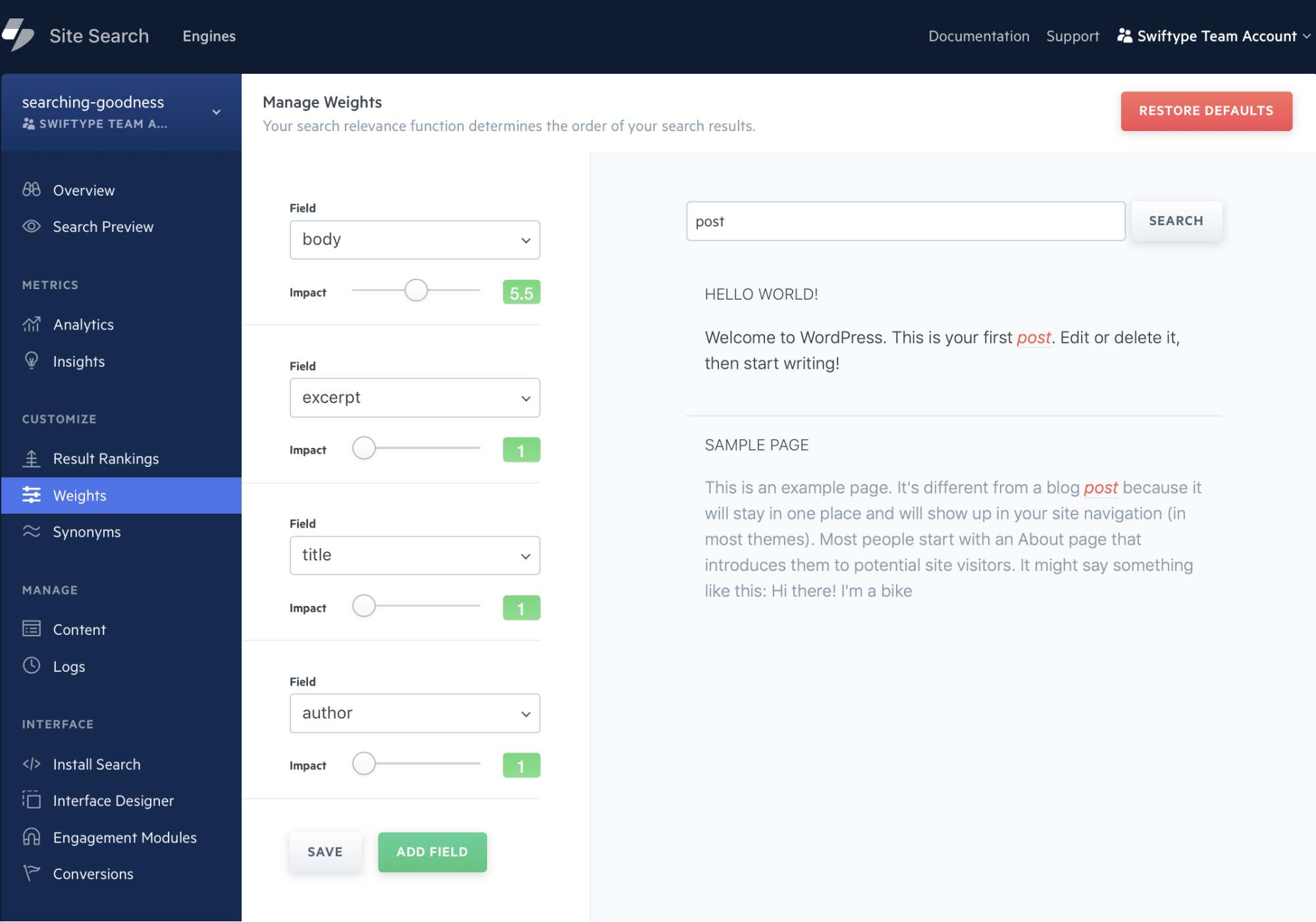 Last but not least, Site Search produces rich search analytics. Analytics are captured and synthesized into actionable insights. Armed with these insights, you can apply relevance tools to perfect your search experience to be just how you'd like it.
Summary
The Elastic Site Search Wordpress Plugin is a giant leap from the default Wordpress search experience. Whether you are building an online store, a publication, knowledge base, or brochure style website, you can provide a world class search experience without altering any code.
Get started with an Elastic Site Search free 14 day trial.