Elastic joins AWS Marketplace Vendor Insights to streamline risk assessment and software procurement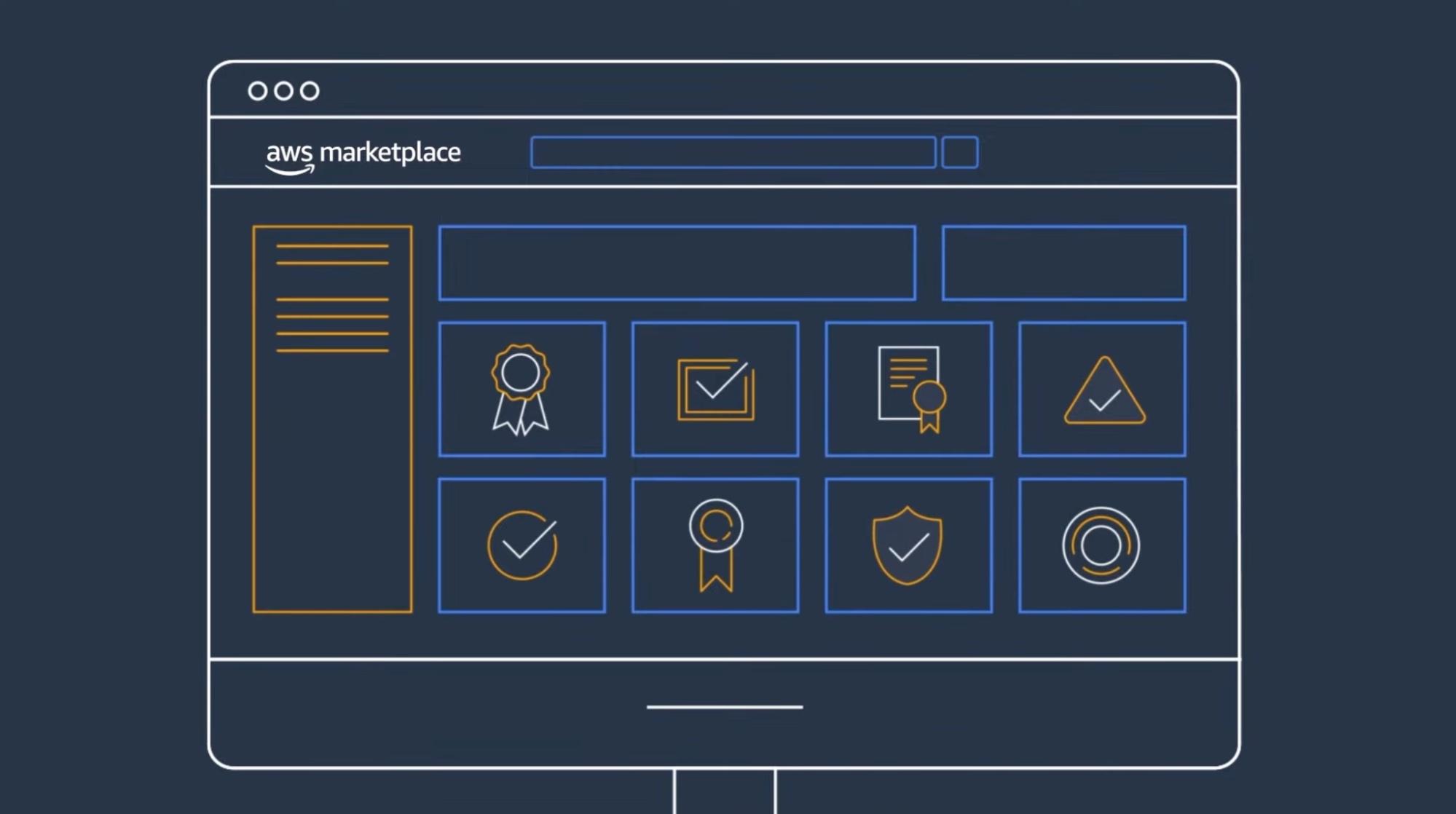 Elastic is pleased to announce our participation in general availability of AWS Marketplace Vendor Insights, a feature that "simplifies software risk assessments performed by organizations to safeguard procuring software they trust and meets their standards." Now, you can streamline purchasing of Elastic Cloud with even more confidence in our security and compliance posture.
What is AWS Marketplace Vendor Insights?
As part of AWS re:Invent 2022, AWS announced a new service called Vendor Insights that helps speed sales cycles by enabling sellers to make their security and compliance profiles available through AWS Marketplace. Vendor Insights streamlines third-party software risk assessments for both buyers and sellers. We're excited to participate with AWS in this launch as part of our ongoing strategic partnership.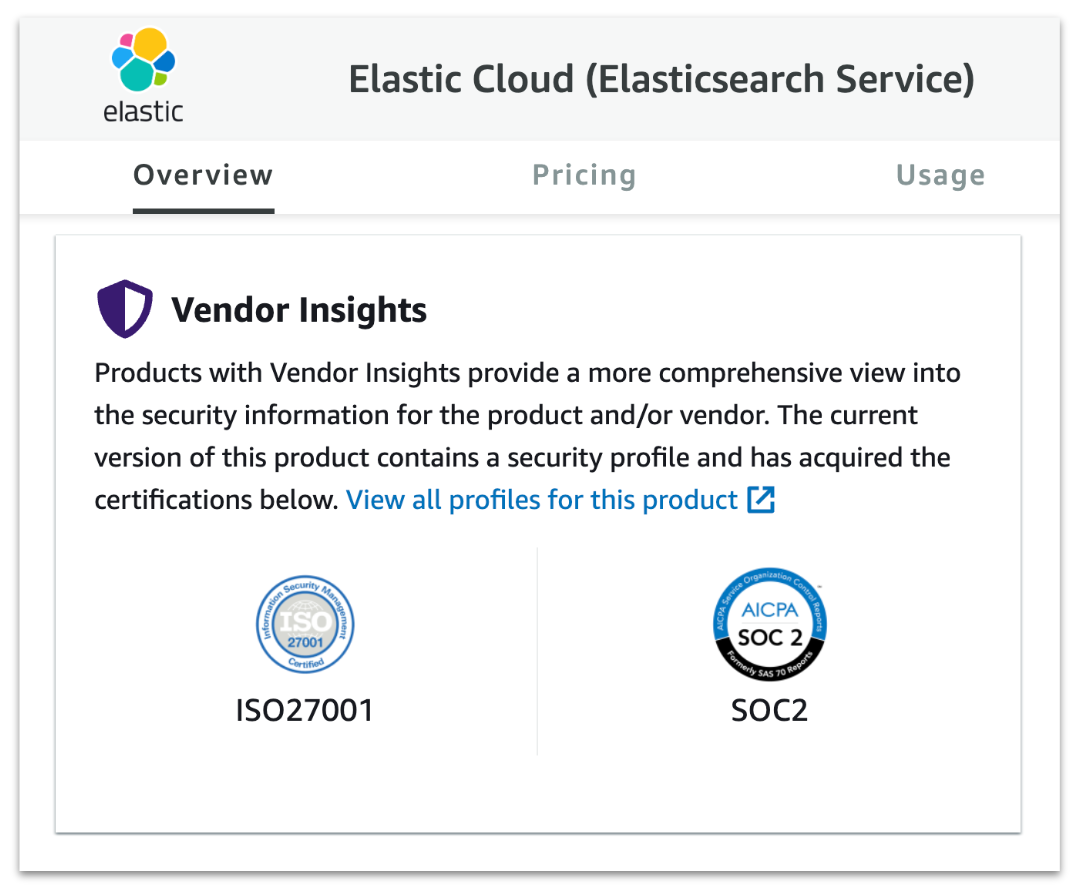 Vendor Insights can help you reduce assessment lead time by allowing you to access a vendor's validated security profile. It can lower the effort of questionnaire population via back-and-forth with vendors from months to hours.
Use the Vendor Insights dashboard to reduce assessment time
Vendor Insights can ease your procurement process by reducing your assessment time via a dashboard that displays a software product's security and compliance information. You can monitor the security profile of a product in near real time from a single console. The dashboard further reduces software buying friction by allowing you to download data and seller certificates to ingest into your own vendor management tools.
The dashboard provides evidence backed by AWS Config and AWS Audit Manager assessments, external audit reports, and software vendor self-assessments to help you perform continual compliance monitoring. It also includes information around important criteria, such as data privacy and residency, application security, and access control.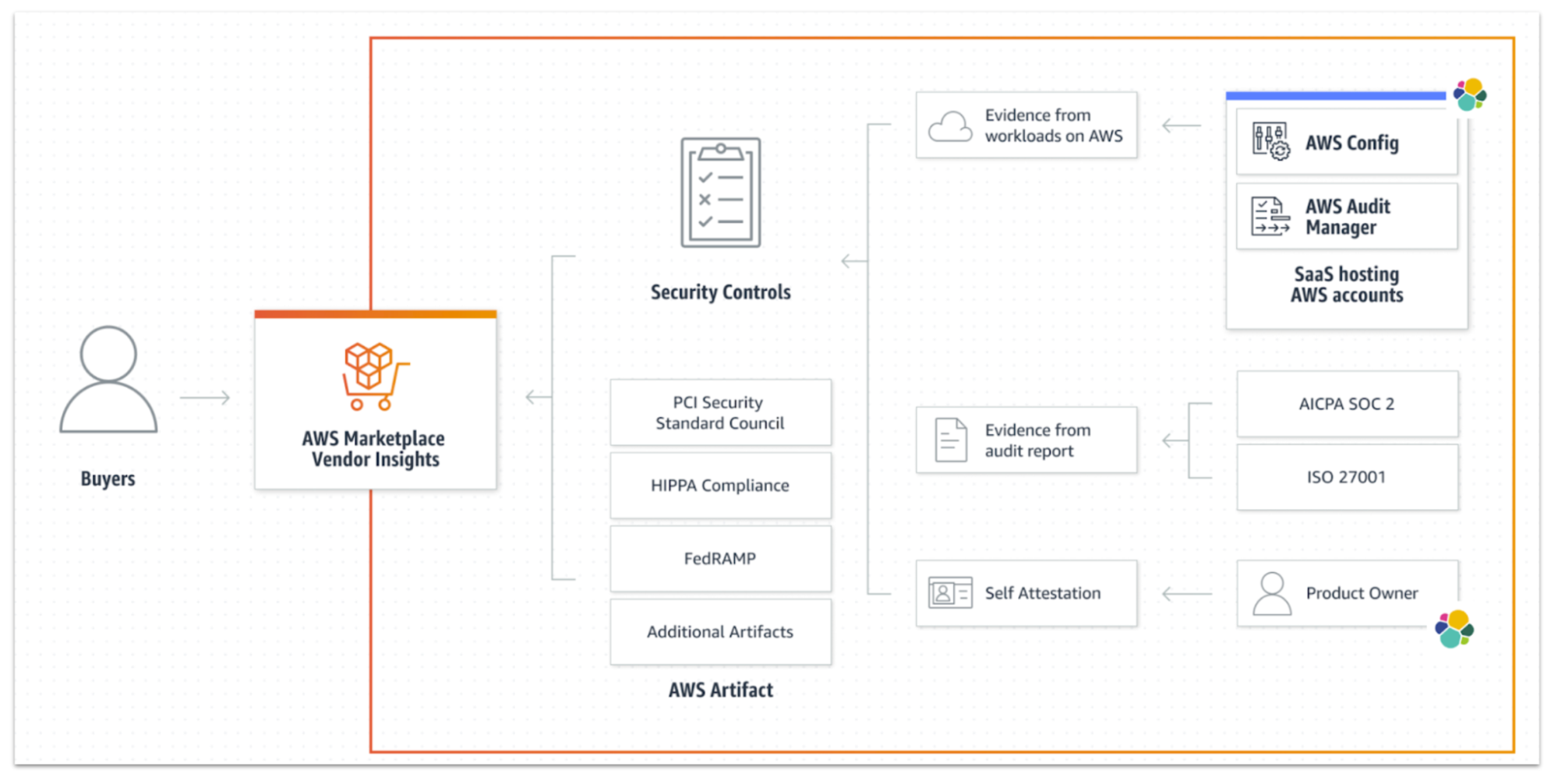 Using Vendor Insights notifications also helps remove the need for periodic reassessments. Vendor Insights provides ongoing visibility and alerts about a vendor's security hygiene, such as if a compliance certification expires — allowing you to stay on top of security status at all times.
Discover Vendor Insights
So, how do you leverage Vendor Insights to streamline your procurement process? Simply navigate to Vendor Insights. Since Elastic is one of the leading ISV partners on AWS Marketplace, you can click on the Elastic logo shown on the page.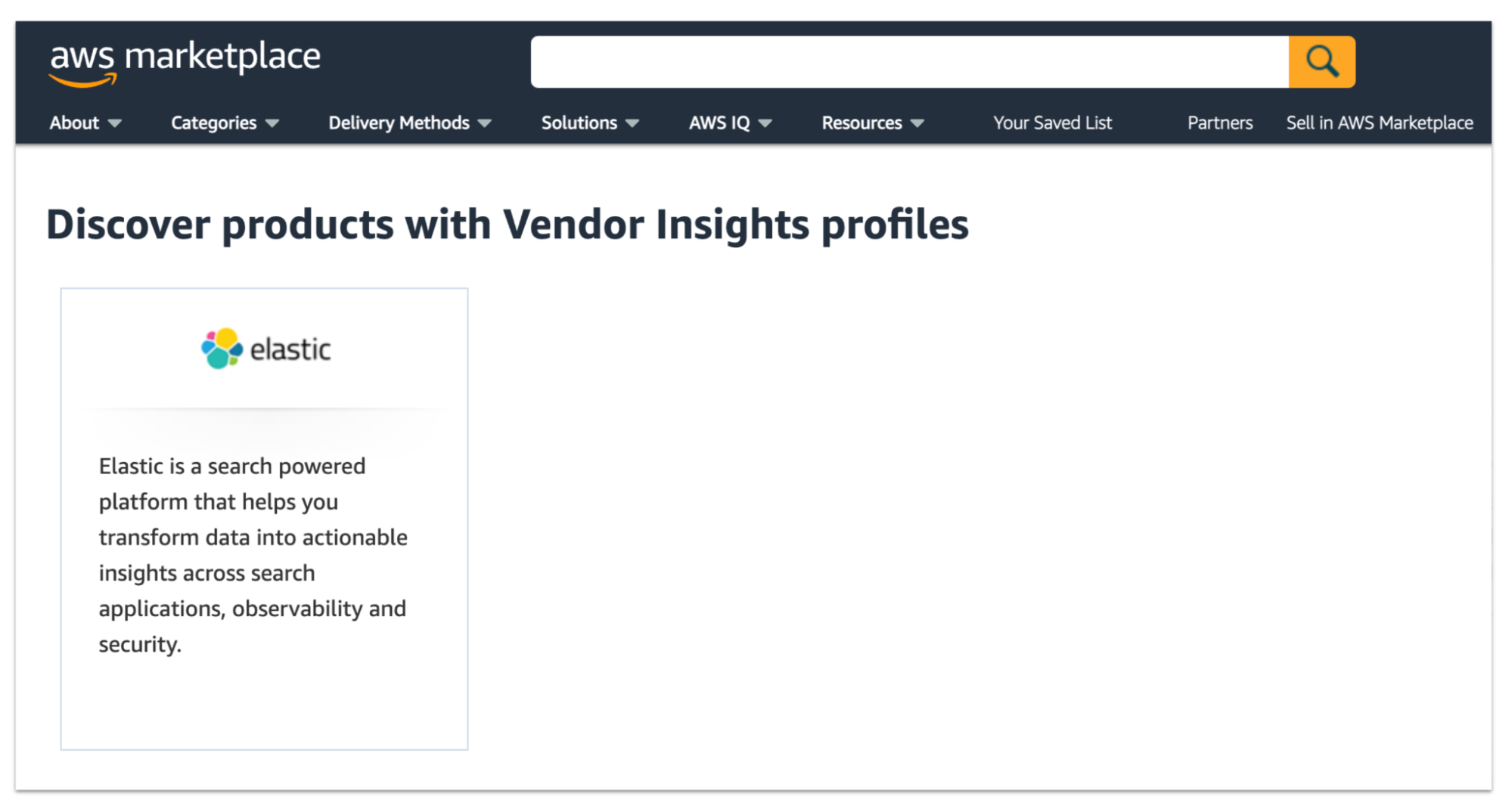 Alternatively, you can search for Elastic by clicking on the View more products with Vendor Insights profiles button.
Once you're on the Elastic listing, click on the "View assessment data" button on the top right to get access to the Elastic security and compliance profile using your login credentials.

This will bring you to the overview screen. Simply click on the "Request access" button on the top right to get all the Vendor Insights data available for Elastic. And, voila, you're ready to go!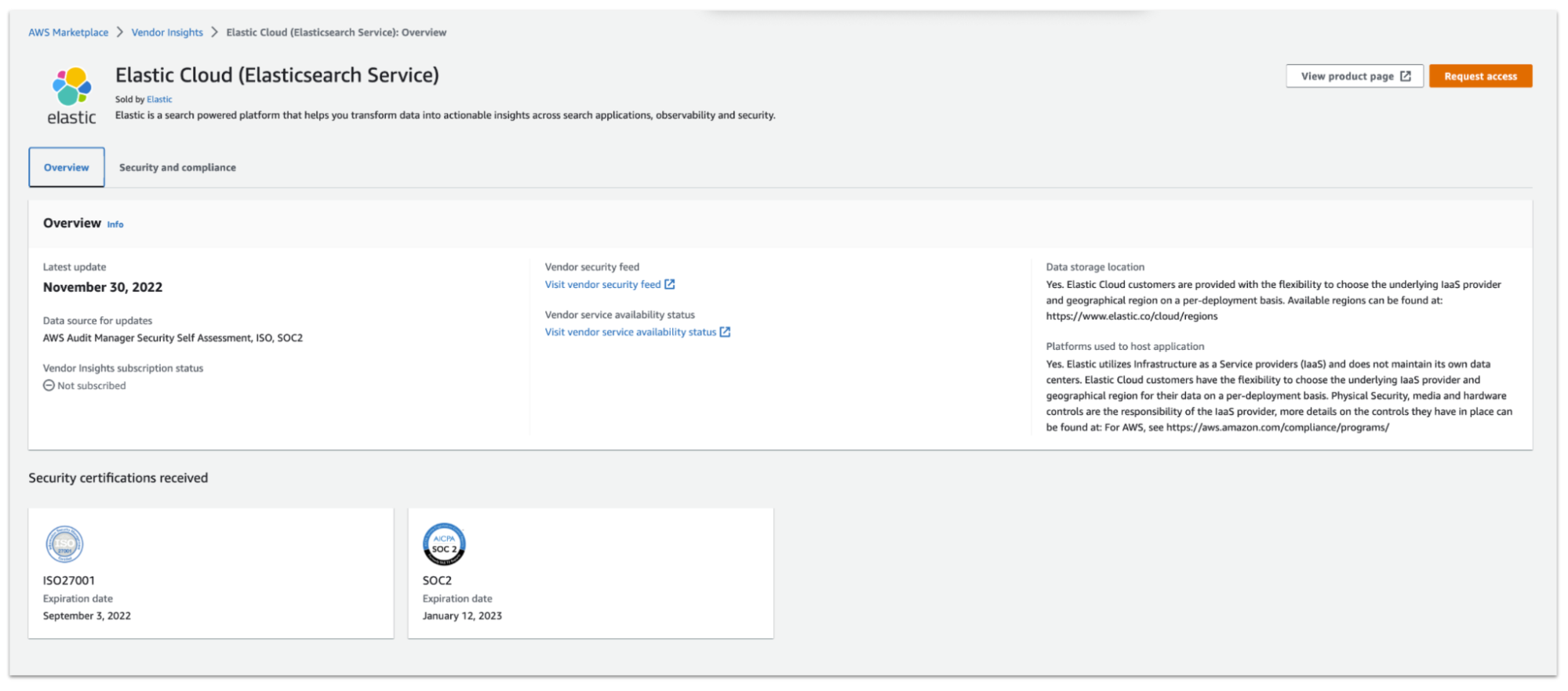 Try Vendor Insights today
Use Vendor Insights to simplify your Elastic Cloud review today. Or, start your own 7-day free trial by signing up via AWS Marketplace and quickly spin up a deployment in minutes on any of the Elastic Cloud regions on AWS around the world. Your AWS Marketplace purchase of Elastic will be included in your monthly consolidated billing statement and will draw against your committed spend with AWS.

The release and timing of any features or functionality described in this post remain at Elastic's sole discretion. Any features or functionality not currently available may not be delivered on time or at all.