We all want to work for a company where we fit in. That's why Elastic built a Source Code that encourages all to come as they are. In this Pride blog series, we highlight LGBTQIA+ Elasticians who have a unique story — one, perhaps, just as unique as yours.
Brittany Joiner, a demand generation associate turned frontend developer, says: "You can bring your whole self to Elastic, whether that involves a career transition or feeling comfortable sharing your story with colleagues." 
How did Elastic give you opportunities to pursue your career goals?
I studied marketing, and I had always figured I wanted to work in marketing ... but the whole time, I wondered if I could do programming. I found a demand generation role at Elastic, which was exactly the type of marketing role I wanted. I said yes to Elastic because of the strong developer community and hoped that as I learned programming on the side, I could pivot my career and move into an engineering role.
I entered the engineering team's peer-to-peer mentorship program, which provides a way to build career development relationships with people outside of our immediate teams. I was connected with an engineer on the APM UI team and started working with him on some Kibana APM issues. I learned a lot from him, as he taught me how to work on a team of developers and understand pull requests and code reviews, and familiarized me with frontend concepts as we both applied them to Kibana improvements. He even helped me with my projects and homework in my bootcamp. 
A couple of months later, I saw a presentation about the custom internal apps our IT department was building for the customer support team at Elastic. I reached out to the presenter and explained that I was interested in frontend development and wanted to know how to get involved. They invited me to help out with the team and become another contributor as I continued to learn frontend development. Several team members spent a lot of time helping me grow as a developer by walking me through issues, pair programming to explain concepts, helping me not just "write the code" but actually understand what we were doing, and even talking me through how to think like a developer. To learn frontend development, I followed tutorials online, read books, and completed exercises on sites like freeCodeCamp. I also created some of my own projects like a Scavenger Hunt app for my mom's birthday, a drink recipe generator, and a currency converter built on Elastic's UI, as well as completed a Front End bootcamp with AltCademy — and eventually got offered a full-time position to work on the team. I start my new role this summer.
My managers at Elastic have been very supportive and wanted me to be my full self and pursue a fulfilling career while keeping me in the company, even if that meant me taking an engineering role. They helped me prioritize my time and distribute work within our team so I could thrive in my new job as a frontend developer.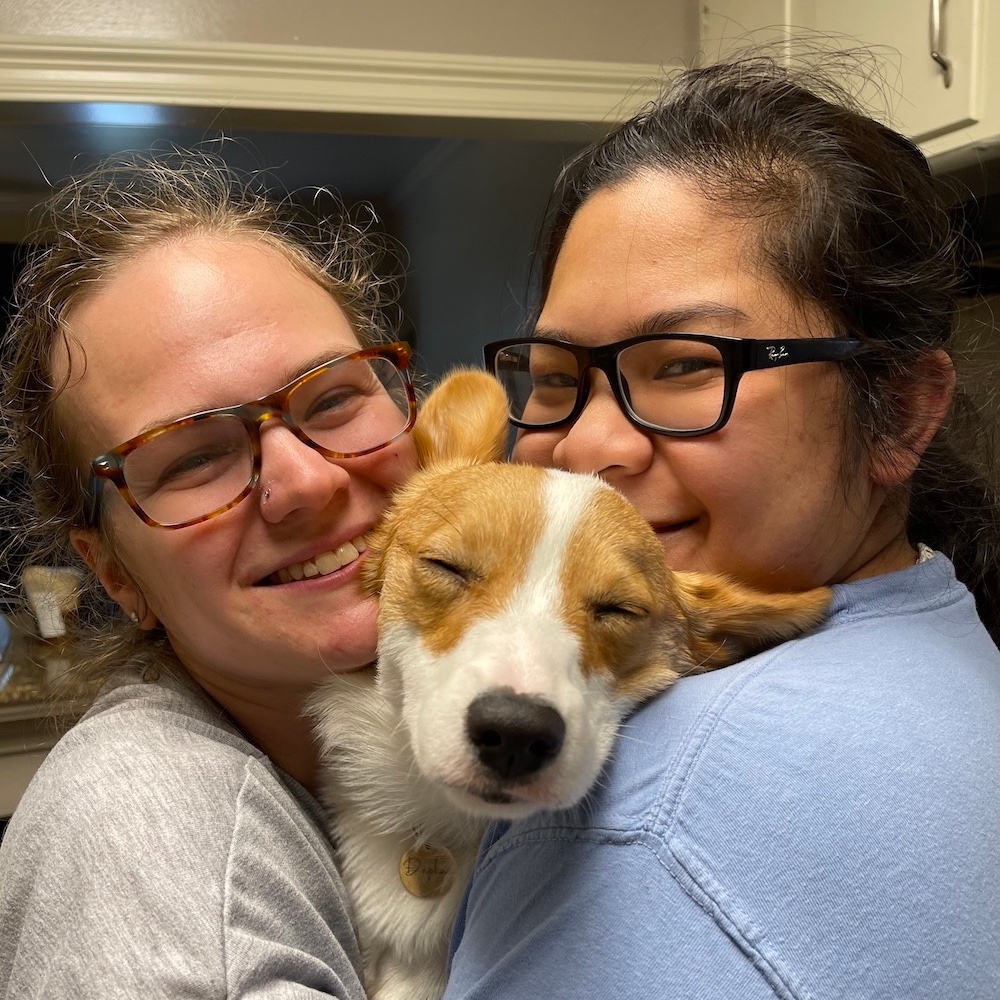 Brittany enjoys spending free time with her girlfriend and the important animals in their lives, like their dog-niece, Daphne.
You recently came out at work as part of the LGBTQIA+ community. Similar to how you found support with your career path, how have you felt supported to bring your full self to work at Elastic?
I was previously married to a man, so my coming out story came with a divorce. There was no big announcement, and I specifically chose not to change my name after the divorce because I didn't want to have to come out to my coworkers in that way. I wasn't ashamed of who I am, but I didn't want conversations to be forced. I wanted to be able to control when that conversation took place.
Being gay wasn't something I necessarily expected to find support for at work, but it's been nice knowing that I'm not alone. It's been a slow thing where I've pulled aside some of my coworkers who have become really good friends and told them, and because of that it's come up organically and I can come out on my own terms, which I found very helpful. 
Seeing different people's stories and the fact that we care about people and celebrate Pride Month makes it easier to reach out to people and say, "Hey, we have something in common."
Everyone has been really supportive. You can bring your whole self to Elastic, whether that involves a career transition or feeling comfortable sharing your story with colleagues. It's been very helpful to have a supportive family, friends, and job. I don't take that for granted, because I know a lot of people don't have that option with their family, or their friends, or their work environment.
What advice would you give to someone who might be dealing with a situation similar to yours?
Do it at your own pace. This time last year, I wasn't ready to be on a company-wide blog post. There are a lot of people at Elastic who don't know that I'm gay, but I'm not worried about what people will think and I haven't had any negative comments thus far. Here at Elastic, it's as simple as me telling people that I dyed my hair.
Are you interested in joining a company with a source code to live by? We're hiring. Check out our open roles today!