Software engineers cite constant distractions, long commute times, and a lack of flexibility as the biggest challenges of working in an office setting, according to an internal employee survey conducted by the Elastic Culture team. But the survey also revealed that the biggest benefits of a distributed environment could be the new opportunities it opens for employees — for example, the freedom to catch some waves during the workday.
As Elastic offices slowly begin to reopen worldwide in accordance with local guidelines, we asked our Engineering and Product teams why they value being able to work for a company that's distributed by intention — whether they work in an office, a shared workspace, or from home. 
You can improve your physical and mental health
Of the Elasticians we surveyed, 33% identified constant distractions as the top challenge of being required to work in an office environment, while 25% identified long commute times. It's clear that these challenges can take a toll on our physical and mental health, and that a balanced distributed working environment can help foster healthier working styles.
For Gil-ad Gal, a senior product manager on the Elasticsearch engineering team based in EMEA, the benefits of working from home have extended from physical health to improved mood and personal relationships. 
"My relationship with family and friends improved, simply because I can exchange a few words with them when I'm taking a break," Gil-ad says. "My health has improved because I'm not catching the occasional cold at work. I use roughly the same time I used for commuting to work to do sport, and that has had a positive impact on my mood."
Having more flexibility to create a personalized working environment can also translate into health benefits. Pierre Ernst, an engineer working on Elastic Cloud in AMER, found that incorporating exercise into his work routine has increased his fitness level tremendously. He's even made a stationary bike part of his work setup so he can get a workout in during a team meeting or while working through daily tasks.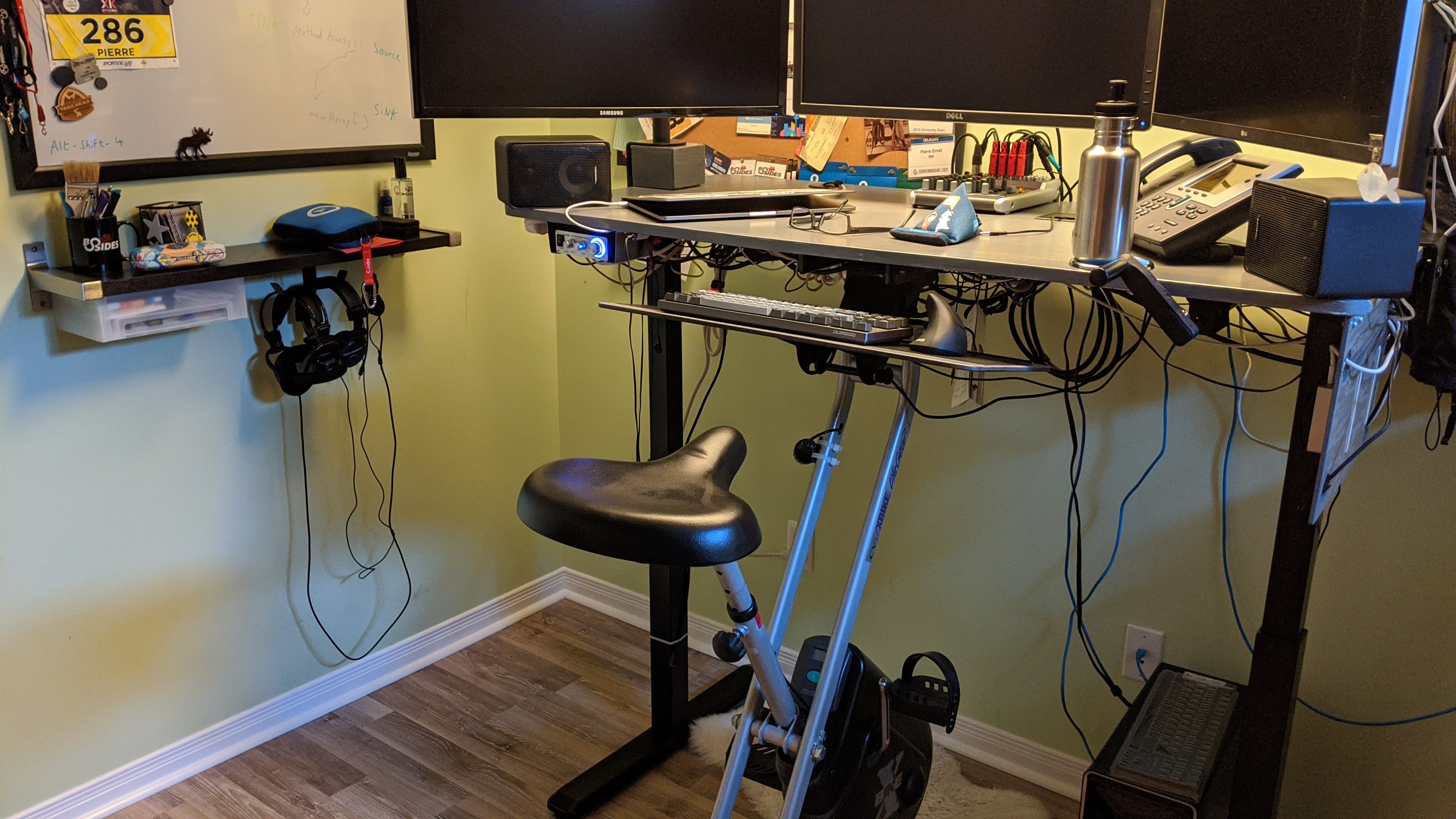 Pierre's work setup
Zacqary Xeper, a senior software engineer on the Observability team in AMER, values the dignity and security Elastic's working style provides for managing his mental health. "There is no burden of having to weigh the social costs of saying 'I can't come into the office today' if my social anxiety is flaring up," Zacqary says. "It ends up being a lifesaver."
You can find a (distributed) community at work
Despite being scattered across different continents and time zones, several Elasticians reported feeling a strong sense of community at work.
Imma Valls, a senior support engineer based in EMEA, points to the "ability to collaborate with colleagues from other teams around the world, and learn from so many folks from different backgrounds" as one of the biggest unexpected benefits of working for a distributed company. 
Christoph Buescher, a senior software engineer on the Elasticsearch team in EMEA, adds: "I feel more connected to what is going on around the world through my colleagues everywhere."
You can make more time for what's important to you — no matter what that is
Not surprisingly, 30% of the employees we surveyed cited not having to commute to work as the top benefit of working for a company that's distributed by design. And with the flexibility to work from home, Elasticians have been able to devote some of that reclaimed time to a surprising range of areas, from kids and pets to coffee and surfing.
"Being able to see my kids when they get home from school is a huge plus," says William Chaparro, Senior Manager of Engineering for Elasticsearch, who is based in AMER. "Being able to hang out with my dogs and take them for a walk in the middle of the day. Being able to move with my laptop to other areas of my house, and especially being able to sit outside and work. Getting back that commute time that I can use to start working, or use it to have breakfast with my kids. Another benefit? Drinking my own good homemade coffee."
Working for Elastic has allowed Christos Markou, software engineer on the Observability team in EMEA, to bring his work life and hobbies together — and it's worked remarkably well. 
"Surfing is more than a sport; it is a way of life. You need to move around frequently and be at the right place at the right time to make the most out of the weather conditions. At Elastic, I have the freedom to move around and work from anywhere. The only thing I need is my laptop. This gives me the opportunity to always be close when the right conditions occur and catch waves," says Christos.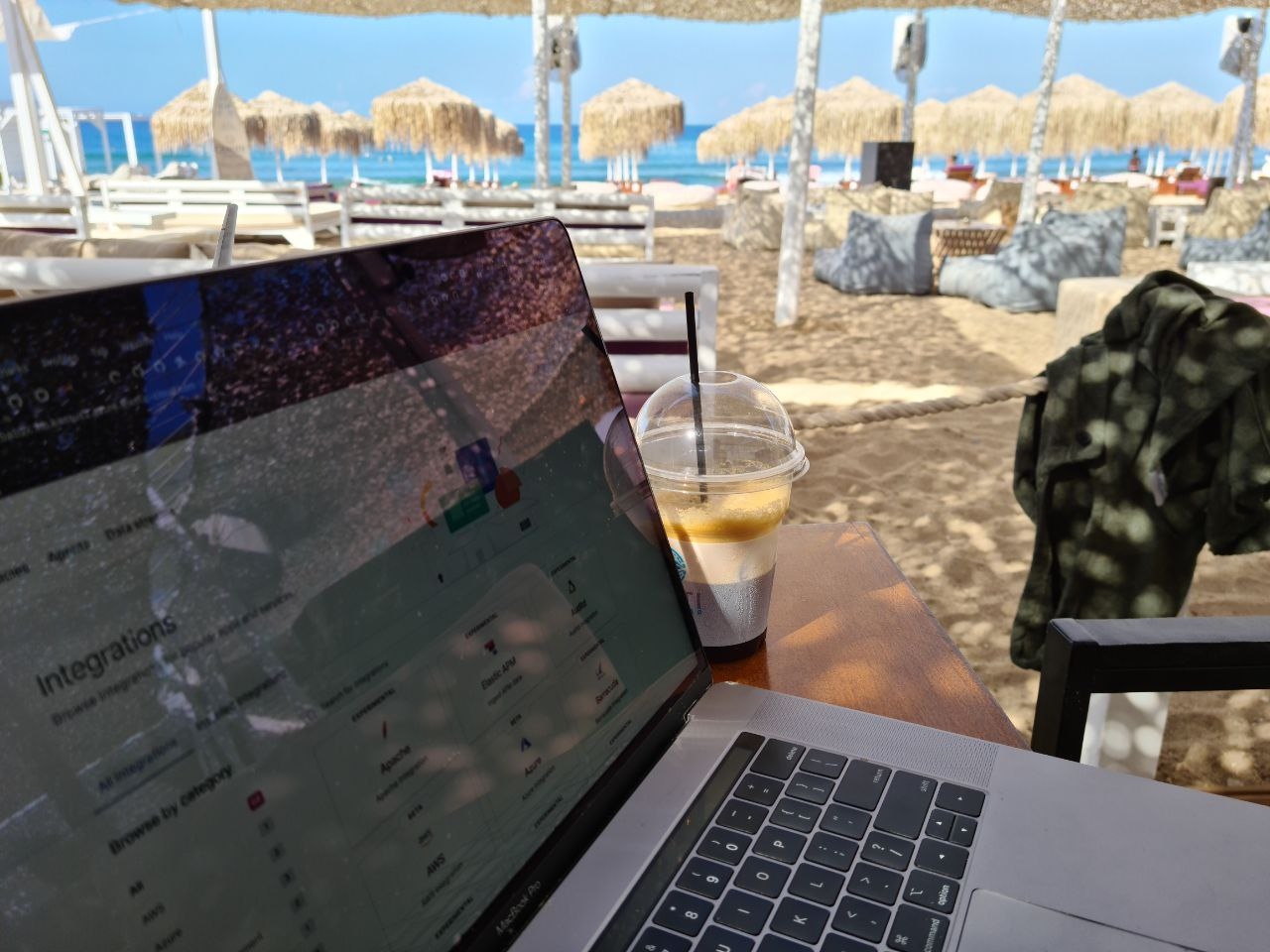 Christos's beach work setup
We're all equals here
Finally, with the rise of hybrid working styles, employees who don't regularly work in an office can often feel left out. But a number of Elasticians say that hasn't been their experience at Elastic. 
Robert Monfera, principal engineer of Data Visualization based in EMEA, says that Elastic's approach to distributed work sets the company apart. "Distributed work is superior to what's called 'remote work.' The term 'remote' often implies a power imbalance between an office and the 'periphery' that reduces the voice of folks who can't or don't want to live in a specific city, or wish to avoid the time and environmental impact of commuting," Robert says. "I thought my previous remote work experiences were great — until I got to know Elastic more during the interviews and since joining the team."
Stacey King Poling, a director of engineering for Elastic Cloud in AMER, agrees that working remotely isn't the same in all companies. At Elastic, Stacey says, "the focus on being distributed is fully supported and appreciated, which leads to incredible productivity — with no negative impact to career growth. This really puts Elastic in a class of its own. At this stage in my career, I wouldn't want to be anywhere else."
Interested in joining Elastic? We're hiring. Check out our teams and find the right career for you! Want to read more about life at Elastic? Read more on our blog!