Elastic Training FAQ
Answers to all your Elastic Training questions
Elastic offers training courses worldwide in two modalities, virtual instructor-led courses and on-demand for a self-paced experience.
For full detailed course information (topics, duration, prerequisites, etc.) and the upcoming class schedule (day/time, city, etc.), please visit each course on our course catalog page below. For a list of all upcoming classes, please see our course schedule.
We are consolidating Elasticsearch Engineer 1 and 2 into a single three-day course focused on managing a cluster in an Elastic Cloud deployment. 
Many topics from Engineer 1 and 2 will remain in the new course. We are also adding several new concepts, such as data streams and searchable snapshots, and removing  topics which have been simplified by Elastic Cloud, such as installation and shard allocation.
These changes may impact your learning journey. Please carefully review the chart below to determine your next step.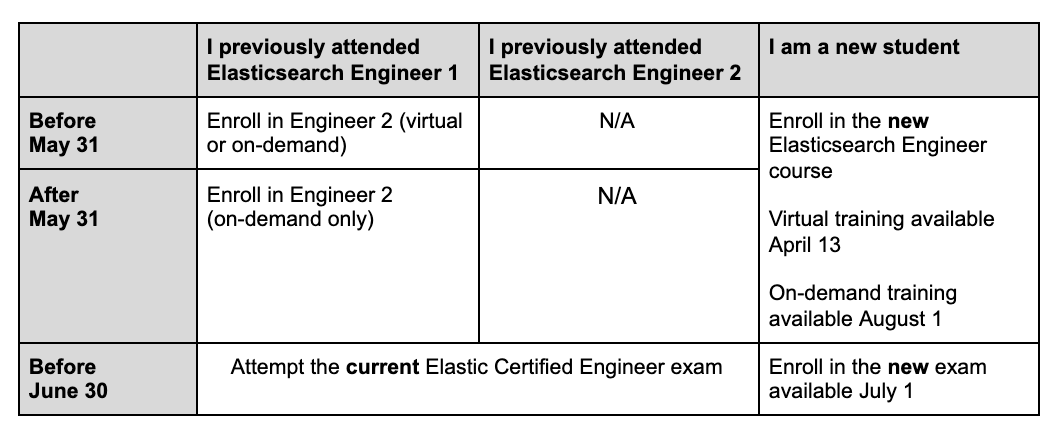 We are excited to bring you this new curriculum. Please visit the Certification FAQ page to learn more  or visit elastic.co/training to enroll in your next class. If you are currently enrolled in Elasticsearch Engineer 1 &  2 please note you will have ample time to complete your learning path and certification exam before these changes are released.

Virtual trainings are live instructor-led training courses that take place virtually on your laptop/computer with the use of advanced learning technologies. No travel is required and you can complete virtual training from the convenience of your home or office and existing internet connection.
On-Demand trainings are self-paced training courses that combine recorded lectures and live lab exercises. Students can take control of their own learning at a time and place that suits them.
An Elastic Cloud account is required to access the new training portal. Create an account with your current training portal email address to get started. If you already have an Elastic Cloud account, you can use your existing Elastic Cloud credentials to access the new training portal.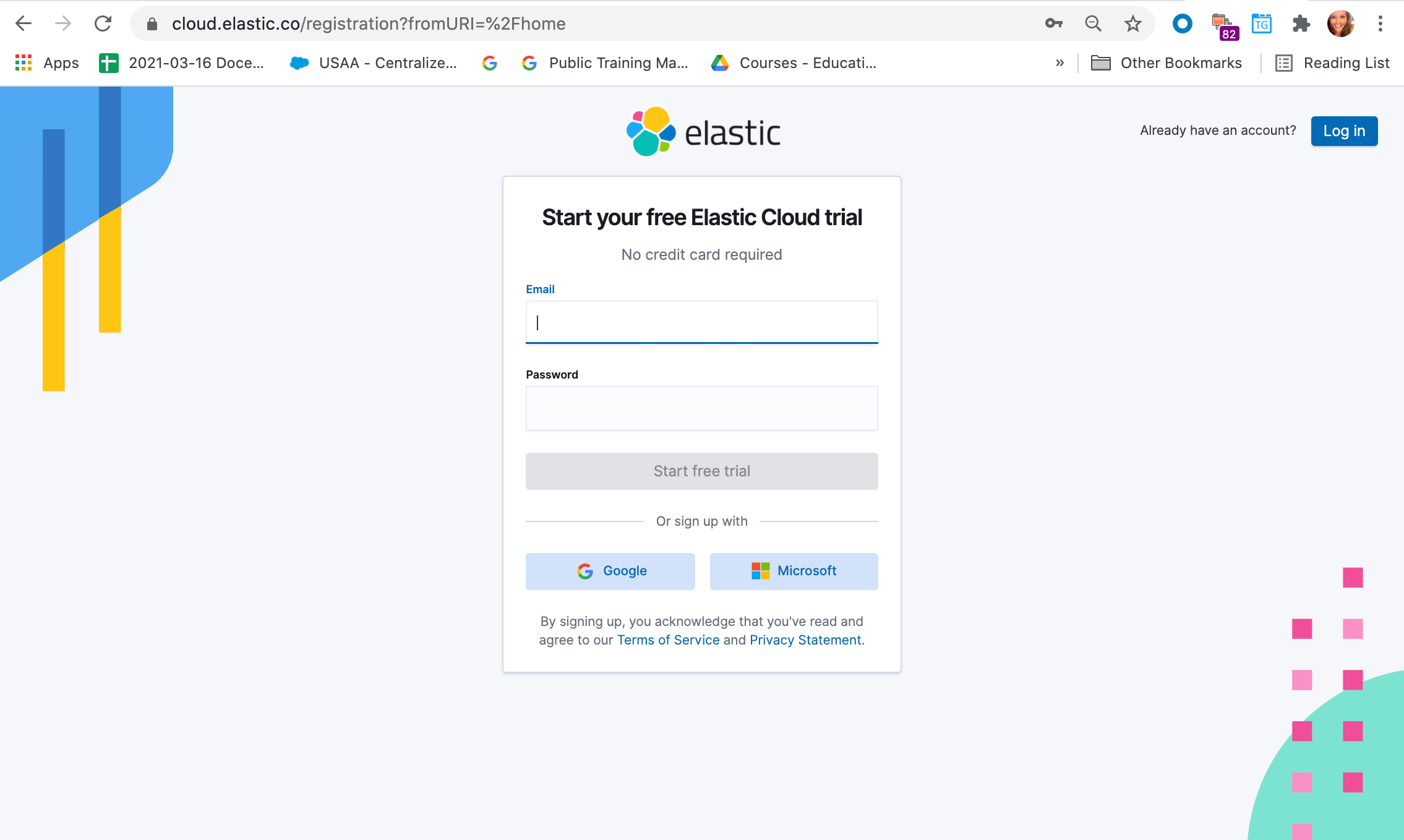 Note:  If you are signed into https://cloud.elastic.co/home please log out prior to making a new purchase. You will be able to log in again during the check-out process
Visit the training catalog.
Find your preferred training course, location, and dates and then click Add to cart next to that offering.
Continue through the purchase workflow, and when prompted, log in or create a new account using Sign Up.

Provide your billing information.

If you are purchasing on behalf of someone else, enter the first name, last name and email address of each participant. Click Save All Participants and continue through the checkout process.
Choose a payment method (either Credit Card or PO number). The second option means you will be paying with the bank transfer.
Click Confirm Order to complete the checkout process.
Each participant will receive an enrollment confirmation email within minutes.
You will receive an automatically generated payment receipt (Credit Card) or invoice with payment details (bank transfer).
Please make the payment in full prior to the start date of the course to guarantee attendance eligibility.
For payments with a purchase order (PO), a wire transfer is required.  Once your order has been successfully submitted, an invoice with Elastic banking details will be sent in order to transfer the funds. 
Payment is due 5 business days prior to the start class in order to confirm your registration. For example, if your class begins on a Monday, payment must be submitted by the Thursday prior. Enquires about invoices, payments, and other billing related matters should be addressed to billing@elastic.co.
Inquiries about invoices, payments, and other billing related matters should be addressed to billing@elastic.co and please provide your order number. 
An email will be sent to the address you used to register. Click on the verification link to confirm your account.
After creating a new account, you will receive an email with the subject Please verify your email address. Click the Verify and Accept link in this email to confirm and activate your account. This step is required for all new accounts.
You will receive a confirmation of enrollment right after the registration (payment) is complete. Additionally, you will receive email reminders and logistical information prior to the start of the class. At any time, you can log into https://learn.elastic.co to view your class information.
If you submitted your order and completed the payment but you have not received any emails and/or you cannot locate the enrollment in your Learner Dashboard, please contact us at training@elastic.co.

Sometimes your financial/procurement department requires you to use a Purchase Order number in order to authorize payment via wire transfer from your company to Elastic.
A purchase order number shall be requested from your organization, Elastic does not participate in that process. Please contact billing@elastic.co if you need to set up Elastic as a vendor.
Once you have a Purchase Order you will need this number at checkout in order for your payment to be processed.  An automated invoice will be sent out upon confirmation of your order and payment is due upon receipt.  On-demand courses are not available for POs and can only be purchased via the credit card.

Locate the course(s) you would like to purchase from the training catalog.
After adding the course(s) you would like to purchase to your shopping cart, click the Checkout button on the bottom right of the screen.
After logging in (or creating a new account), click the Save Quote link at the bottom of the screen.
The quote will only include the base price of the course(s) and will exclude any eventual sales taxes. Those will be calculated only upon order placement.
When you are ready to complete the purchase, return to your Saved Quotes page.
Click on the quote you would like to purchase, and proceed through the shopping cart.
Access to your on-demand training is immediately available and can be accessed by logging into the training portal and clicking on the course tile found on your Learner Dashboard.
If your enrollment is confirmed, you should have already received an email confirmation with access details to our training portal. As the first steps, please set up your account, test your portal access and read the section 'Important Virtual Class Information. 
You will receive an email containing logistics and materials 5 days before the class begins. You can also access the course information from the Learner Dashboard in training portal. Reach out to us at training@elastic.co for questions.
---
If you have any policy and/or logistics questions that aren't answered here, please reach out at training@elastic.co.
Cancellations are not allowed. Payments and fees are non-refundable. It is expected that participants review the course descriptions and schedules in advance of purchase.
No refunds, transfers, or postponements will be offered if you do not show up to a class you are enrolled in.

In certain circumstances, transfer of registration is allowed. Please contact training@elastic.co for further assistance.
Yes, you can either transfer your enrollment to another session or another person as long as the currency and entity are the same
Transfer of enrollments must be requested via email at training@elastic.co with notice given at least fourteen  (14) days prior to the start of the course. Please reference our Public Training Terms and Conditions for additional information, Section 10*.
For transfer of enrollment to another person, please provide the new participant's name (first and last) and their email to training@elastic.co.
For transfer of your own enrollment to another session, please provide the course name, date, and location (city and country) to training@elastic.co.
Depending on the situation, transfers across different course locations may not be possible due to different Elastic entity/course currency.
To access your course material, log in to the training portal with your username and password.
Courses you are enrolled in are available right on your Learner Dashboard. Click the tile for the course to see more information, access materials, or launch an on-demand title.
For assistance with your labs please visit our Discuss forum at https://discuss.elastic.co/.
Yes, Elastic Training will provide a certificate of completion once the course is completed. You will receive an email with a link to download your certificate.
Completion certificates can be found by logging into the training portal.  Navigate to the User Menu at the top left, click on My Activities, and click on Courses. All completion certificates will be displayed here by clicking the metal symbol.

---