Elastic Training
Frequently Asked Questions
---
General Information
Elastic Training Courses
Elastic offers training courses worldwide. We deliver instructor-led courses both in a classroom and virtually. We also offer on-demand training courses for a self-paced experience.
You may select to attend trainings in a classroom or virtually or a combination of both. For a full detailed course information (topics, duration, prerequisites, etc.) and the upcoming class schedule (day/time, city, etc.), please visit each course page below. For a list of all upcoming classes, please see our course catalog.
Elastic Certification
Our first certification — Elastic Certified Engineer — is designed for versatile Elasticsearch experts who can install and manage Elasticsearch clusters, as well as develop solutions for analyzing their indexed data. The Elastic Certified Engineer exam is a rigorous, hands-on test with real-world tasks that need to be solved in real time. To prepare you for this challenge, we recommend completing Elasticsearch Engineer I and Elasticsearch Engineer II.
For more information about Elastic certification, please see our Certification FAQ or contact us.
Instructor-Led Training (Classroom and Virtual)
To be respectful of all students time in our classes we do not go over student specific data models and scenarios, but make a best effort to have such discussions during breaks as time permits. We offer consulting services for those who would like to have more in depth one on one consulting of that nature.
Specializations
Master your use case with bite-size, in-depth trainings on highly specific topics. Our Training Specializations are collections of 2-3 hour training modules (courses) that focus on important Elastic Stack skills. Every module covers a different topic within the overall Specialization, but each can be taken independently of the others. So take the modules that are most applicable to your use case, and save the ones you don't need (yet) for later.
Elasticsearch Advanced Search
Data Science
Logging
Security Analytics
Metrics
APM (Application Performance Monitoring)
Elastic Stack Management
ECE Fundamentals - In this on-demand training, learn the fundamental skills for installing and administering Elastic Cloud Enterprise (ECE) on hardware and environments outside of Elastic Cloud. It explores the architecture of ECE, as well as its interfaces and features.
Installing and Scaling ECE - In this on-demand training, learn the steps and considerations for scaling ECE for your use case and environment, like planning an installation, adding instances and availability zones to your infrastructure, and more.
Fundamentals of Securing Elasticsearch - In this on-demand training, learn to secure your Elasticsearch clusters with features like RBAC, node-to-node encryption, IP filtering, HTTPS between Elastic Stack products (Kibana, Beats, and Logstash), and more.
Don't see the course or specialization you want? Tell us which uses cases and functionality you want to learn more about.
On-Demand Training
Specialization Fundamentals - Each Specialization (listed above) contains courses that are offered on-demand in a self-paced environment.
All on-demand training courses are available for 90 days after purchase. The expiration date will be outlined on your purchase confirmation.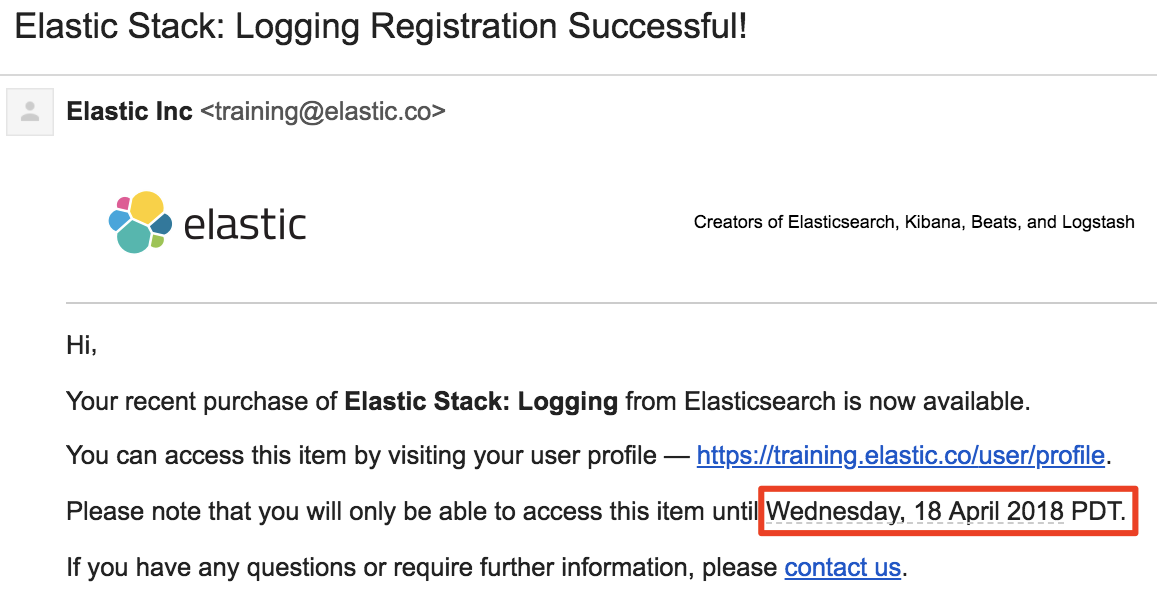 If for any reason you encounter any technical difficulties, please email training@elastic.co with the course name and the nature of your issue.
Private Training
All of our courses are available for private training, either on-site anywhere in the world or online in a virtual classroom.
To request a private training, please complete our Private Training inquiry form.
Let us know which of our courses you're interested in, as well as a few more details:
Classroom or Virtual
Preferred training location (Classroom) or time zone (Virtual)
Approximate month/year for training (no less than 60 days away)
Number of attendees
Audience (ex: engineers, sysadmins, DevOps, etc.)
Subscriptions
An Elastic Online Annual Training Subscription gives each named student access to all of our online instructor-led virtual trainings and self-paced, on-demand courses. This includes all existing courses as well as any new courses added during the subscription term. Subscriptions are valid for 365 days and include access to the following.
For more information about subscriptions, please see our Online Annual Training Subscription page.
Pricing and Discounts
Please visit our course catalog for pricing in different locations and currencies. We accept payment by credit card or purchase order.
Elastic is not able to accept payments from government agencies or other entities issuing training credits at this time in order to pay for training. Companies must submit payment either via purchase order or credit card to secure their seats in our training and once they received an invoice they have been reimbursed by their government agency directly.
Early bird discounts are available during the first two weeks after initial release of our monthly schedule calendar. Additional discounts might be available on our website per course and will be outlined on our course catalog.
Seat(s) must be purchased under the same order to reflect the correct bundle discounts and shall be purchased with the same currency.
Instructor-led Trainings are priced:
1-day classroom/2-day virtual courses are priced at $800.00 dollars.
2-day classroom/4-day virtual courses are priced at $1,600.00 dollars.
On-demand training is priced at $400.00 per day.
Training Specialization (module) is priced at $200.00 per course.
Volume discounts for classroom trainings are automatically applied during the purchasing process.
Current promotions:
Private Training + Certification — Purchase 4 days of private training by July 31, 2019, and receive a free certification attempt per student.
If you do not see your discount please contact us at training@elastic.co before proceeding with your order and payment.
---
Registration and Payment
Login Information
The Elastic Training department uses an online automated system for all registrations. This system allows you to purchase and register for courses 24/7.
In order to sign up to our training, you are required to create an account in our system by selecting "Sign Up" at https://training.elastic.co/login.html.
Returning customers may login at the bottom of the page under the Login section.
*Important* Do not create duplicate accounts with different email addresses, as you will not be able to see your history.
If you create a duplicate account under a different email address, please contact us at training@elastic.co, and we will assist you with merging your accounts. Please let us know which email address you wish to keep in use.
For future use, your dedicated username and password, will allow you to make additional purchases, change your personal information, retrieve training materials, and logistics information for the courses you are enrolled in.
To reset your password via the training login page, click on "Forgot your password?".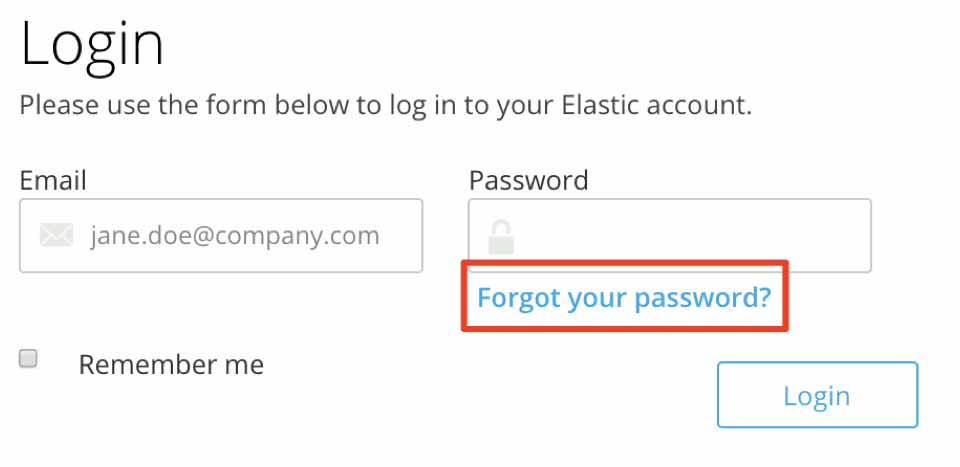 You can use this form to set or reset your password. To get started, enter your email address below and click on the 'Send My Code' button (unless already sent). We will then generate a special code and send it to you by email. Once you get this code, enter it in the 'Code' field below in order to reset your password.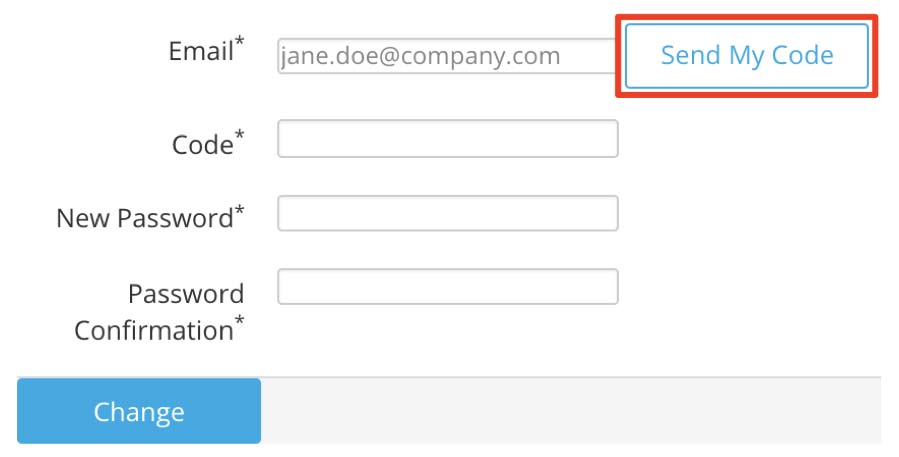 For further account assistance, please email training@elastic.co.
Email Verification
If your email address has not been verified, the main dashboard will display a resend verification email.

Click on Resend Verificationand you will receive an email invitation with the link for verification.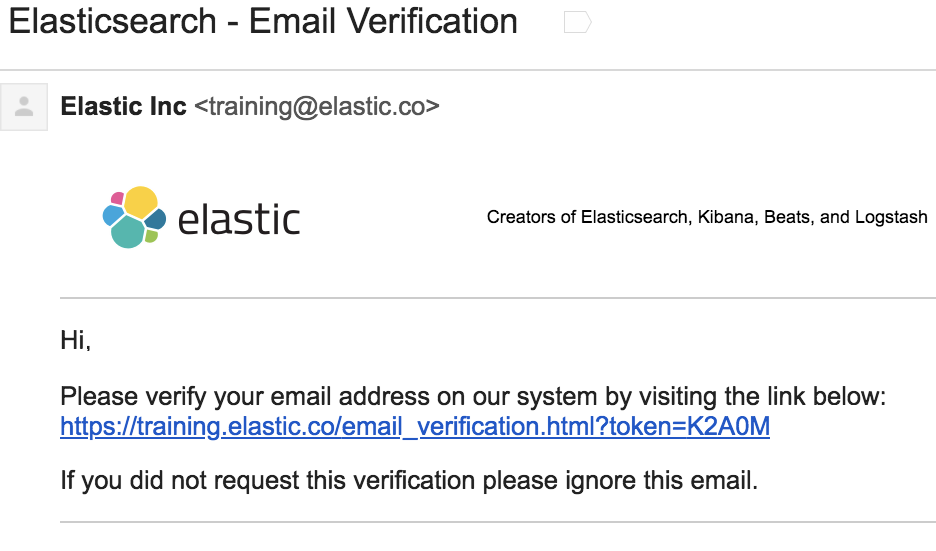 A confirmation will be displayed on the dashboard upon completion.

Purchasing and Enrollment Confirmations
All registrations must be processed via our website at training.elastic.co.
You may select to create a user account now, before, or during the checkout process.
From the catalog, select the trainings you wish to purchase. To enroll for another course, you may select "continue shopping", or if you like to add another participant, please select "add another participant."
*Important* if you are registering on behalf of someone else:
You must enter each participant unique email address during the registration process.
The order confirmation will be sent to you and not the participant attending the training.
Registration confirmations will be sent to each participant.
The system will create a user account by participant email address. Each participant will receive a registration confirmation with the course name, date, time and location and other logistic information before attending the course. To complete your order, please proceed to checkout. Payments are available with either credit cards or purchase orders. Order and registration confirmations are automatically emailed.
Order Confirmation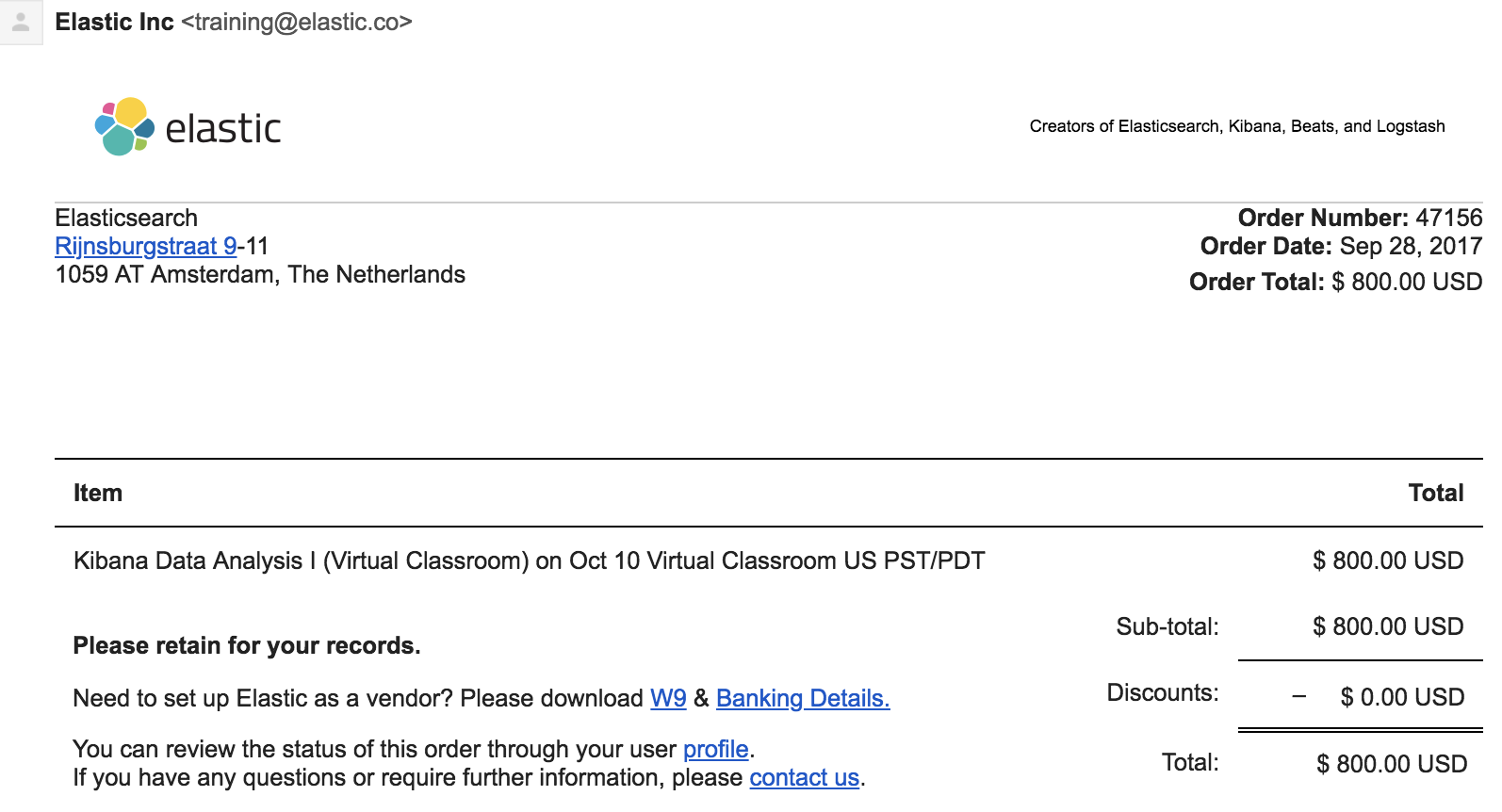 Registration Confirmation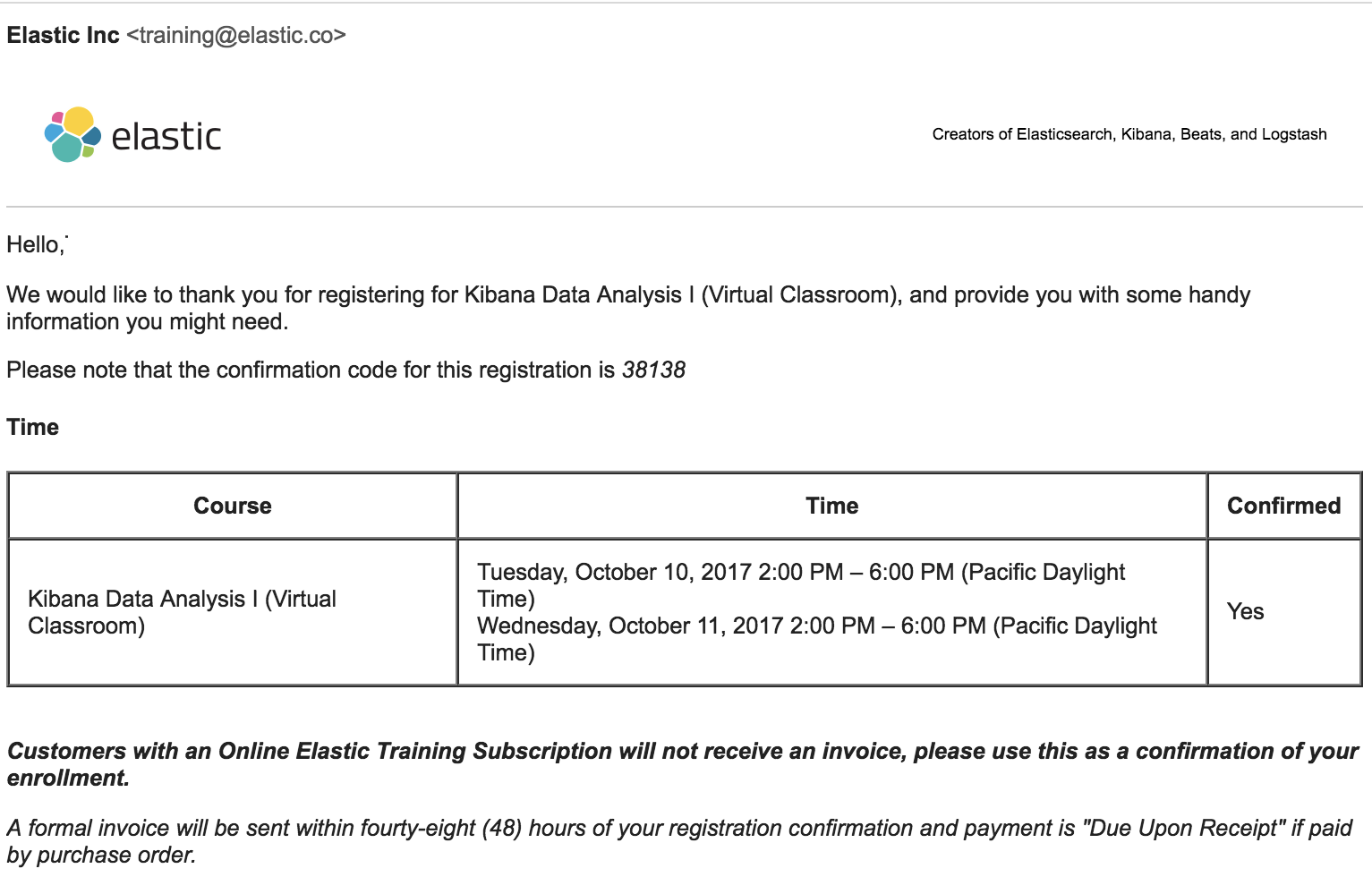 Please keep these documents for future reference as they contain important information. A copy of all confirmations can be obtained in your inbox when you log into training.elastic.co.

Payment by Credit Card
We accept credit card payment, including VISA, MasterCard, and American Express.

If your credit card is declined:
Contact your credit card company to verify your credit limit has not been exceeded
For your security, credit/debit cards with pin numbers are not accepted. Contact your credit card company to remove this pin if you wish to use your credit/debit card.
Payment by Purchase Order
We understand that procuring a purchase order number may take some time. That said, Elastic requires payment by purchase order are received no later than the Thursday prior to the start of the course in order to confirm your seat.
Please register through training.elastic.co. During the checkout process enter your purchase order number. If you need to create a quote in order to procure a purchase order prior to to submitting your order please follow the instructions under Quote & Order Process available on this FAQ page.
Once you have submitted your order, an order and registration confirmation number will be sent automatically. A formal invoice will be sent within two business days of your registration confirmation to the billing address and email provided.
You must send a copy of your purchase order with your order confirmation number to orders@elastic.co no later than the Thursday prior to the start of the course. Once payment is received your seats are confirmed.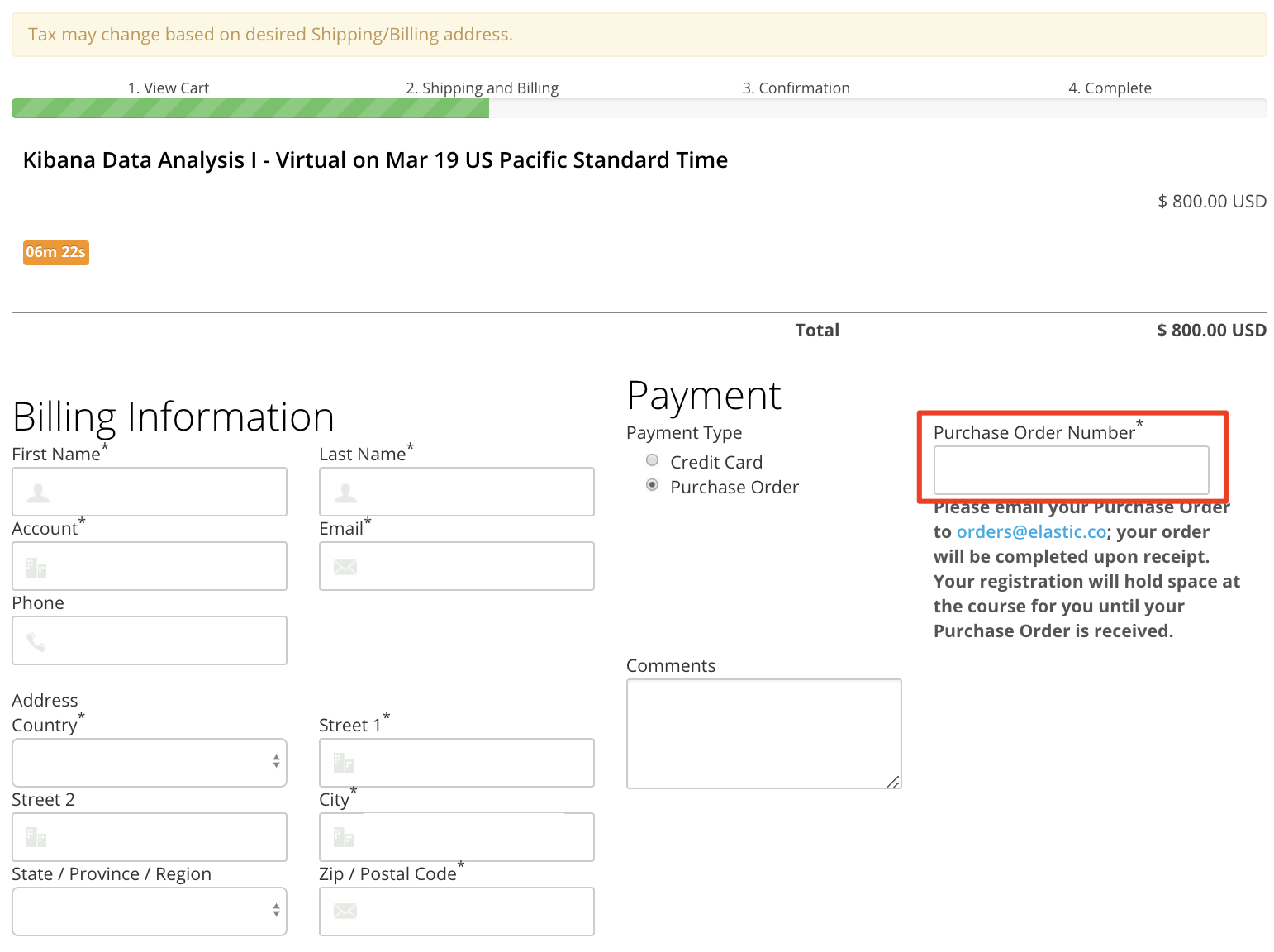 Vendor & Invoice Information
If your company or procurement department requires a vendor form or bank information prior to submitting an order please submit your request to billing@elastic.co.
All purchases automatically receive an order number and confirmation email.
If you submitted payment with a purchase order:
You will automatically receive an order and registration confirmation number. A formal invoice will be email within 2 business days with your order number, bank payment information and any VAT taxes outlined if applicable for European residents.
If you submitted payment with a credit card:
Your order confirmation message will serve as an invoice. If you need a formal invoice, please email billing@elastic.co with a copy of your order and your order number in the subject line.
Quote & Order Process
You may create a quote by logging into training.elastic.co and adding the seats to the shopping cart and selecting "Save as Quote."

The quote will be saved under your profile, downloaded locally as a PDF, and you also be sent a copy via email of your Quotation and email confirmation which should be used by your purchasing department in order to issue a Purchase Order or receive management approval before purchasing seats.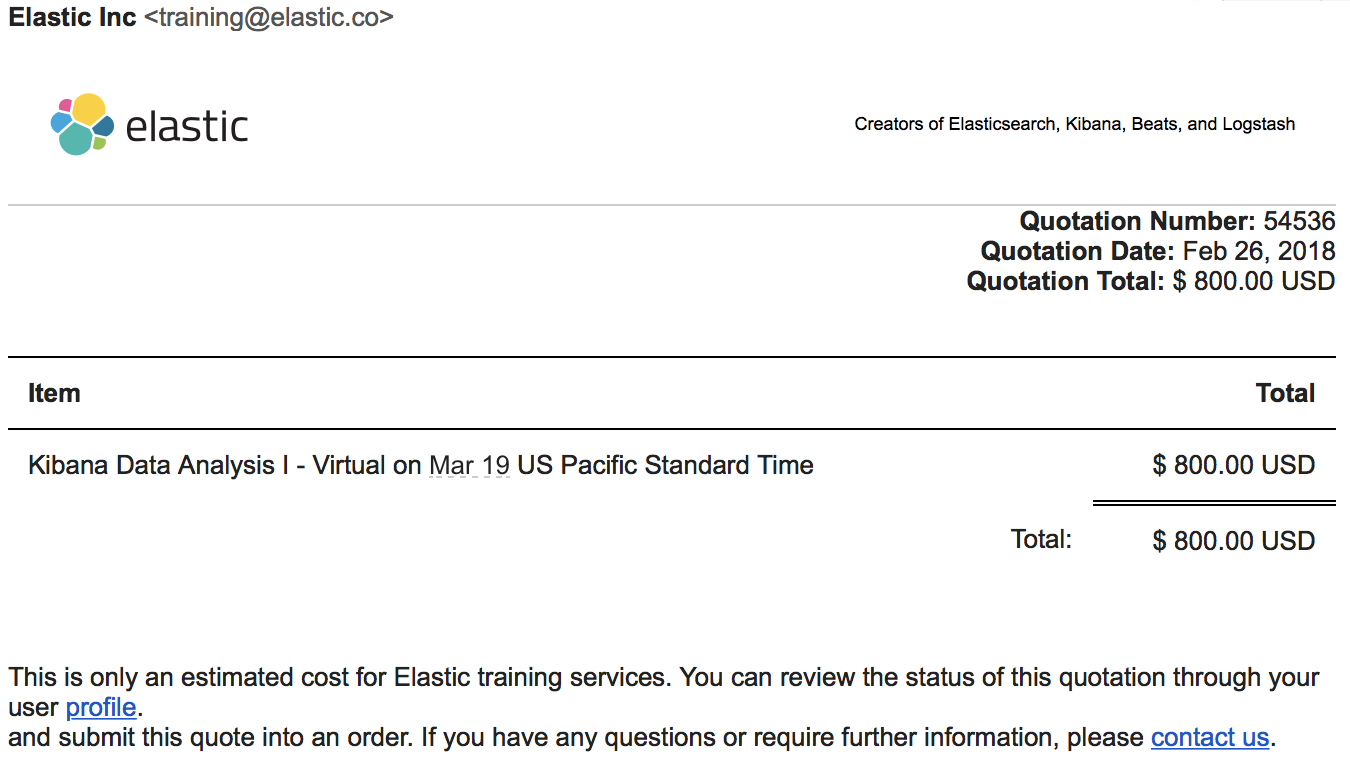 *Important* A quote DOES NOT confirm or reserve seat(s) in a training course. You must process your quote into an order and submit payment for seats to be confirmed and allocated in a training course by the Thursday prior to the start of the course.
When you are ready to pay for the seats, login to training.elastic.co or click on the link in your quote confirmation email and process your quote into an order. Your quote will be saved under your profile. Click on the Shopping Cart icon on the top right hand corner and then select "View Quotes."

Select the quote and click on "Pay Quote." This will return your items back to the shopping cart and you will be able to process your quote into an order to confirm your seat(s).
*Important* Prices are valid for 30 days.
All seats need to be processed with a unique email address per participant in order to proceed with the purchasing process.
If a discount is not applied to your quote/order, please contact training@elastic.co for assistance.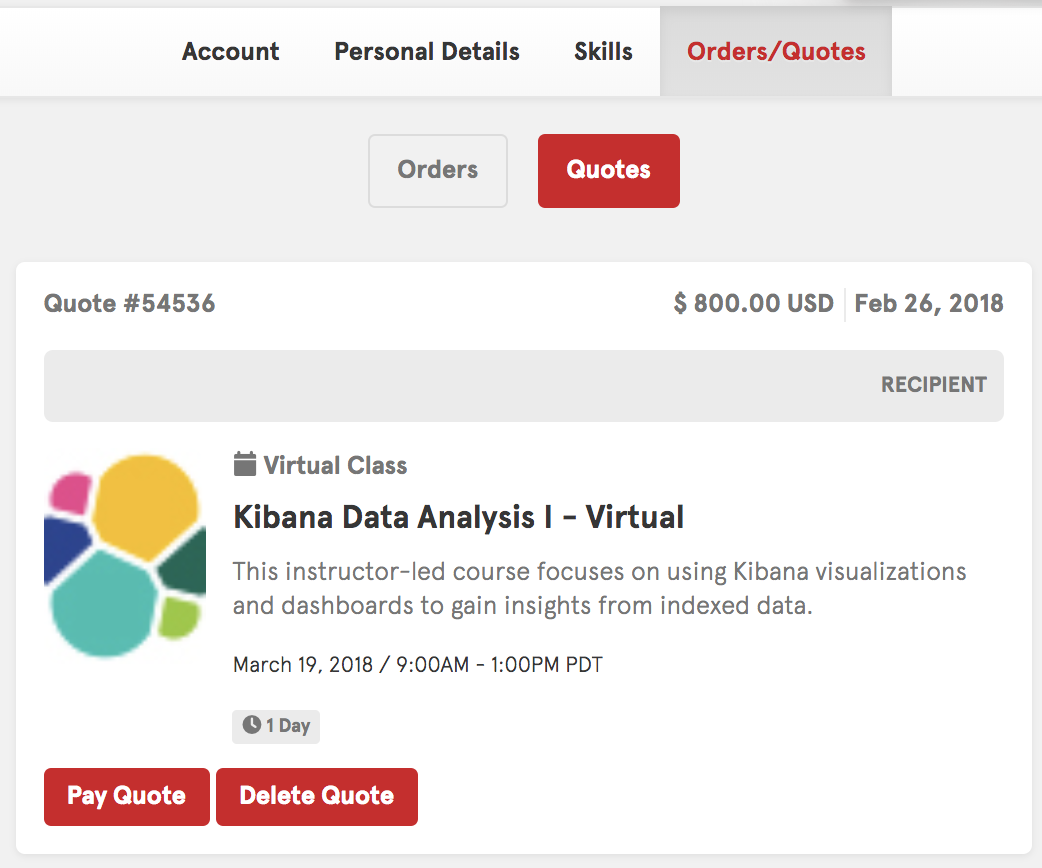 ---
Policies and Logistics
Cancellation Policy
All payments and fees are non-refundable. It is expected that participants review the course descriptions and schedules in advance of purchase or registration.
Registration for all training courses closes two (2) days prior to the start of the class and no further changes will be made.
No-shows for confirmed registrations will not be refunded and are not eligible for transfer or postponement.
Transfer or Postponement of Enrollment
All transfer and postponement of enrollments must be requested via email at training@elastic.co with at least ten (10) business days written notice prior to the start of the course. You can transfer and postpone an enrollment twice within a two-month period. Additional transfers are subject to a full priced seat.
You may transfer your enrollment from any course as long as the currency is the same from your original order. Please contact training@elastic.co if you would like a confirmation on which courses are available and subject to transfer availability.
For transfer of enrollment, please provide participants:
First and last name
Email address of the person replacing you in class
Order number
For postponements, please provide:
Course name
City / State / Country
Date of training you wish to attend
Delivery method (classroom or virtual & timezone)
Course Materials
Participants will receive an email 72 hours prior to the start of the course with detail instructions on how to access/download materials on our training portal. Please check your junk or spam folder if you do not receive this email from training@elastic.co.
Instructor-led course materials will be available for 60 days after class via the training portal. On-demand course material will be available for 90 days from the date of purchase.
Our training materials are for registered Elastic Training attendees only. Please reference the Public Training Agreement in your registration confirmation email.
Accessing Course Materials from the Training Portal Dashboard
To access your course material,log into training.elastic.co with your username and password. (See login instructions above.)
On the main dashboard, navigate to My Learning > Current. From here, you will be able to access the information for all available courses along with their materials.
After your training is completed, you will have the content available for 60 days under My Learning > Completed.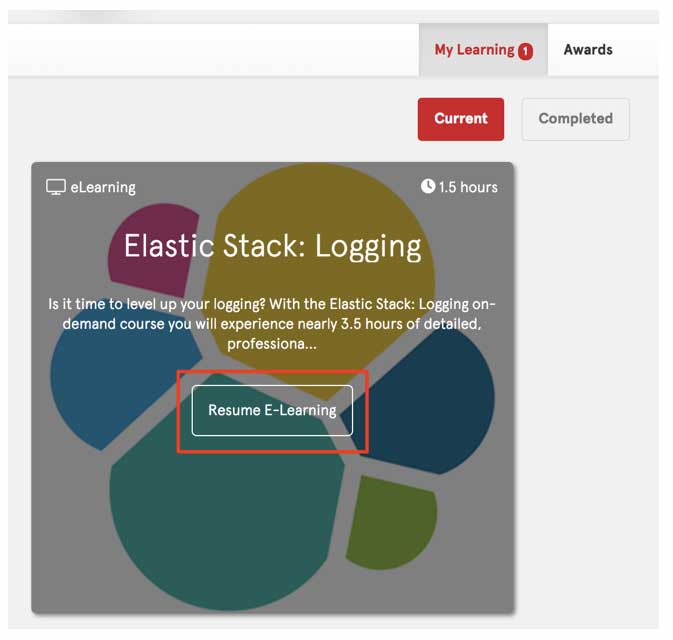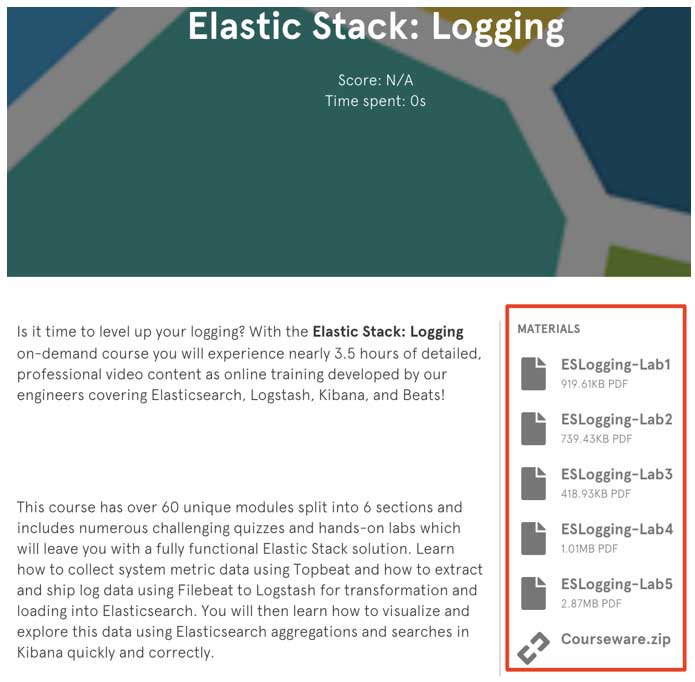 System Requirements
All training courses require students to bring their own laptop.
Course-specific requirements are listed on each course page.
Browser Recommendations
We support the latest versions of Chrome, Firefox, and Internet Explorer (IE). We recommend that students disable any ad-blockers and restart their browser before class. If a student experiences browser issues in class, we recommend they clear their browser cache and cookies, upgrade to the latest version, or using a different supported browser.
On-Demand Training Playback Issues in Firefox
If you are having problems playing content in Firefox but not in Chrome or IE, it may be an issue with the Flash plugin. Please see this Mozilla support article for help resolving the issue. If the issue persists, we recommend using another browser.
Venue Address Information
Once the training location is confirmed, we will send an email notification to all registered participants with the name, address and parking information. Should the city or venue change, participants will be notified approximately 15-20 days prior to the start of the course, if not sooner. We make every effort to find a venue near downtown areas or airports.
Dietary Restrictions
Please send your dietary requirements to training@elastic.co at least five working days prior to the start of your course training to include:
Registration number
Date of training
Location of the training in your request
We provide a vegetarian option for all of trainings.
Certificate of Completion
Elastic Training will provide a certificate of completion once the course is completed. Your instructor will take enrollment at the end of the course, and an automated email will be sent with a link and instructions on how to download your certificate as a PDF file. You can also log into the training portal and go Dashboard > Awards to download a copy.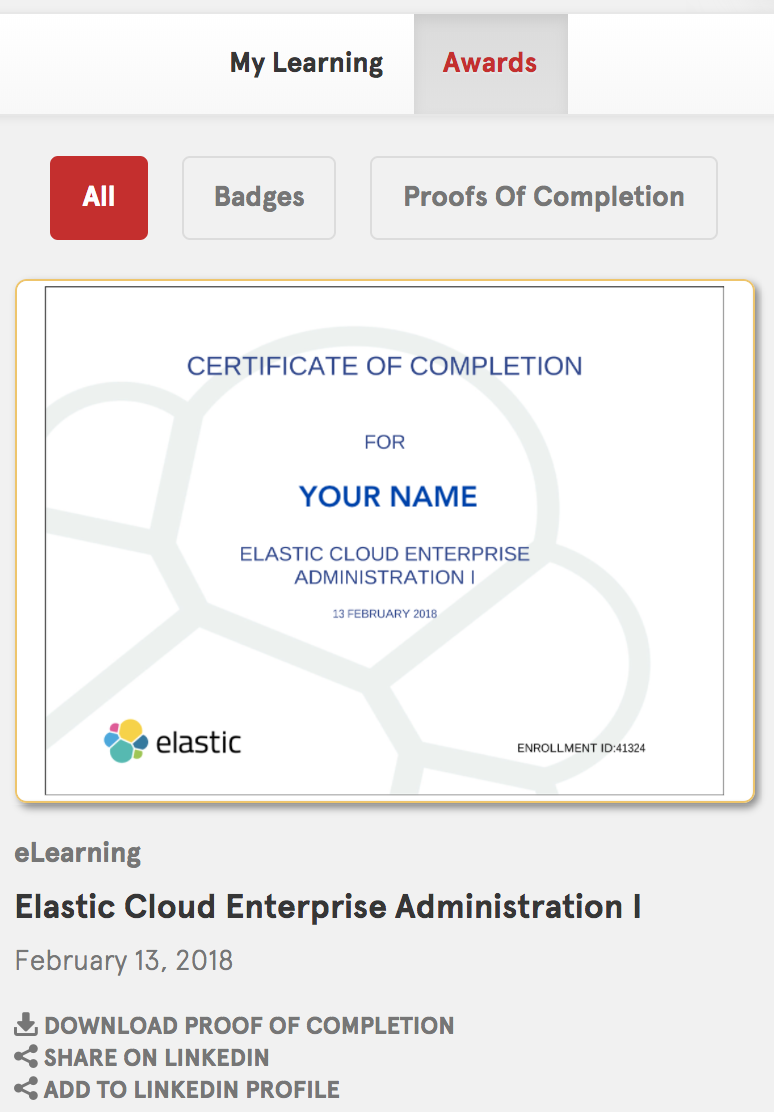 Sold Out or Wait List
Sold-out courses are not available for registration but you may add yourself to the waitlist. If a seat becomes available, a notification email will be sent to those waitlisted and seats are allocated first come, first serve. If no seats become available, we hope to see you in one of our future training classes in the area or in one of our virtual training courses available in different time zones.
Please note that we are unable to add additional seats to classes, as our venues / training facilities restrict the number of seats that are allocated in a training room.
Terms and Conditions
Contact Us
For any training inquiries or instructional technical difficulties, please email us. For technical difficulties, please provide the following information:
Course Name
Location
Delivery Method: Classroom / On-Demand / Virtual
Order Number
Please provide details on what went wrong including screenshot to expedite resolution.
Our training help desk will automatically generate a case in order to assist you and you should receive a response within 48 hours. Please keep your case number as a reference.
Alternatively, our Elastic Training Discuss Forum is a great place to ask questions about our course curriculum, training materials, or any training-related technical issues you may be experiencing. Our instructors continually monitor the forum so that they can quickly help with any questions you may have. While you're there, take a moment to browse the full list of Elastic Discuss Forums.
Another option is via the Contact Us page. Please provide the required information and check "Interested in Training" to make sure your request is routed to us appropriately. In the "Tell us a little bit more about how we can help you" section, provide additional details about your request or question and we'll respond to your inquiry within two business days.
We look forward to seeing you in class! – Elastic Training
---