Ten times faster at a fraction of the cost.
If you want a headline as to why you should consider adopting Elastic for security and observability, that is it. 
We often work with our customers to help them establish the business value of Elastic within their organizations. We commissioned Forrester to conduct a Total Economic Impact (TEI) study of our security and observability solutions so our customers have an unbiased view that they can share with their internal stakeholders. The TEI examines the ROI organizations realize by deploying the Elastic Observability and Security solutions. 
This study showcases the incredible value that our customers are achieving and provides guidance to help you consider the costs, benefits, and business impact Elastic can bring to your organization. 
The TEI study examined how Elastic customers have benefited from using Elastic Observability and Security. It found that from all levels of an organization, Elastic users are realizing: 
Up to 10X performance improvement and 75% reduction in licensing costs
358% ROI across Elastic Observability and Security 
$19 million in quantified benefits across six different benefit value categories
Nearly $15 million in net benefits (after costs) across those same benefit categories
Less than a six-month payback period of the initial investment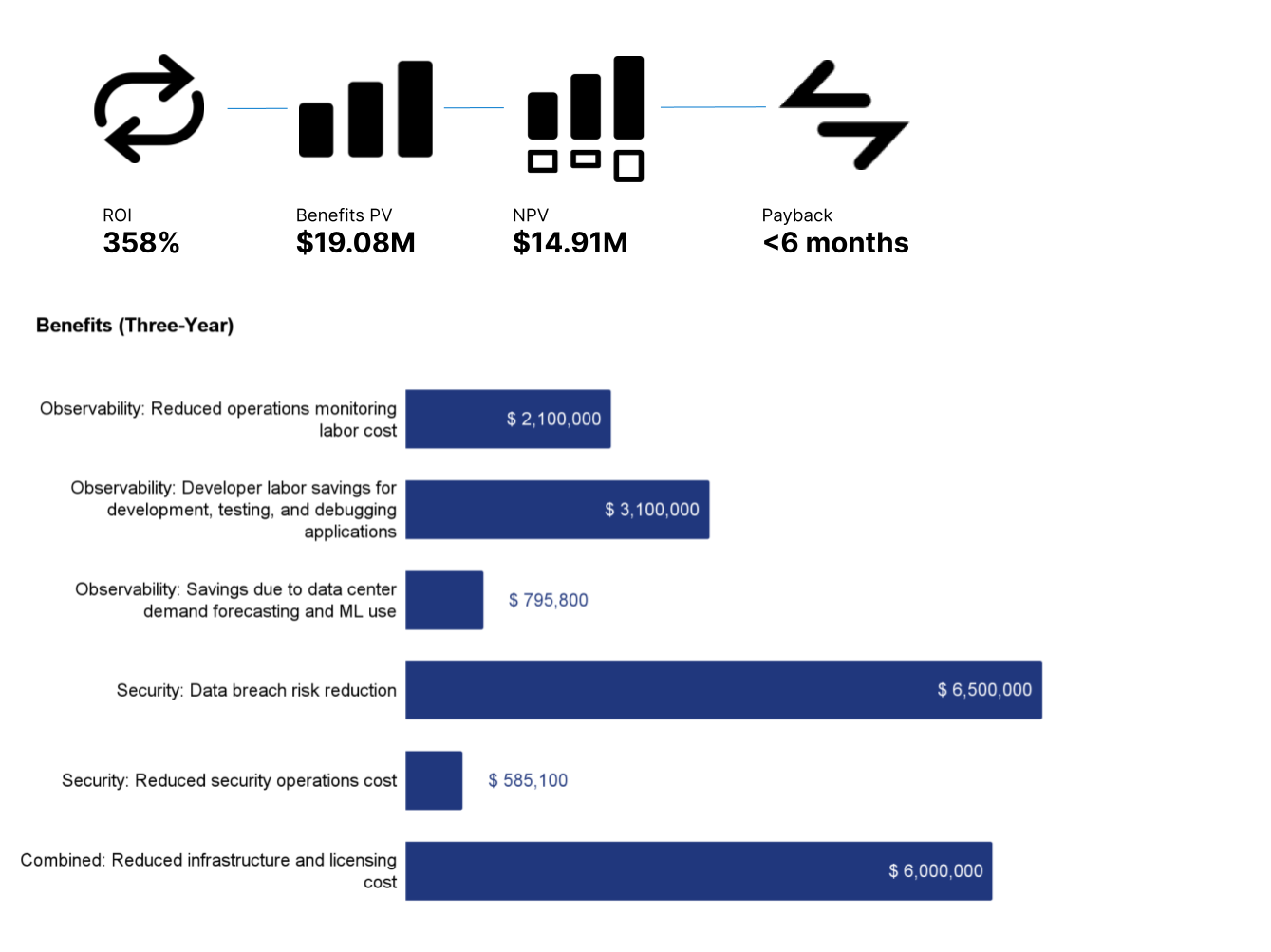 Quantified benefits of Elastic observability and security
At the highest level, the customers interviewed explained that Elastic is faster and more cost effective than their previous solutions. But also, the areas of quantified benefits, shown in the image above, deliver compelling business impact through direct and indirect business value from software and hardware savings as well as people and process improvements. 
Observability and security monitoring team savings
The study revealed that teams using Elastic found savings of nearly $2.1 million in reduced operations monitoring labor costs for observability and more than $585,000 in reduced operations and labor costs for security. 
"We call our forecasting mechanism, 'pre-mortem,' identifying developing problems days to months in advance of when they would actually occur if we didn't have Elastic's ML. Our service level is 99.999%." – Manager of streaming service monitoring, telecommunications
"We have been able to reduce false positives significantly, probably around 60%. There are a couple of reasons: backtesting is very easy, so it is easier to tune the rules, and the detection logic is easy to write." – Detection engineering lead, technology
Impact on productivity and efficiency
In addition, there were many productivity enhancements found across both observability and security. Observability customers found $3.1 million in increased developer productivity. Security customers saw a significant reduction in risk associated with data breaches, equivalent to $6.5 million in savings. 
"We enabled our developers to prepare their own logs within Elastic and monitor what they are interested in. Developers frequently create a targeted dashboard and pass it on to the operations team when it goes to production – a win-win!!! Their involvement has really enabled us to move from being reactive to being proactive. As a result, we have been able to shorten release cycles. We have monitoring enabled at all levels of the release cycle, so we find errors at a very early stage and get them fixed. Continuous integration and delivery are much better due to Elastic." – Manager of streaming service monitoring, telecommunications
"The time it takes to identify root cause has gone down about 80%, be it small threats or one that requires weeks to investigate. It not only takes less time to determine what happens, but we have a more precise understanding of the threat, too." – Detection engineering lead, technology
Learn how Elastic can help your business
There are numerous other quotes and details within the study about additional business value uncovered with Elastic as an observability and security platform. We encourage you to read the full study to understand all of them. No matter where you are on your journey, we want to help you achieve your goals. Check out the Forrester TEI study.