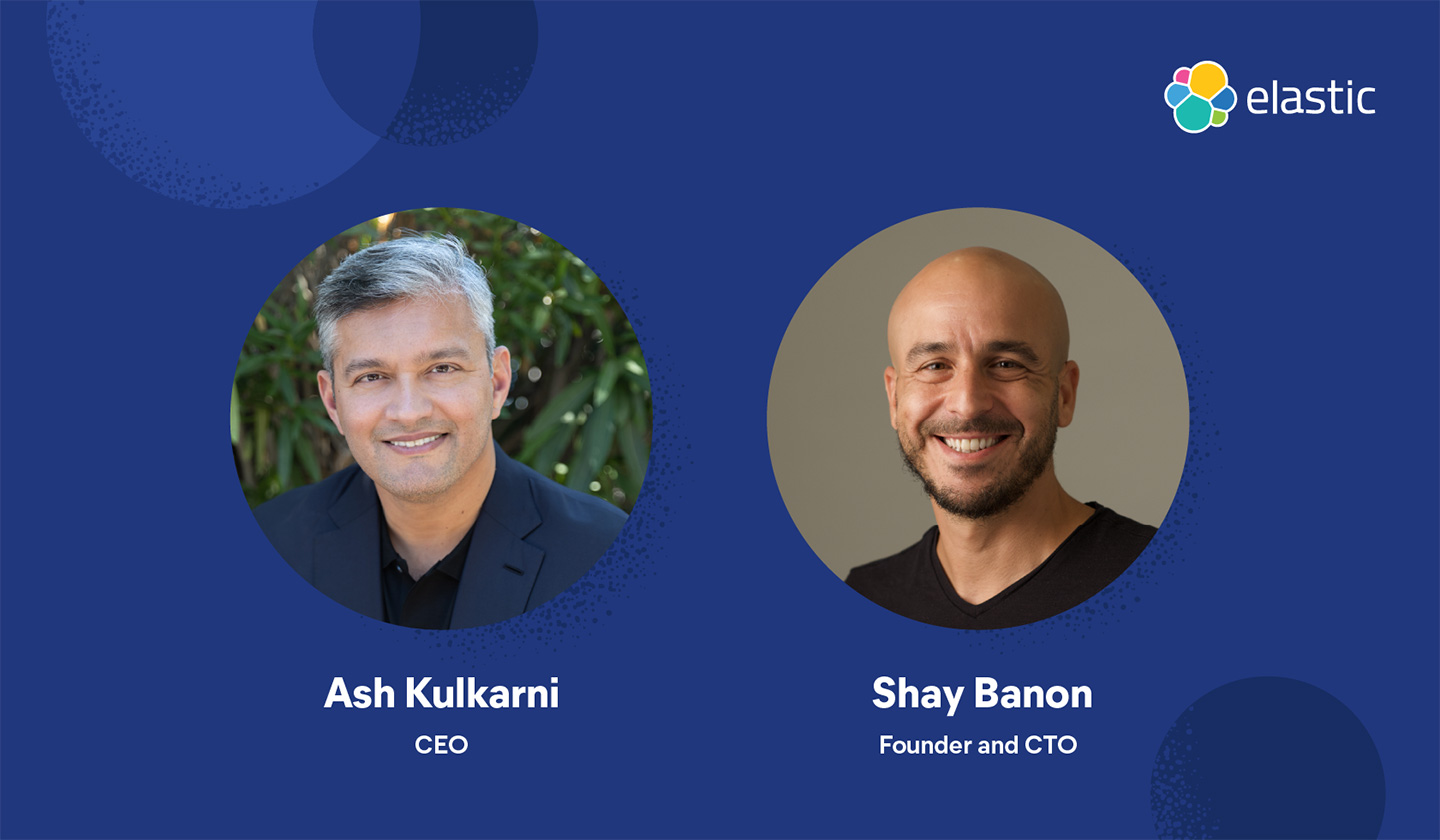 Today we had an exciting announcement at Elastic. Below is part of an internal email that we shared with our fellow Elasticians.
First, hear from Shay:
Almost two years ago, I decided to move to Israel because it was better for my family (that took time to happen, Covid!). At that time, I started thinking about how to do what is right for my family while being able to be a meaningful part of Elastic. Those of you who know me, know that Elastic is my life's work. And we have only just begun. Our potential is massive. And I plan to be a part of it for a very, very long time.
At around that time, the Elastic Board and I brought in several new leaders. We had time to closely observe our leaders in action. We want to make sure we have the right team, in the right roles - to realize our potential. Nothing gets me more fired up than that - achieving our fullest potential. I owe that to Elastic. We owe it to ourselves.
I'm going back to being CTO. Some of you may remember that I've done this job before. I will focus on innovation and product. Culture and people. And beyond. I will be able to focus my time in the best way possible in the service of Elastic. I can't wait to get back to it. It is where my greatest passion is.
Ash Kulkarni, our chief product officer, will become CEO. I've seen Ash in action for a while now, and I could not be more excited to have him as CEO. The Elastic board considered several candidates and unanimously chose him. We believe the combo of Ash and me will bring Elastic, our customers, and the community the best of both worlds - Ash's leadership, executional and operational excellence, and my focus on innovation and product. We work so well together. Ash will join the board and I will remain on the board.
With this change in roles - Ash to CEO, me back to CTO - we have a laser focus on innovation and execution. You can expect us to continue to accelerate our move to the Cloud. Lead in each of our solutions, each with its own massive market. And realize the ever-expanding potential of our search platform.
It is my job and my goal in life to enable Elastic to achieve our potential. I believe this is the team to do it. I cannot wait to get started as CTO (again!), and support Ash and follow his leadership in years to come.

Shay
Now, from Ash:
I joined Elastic a year ago because when I met Shay and other leaders at Elastic, I felt that I had found a team and a company with the cultural values that I have always believed in - values I could wholeheartedly embrace.
I had always been a huge fan of the Elastic platform having used it for implementing various search-powered solutions in the past. The enormity of our market opportunity; in Observability, Security, and Enterprise Search, and most importantly, in the transition to the Cloud, was clear to me.
In Elastic, I saw a once-in-a-lifetime chance to help create an enduring platform that every IT organization would need and use. A platform that uses the power of search to extract value from data in more intuitive ways than ever before. A platform whose relevance and usefulness will only grow as data continues to explode.
This past year has been exhilarating - incredible innovations across our Solutions and our Platform, amazing successes with our Cloud partners expanding our reach through Marketplaces, wonderful successes with customers adopting multiple solutions, exciting recognition by analysts, and so much more. It has been thrilling to be part of all of this as chief product officer.
So when Shay and the board broached the subject of this change, I was both humbled and excited. Humbled because it is an incredible honor and responsibility to carry on in the footsteps of Steven and Shay. Excited because I can feel the opportunity ahead for Elastic in my bones, and can't wait to get started on the mission ahead. Most importantly, being able to do it with a founder like Shay continuing to help shape our future technology direction, is something I feel particularly excited about. So my response to Shay and the board was simply this - Let's Go!
What do I stand for?
I am a product of my many experiences and the teachings of my many mentors. I am curious and don't usually feel satisfied until I understand things from first principles. Most of all, I am driven by a few fundamental beliefs, many of which are also inherent in Elastic's Source Code.
Empathy and transparency - I find these values to be inherent in our culture, in Elastic's Source Code, and I am committed to nurturing them and strengthening them. Like our Source Code, we have a simple rule in the Kulkarni family - don't be an asshole. It simply means treating others the way you want to be treated, by being empathetic to each other's point of view, by assuming the best intent, by being transparent in your communication and actions.
Innovation with conviction - Our industry is defined by constant innovation, by the drive to challenge the status quo. I believe in constantly challenging ourselves to find a better way. More importantly, when it comes to innovation, I believe in leading with conviction. A great example of this is Elastic Cloud. It is an amazing innovation, and in my opinion, the best way for our customers to experience our promise of Speed, Scale, Relevance. I am committed to accelerating our transformation to becoming a Cloud-first company, with conviction.
Playing to win - We are Humble, Ambitious. I believe that being Humble, Ambitious means being determined to be the best at everything we do. Being focused on delivering the most compelling products and services to our customers. We have always excelled at innovation and I believe that with continued focus, we can become THE leader in the market segments we operate in.
What excites me about the future?
There's a lot to be excited about for the future, but here's what gets me raring to go: The markets we operate in, our opportunity in the Cloud, our customers, community and partners, and our team and culture.
The markets we operate in - The markets we operate in today are immense, and growing - a current $78B total addressable market opportunity. Whether it's the complexity of modern cloud-native applications, the sophistication of cyber threats, or the explosion of customer-facing services that rely on data, organizations are constantly being challenged to extract value from data with speed, at scale, and with relevance.
This is where search comes in. It's the most intuitive way to approach data, and therein lies our biggest strength - Elasticsearch. It's the best foundation to build the next generation of Observability, Security, and Enterprise Search solutions. The foundation of Elasticsearch has enabled our many innovations like the Unified Agent and APM in Observability, Limitless XDR in Security, and Web Crawler in Enterprise Search. And as data continues to grow in importance, this foundation will become the catalyst for future opportunities.
The opportunity in the Cloud - More than a third of our revenue already comes from Cloud, and the majority of our customers are either already in the Cloud, or moving there faster than ever before. Elastic Cloud is ready for them today and will get even better in the future. With our integrations with Google Cloud, Microsoft Azure, and AWS marketplaces, our frictionless onboarding experience, pre-built integrations, autoscaling, and so much more, I am incredibly excited about the opportunity to accelerate our Cloud business in the coming months and years.
Our customers, community, and partners - We have an incredible customer base with more than 17,000 customers and we are growing. Many of them use multiple Elastic solutions. Our community of users is immense and vibrant. In fact, more than 600,000 community members visit Elastic forums each week. They continue to find new and innovative uses for the Elastic Search Platform. Our continued commitment to a shared go-to-market with our Cloud partners, Google Cloud, Microsoft Azure, and AWS through their Marketplaces, will continue to fuel the growth of Elastic Cloud.
Our team and culture - We are a team that is guided by our Source Code. We believe in the power of innovation, in bringing our authentic selves to our work, in being curious, in focusing on what is right for our customers, and most importantly in being empathetic and supportive of one another. This is special, and I am excited about everything we can do together, as ONE TEAM! In the coming days, I intend to spend a lot of time with our various teams - learning, understanding, and speaking with as many Elasticians as I possibly can.
There is much to do, and I am ready to get going. I plan to continue engaging with our partners and our customers as I already have been. We have strong leaders, a great team, and an amazing opportunity. I am looking forward to the journey ahead, working side by side with my Elastic teammates.
Let's go!