Free Elastic training for U.S. veterans and active duty military personnel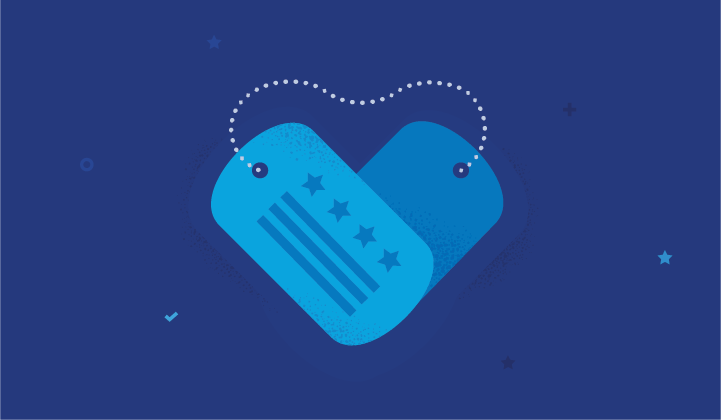 In an exciting update to our Operation Giving Back program, we are thrilled to share that Elastic is now offering one year of free virtual, on-demand training for all U.S. veterans and active duty military personnel. We are operationalizing the program in the U.S. first, but will be working on ways to expand it to other countries in the future.
Elastic skills are in high demand across public and private industries. We're proud to be offering the individuals who have devoted themselves to their country with an opportunity to prepare for bright new futures, wherever life may take them.
"Veterans bring a wealth of knowledge and skills to the workforce," says Hector Perez, Senior Director, CRM applications at Elastic. "With this no-cost training from Elastic, military veterans can open up new career paths for themselves in high-demand industries."
You can learn more about the program and sign up to access free training on our Operation Giving Back web page.
Military roots at Elastic are at the heart of this program
Providing free training for veterans is particularly meaningful for me as a member of a military family. Both my dad and husband are veterans, so I was encouraged to see how Elastic was already supporting the Department of Defense (DOD) and their mission when I joined the company nearly four years ago. Meeting users in the DOD who embraced Elastic's free and open roots and built a thriving community around them galvanized the team and I to start Operation Giving Back. Elastic's source code values, including Space, Time and Progress, Simple Perfection, have been essential in giving us the time and encouragement to take an idea like this and build it into an entire program supporting a community that we're passionate about. I'm hopeful that there will be much more to come for our military community members through this program.
Training, guidance, and support for our military users
For our veterans and active duty military personnel who are interested in taking advantage of this program, getting started with your free Elastic training subscription is as simple as verifying your ID to begin one year of access.
With Quick Start guides, training fundamentals, field guides, and our popular Data Analysis for Kibana course, this subscription provides everything veterans need to get started with the Elastic platform or to build on existing skills to achieve mastery.
"As a veteran who works with many veterans at Elastic, I am glad to see us make this commitment of time and resources to support veterans outside the company as well," said Kevin Keeney, Army Mission Support at Elastic. "When they leave the service, veterans often need to retool their skills. This program gives them an easy path to develop an in-demand skill set for the global job market."
Along with access to the training, the Elastic team is providing support to new and existing users every step of the way. For new users, we'll be in touch to share recommended course paths and additional resources for getting familiar with Elastic technology. And for our seasoned users looking to deepen their expertise, we will offer assistance with preparing for Elastic certification, mastering a new skill, or diving deeper into niche topics.
As part of this program, we're excited to continue partnering with organizations like VetsinTech to offer training, mentorship, and professional development opportunities for personnel transitioning from military to civilian life.
We're honored and excited to be supporting the military community that's been such a meaningful part of both the Elastic story and our personal stories.
To learn more about the program and sign up for access to free training,
visit our veterans web page today
.