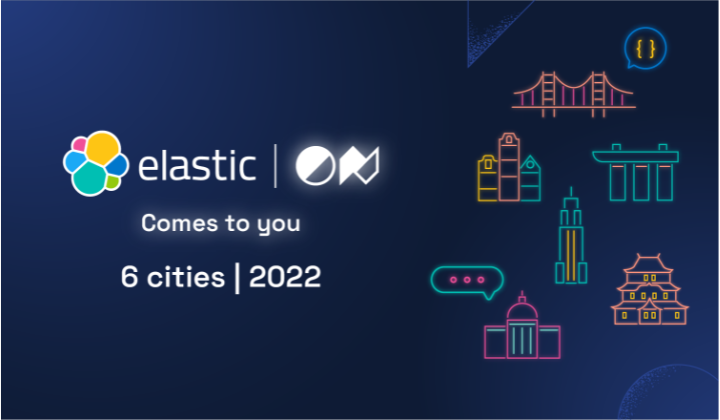 ElasticON is here! Our signature conference series brings the Elastic community — customers, partners, analysts, experts, and more — together to get inspired and learn from one another as we explore new possibilities with Elastic.
Elastic leaders will share product roadmaps, expert advice, and information about Elastic's future plans. And customer speakers will join us to discuss their experiences using Elastic for observability, security, and search applications. We'd love to see you there!
Where you can attend ElasticON
Our ElasticON Global event will take place virtually from March 7–9, 2023. But we're not waiting until March to engage. We're taking ElasticON on the road with the ElasticON Comes to You event series in six cities worldwide leading up to our global multi-day virtual event. 
We kicked off ElasticON virtually from our Bay Area headquarters on October 4, 2022, and will meet in person over the next few months in:
The ElasticON experience
Our ElasticON Comes to You events will feature in-person keynotes from Elastic leaders who will share how our search-powered solutions empower organizations to solve critical challenges, preview upcoming innovations, and offer a glimpse into the stateless future of the Elastic Search Platform. 
We'll also have experts on hand to demo our solutions, offer tips and advice, provide product roadmaps, and share new ways to help you transform your organization.
You can choose from two event tracks: technical breakout sessions and real-world use cases. 
The technical breakout sessions will cover how to:
Deliver comprehensive, easy, and modern search experiences combining new vector search capabilities and traditional search technology with Elastic Enterprise Search.

Look across your entire deployment to eliminate waste in your production systems with new capabilities in Elastic Observability.

Gain broader visibility, drive faster response to threats, and improve your overall speed to security with new updates in Elastic Security.
The real-world use cases track will feature speakers from several major companies who will share how Elastic is helping them solve complex, real-world problems by:
Building compelling applications for their customers and employees.

Observing their infrastructure and applications to reduce downtime and improve efficiency.

Protecting their infrastructure and data from cyberattacks. 
You'll also have a chance to meet and network with other Elastic community members to swap tips and stories and see how others have solved challenges you may be facing. Check out the agendas for each of our in-person events.
Hands-on training opportunities
Select ElasticON Comes to You event destinations (NYC, Amsterdam, and Tokyo) will host a three-day, instructor-led Elasticsearch Engineer training course. It will show you how to manage and scale your clusters, build custom search applications, and more. If you sign up for training (price varies by location), you'll receive a complimentary pass to your local ElasticON Comes to You event and one free Elastic Certified Engineer Exam voucher.
Join us at ElasticON
No matter how or where you attend our upcoming ElasticON events, we're excited to meet with you and the rest of our fantastic community and share how Elastic can transform your organization. Visit the ElasticON site to explore our event options and locations and to register today!