Elastic believes in giving back by supporting the communities in which we live and work and recognizing that participating in these activities can inspire and enrich our lives in unexpected ways. That's why we offer our Elasticians volunteer time off (VTO) to foster a culture of caring.
The Helper Node blog series shines a light on the inspiring ways our Elasticians use their volunteer hours to help their community and the world at large. In this special Earth Day edition of the Helper Node series, we hear from Diana Tuck, who volunteers with Wolf Haven International and MYCAT to help protect wolves and large cats for a healthier planet.
What do you do at Elastic?
I'm on the engineering cloud core team, where I'm a software engineer. I live in Seattle, Washington, and have been with Elastic since October of 2018.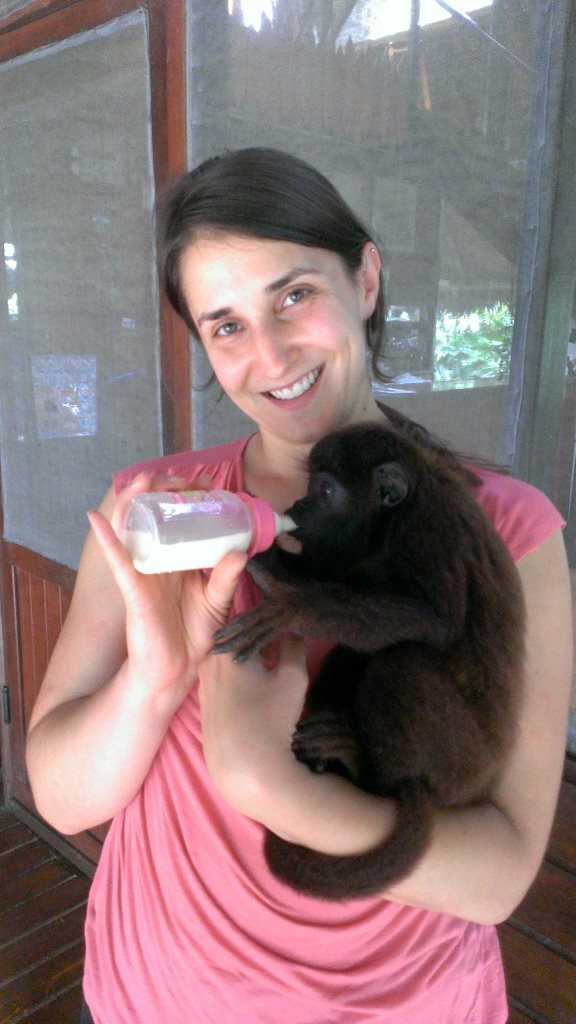 Can you tell us a bit about the two charities for which you volunteer?
Wolf Haven International is a nationally recognized wolf sanctuary. Their mission is to conserve and protect wolves and their habitat. Most of the wolves at Wolf Haven International were privately owned or came from zoos or roadside attractions. Since 1982 they've provided lifetime homes to 300 wolves. I started volunteering with Wolf Haven about four years ago because I feared that the gray wolf's protected status as an endangered species was in danger, as was their habitat.
MYCAT (Malaysian Conservation Alliance for Tigers) is another organization that I was lucky enough to use VTO for in the past. They do a lot of work conserving the Malayan tiger population, their habitat and prey. They work closely with the Batek people, an indigenous people who have been intertwined with Malaysia's tropical jungles for thousands of years.
What is a typical day like with Wolf Haven International?
Wolf Haven is a sanctuary for wolves, and I generally volunteer there as a guide. Before the pandemic, Wolf Haven offered 50-minute walking tours that allowed people to see wolves up close. The sanctuary participates in two species survival plans for the Mexican gray wolf and the red wolf, both on the federal critically endangered list. There are also gray wolves, which were recently removed from the federal endangered list, and wolf dogs (domestic dogs interbred with wolves) at the sanctuary.
Before the pandemic, my volunteer role was to walk people through the sanctuary and act as an educational resource. Right now, the sanctuary is closed for visits. So, instead of the sanctuary visits, I'm working with the sanctuary to produce and distribute educational materials to local schools, currently focusing on grades K-5. A lot of the educational content is about the Pacific Northwest prairies and the wildlife that lives there.
And what about MYCAT?
I volunteered with Woodland Park Zoo for a few years, where I prepared meals for and cleaned up after the orangutans. One of the orangutan keepers was about to travel to Malaysia to work with MYCAT and other organizations, and asked whether I would like to join. Elastic VTO allowed me to go there without using paid time off, and use my time to make a difference with a cause I care about. We planted trees to help reestablish forest corridors that connect one jungle area to another, which act as essential cover for wildlife to travel. We were also part of the "boot on the ground" program, trekking some of the poaching hotspots in the jungle to look out for snares and tiger signs. It was so exciting to check camera traps and see the various species passing through the area, and Elastic gave me the opportunity to be there.
Since I've gotten back, I've been trying to organize fundraising for them. Due to the pandemic and some political unrest in Malaysia, MYCAT's funding has been in jeopardy. But luckily, anyone can donate.
Why do you think it's essential to work with these kinds of organizations?
We've historically had a contentious relationship with large carnivores. However, they're so critical to the health of the ecosystem. From an environmental perspective, we need to make safe places for these large carnivores to thrive.
For example, the reintroduction of wolves to Yellowstone National Park changed the entire ecosystem in just five years. It was healthier because the wolves were preying on the sick and weak animals. The prey animals' behavior was changed so much by the wolves' activity that the rivers where the prey animals would gather and graze were returned to health.
On the contrary, tigers have disappeared from 97% of their original range throughout Asia, and people are feeling the heat of the ecological imbalance.
I also think that at this moment, it's important to remember that a lot of organizations that rely on donations and volunteering are struggling. One of the biggest challenges of the last year, especially for these two organizations, is having to close shop and move everything virtual. They're adapting, but they, and the planet, still need our help. On Earth Day, consider making a donation.
Interested in joining Elastic? We're hiring. Check out our teams and find the right career for you! Want to read more about life at Elastic? Read more on our blog!